Pedal users often get a sense of "mojo" from their stomps, but how technical is that magic? In the end, it may just come down to personal experience.
When an instrument, amplifier, or pedal seemingly has a certain magic to it, we often say it has "mojo." The word "mojo" has very old roots, but came to relative prominence in America during the mid 20th century. There was a renaissance several decades later with the release of the hard-hitting spy documentary franchise, Austin Powers. It has come to represent anything empowering and special, but also connotes something ephemeral that can be found or lost.
There are some pedals that have mojo parts in them. These parts have unique powers or provenance that give any pedal they are installed in somewhat mythological properties. A classic example of this are the transistors in fuzz pedals. The NKT275, a transistor found in classic, vintage fuzzes, are so desired that unscrupulous vendors will sell fake versions to those seeking to tap into whatever mystical capabilities the real deal possesses.
I've heard from one well-regarded builder who keeps his stash of fuzz transistors in the fridge, and carefully solders each transistor's lead with heat sinking to keep any of the magic from being consumed by soldering-iron heat. Fuzz circuits are often so simple, that any remarkable ability they have is attributed to the constituent parts instead of their overall design. So, whether they have unobtainable transistors, carbon composition resistors, or tropical fish capacitors, the consumer can assume this pedal is imbued with magical properties. This can be in spite of the fact that the transistors are likely the last of a production run of devices that have been picked over for the last 60 years, the resistors are poor performers by almost every quantifiable measure, and the most special thing about the capacitors may be their paint job.
Sometimes particular makes and models of pedals are the holders of mojo. The Klon Centaur, Nobels ODR-1, and EHX Deluxe Memory Man all have vintage variants where it's widely held that they have something special about them. Over the years, changes have been made to each of these designs. Some of these changes are literally superficial: Changes have been made to enclosure printing or paint. Some changes are technically superficial: Components were changed, but aren't in circuit positions that contribute to audible differences. Lastly, some substantive changes genuinely alter the end product.
"If it sounds as though I'm suspicious of mojo parts and pedals, it's probably because I am."
As a case study, take the Deluxe Memory Man (DMM). The DMM has gone through some cosmetic changes over the years. None of these things contributes to the sonic delivery of the pedal. At one point, the AC mains cable, internal transformer, and rectifier were ditched for a 24V DC input. Both of these power arrangements fed regulators with the same voltage outputs to the DMM circuitry. It is difficult to say that the audio circuitry in the pedal could be "aware" of the changes to power supply elements pre-regulator, and dubious that any resultant change could contribute to an audible difference in the pedal's performance. That said, at one point in history, the pedal's delay-producing bucket-brigade chips were changed out for different types due to parts availability. This is a real change that a subset of players can readily detect.
Here's the vintage version.
If it sounds as though I'm suspicious of mojo parts and pedals, it's probably because I am, and I think you should be suspicious, too. However, try not to be cynical, as I absolutely do not think that it can all be written off as fantasy. Sometimes the sum of the parts is really greater than the whole. The pedals we love are not often complicated, but they are always comprehensive. Every constituent part of a device can vary at both conception and over time, and these parts can often combine in unique and interesting ways. The guiding principle of evaluating whether a particular stompbox is special has to be listening to it. Its pedigree and provenance might increase the chance of it being something special, but, as is often true, the proof of the pudding is in the tasting.
In my estimation, the most powerful part of mojo-equipped gear is our own faith in it. When we are convinced that something is good, we enjoy it more and play better, and when we enjoy it more and play better, we actually do sound better! There is a great deal of inaccessible gear with a well-earned representation for unlocking the best in those who play it. You can also be certain there is something readily available that may speak to you in the same way. Good luck in finding your mojo, baby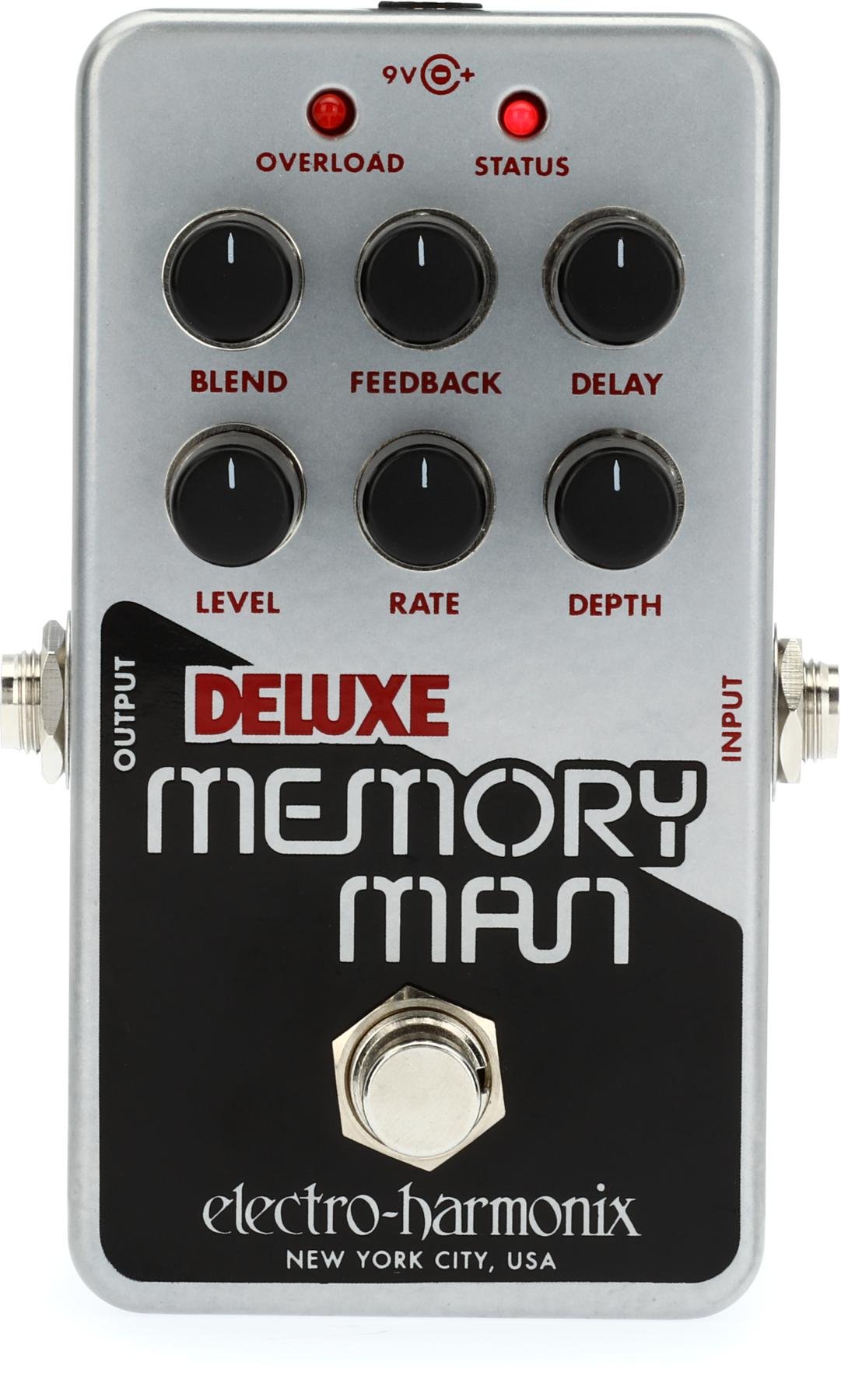 Nano Deluxe Memory Man Analog Delay Pedal
Electro-Harmonix
The type of glue a builder uses can make a big difference in their process, but when it comes to tone, does it matter?
Guitarists searching for their ultimate instrument are an interesting bunch. So many factors to consider, so much energy to expend on the journey towards guitar nirvana. A player may be satisfied with a certain shape—like a Flying V or Explorer. Others are obsessed with pickups, hardware, fretboard radius, scale length, or fret size. I'd venture that most of us consider a lot of these things and more when choosing a guitar. But there is a certain place in my heart for those infatuated with the type of glue used to construct a potential purchase. Don't get me wrong, I'm not listening to Ford Thurston and thinking what he needs is a little more hide glue in his tone, but somebody might be. This obsession probably stems from the mythology of vintage instruments more than any sonic observations.
Instrument makers have used animal-based glues for centuries, mainly because it was all that was available. Adhesives can be made from a variety of animal remains: bones, hooves, hides (skins), and even fish parts. These organic items are basically proteins that can be boiled down to a gel-like substance which, when heated, becomes sticky, spreadable, and can be used to bond a wide range of materials, including wood. For this discussion, I'll refer to all of these as hide glues.
Woodworkers used hide glues almost exclusively until the middle of the 20th century, when synthetic glues became available. Adhesives such as PVA (polyvinyl acetate) are sometimes referred to as yellow or white glue. Over time, and as instrument building became more of an industry as opposed to a boutique craft, PVA became the standard in large-scale commercial instrument manufacturing.
Industrial PVA glues dry quickly, are extremely shock resistant, and do not require heat. They have nearly no odor, and they can be stored ready to use for long periods of time. They are also incredibly strong. Unlike hide glue, which requires a precise parts fit, PVA is gap-filling which is great for factory tolerances. PVA's setup time is short, and under some circumstances, clamps can be removed in as little as an hour. That certainly allows more production to flow through a factory or shop.
"Hide glue is very brittle when cured, which has led some to say that it encourages the transmission of vibration from part to part."
On the other hand, hide glues need to be warmed in a heat pot to around 140° F, and have a shorter shelf life at room temperature. Although some builders learn to love the smell of hide glues, others find it revolting. I don't mind the smell, but some don't want the "dead animal" smell on their clothes. Hide glue can also have a shorter "open" time before it locks up, which doesn't allow for much adjustment to parts during assembly. Additionally, once clamped, hide glue needs to remain so for much longer—most shops let it dry at least overnight.
I believe that a lot of the mystique stems from old-school repair people who would prefer to work on older instruments constructed with hide glues, which are easier to disassemble. A distinct advantage is that unlike PVA, epoxies, and superglues, hide glue can be easily loosened for repair with heat and water. That's a real bonus for shops that specialize in neck resets, fretboard replacements, and all manner of acoustic guitar repair. Old hide glue can be successfully removed from a joint and new glue can be applied for a repair—as the new glue will bond directly to old glue.
Another characteristic of hide glue is its self-clamping action when the fit of parts is very tight to begin with. The glue pulls parts together as it dries and can be good for jobs like book-matching tops and backs—even without clamps. Hide glue is very brittle when cured, which has led some to say that it encourages the transmission of vibration from part to part. This, along with the tight fit aspect, may be the primary source of the "hide glue is better" sentiments that get repeated as gospel in some circles. Of course, if you leave your hide-glued guitar in a car trunk on a hot summer day, you may regret it as much as the repair shop loves it.
As you can see, there are a lot of benefits to each of these glue types, and I haven't even gotten into any discussion about epoxies or superglues, which are being used more and more frequently today, along with so-called hybrid hide glues. The question remains, is the adhesive used in building a guitar a deal-breaker? As much as I admire instruments built with old-school glues, I'm not sure Ford Thurston or I could hear the difference. And if that particular guitar does
sound
wonderful, I couldn't say it was because of the glue. Besides, with its 1-piece neck and four-screw neck joint, a
Stratocaster
doesn't have use for a lot of glue anyway.
The third edition of Blackstar's best-selling valve amplifier range.
In 2009 when the original HT Venue was designed the goal was to combine the best of our two flagship valve amp lines; the boutique cleans of the handwired Artisan amps and the modern high gain of Series One. This gave guitarists incredible flexibility of tone from a single valve amp, with no compromise between their clean and overdrive tones.

Seven years later Mk II introduced the most requested features; an expanded tone section on the Clean channel, footswitchable voices and power reduction.
A game-changing addition is their advanced CabRig DSP technology, an embodiment of our latest innovations in speaker, cab, mic, and room emulation. This technology, originally featured in our St. James and AMPED products, represents our commitment to staying ahead of the curve. Coupled with 4-channel audio via the USB-C, capturing professional quality valve tone in your DAW is simple.
The CabRig outs (XLR, Stereo Line Out and USB) can also be used in Standby Mode making it ideal for both recording and silent stages too.
Upgraded circuit board components and an all-new digital reverb with adjustable parameters further enhance the tone and performance.
All this comes in an all-new livery using materials normally found on boutique amps; premium tolex and fret, mini-toggle switches and a metal plate logo.
Blackstar's new HT Venue MK III Series of guitar heads, combos and cabinets. Valve amps that are the culmination of decades of design experience and innovation; delivering "the sound in your head" with absolutely no compromises in tone, feel or performance.
Models in the range: HT Club 40 MK III combo, HT Stage 60 112 MK III combo, HT Stage 60 212 MK III combo, HT Club 50 MK III head, HT Stage 100 MK III head, HTV-112 cabinet, HTV-212 cabinet, HTV-412A cabinet, HTV-412B cabinet.