Check out the ALL-NEW PRS Pedals and more in this edition of our Stompbox Gear Finds!
---
PRS Guitars
PRS Classic Series instrument cables feature carefully tuned capacitance, designed specifically for excellent signal clarity. The cables' spiral-shielding provides flexibility and durability for low handling noise, making them an excellent choice on stage and in the studio. PRS Classic Series cable ends come with wrapped solder joints under the barrel for added strength and durability. All PRS cables come with an unlimited lifetime warranty. Patch cables come two to a set.
Maestro Pedals
Maestro created the world's first fuzz pedal – the Maestro Fuzz-Tone FZ-1. Introduced in 1962, the Fuzz-Tone became the sound of rock and roll and a must-have accessory for guitarists everywhere after the success of 1965's (I Can't Get No) Satisfaction by the Rolling Stones, which prominently featured its cutting edge sound. Now Maestro is bringing the fun and sonic fury of those early Fuzz-Tones back with the new Maestro Fuzz-Tone FZ-M. This all-analog pedal boasts a Mode toggle switch that provides two pedals in one functionality for increased sonic versatility with both an FZ-1 inspired fuzz sound and a thicker, more modern fuzz tone. Its 3-knob control layout gives you intuitive control. The Attack knob controls the amount of fuzz. The Tone control lets you adjust the timbre from bright and raspy to warm and wooly and anywhere in between.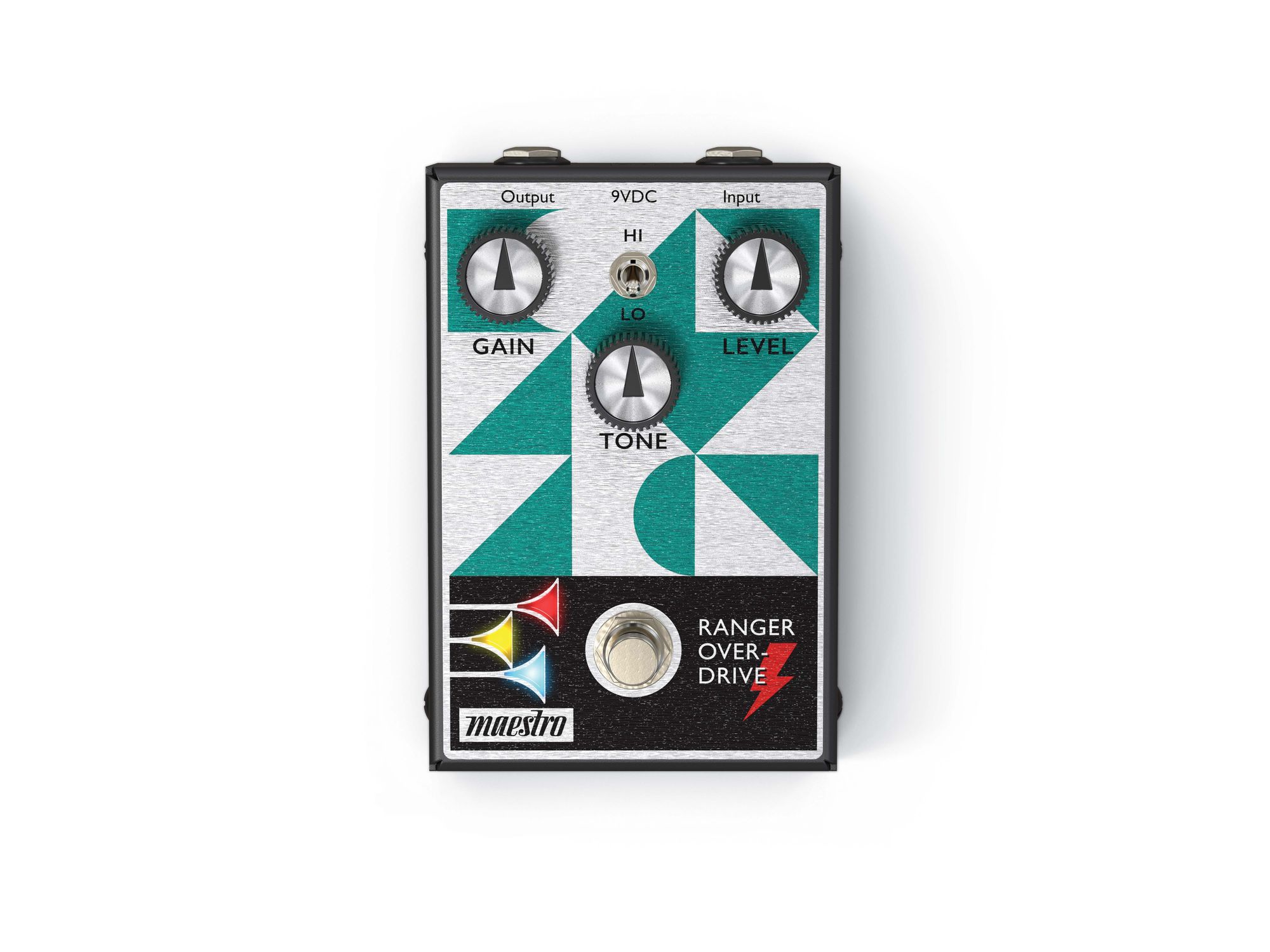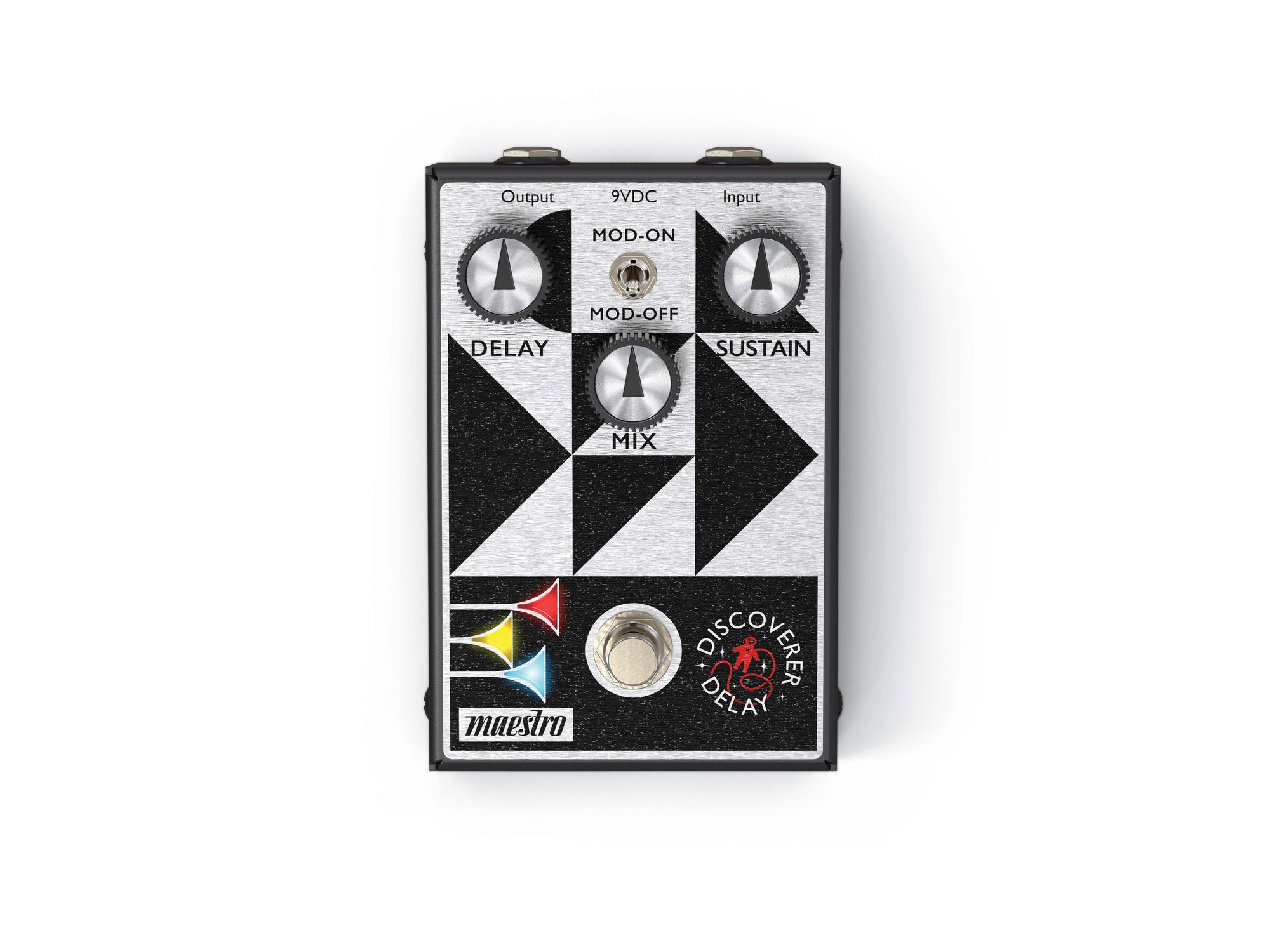 Tech 21
The SansAmp Character Plus Series celebrates the unique chemistry between specific historic amplifiers and specific historic pedals, and cleverly unites them together in single packages:

Screaming Blonde = Fender-style + Tube Screamer-style
English Muffy = HiWatt-style + Big Muff-style
Fuzzy Brit = Marshall-style + Fuzz Face-style
Mop Top Liverpool = Vox-style + Rangemaster Booster-style
Each of the individually-voiced Character controls sweep through an entire spectrum of eras within their particular amp style. Screaming Blonde tones range from the '50s Fullerton to blackface and silverface. The English Muffy spans from classic UK rock to prog rock. Fuzzy Brit goes from classic hard rock to all current rock genres. The Mop Top Liverpool embodies the British invasion through "Bohemian" rock.
These 2-channel multi-function pedals are each like having a stompbox within a stompbox. You can use the SansAmp amplifier emulation on its own or just the effect on its own. The all-analog SansAmps Character Plus Series pedals can be used as stand-alone pre-amps to drive a power amp, a studio mixer, or a PA system, or to complement your existing amp. Other features include built-in speaker simulation individually tuned to match each of the speaker/cabinet configurations associated with each amplifier type; 3-band active EQ, XLR Output, included 9V DC Power Supply. Rugged all-metal housing measures 7.75"l x 2.5"w x 1.25"h and weighs just 12 oz.
EARTHBOARD Music
Never before has an effects pedalboard been so effortless to build and painless to change or rearrange on the fly - So you can Focus on the Music, Not the Set-Up!

Our game-changing design incorporates Rare Earth Magnets ("cupped" so there is no risk to your pedals!) and a long-lasting Battery to give you the neatest, cleanest sounding and looking rig! All of the hassles of using a traditional board are gone. No more messy cobweb of cords and cables. No need to look for outlets and extension cords. No need to deal with dirty noise at gigs. Increase voltage and isolate those "picky" pedals without adding more mess and expense of separate power bricks and adapters. NO MORE SOUND OF RIPPING VELCRO!!!

Here's what's possible with EARTHBOARD:
- Your choice to use our Battery or AC Adapter
- Jacks are on both sides to accommodate YOUR style and the unknowns of the gig space
- All of our power supplies have built in circuit protection to safeguard your pedals
- Built-in cross board audio patch cable saves you money and the hassle of finding the right length cable to connect your top and bottom rows of pedals
- Ability to power large pedals off the board to maximize board real estate - make room for one more pedal!
- The built-in, under mounted, Blue LED lights enhance visibility and the "cool factor"
- Daisy-chain multiple boards and power them all with a single battery
- Rearrange or add pedals on the fly, between sets, in a matter of seconds
Large tour grade pedal board and flight case for 10-14 pedals with removable 24″x11″ pedal board surface and inline wheels

Features:
Pro-grade shock absorbing EVA foam interior
Removable pedal board surface 24" x 11"
Two (2) rubber-gripped handles for easy lifting in and out of the case
3M Dual Lock» hook and loop fastener for pedal installation
Cable and accessory storage under the removable pedal board
Retractable tow-handle and inline wheels
Plywood construction with aluminum edging to create a secure closure between lid and base
Protective ball corners at vulnerable points
Commercial grade Gator red signature hardware
Lockable latches
Spring-loaded rubber gripped handles
George L's Effects Cable Kits
Enhance the tone and clarity of your pedalboard with award winning sound.
The George L's effects kit.
The kit comes with 10' of cable, 10 right angle plugs and 10 stress relief jackets.
Available in black, vintage red and purple.
As easy as 1, 2, 3 no soldering!
Cut, poke and screw your way to 47 years of sound excellence.
George L's
Listen to "Outer Boroughs." New album Language due Spring 2023.
Psychedelic-jam-rock-experimental group Circles Around The Sun have officially revealed the details of their fourth full-length studio album, Language, set to release this coming spring via Megaforce Records. The group – comprised of Adam MacDougall (keyboards & synths), Dan Horne (bass), Mark Levy (drums) and John Lee Shannon (guitar) – has released a new single alongside the announcement of the album. Listen to "Outer Boroughs" HERE.
As guitarist John Lee Shannon explains: "'Outer Boroughs' was initially composed when the track emerged from an impromptu jam in the studio around a four-chord sequence Adam was playing around with. Dan's bassline is one of my favorites, and is unusual in that he initially heard the '1' in a different place than intended, giving extra emphasis to the downbeat of the second measure." He continues, "It's a breezy groove that paints several landscapes in vivid color before departing into deep space for an extended middle jam. Originally titled 'Ouroboros' for its cyclical nature, it was later changed to "Outer Boroughs" for a bit of mondegreen and a nod to the greatest city in the world."
On Language, Circles Around The Sun plan to traverse even deeper into the annals of outer-spacial dance grooves that first surfaced on 2020's self-titled release. The new material finds them oscillating through hybrid strains of disco-funk, soul jazz and psychedelic rock, harnessing their stylistic lanes into a singular, intoxicating brew.



TOUR DATES
Dec 29, 2022 - Roanoke, VA - 5 Points Music Sanctuary
Dec 30, 2022 - Winston Salem, NC - The Ramkat
Dec 31, 2022 - Richmond, VA - The National *
Jan 20, 2023 - Albany, NY - Lark Hall
Jan 21, 2023 - Brooklyn, NY - Brooklyn Bowl
Jan 22, 2023 - Ardmore, PA - Ardmore Music Hall
Jan 25, 2023 - Pittsburgh, PA - Thunderbird Music Hall
Jan 26, 2023 - Harrisburg, PA - XL Live
Jan 27, 2023 - Asbury Park, NJ - Wonder Bar
Jan 28, 2023 - Fairfield, CT - StageOne
Jan 29, 2023 - Cambridge, MA - The Sinclair

* with The Infamous Stringdusters
A practical preamp for the Screamer set and fuzz lovers alike.
Independent boost and drive circuits. Impressive and unexpected fuzz tones. Super versatile.
Differences between styles can be subtle at lower gain settings.
4
4
3.5
4
When is an overdrive more than just an overdrive? That might be the question that led the engineers at DSM Humbolt when they came up with the Silver Linings preamp and overdrive. The Silver Linings' three modes (normal, preamp, and mid boost) and three voicings or "styles" (soft, vintage, and hard) widen the field of possible tones considerably. And just a peek at the controls reveals there are plenty of tone combinations to explore.
With a Fender HSS Stratocaster in front of a clean Revv D20, I was impressed with the range of available drive tones. At lower gain settings, for example, the pedal delivers overdrive reminiscent of a driven black-panel Deluxe. The pre boost and pre tone knob can dramatically alter conventional overdrive sounds considerably. The pre tone functions like a tilt EQ—allowing surgical adjustment of highs and lows to reshape drive sounds. The pre boost adds up to 30dB of gain at the input, which gives you extra, and extensive control, of the distortion profile.
High gain sounds are a surprise. Cranking the gain and bass in the vintage-style mode generated a fuzzy tone that felt cool and compressed under my fingers. Using the Silver Linings as a preamp, meanwhile, is as easy as plugging the output into the return of the Revv's effects loop. The results sounded and felt more direct and present, and this feature could be a lifesaver if you're stuck with a subpar backline.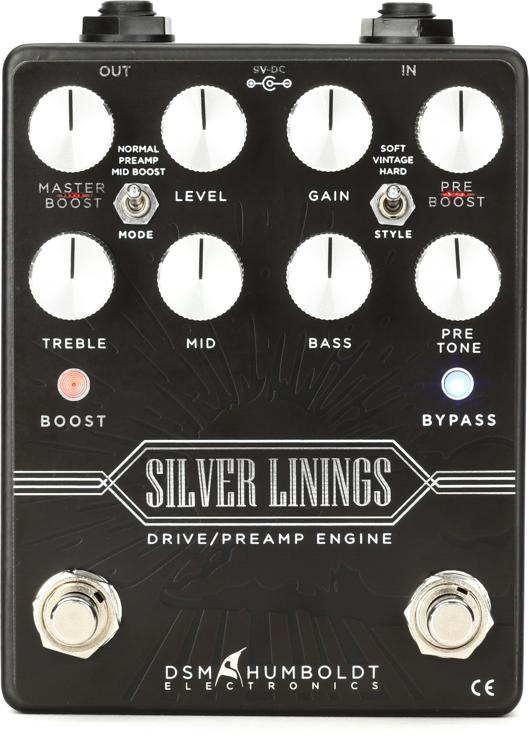 A pedal that provides a wide arsenal of tones and settings
3 style switches: Soft, Vintage, and Hard
3 mode formats: Normal, Preamp, and Mid Boost
Dual boost funcitonality with Pre and Master Boost levels to add extra gain and higher output
Tone stack is a passive 3-band EQ
Variable gain bandwidth adds unprecedented versatility
DSM Humboldt Electronics
Rhett and Zach unpack the big news for secondhand guitar sellers and buyers: Sweetwater has launched their new Gear Exchange. How does it compare to Reverb, Craigslist, and Marketplace? To find out, Zach takes the site for a spin and buys a pedal. He calls the process both "very easy" and "normal." They discuss the pros and cons of the various used-gear outlets and share tips for not getting got when buying gear. Plus, Zach grew a mustache, Mythos Pedals is moving, and he talks about his forthcoming line of Strat pickups inspired by Hendrix's reverse-stagger setup.
Sweetwater vs. Reverb