Stompbox Gear Finds Fall 2022
Check out the ALL-NEW PRS Pedals and more in this edition of our Stompbox Gear Finds!
---
PRS Guitars
PRS Classic Series instrument cables feature carefully tuned capacitance, designed specifically for excellent signal clarity. The cables' spiral-shielding provides flexibility and durability for low handling noise, making them an excellent choice on stage and in the studio. PRS Classic Series cable ends come with wrapped solder joints under the barrel for added strength and durability. All PRS cables come with an unlimited lifetime warranty. Patch cables come two to a set.
Maestro Pedals
Maestro created the world's first fuzz pedal – the Maestro Fuzz-Tone FZ-1. Introduced in 1962, the Fuzz-Tone became the sound of rock and roll and a must-have accessory for guitarists everywhere after the success of 1965's (I Can't Get No) Satisfaction by the Rolling Stones, which prominently featured its cutting edge sound. Now Maestro is bringing the fun and sonic fury of those early Fuzz-Tones back with the new Maestro Fuzz-Tone FZ-M. This all-analog pedal boasts a Mode toggle switch that provides two pedals in one functionality for increased sonic versatility with both an FZ-1 inspired fuzz sound and a thicker, more modern fuzz tone. Its 3-knob control layout gives you intuitive control. The Attack knob controls the amount of fuzz. The Tone control lets you adjust the timbre from bright and raspy to warm and wooly and anywhere in between.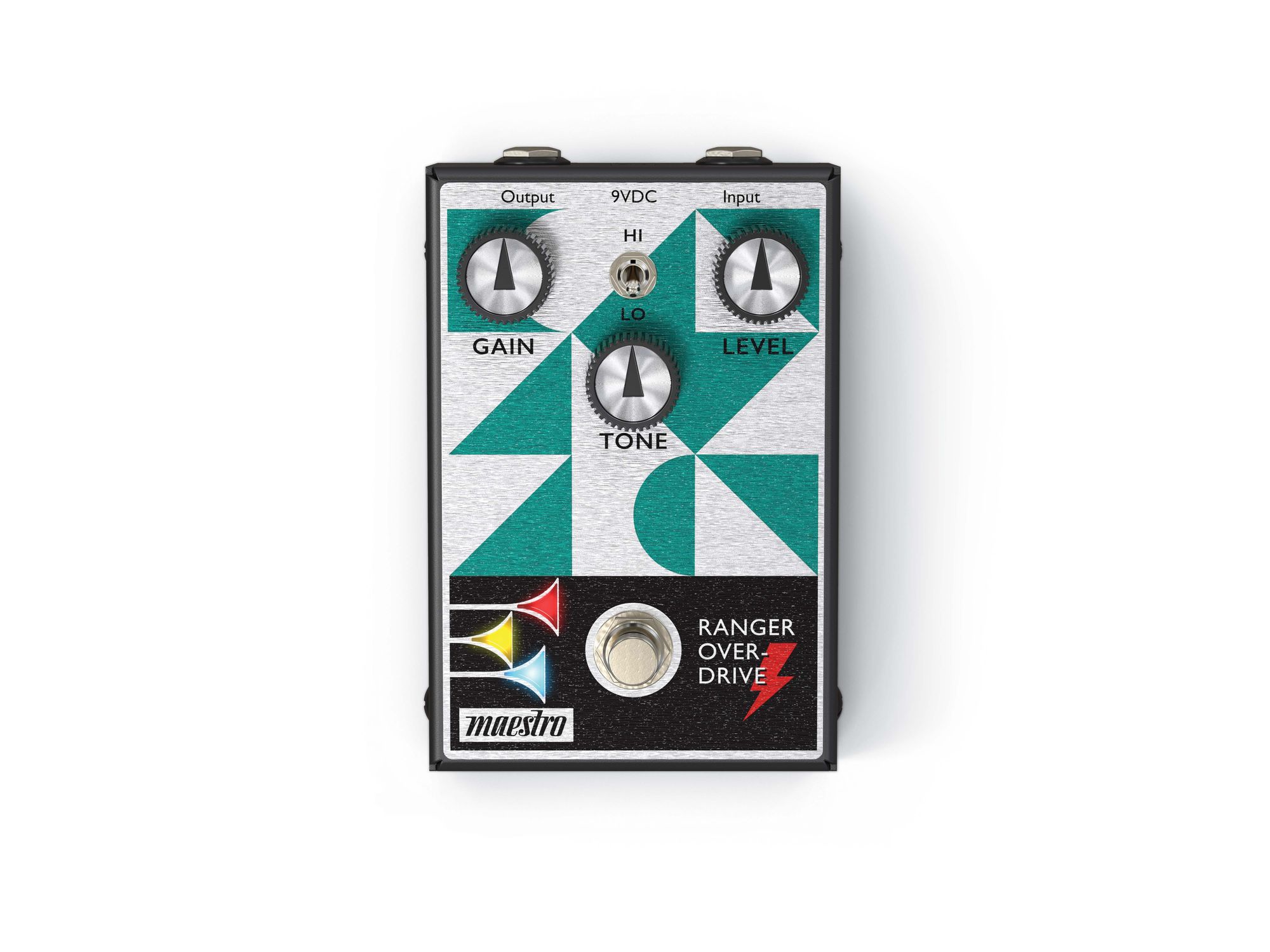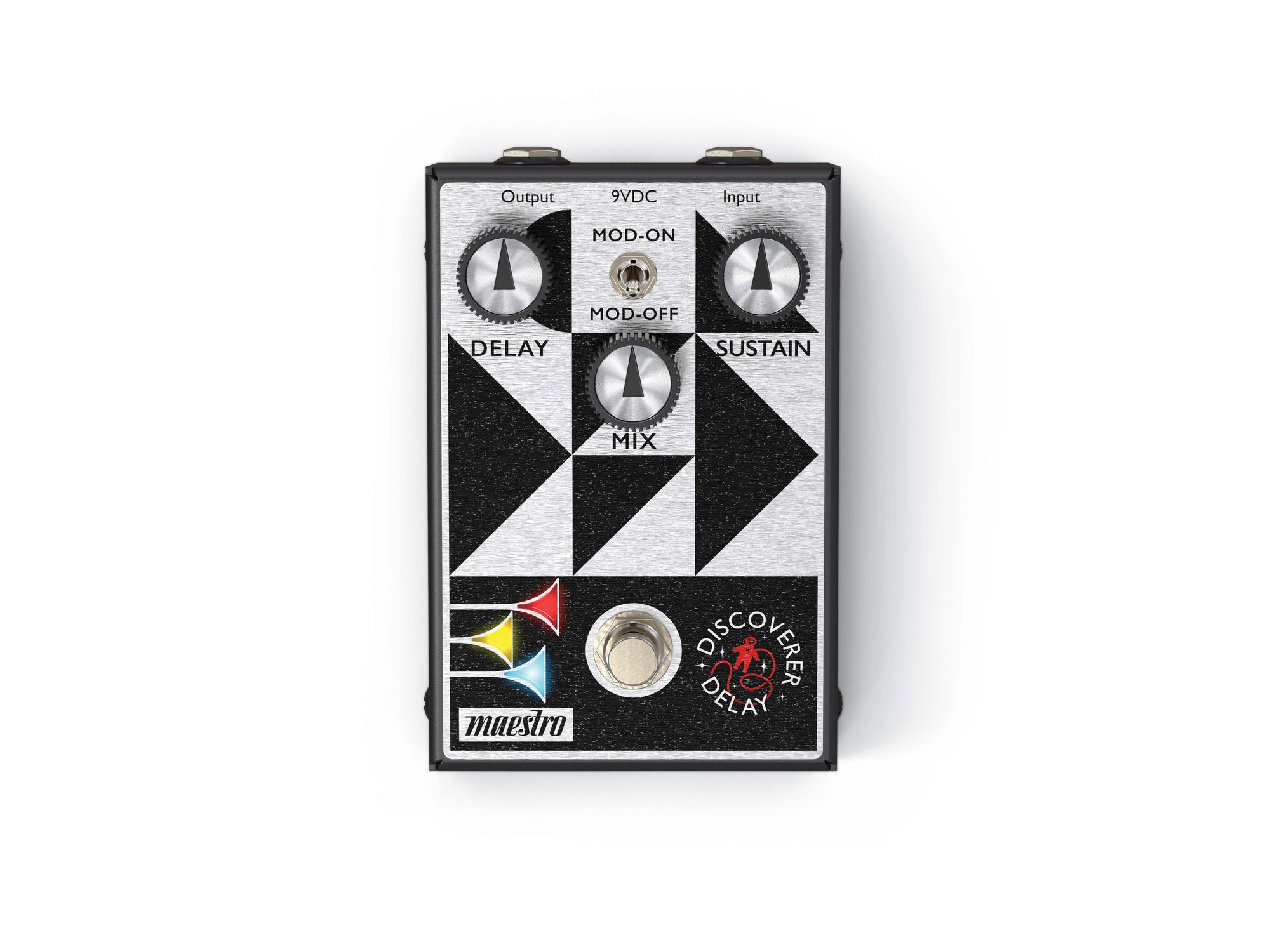 Tech 21
The SansAmp Character Plus Series celebrates the unique chemistry between specific historic amplifiers and specific historic pedals, and cleverly unites them together in single packages:

Screaming Blonde = Fender-style + Tube Screamer-style
English Muffy = HiWatt-style + Big Muff-style
Fuzzy Brit = Marshall-style + Fuzz Face-style
Mop Top Liverpool = Vox-style + Rangemaster Booster-style
Each of the individually-voiced Character controls sweep through an entire spectrum of eras within their particular amp style. Screaming Blonde tones range from the '50s Fullerton to blackface and silverface. The English Muffy spans from classic UK rock to prog rock. Fuzzy Brit goes from classic hard rock to all current rock genres. The Mop Top Liverpool embodies the British invasion through "Bohemian" rock.
These 2-channel multi-function pedals are each like having a stompbox within a stompbox. You can use the SansAmp amplifier emulation on its own or just the effect on its own. The all-analog SansAmps Character Plus Series pedals can be used as stand-alone pre-amps to drive a power amp, a studio mixer, or a PA system, or to complement your existing amp. Other features include built-in speaker simulation individually tuned to match each of the speaker/cabinet configurations associated with each amplifier type; 3-band active EQ, XLR Output, included 9V DC Power Supply. Rugged all-metal housing measures 7.75"l x 2.5"w x 1.25"h and weighs just 12 oz.
EARTHBOARD Music
Never before has an effects pedalboard been so effortless to build and painless to change or rearrange on the fly - So you can Focus on the Music, Not the Set-Up!

Our game-changing design incorporates Rare Earth Magnets ("cupped" so there is no risk to your pedals!) and a long-lasting Battery to give you the neatest, cleanest sounding and looking rig! All of the hassles of using a traditional board are gone. No more messy cobweb of cords and cables. No need to look for outlets and extension cords. No need to deal with dirty noise at gigs. Increase voltage and isolate those "picky" pedals without adding more mess and expense of separate power bricks and adapters. NO MORE SOUND OF RIPPING VELCRO!!!

Here's what's possible with EARTHBOARD:
- Your choice to use our Battery or AC Adapter
- Jacks are on both sides to accommodate YOUR style and the unknowns of the gig space
- All of our power supplies have built in circuit protection to safeguard your pedals
- Built-in cross board audio patch cable saves you money and the hassle of finding the right length cable to connect your top and bottom rows of pedals
- Ability to power large pedals off the board to maximize board real estate - make room for one more pedal!
- The built-in, under mounted, Blue LED lights enhance visibility and the "cool factor"
- Daisy-chain multiple boards and power them all with a single battery
- Rearrange or add pedals on the fly, between sets, in a matter of seconds
Large tour grade pedal board and flight case for 10-14 pedals with removable 24″x11″ pedal board surface and inline wheels

Features:
Pro-grade shock absorbing EVA foam interior
Removable pedal board surface 24" x 11"
Two (2) rubber-gripped handles for easy lifting in and out of the case
3M Dual Lock» hook and loop fastener for pedal installation
Cable and accessory storage under the removable pedal board
Retractable tow-handle and inline wheels
Plywood construction with aluminum edging to create a secure closure between lid and base
Protective ball corners at vulnerable points
Commercial grade Gator red signature hardware
Lockable latches
Spring-loaded rubber gripped handles
George L's Effects Cable Kits
Enhance the tone and clarity of your pedalboard with award winning sound.
The George L's effects kit.
The kit comes with 10' of cable, 10 right angle plugs and 10 stress relief jackets.
Available in black, vintage red and purple.
As easy as 1, 2, 3 no soldering!
Cut, poke and screw your way to 47 years of sound excellence.
George L's
A vintage Gibson might have been a missed opportunity, but it inspired a pair of builders to reach for greatness.
Everyone has that "one that got away" story, and as a former small-time vintage-guitar dealer, I've got more than a few. The blue-chip examples that passed through my hands haunt me, but there were others that just spoke to my soul. I have fond memories of the hunts, catches, and the releases. Even the ones beyond reach or missed opportunities were exciting. Still, there was one encounter that sticks out maybe more than all. In fact, it led to my 50-year-and-still-counting stint as an instrument builder.
In the late 1960s, the Sound Post was a guitar shop in Evanston, Illinois, not far from where I lived. The owner, Rudy Schlacher, was a former violin maker who had cut his retail teeth at Chicago's famous Guitar Gallery in the early 1960s before opening his own shop. One of my high school buddies, the late Greg Bennett (designer and founder of Greg Bennett Design) worked at Sound Post, so naturally, I was a familiar face in the store. Schlacher was always trying to entice customers to purchase music gear in novel ways and was the first person to extend store credit to me—a blessing and curse.
One day, while perusing the shop's usual fare, I noticed an odd-looking guitar hanging on the wall. It was a pale yellow color and shaped like a mutant Dorito. The banana-like headstock had a Gibson logo and a sign that read $10,000 in big numbers. This was when a Les Paul Custom sold for $595, so, naturally, I thought it was a joke, but Schlacher wasn't kidding. He explained that what I was privileged to see was an extremely rare instrument that few heard of, and even fewer had actually seen. I wasn't sure if he was exaggerating, but he wouldn't pull it off the wall for me to play. It made a big impression—I was obsessed.
Fast forward a couple years and a thousand life lessons later, I'd learned all about the Gibson Explorer and why Schlacher had put an impossibly high price on his. He didn't really want to sell it—it was theater. Through the small community of guitar traders, I had made the acquaintance Chicagoan Jim Beach, owner of Wooden Music on Lincoln Avenue on the city's North Side. Jim was an accomplished machinist and woodworker who made instruments in the back of his small store. He'd been crafting solidbody electrics of his own design but had also made a few Flying V and Explorer replicas as well.
"The banana-like headstock had a Gibson logo and a sign that read $10,000 in big numbers."
My business partner, Paul Hamer, and I recognized an opportunity to create a hybrid version of our favorite vintage instruments, and we purchased a mahogany husk from Jim in raw state. The previous year, in 1973, we'd created a Flying V bass for me with the help of John Montgomery, a local repair guy who handled our shop's more difficult jobs, like finishing and neck breaks, in his suburban basement. Montgomery had done some fine repairs on a customer's Les Paul Standard and had put a flame maple veneer on a Les Paul Professional for the Dutch virtuoso Jan Akkerman, so we had the right ingredients to do something interesting.
What we envisioned was a unique guitar with a bound maple top—a cross between Schlacher's Explorer and the vaunted '59 Gibson "Burst." The mainstream didn't even know about vintage guitars yet, but that didn't matter; we knew what we wanted. With some coaxing, Montgomery descended on the Beach husk while we collected the hardware and basically got in his way trying to help in his basement shop. Progress was slow but steady, and by December of 1974, the woodwork, binding, and paint was done at Montgomery's, so the parts assembly and setup could be completed at our Northern Prairie Music store in Wilmette. We'd put an original PAF humbucker in the bridge position, and the guitar sounded remarkably good. We called it the Standard.
The next day, December 7, 1974, we brought a load of vintage guitars backstage to a Wishbone Ash concert at the UIC Pavilion in Chicago, including the newly minted modern vintage Explorer, which we showed to guitarist Andy Powell. He passed on the guitar, but bassist Martin Turner inquired about having an Explorer bass built. Turner and I sat down with pencil and paper and mapped out the specifics: Thunderbird pickups and bridge, narrow neck, 34" scale, and a gloss black finish with a small amount of metalflake, to look "like the night sky," as Turner described. As we left the venue, Paul wondered out loud, "How the hell are we going to do this?" I just replied that we'd figure it out, just like we always did. We had our first "Modern Vintage" order, and the rest is history. Even the ones that get away can serve a purpose. And thanks to Rudy, for refusing to let me touch that Explorer.
Tash Sultana has just announced they will be headlining another series of North American shows from August to October 2023.
The gender-fluid multi-instrumentalist, producer, singer-songwriter, engineer and entrepreneur has carved out every step in their musical journey over the last 15 years. This has taken them from performing open mics night all over Australia, busking the streets of Melbourne to releasing platinum records, accumulating billions of streams and selling hundreds of thousands of concert tickets worldwide. Tash has continued to win awards across the globe including the Rolling Stone (AU) 2023 Global Artist of the Year.

Following the news that they will be touring Europe this year, Tash Sultana has just announced they will be headlining another series of North American shows from August to October 2023. Visiting some cities they have never performed in before as well some huge festivals, Tash Sultana is back.
Tash recently released the first single "James Dean," from their upcoming EP due out later this year. This will be the first time North American fans will have to see new music performed live. "James Dean" is a powerful and soulful song about self-reflection and transformation. It's a heartfelt ode to learning who your true friends are and having the courage to cut ties with those who don't add value to your life. The song is driven by a strong guitar riff and a steady beat, while Tash's passionate vocals entice you to reflect on the relationships you have and how you can make the necessary changes to move forward in life.

Tour Dates
AUG 22 -- The Rady Shell At Jacobs Park -- San Diego, CA
AUG 23 -- Avila Beach Resort -- Avila Beach, CA
AUG 25 -- Frost Amphitheater -- Stanford, CA
AUG 26 -- Britt Pavilion -- Jacksonville, OR
AUG 27 -- Thing -- Port Townsend, WA
AUG 29 -- Orpheum Theatre -- Vancouver, BC
AUG 30 -- Cuthbert Amphitheater -- Eugene, OR
SEP 1 -- Sandy Amphitheater -- Sandy, UT
SEP 2 -- Dillon Amphitheater -- Dillon, CO
SEP 3 -- Gerald R. Ford Amphitheater -- Vail, CO
SEP 5 -- Harrah's Kansas City - Voodoo Lounge -- Kansas City, MO
SEP 6 -- The Sylvee -- Madison, WI
SEP 8 -- The Salt Shed -- Chicago, IL
SEP 9 -- Megacorp Pavilion -- Newport, KY
SEP 10 -- Agora Theatre -- Cleveland, OH
SEP 12 -- Rebel -- Toronto, ON
SEP 13 -- Mtelus -- Montreal, QC
SEP 15 -- Roadrunner -- Boston, MA
SEP 16 -- Sea.Hear.Now -- Asbury Park, NJ
SEP 17 -- Kings Theatre -- Brooklyn, NY
SEP 19 -- Harrisburg University At The Forum -- Harrisburg, PA
SEP 20 -- Ting Pavilion -- Charlottesville, VA
SEP 22 -- The Tabernacle -- Atlanta, GA
SEP 23 -- The Pageant -- St. Louis, MO
SEP 24 -- Format Festival -- Bentonville, AR
SEP 27 -- The Fillmore -- New Orleans, LA
SEP 29 -- 713 Music Hall -- Houston, TX
SEP 30 -- The Pavilion At Toyota Music Factory -- Irving, TX
OCT 1 -- Mempho Music Festival -- Memphis, TN
Rhett returns from Europe to chat with "guitar player's guitar player" Sadler Vaden of Jason Isbell and the 400 Unit. The trio jump right into their takes on the whole Bad Monkey saga, then dig into a detailed interview about how a Crazy Horse concert changed Sadler's life, some tips for guitarists (spoiler alert: rhythm guitar is important!), and they discuss the band's upcoming release, Weathervanes, unpacking the writing and recording process.
When the conversation turns to gear (you knew it was coming), Sadler answers questions about his gig rig, shouts out his favorite guitar stores to hit up on tour, and then it's time to dip a rig (cue the Tube Screamer Talk).Along the way, we find out if Oasis is really Sadler's favorite band and what kind of U2 concert he really wants to see (hey Bono and Edge, you guys listening?), and talks about what it was like to see Prince live (and how far he drove). Finally, Rhett shares the improbable story of his newest acquisition, a Tascam 388.
Sadler Vaden vs. Tube Screamers

Thanks to Sweetwater for sponsoring this episode.

Head to sweetwater.com/dippedintone to enter to win one of 2 rigs hand-picked by Rhett and Zach! Giveaway ends May 21, 2023