Blackstar LT Drive, LT Dist, and LT Metal Reviews
Three new pedals from Blackstar offer powerful and dynamic distortion at bargain prices.
Blackstar Amplification has only been around since 2007, but the fast rise of the Northhampton, England-based manufacturer shouldn't be all that surprising, since its design team boasts a number of Marshall veterans. Quality, sound, and affordable prices have also helped make the high-gain-centric brand a top seller.
At Summer NAMM 2013, Blackstar introduced their new LT pedal line, which was designed with affordability in mind (prices range from $79 to $149). The series is comprised of five dirt pedals: LT Drive, LT Dist, LT Metal, LT Boost, and the dual-mode LT Dual. Unlike Blackstar's larger HT-series pedals, the LTs have no vacuum tubes and run on standard 9-volt power. LT pedals feature buffered bypass and click-less, noiseless footswitches. Here we check out the LT Drive, LT Dist, and LT Metal. (Look for upcoming web-exclusive reviews of the LT Dual and LT Boost at premierguitar.com.)
LT Drive
The LT Drive is Blackstar's new overdrive offering. Housed in a bright yellow enclosure, the LT Drive features gain, tone, and level knobs. Unlike most of the LT line, the LT Drive lacks Blackstar's ISF tone circuitry. But the pedal's simplicity is one of its best features. It's easy to dial in tones, and there's not a lot of "option anxiety" from having too many tone-shaping possibilities. The omission of the ISF circuitry also helps make the LT Drive very affordable at just 80 bucks.
The LT Drive has a fairly wide range of gain flavors. With the gain around 7 o'clock it works like a clean boost, exhibiting power tube-like characteristics. The tone control is very effective at these settings. Lower tone settings generate nice, singing lead tones. Higher ones provide more in-your-face aggression.
Bumping the gain up to noon produces a commanding rhythm guitar sound. Single-note leads are assertive too, if a little thinner than I might have expected. At these settings the output is fairly saturated—more so, to my ears, than comparable overdrives at similar settings. Still, the pedal offers great articulation, particularly with fast picking. Even in heavier saturation modes, the LT Drive is very dynamic. Picked lightly, notes get clearer and cleaner. Under heavy attack, they pop ferociously. This dynamism was more noticeable on the lower strings, and sounded especially great when I pummeled the LT Drive with A-string bends.
I expected more compression when I jacked the gain up to its highest reaches. But I was pleasantly surprised by tonal clarity and minimal loss of dynamics and definition. Maxing the gain is a ticket to hair/pop metal zones. The LT Drive sounds more aggressive than comparable overdrive pedals here, stopping just short of nü metal territory.
The Verdict
The LT Drive has greater range than most overdrives. It will happily go from a low-gain, "always on" pedal to metal bombast. If you have enough amp gain to work with, there's not much it can't do short of extreme metal. It's a great all-purpose dirt pedal that can rise to many occasions.
LT Dist
An orange-colored distortion pedal might not be the most original idea, but when a pedal kicks ass like the LT Dist, looks are incidental. At $99, the LT Dist is a little pricier than some of its siblings. But for the extra dough you get Blackstar's patented ISF (Infinite Shape Feature) circuit, which offers EQ shades varying from British-type tones in the clockwise reaches to a more American vibe in the other direction.
The control panel consists of gain, level, tone, and ISF. I started with the gain around 7 o'clock and ISF almost fully counterclockwise. The LT Dist generated a sweet Stones-y rhythm grind that fattened up triads and more complex chords. For single-note playing, lower gain settings add more bite, but also a slight harshness. This is where the ISF comes in handy: Turn it clockwise, and the sound gets warmer and rounder, yielding a singing lead tone with lots of overtone color. The adjustment makes the sound easier on the ears, and it made my guitar feel more dynamic and forgiving.
When I advanced the gain to noon, things started sounding pretty aggressive. With the tone low and ISF fully counterclockwise, the sounds were rowdy and burly. When I moved the tone knob to noon, though, the added crispness generated a killer rhythm sound à la Accept's "Balls to the Wall" and classic Dio. The IFS control's sweet spot seems to be right in the middle—at far-clockwise things get a little woofy. It's a great setting for leads where you're primarily picking notes. It's less than ideal for hammer-ons and pull-offs.
Cranking the gain didn't deliver the drastic crunch increase you might expect, but the extra edge was useful and powerful. Rhythm parts took on the feel of a stack ready to explode. Lead tones sounded a little more refined. At maximum gain settings the LT Dist sounded best with the tone at noon and IFS counterclockwise. Turning the IFS any further clockwise (to its "British" side) made the tones thicker, more opaque, and less detailed.
The Verdict
The LT Dist offers both British and American distortion flavors and everything in between. While it would be easy to write off the IFS control as a gimmick (or just a creatively named presence control), it's extremely helpful for tailoring the pedal to a specific rig or song, and it gives the LT Dist many distinct tones. Few distortion pedals can offer the tonal range of the LT Dist.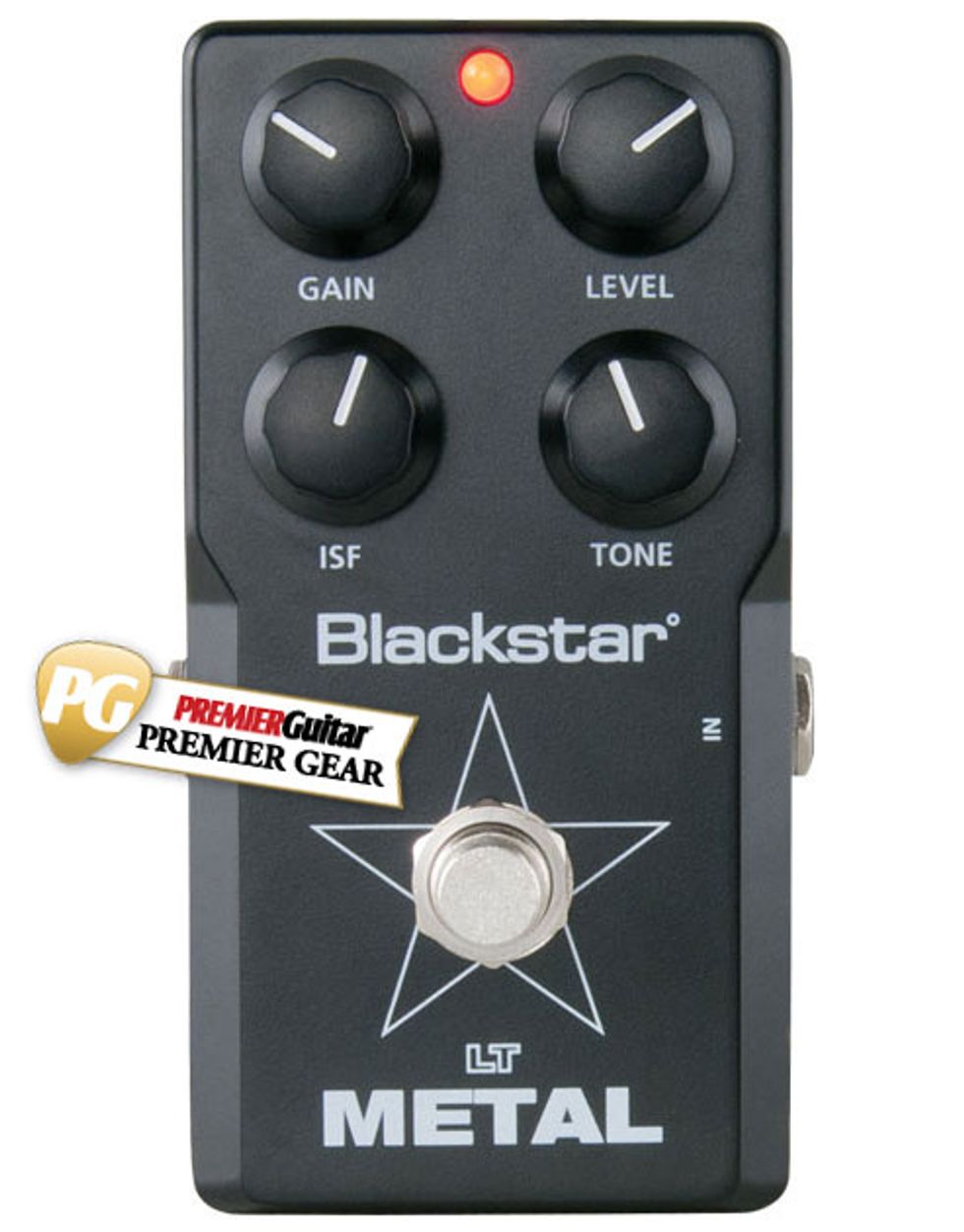 LT Metal
Metal-flavored pedals typically offer the highest gain in the dirt box hierarchy. At their best, they can rattle your bones like a Madison Square Garden-sized wall of modded amps. At their worst, they can sound like a 12-year old at Guitar Center butchering a Blink 182 song.
The LT Metal, the fire-breathing monster in Blackstar's LT line, retails for $99. Its tenability and versatility let you avoid that nasty "practice amp in a tin can" tone—and create some massive and musical sounds in the process.
With its black enclosure and star illustration, the LT Metal exudes, well, metal. The control panel mimics the he layout of the LT Dist, with gain, level, tone, and ISF.
Although most players will look to the LT Metal for super-high-gain tones, I started with relatively low gain, just to hear how flexible the pedal could be. With the gain around 7 o'clock and tone and ISF at noon, I got a surprisingly light crunch that worked well for Kiss- or Deep Purple-style classic rock rhythm sounds. I tried different ISF settings and was pleasantly surprised by the smooth overdrive sound I got from the most "British" ISF setting and a lower tone setting. These sweet lead tones alone make this pedal worth consideration by non-metal guitarists.
Moving the gain above noon revealed the LT Metal's true colors and intent. While the pedal was quiet and noise-free, it positively roars when you step on the gas. Here again, the ISF plays a major role in defining how the pedal sounds and where it fits stylistically. With the ISF almost all the way clockwise (that's the British side of the pond, chum), I got a full-bodied sound great for classic metal power chords and leads. Moving the ISF counterclockwise scooped the mids and added the crispness needed to play mathematically precise Meshuggah riffs.
One of the biggest bonuses is how well the LT Metal responds to changes in guitar volume. Manipulating the guitar's volume knob can take you from the heaviest sonic assault to the quiet boogie sections in "Hot for Teacher."
The Verdict
LT Metal isn't merely impressive for its power. Its wide range of sounds (raging metal included) makes it a standout. While ostensibly a metal pedal, it can cover everything on the gain spectrum from classic rock to fusion to '80s metal to Djent. Not many ultra-high gain pedals offer the versatility of the LT Metal, particularly in this price range.