Builder Profile: JHS Pedals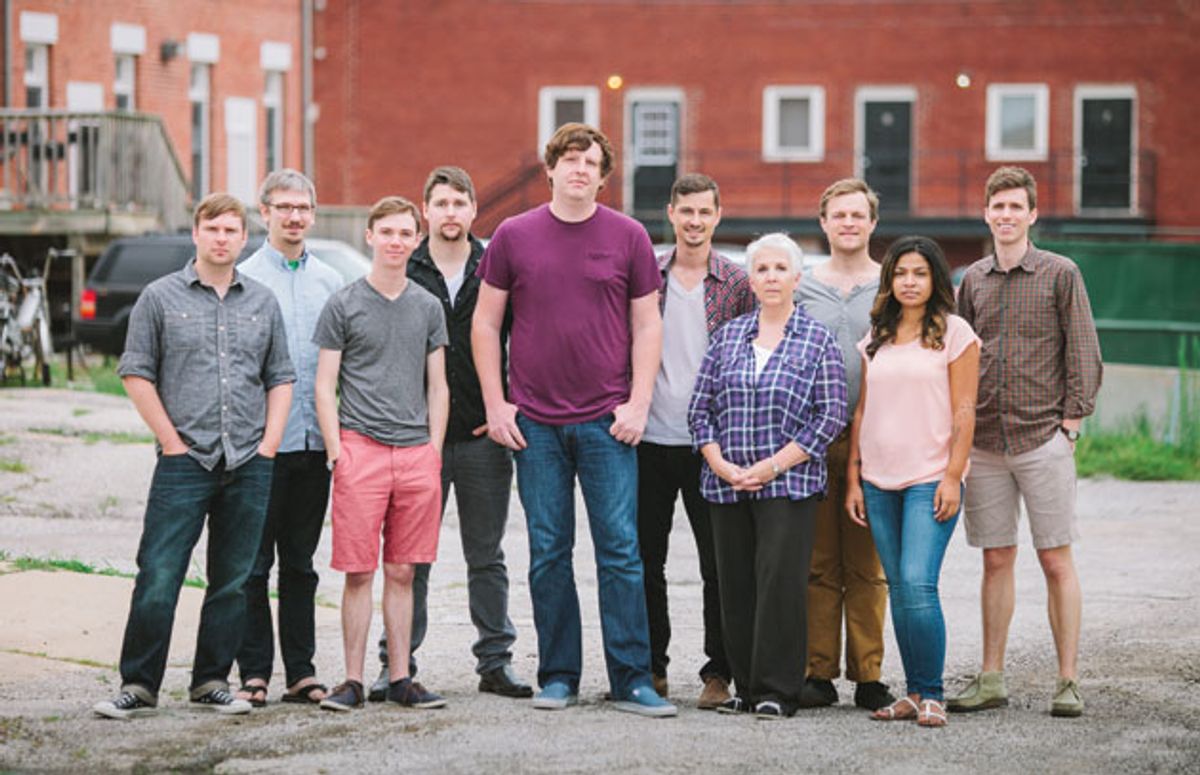 From humble beginnings of making two pedals a day to nearly 10,000 units in 2012, Josh Heath Scott stays true to his goal of turning out accessible, handbuilt pedals for the people—with a picture of your grandma's face, if you want.
Have you ever wanted a pedal that could combine the classic sounds of a vintage Tonebender with a modern gated fuzz in a single unit that's handpainted with your grandmother's face? If so, JHS Pedals is more than happy to oblige. From the company's beginning, Josh Heath Scott, founder and owner of the outfit that bears his initials, has instilled a "what you want is what you get" approach that's propelled JHS to become one of America's hottest new gear manufacturers over the past five years.
"We pride ourselves in service and we have really crazy abilities to be there, customer service-wise," Scott says. "We're real people—you're not going to be talking to some robot on the phone when you call us. We're just like the players because we are players and that's been a big part of our success."
The birth of JHS Pedals can be traced back to a single broken Boss BD-2 Blues Driver. "It's kind of a story of how necessity is the mother of invention," Scott recalls. "Around February 2007, I found myself fixing one of my broken guitar pedals. I didn't have the money to pay a guy to fix it. So I opened it up, fixed it, and in doing so it lit the fuse for a hobby that has taken over my life."

An active guitarist, JHS Pedals' founder and namesake Josh Heath Scott says 85 percent of his product catalog is based on gear he has always wanted.
Once he began to poke around the innards of his BD-2, Scott became obsessed with how pedals worked, why parts were placed where they were, and what would happen if you substituted one part for another.
"I remember really getting into it. I'd get on Google and look up schematics to the pedals I owned. 'What is this doing?' I'd get a Tube Screamer and change out parts and listen to them. Back then I didn't have the electrical engineering knowledge I do now—I really didn't know what I was doing. But I'd think, 'If I take that capacitor out and put in this one, what will it sound like?'"
From the humble origins of Scott's personal curiosity in pedal design sprouted a one-man mod shop based out of his home at the time in Jackson, Mississippi. "There's a shop in Jackson called Fondren Guitars and they started selling a couple of Boss pedals I'd modded. I remember when I started selling them at that store. Bands would come through and people would buy them—it really motivated me." After the first taste of success, Scott decided to expand his operation and began to sell his modded pedals over eBay to huge fanfare.
With his mods in hot demand across the world, Scott felt the time had come to try his hand at building entirely new pedals from the ground up. Many JHS flagship models, including the Morning Glory overdrive, Pulp 'N' Peel compressor, and the Mini-Bomb Boost were conceived and fleshed out in those early years of trial and error. Soon the popularity of Scott's stompboxes and mods reached a level he didn't anticipate, and he was faced with the question of a lifetime: Is this just a part-time diversion, or could this be something more?

One of JHS' first pedal designs, the handbuilt Pulp 'N' Peel compressor (shown in production here) is not based on a traditional Ross/MXR design. JHS installed a little black buffer into the compressor, along with an on/off switch.
"In the summer of 2009, things got really crazy," Scott remembers. "I'd quit my job and was doing pedals 15 to 18 hours a day in a small 10x15 shop in the backyard during the 100 degree Mississippi summer.. That was when I realized I was legitimately doing this full time. I was also six months behind and was at the danger point of having to refund things, so I had a discussion with my wife. She asked me, 'Can you really make a living doing this?' In my mind when she asked that, there was this split-second where I thought, 'I don't know.' But I said 'Yes, I can,' and we went from there."
Once the decision had been made to go full throttle into pedal manufacturing, Scott and his family relocated to Kansas City, Missouri, where he formally opened JHS. "I hired my first employee and we started working together out of my basement. We kept growing and growing and eventually got a building, which we've had to remodel significantly to accommodate us. Right now we have 10 employees and we're getting it done."
With more employees in the shop, much of the day-to-day construction of handbuilt pedals as well as various administrative responsibilities have been delegated out of Scott's hands, allowing him more time to design new products and expand the JHS lineup.
"I don't build a lot of the pedals anymore," he says. "I have three builders working, so now I'm always doing R&D and tinkering around. We have pedals like the SuperBolt [a pedal that emulates the tones of classic '60s Supro amplifiers], where I'll go away to my bench and work for weeks or months on a new design. The SuperBolt had been in my mind for well over a year, but I was so busy I just couldn't build it. It took me letting the other guys build and getting some time to think to get it done."

One of Josh Scott's latest inventions is the SuperBolt, a stompbox designed to produce tonal qualities similar to a '60s Supro amp. "SuperBolt had been in my mind for well over a year," Scott admits, "but I was so busy I just couldn't build it."
The SuperBolt is just one among many JHS pedals that derive their tonal characteristics from amplifiers. "I don't know if I ever thought about them in that way, but then again maybe I did because I couldn't afford amps at the time. You have the Charlie Brown Channel Drive, which is the [Marshall] JTM45. The Angry Charlie is the JCM800, and, of course, now the SuperBolt, which is the Supros. I've said it before, especially in this economy: Are you going to buy a JTM45 or a $200 pedal? Yeah, I'd buy the pedal."
As a guitar player himself, many (but not all) JHS creations are pedals that Scott has, at some point, dreamed of owning and playing. "I would say that 85 percent of the stuff on our site is stuff I've always wanted in a pedal but could never find." That said, he's open to new ideas and collaboration. "I have a good friend here in Kansas City who is the reason the Double Barrel overdrive exists. He wanted a Tube Screamer combined with my Morning Glory. So I did one for him, then his friend wanted one, then his friend wanted one, and now I look and we've sold tons of them."

Three to four builders work together on an average day at the JHS Pedals workshop. Shown here is the final assembly station, where circuits are put into casings, footswitches are installed, knobs are attached, and bench testing begins.
Though the company's vibe comes largely from the personality and drive of its owner, Scott's quick to credit each member of the team as vital to the success of the whole operation. "JHS might be my initials, but it is definitely a collaborative force of a lot of great people," he notes. "We all bust our butts every week and we try to make a super high-quality product. We all really want to build handmade pedals that are accessible and that you don't have to wait 10 years to get."
There are two aspects of JHS that Scott greatly values and believes are integral to his company's success: the custom shop and the mod department. "There have been several times where I've almost killed the custom shop, but it's just so cool. You can call us up and we can paint your grandma's face on a pedal. I get the whole 'grow up and be a business, do a standard line and make more money,' but it's just too cool."
Scott becomes a bit more whimsical when speaking about the mod department. "From a personal level, I remember how hard it was to buy a $150 or $200 overdrive, which I would then send off to Robert Keeley to mod. I get that, so I really want us to always be approachable because I know how hard it is to make a living playing music. Not everyone can pay for a boutique pedal."

A solder ventilation fan sucks in the smoke as these footswitches,
jacks, and circuit boards are assembled into SuperBolt pedals.
The future is certainly bright at JHS headquarters. Since the launch of their universally lauded Panther Analog Delay pedal two years ago, they've been working hard to create new modulation and delay effects that adhere to the same all-analog ethos as the Panther, with the power and versatility that made it such a hit. Scott is mum on specific details for now, but did reveal that some exciting new effects are on the verge of release.
As JHS Pedals continues to experience new levels of success and popularity, Scott marvels at how far he's come and has little idea how far his enterprise might go. "I remember the year we built 4,500 pedals. I thought, 'This is crazy!' I remember when I used to build two a day. This year we're on track to build somewhere near 15,000 total items, which includes our JHS pedal line, our mods, and various custom shop orders. Every time I do a five-year plan, it gets rewritten in January. We're just going to roll with the punches while staying true to the game."