Builder Profile: Voodoo Amps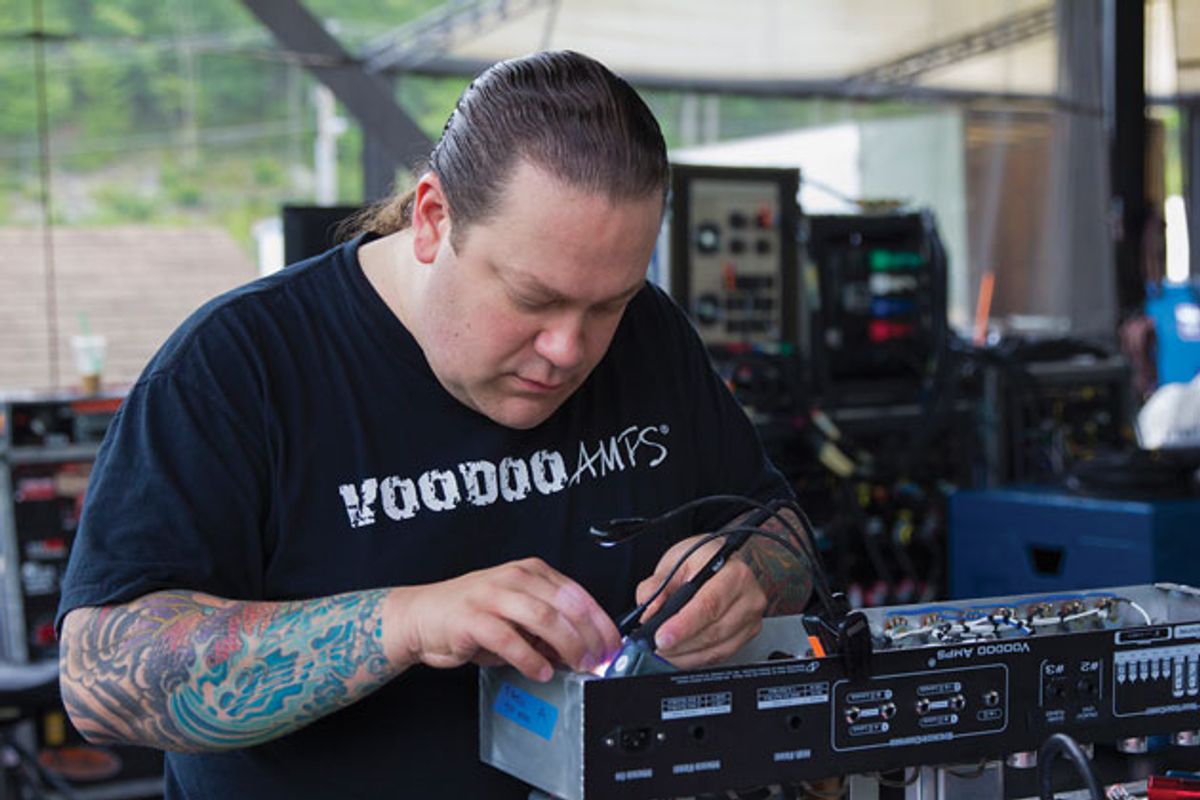 Trace Davis' road to rock-star glory began with a Def Leppard bus driver—and quickly progressed to modding and building amps for the likes of Bill Kelliher, Billy Gibbons, Vivian Campbell, and Richard Fortus.
Trace Davis, Voodoo Amps founder and president, says that when he was growing up his father taught him that anything worth doing was worth doing well.
"It wasn't that he was trying to be a hard-ass," chuckles Davis. "It was just the approach he had learned in the military for six years. He truly believed that if you're going to do something, you really have to sit down and do it properly. You have to have a passion for it or you're not going to excel—and I really have a passion for this because I play guitar and I love music." Voodoo's growing clientele is a testament to Davis' passion. Current Voodoo amp or amp-mod players include such notables as Billy Gibbons, Joe Perry, Vivian Campbell, Doug Aldrich, and Bill Kelliher.
Of course, knowing what each amp component does is important for any amp builder, but Davis says what he's interested in is how each component affects the amp's feel. That process is more art form than science, so there are no hard and fast rules, but Davis says that over the years research has helped him develop an intuitive sense for it. His journey, however, began accidentally.
Lightning Strikes
It seems almost every amp builder starts out by having to fix something out of necessity rather than actual curiosity, and Davis is no exception. In 1996, he lived in Binghamton, New York, and spent his time shuttling back and forth to New York City working as both a freelance recording engineer and session guitarist.
"It's not fun when you're fighting for every note—you start thinking too much about playing rather than performing or recording. You don't want to go, 'Argh, I'm fighting with my gear again.'"
—Voodoo Amps' Trace Davis

"I had about 17 different amps—not counting combos or cabs—and depending on what someone needed, I could mix and match," he recalls. One of those amps was a 1969 Marshall plexi. "You could just put a microphone in front of it, and that was it. Everyone loved it. But then one day the bassist from the band I was in at the time was playing through it when lightning hit really close by. The lightning fried the tubes and the output transformer."
Fortunately for Davis, he'd been around electronics most of his life. His father worked at Westinghouse, where he oversaw the manufacturing, production, and quality control of tubes—which made the prospect of repairing the plexi seem more plausible. "I was always around it, but I didn't have any interest in it until I opened up that amp to try to figure out what was wrong." Upon doing so, Davis remembers thinking to himself, "I'll just get a Marshall-authorized output transformer and it'll be fine." And he did, but when he put the amp back together and plugged it in, he says it sounded like a shadow of its former self. "I could've just heaved the thing out into the driveway and called it a day," he laughs wryly. "So I had 'it'—and then 'it' was gone."
When asked to elaborate on what was so magical about the "feel" of both his old Marshall and what he's aiming for with his own amp designs, Davis compares it to the string setup on a guitar. "To most players, tone is just what comes out of the cabinet—the sound. But when you have a guitar in your hands, you want it to feel good: Transitioning from string to string should feel good. Bending and vibrato should feel good. Let's say you're using .010-gauge strings—you don't want it to feel like .011s or .012s. That's really stiff. You want .010s to feel like .008s or .009s. It's not fun when you're fighting for every note—you start thinking too much about playing rather than performing or recording. You don't want to go, 'Argh, I'm fighting with my gear again.'"
Voodoo's main repair tech, Dan Stillwell, at his workbench.
There's no test gear for something as nebulous as feel, but that's where Davis says artistry comes into play. "You can line up the voltage, but if you're using different caps, they might be the same value, but they can feel stiffer," he explains. "I've tried—and continue to try—every different kind of cap out there, whether it's a coupling cap, a bypass cap, or a filter cap, just to know how they feel. Because everything has its place."
More Than Meets the Eye
While new-old-stock tubes, capacitors, and resistors often get bandied about as sources of elusive amp mojo, Davis says his experience has taught him that output transformers are one of the oft-overlooked components that significantly contribute to overall feel. That realization first came when he was attempting to recover his plexi's lost tone. He bought another old Marshall and experimented with moving components from one to the other. "When I got around to swapping the output transformer, it sounded noticeably better, though not exactly the same. That's what got me really deep into this—trying to get back something I had lost." The quest to capture that same tone and feel has become one of the driving forces behind the Voodoo brand.
"When you first start out doing this stuff, you tend to think it's the caps and resistors," he says. "You think to yourself, 'The plexi had mustard caps, so that's got to be the secret.' I came into it backwards with transformers. The situation with my plexi made a massive difference for me. Comparatively, the transformers sounded radically different, but they weren't supposed to. It was really obvious, like flicking a light switch on in a dark room."
That doesn't mean Davis dismisses the importance of smaller components. A clear understanding of caps, resistors, and voltage is essential, of course, and he's done considerable homework. "I studied everything, including the metallurgy of what goes into forging the metal for the laminates and the wire and the insulation." But when all's said and done, he sticks to his guns on the drastic impact that quality transformers can have. "Even with such knowledge, it turns out that a profound difference can be made with transformers. It can make an amp sound and feel altogether different."

"Voodoo understands the sound of rock 'n' roll." —Elwood Francis, guitar tech for Billy Gibbons
The Company
Voodoo Amps started out in a 200-square-foot room in Davis' house in Ithaca, New York, back in 1999. The company grew at a pretty rapid rate, and quickly spread into the living room. He eventually moved the business out of his house and into a 1,100-square-foot space right off of the Ithaca Commons, but he grew out of that within a year and a half. Next up was a 4,000-footer, and then, in May 2013, he moved to his current 7,000-square-foot facility in Lansing, New York.
Davis isn't just a guitarist—he's also a sound engineer who's genuinely enthusiastic about music and continues to be very involved in his local scene. "When someone puts a microphone on an amp, it's got to sound good," he says. "There are a lot of guys outside of just the player who have an influence—the monitor engineer has to be happy, and the front-of-house engineer has to like it. Clearly the player has to be happy, but if everyone else is happy, it makes things easier. I've played live for a long time, and I've made records, and I've done and continue to do sound, so I understand both sides."
Meanwhile, Cindy Davis—one of five full-time employees at Voodoo (and Trace's wife)—handles everything from bookkeeping to customer service. She also builds amps. "Trace is so meticulous in his work and has so many detailed schematics of his designs that any one of us can build an amp following his instructions, and it will sound just like he built it," she explains. Trace still has the final say on what goes out the door, and he tests each product to make sure it measures up to his standards.
In addition to building Voodoo amps, Davis' company does repairs, mods, and servicing. Another full-timer, Dan Stillwell—whose brother John "Dawk" Stillwell has done tech work for Ritchie Blackmore, Tony Iommi, and Richie Sambora—handles most repairs.
Photo by Chris Kies.
The Viral Bill Kelliher Signature Mod
"Bill [Kelliher, Mastodon] came to us with a Marshall JCM800 he said just didn't sound very good, so I designed a custom mod for him" says Voodoo Amps' Trace Davis. "Just as I was about to put it in the road case to ship back, he asked, 'Can you install a clean channel?' I like a good challenge, so we implemented a clean channel and added another gain and master for the clean channel. To show him what I'd done, I made a quick video on my iPhone and posted it to YouTube, thinking it would be private and I'd pull it down once he got the gist of what we did. Lo and behold," Davis laughs, "a few weeks later we get an unsolicited request for 'the Bill Kelliher Mod' from someone who'd seen it on YouTube. So now we are offering that, too."
Asked about the benefits of owning a small company, Davis says one is that Voodoo doesn't get into pricing wars with the competition. "Our amps are designed to be a performance car, much like a Ferrari, and then the price comes at the end," says Davis. "I haven't had a huge desire to compete against the bottom line—that's a hard road to travel and usually means you can't manufacture in the U.S.A."
Voodoo amp prices range from $1,495 to $2,995, and Davis started manufacturing the line in 2002—again, partly out of necessity. "Some guys would call and just ask, 'Do you have an amp I can just buy?'" he says. "They didn't want to bother with shipping their amp back and forth for a mod. So I said, 'Let's just put out an amp so that people can buy it.' Some production models come from that. For example, the V-Rock is loosely based on our Jose Mod, which is intended to capture the hot-rodded Marshall tones from the 1980s."
Another catalyst for manufacturing amps came from a customer who once needed an old Marshall plexi serviced. "It was in rough shape," recalls Davis. "So we cleaned it up to the point where we could fire it up, and when I hit a chord, I was like 'Oh my god, that's exactly it—that's like the amp I had.'" In that moment, Davis decided to offer an out-of-the-box plexi that would be consistent with the qualities he remembered from his beloved '69 of many years before. Davis acquired the amp from the customer, and it became the model for the Voodoo V-Plex. "We sent the transformers to Mercury Magnetics to have them cloned, so that we could get them as authentic as possible," he explains. With the transformers replicated, the 50-watt single lead V-Plex was born. Davis also started designing higher-gain amps similar to ones the company had been doing mods on. The Hex and Witchdoctor were the first high-gain, multi-channel amps offered by Voodoo.
Mercury Magnetics transformers are used on all production Voodoo amps, and F&T capacitors are frequently used. Some models have an aluminum chassis, while others use steel. "They do sound and feel different," Davis says about the chassis materials. "We've built them side-by-side, with the only differing variable being the chassis, and anybody who plugs into it notices that the steel is a more aggressive, harder sound. The aluminum has a very sweet kind of thing going on." Davis says he's experimented with this "exhaustively."

Voodoo Amps V-Rock DL100 Chassis.
More on Mods
"Building products is different from doing mods," explains Davis. "I've built enough amps with aluminum chassis, steel chassis, chassis with various different kind of plating, that I know what I want to do for my own product," he says. "Especially when it's for one kind of amp, for one kind of sound, aimed at one particular market."
Conversely, when designing a mod you obviously have to work around what's already there. "If it's a massive circuit board and a 4-channel amp, you really have to take that into account," Davis says. "I've gotten to the point where I can play an amp and then go look at the schematic and take some voltage readings and say, 'Okay, we need to do this here, here, and here,' and the amp will be 90 percent of the way there. Then it's just a matter of finessing it. The equation just somehow makes sense in my mind. I'm not even sure how it makes sense, because I just look at it and see what needs to be done based on what the customer is saying he doesn't like. I know what will fix that."
Davis says the lack of information in the '80s inspired him to make professional mods available to the public. "When I grew up, there was only Mike Soldano, Lee Jackson, and Jose Arredondo," he recalls. "I came across a magazine article somebody wrote on mod techs, but it didn't have a way to contact any of them.
"I've gotten to the point where I can play an amp and then go look at the schematic and take some voltage readings and say, 'Okay, we need to do this here, here, and here,' and the amp will be 90 percent of the way there. Then it's just a matter of finessing it."
—Voodoo Amps' Trace Davis

So I thought that if a player could read something like that nowadays—in a magazine or on the internet—and be able to contact us to get the exact same thing as, say, Vivian Campbell or Billy Gibbons, well, 'Here you go. This is exactly what they use. Verbatim.' A lot of players like that."
Voodoo mods range in price from $195 to $1,200, and the company's website lists a multitude of mods designed for specific amps, such as the Peavey 5150, Marshall JVM series, Mesa/Boogie Rectifiers, and the Marshall JMP-1—their most popular preamp mod. "It's still the most widely used preamp on tours," says Davis. "We've got seven or eight players currently using it, and everyone has the exact same mod."
Billy Gibbons is one of those players. He uses Voodoo's Platinum Mod on all 13 of his JMP-1 preamps. "Voodoo understands the sound of rock 'n' roll—it's that simple," says Gibbons' guitar tech, Elwood Francis. "As far as the Platinum Mod is concerned, it's a night-and-day difference. Before the mod, the JMP-1 was bland, noisy, had no dynamics and was squishy. After the mod, it's open-sounding, the gain is harmonically rich and very round, and it has far less noise despite having more gain on top. It's like the difference between a VW and a Porsche. A VW is an excellent car for getting around, then one day you drive a Porsche—big difference."

GN'R guitarist Richard Fortus tests out some Voodoo prototypes onstage before a gig.
Guns N' Roses' Richard Fortus on Voodoo Amps
I first heard about Voodoo Amps about eight or nine years ago. I was looking to have my favorite '73 100-watt Marshall cloned, and my tech at the time (Jason Baskin) recommended Voodoo. I bought the head from Mick Mars (Mötley Crüe) about 11 years ago. A friend of mine who owned a shop in L.A. called me and told me that Mick was selling off a bunch of Marshalls, so we went to his house and I played through about a dozen Jose Arredondo-modded heads. I plugged into one and hit a chord, and it was as if the clouds parted and the angels sang. My jaw hit the floor. Mick looked at me and said, "Yeah, that's the one I did all the records with." That became my No. 1 amp for years until I met Trace—he not only meticulously cloned it, but he beat it.
The main heads that I use live are a pair of signature Voodoo R4-100 heads that Trace and I designed. They are like having four of my favorite Marshalls in one head. I'm not a huge fan of multi-channel amps, but there seem to be no sacrifices in tone with this amp. It's a two-channel head with an extra volume and gain that can be engaged for each channel. The first channel is based on my favorite plexi, and the second channel is based on the '73 Jose. I also have a single-channel head that Trace meticulously cloned from the ground up. His attention to detail is beyond any amp guy I've ever worked with.
Voodoo's first high-profile mod user came via a particularly unusual route. "A good friend of mine drove for Def Leppard, and he lined up a meeting for us," says Davis. "He said, 'You can bring some stuff up. If they like it, you can figure it out from there—I'm just setting up the introduction.' We ended up getting Def Leppard as one of our first endorsements, which we didn't think would happen right away. We figured we had another four or five or six years of climbing the ladder. Once we had a noted artist like Def Leppard, it seemed to add some legitimacy and bring new customers."
Davis is proud to offer everyday players a very personal experience, too. "We often get calls from people who say, 'I see you do work for a lot of big players, so if they like it, it must be good. Here's what I like and here's what this doesn't do. Is it modifiable, and if not, what should I get? Here's my budget.'" He says Voodoo will also look at what a customer wants and the budget they have to work with and help them get the most bang for their buck. "We're trying to establish relationships with customers over the long term."