Esoterica Electrica: Building to a Price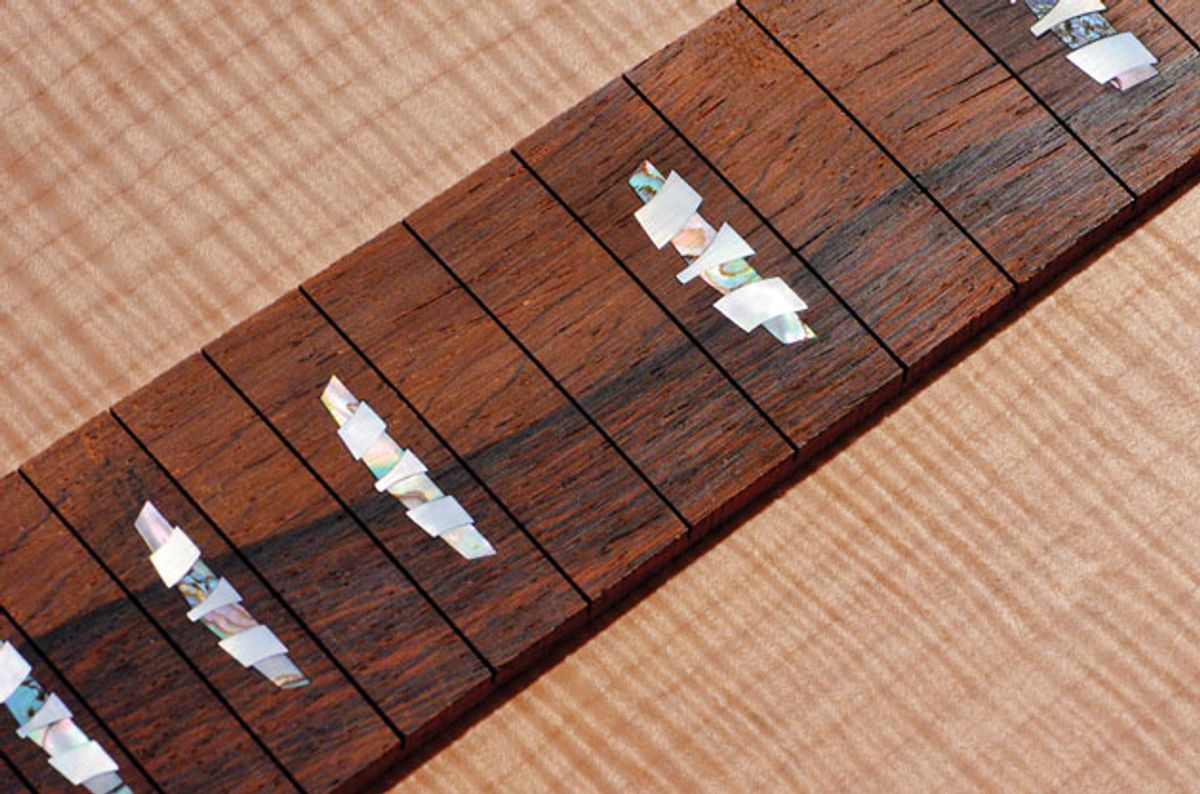 How do builders balance costs and features when creating a guitar model?
By the time you read this, the NAMM show dust will have settled and exhibitors will be home breathing a sigh of relief and licking their wounds, or maybe even celebrating a little. Various ideas will have been thrown upon the industry's wall, and they have either stuck or not, at least within the trade. For some, the promise of a fruitful product life cycle is in the air, but that's not to say that any of these products will survive.
So just what does it take to come up with a product that returns the investment made in it?
Designing instruments for production is a lot like building your dream rig or home studio. You start out with an A-list of things you'd like. You know—all the cool stuff you're dying to have at your fingertips. But then reality (which looks a lot like a budget) rears its practical head. So much for that Fairchild tube limiter and vintage German microphone you covet! You're trying to get some bang for your buck without maxing out credit cards or bankrupting your family. And the same goes for manufacturers who are under the constraint of budgets while trying to hit price-point sweet spots.
Designing by Numbers
The best products begin their lives as solutions to problems. When a guitar fills the needs of musicians, that's the first step towards a winner. But other times, a product is simply conceived to fill a gap in a company's price range. When I queried a seasoned MI retail veteran, he confirmed that the under $500 price category is where the real action is when it comes to volume selling, which puts a lot of downward pressure on everyone.
Typically, marketers like features but hate costs. Too much bling on a guitar, and the resulting retail price can give sales reps the cold sweats. And when sales reps don't feel confident about a price point, a product can be doomed before it has a chance. It's not that sales people don't want kick-ass products, but I have yet to hear someone in a marketing meeting say, "Hey, let's just build a really great guitar—damn the cost!" What often gets laid out is a set of parameters that are naturally at odds with each other.
Where are the Costs?
The addition or subtraction of any feature is subject to a decision based upon cost versus perceived value to the customer. The basic raw materials for a guitar's neck and body are always a good place to start. Hardwoods like rosewood, ebony, and mahogany are getting scarce and more expensive every day. Leo Fender really got this one right when he specified maple, ash, and alder. Not only are these domestic species easier to obtain, they are significantly less expensive.
Labor costs dwarf those of parts and materials, which is why so much production has moved to developing countries where wages and benefits are low. But regardless of the country of manufacture, builders always watch the pennies.

A highly figured solid top may be attractive, but is also expensive. Thin veneers are cheaper, but their perceived value is low, so an effective strategy might be to camouflage the thin edges with paint or binding. Binding itself is fairly inexpensive compared to the cost of figured woods, so the trade-off can often be worth it. This works best on flattop instruments, although a pressed, arched top of figured veneers in lieu of a thick, solid top can be a viable money-saver that looks good too. The cost is more of a consideration with extensive binding work, however, because of the time it takes to mask and/or scrape in the finishing department. On the other hand, binding can be avoided entirely with a solid top by masking (or even sanding) a line around the stained edge and creating a "faux binding" stripe which both looks great and saves time and cost.
Most of the labor costs involved with producing any guitar are the painting and buffing. Certain woods are easier to finish than others. The closed-grain structure of maple allows it to be painted easily and without the need for a pore-filler step. Speaking of paint, ultraviolet curing of urethane or polyester coatings can shave days off production time. And time is money.
Fretboard inlays have high perceived value, and can be a secret weapon to raise a product's profile. CNC (computer numerical control) routing of both inlays and the associated fretboard pockets has streamlined this operation to the point that it's a viable addition to almost any guitar. Yet another avenue is using imitation shell products that look good enough to add flair without breaking the bank. Can you tell the difference?
Hardware is always a consideration, and typically every component is scrutinized for cost versus performance. The price of electronic and hard parts from China has come down significantly, and the quality has only suffered slightly. The greatest difference seems to be in longevity, and with so many players upgrading hardware with aftermarket products, the OEMs are off the hook.
The Real Money
Of course, if we're talking about U.S.-based manufacturing, the big money is in the labor. Labor costs dwarf those of parts and materials, which is why so much production has moved to developing countries where wages and benefits are low. But regardless of the country of manufacture, builders always watch the pennies. And the larger the production, the more it adds up. Either way, it's quite the balancing act to bring a successful product to market.