Apple's newest version of GarageBand features the same intuitive interface with some new features that will interest guitarists of all stripes.
Click here to jump to this review's sound samples.
Since the program's introduction in 2004, Apple's GarageBand has remained something of a populist favorite among musicians. Built upon the chassis of Apple's flagship Logic Pro software, GarageBand managed to combine a friendly interface with impressive signal handling abilities, meaning that you didn't need to memorize a thick manual or struggle with complex hardware to lay down a few tracks. Its simplicity made it a versatile musical scratchpad that trumped anything packaged with Windows; the price wasn't bad either. It was a four-door sedan with racing heritage – built upon power but priced for the people.
The program has continued to evolve with the hardware, with Apple quietly adding features and tricks as processing power and RAM allotments continued their upward slope. The latest release, dubbed GarageBand '09 and existing within the equally souped-up iLife '09 suite, could be considered both a minimal step and a big leap, depending on your vantage point in the music world. Guitarists and learning musicians will likely be pleased; other users less so.
In the Garage
For the most part, GarageBand '09 remains the same creature it was in 2008, with a few tucks and lifts to keep things looking modern; if you've used previous versions, you'll feel right at home here. Users hoping for a trickle-down taste of some of Logic Pro's studio-quality features will probably be a little disappointed after upgrading, but it really shouldn't come as a surprise: Apple, being the good business people they are, weren't likely to begin cannibalizing their flagship framework to soup up a cheap bundled program (included with new Macs, or $79 to upgrade the entire iLife suite).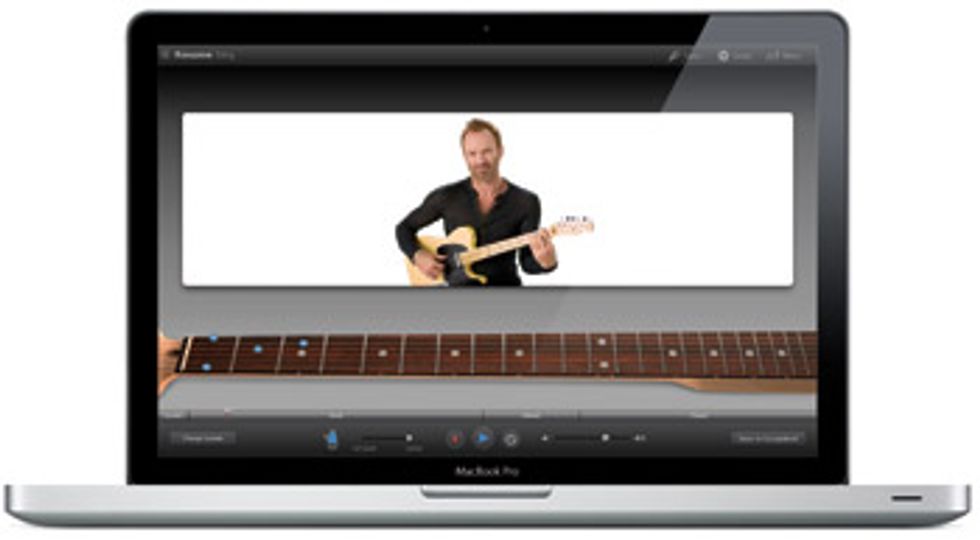 Sting teaching a guitar lesson in GarageBand
photo courtesy of Apple
The most hyped additions to the program this time around actually have very little to do with the recording side of the program: there are now Artist Lessons, in which music icons like Sting and John Fogerty teach you their hit songs lick by lick, and Magic GarageBand, where you can play with a virtual backing band over a handful of different tunes. These additions are certainly entertaining, and all are executed with Apple's trademark flair – the HD lessons looked great, and Magic GarageBand is one of the first canned bands I've actually enjoyed playing along with – but, depending on your musical level and interests, it may not be enough to hold your attention past a few days.
That said, the program's most impressive upgrade is the inclusion of brand new amp models and an overhauled interface for working with electric guitars. While previous versions of GarageBand featured an Amp Simulation effect, it always seemed to be more "simulation" than "amp"; likewise, the interface for tweaking tones left much to be desired. GarageBand '09 has streamlined the process for recording a guitar, and has managed to make it a bit of fun as well.
The interface is surely the biggest improvement here; Apple has wisely followed the lead of other amp modeling products on the market and provided users with actual knobs, rendered on a mock front/top panel that resembles one of the program's five new amp models (a tweed combo, a blackface combo, a Vox combo, a Marshall half-stack and a Mesa Boogie-type lead head). Players can also choose from ten different stompboxes, which are laid out on the floor in front of a player's "amp," adding another level of tactile engagement to the proceedings.
Likewise, the process of getting the guitar signal into the computer has been much improved; upon telling GarageBand to add a new track, it asks if the instrument is an electric guitar. Confirming this pulls up the amp interface and allows you to begin tweaking your signal immediately. If you don't already have an audio interface to feed your guitar signal into your computer, it is highly recommended – I used an IK Multimedia StealthPlug to run my guitar signal directly into the USB port, and was literally laying down tracks within minutes of installing the GarageBand. Guitarists needing an intuitive, fast audio scratchpad will definitely appreciate the streamlined approach.
Download Example 1


Recorded over GarageBand's "Roots Rock" theme. The rhythm guitar is a Vox combo with a compressor/sustainer; the lead guitar is a blackface combo with a compressor/sustainer and an overdrive set at medium gain with the "Fat" setting engaged.

Download Example 2


Recorded over GarageBand's "Slow Blues" theme. The lead guitar is a Marshall half-stack set at medium gain, played on the bridge pickup.

All clips recorded with a Les Paul Studio, through an IK Multimedia StealthPlug into GarageBand '09.
The amp sounds follow as a close second in the "biggest improvement" category. While there are only a handful of base amp types available, Apple has hinted that they went back to the drawing board to create some authentic-sounding models, and the results are impressive for a company not dedicated to music. While GarageBand '09 certainly isn't Guitar Rig 3 – nor is it trying to be – the amps now sound pretty damn good. The clean sounds are greatly improved across the board; the Vox combo sounds especially chimey and gorgeous. GarageBand's Marshall impression is similarly convincing; while it lacks some of the oomph that you feel standing in front of a 4x12 cabinet and a cranked 50-watter, I was able to dial in everything from dark cleans to crunchy rhythms without any hassle.
As with any software-based amp modeler, as the gain increases, things can get a little crazy, and so it is with GarageBand '09. Fortunately, the only weak spot in the amp lineup lies within the Mesa Boogie-type lead head, which had a tendancy to collapse into itself when the Gain knob was turned past 3 o' clock. Likewise, some of the nuance found in other amp modelers is lost here – the amps aren't supremely touch sensitive or deep (although there is a surprising amount of dynamic range present), and purists will likely notice that all of the amps' controls are the same, consisting of Gain, Bass, Mids, Treble, Presence, Master, Output, Reverb, Tremolo Rate and Depth, regardless of any historical accuracy – but that's really nitpicking. These models sound good enough that it should be no surprise when they start popping up on albums.
Apple has also introduced a range of stompboxes that help expand the tonal possibilities of GarageBand. Consisting of a phaser, overdrive, distortion, fuzz, chorus, phaser, vibe, auto wah/filter, echo and compressor, GarageBand '09's pedal collection hits all of the bases without being flashy. As you might expect, the results vary, depending on how you're using the effects and what you're expecting: the Vintage Drive OD was a pleasant surprise, adding some organic thickness and grit to GarageBand's amps, while the Fuzz Machine and the Grinder distortion were a little less inspiring. The Squash Compressor, featuring two attack modes (Fast and Slow), was truly the unsung hero of the group, helping to bring out the best in GarageBand's Vox and Fender models.
The modulation effects also sounded passable, if not a little flat at times, with the Blue Echo and the Phase Tripper taking top honors. If you're not in the mood to shuffle boxes around, users can choose from a large collection of presets, many of which are quite good – the Dublin Delay, for instance, is a dead-on recreation of the Edge, and one of the best presets in the bunch. Unfortunately, Apple's decision to not allow MIDI control of these effects limits their usage in real-time situations – the only way to trigger an effect on and off is with a mouse click. Even so, enterprising guitarists should be able to find some great textures in a minimum of time.

The Final Mojo
Apple continues to push GarageBand's capabilities with each release, and the '09 version is no exception. With the addition of some newly envisioned amp models and effects, the program continues to offer incredible value to guitarists looking to capture their thoughts quickly and seamlessly. If you've always wanted to dabble in amp modeling without making a big investment of money or time, you'll dig this update.
Buy if...
you love GarageBand's intuitive style and you want to add some solid amp sounds on the cheap
Skip if...
you're looking for more nuance from your amp/effect models
Rating...

MSRP $79 (upgrade for entire iLife '09) -

Apple

- apple.com
Looking for more great gear for the guitar player in your life (yourself included!)? Check out this year's Holiday Gear Finds!
Flare is a dual-function pedal with a tube-like booster and a 1970s-style ring modulator effect that can be played separately or together.
Flare's ring modulator is based on the iconic tone of the original Dan Armstrong Green Ringer. This vintage classic was made famous by Frank Zappa who loved the unusual modulations created by generating a harmonic octave over notes. Messiah's version offers two control knobs: a "Sparkle" tone attenuator and output Level control. Its taupe-gold body, purple and green knobs and stick-figure rock 'n' roller holding up a flame convey an appropriately rockin'70s vibe.

​In a unique twist, Messiah's Flare pairs the ringer with a warm tube-style boost instead of a fuzz. Flare feeds the booster into the ringer for an extra punch, while preserving the Green Ringerspirit. The ringer side also turns any fuzz into an octafuzz, and it has the ability to quiet signal background noise fed through it.
The booster side features a single Boost knob to control the MOSFET circuit, making it very tube-amp-friendly with a warm, organic boost and gain of up to 32dB.
​The pedal is a distinct improvement over the 1970s pedal that inspired it. "Most ringer pedals don't track well," Tom Hejda, owner of Messiah Guitars. "The player can't rely on repeating the same effect even with the most consistently played notes. We carefully matched the components, so our ringer follows your every move, producing that slightly dirty octave you expect on demand."
Messiah developed this vintage octave pedal with flexible features so that people who love that messy, dirty Zappa-esque sound can get there with ease but there's also something for those who have not fallen in love with fuzz or the Green Ringer alone. Flare offers an array of sonic options while retaining simplicity in the controls.
Each Flair Pedal Includes:
3 control knobs: Boost, Sparkle, and Level
Two effects – Ring Modulator and Boost – can be used together or separately
Space-saving top side jacks
Durable, cast aluminum alloy 125B enclosure with fun artwork
Easy to see, illuminated True-bypass foot switch
Standard 9V pedal power input​
Flare Pedal Demo
Messiah Guitars pedals are designed with an explorative player in mind. Like their custom guitars and amplifiers, Messiah's pedals are hand-crafted in Los Angeles for a long life with guaranteed quality.
Flare retails for $199.00 and can be purchased directly at Messiah Guitars or you can hear it in person at Impulse Music Co. in Canyon Country, CA.
For more information, please visit messiahguitars.com.
This feathery little guy is a joy to play because of its incredibly quick response to your right hand - much faster and more expressive than your typical auto-wah pedal.
​If it looks like a duck, acts like a duck, and QUACKS like a duck, then it must be a duck. That's how we came up with the name for our new envelope filter. This feathery little guy is a joy to play because of its incredibly quick response to your right hand - much faster and more expressive than your typical auto-wah pedal. Trevor explains how this is possible in the launch video, as well as gives a demo on Le Canard's operation.
​The attack control determines how quickly the filter responds to the envelope, and the decay sets how quickly the filter releases afterward. The range controls which frequency spectrum the filter does its magic on. Add to this relay-based full-bypass switching with failsafe, and you've got one crazy little quacky beast. It is so expressive that you'll want to give up on your rocker-wah forever.
The MayFly Le Canard envelope filter features:
Super fast responding envelope follower. Touch it and it jumps!
Range control to dial in the character of the filter
Attack control to control how fast the filter moves on that first touch
Release control to control how slowly the filter slides back to baseline
Full bypass using relays with Fail SafeTM (automatically switches to bypass if the pedal loses power)
Cast aluminum enclosure with groovy artwork
MSRP $149 USD ($199 CAD)​
Introducing the MayFly Le Canard Envelope Filter
All MayFly pedals are hand-made in Canada.
For more information, please visit mayflyaudio.com.
Outlaw Effects introduces their next generation of NOMAD rechargeable battery-powered pedal boards.
Available in two sizes, NOMAD ISO is a compact, versatile tool that offers the convenience of a fully powered board plus the additional freedom of not having to plug into an outlet. NOMAD ISO is ideal for stages with limited outlet availability, quick changeovers, busking outdoors, temporary rehearsal locations, and more.
NOMAD ISO builds upon the legacy of the ultra-convenient and reliable NOMAD rechargeable pedalboard line originally launched in 2018. The brand new NOMAD ISO editions feature eight isolated outputs (1 x 9V DC, and 1 switchable 9V/12V DC) for even more versatility and clean, quiet power. With an integrated lithium-ion battery pack boasting 12800mAh capacity, NOMAD ISO can fuel a wide array of pedals, and will last over 10 hours* on a single charge.
Each NOMAD ISO pedal board includes adhesive hook & loop pedal-mounting tape, eight (8) standard DC connector cables, and one (1) reverse polarity DC cable, giving you everything you need to build your ultimate "off-the-grid" rig. A rugged, road-ready padded gig bag with shoulder strap is also included, to safely protect your gear while you're on the move.
NOMAD ISO S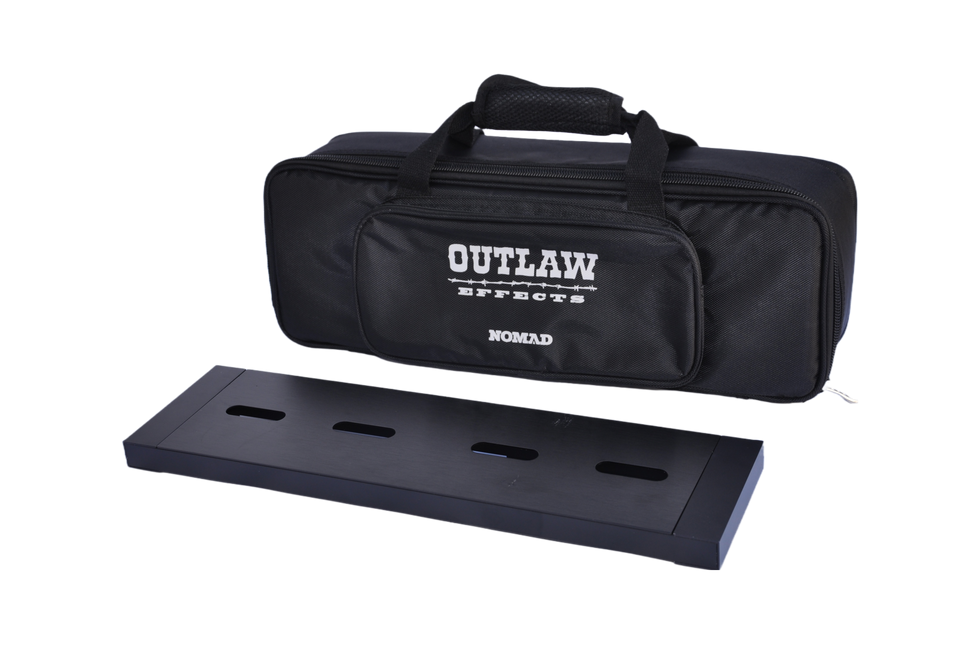 NOMAD ISO S: MSRP $309 / MAP: $249
Dimensions: 19 ¼" x 5 ¼"
NOMAD ISO M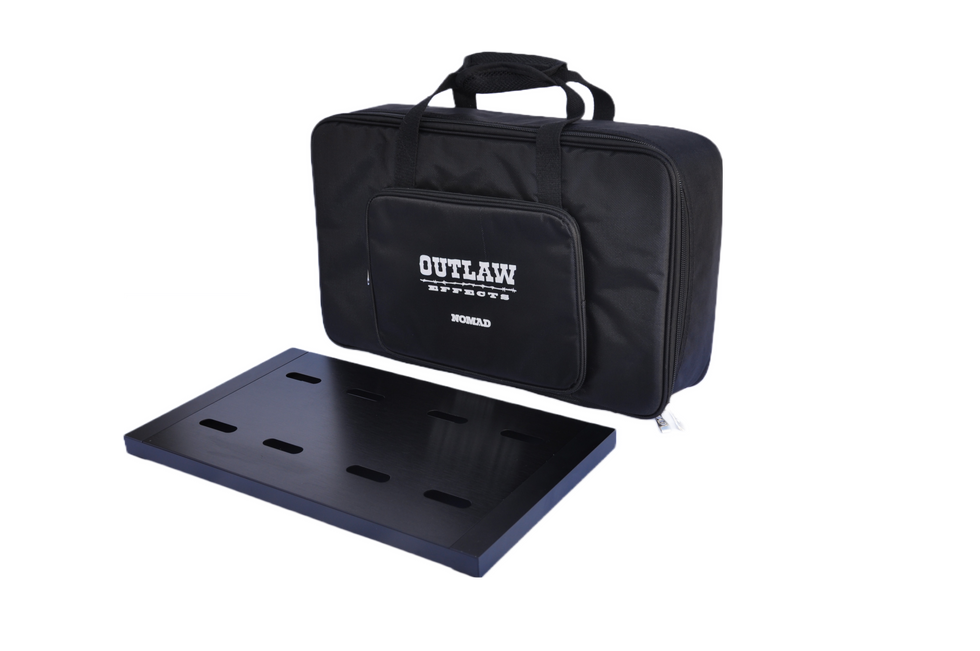 NOMAD ISO M: MSRP $349 / MAP $279
Dimensions: 19 ¼" x 11"
More info: https://www.outlawguitareffects.com.