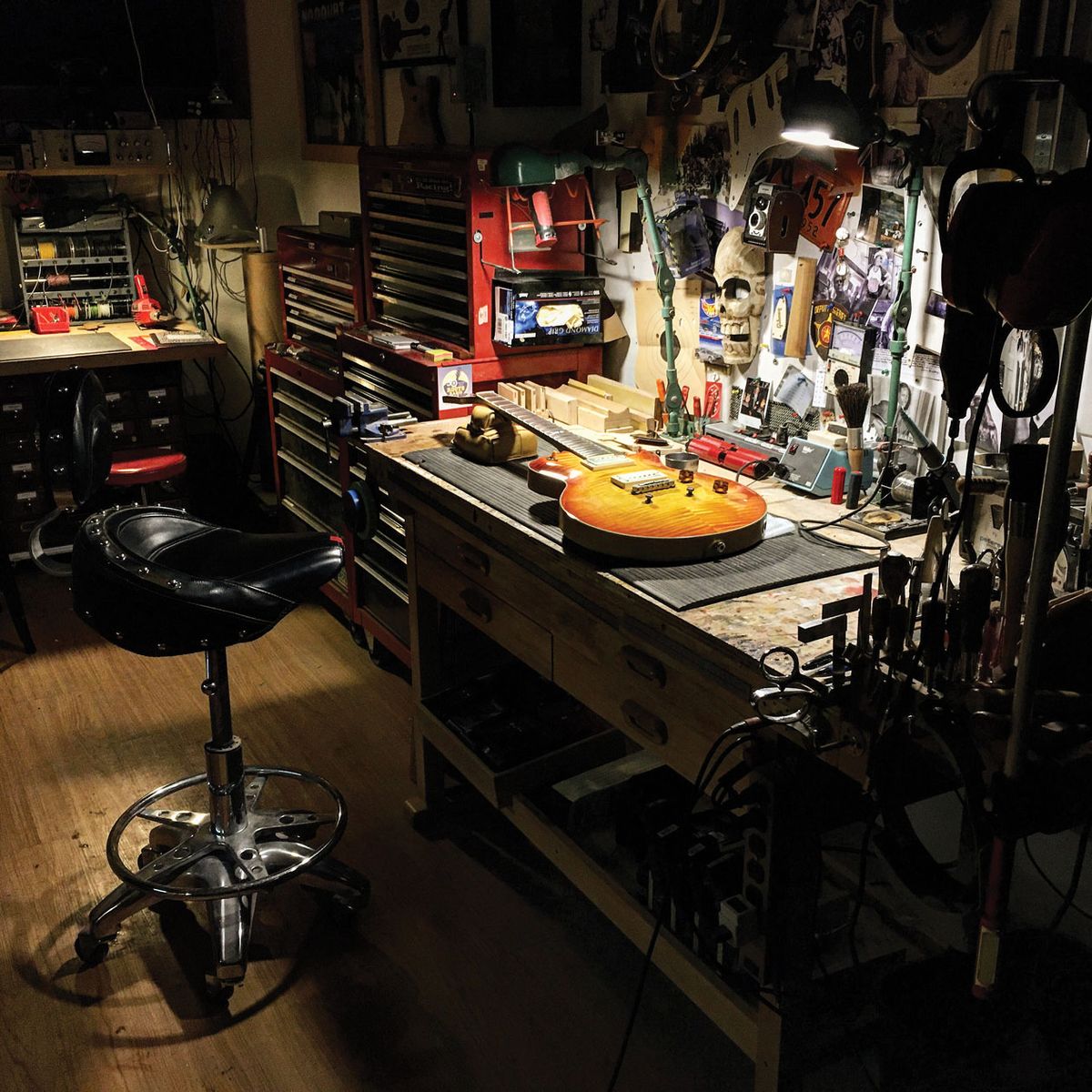 Could the world's current challenges be the tipping point leading to the next chapter for creative souls?
There have been hard times in the music industry before. Every 10 or so years, someone writes an obituary for the guitar. Disco pushed working musicians out of clubs in the 1970s, and the synthesizer was predicted to obliterate the electric guitar a decade after that. Just as corporate rock fizzled out, hairspray metal came on strong until plaid-clad minstrels from the Northwest killed off the hairspray stars. Even now, as music splinters and mutates into a thousand sub-genres, there are industrious musicians finding ways to reach fans. If streaming was the great disrupter, COVID-19 could be the tipping point leading to the next chapter for creative souls. We always persevere.
As testament to this, working and leisure time is morphing. Schoolteachers are instructing classes via the internet with classroom apps and video meetings. Many jobs are now being done remotely. At the same time, musicians are webcasting lessons and concerts from their homes. I've been watching my friends in the industry break the fourth wall like never before—singing and playing directly to their audience in the most intimate way—and it's delightful. If the previous five decades have been about creating ever-larger tribal events with enigmatic icons preaching from the stage, right now it's about connecting directly in decidedly informal ways. Whether it's Richard Thompson, Keb' Mo', or Mike Campbell, it's great to see them at home being real. We're craving the feeling of community and intimacy that isolation denies, and sharing low-budget episodes (with humor) feels right.
The rhythm of the saw and file hypnotizes me as I become one with the work, like when you find the musical groove and everything you play is easy.
For those of us who are not performing artists, we share what we do via social media, too. I find sharing comforting. In times of hardship, people are drawn to the humanity of others and tend to be repelled by obvious commercialism. In our electronically connected world where everyone is a star in his or her own imagination, it's nice to witness a letting go of pretense in favor of some down-home sincerity. As scary as things are, it's good to experience this small adjustment. I love getting glimpses into the life and work of artists I admire, and hope the trend continues. A friend of mine calls the digital screen the "fake electronic window," but right now it's a window we need.
For now, we're doing what we all have done when things get tight. Be creative, courageous, and, most of all, flexible. When strong winds of change blow, the tree that bends avoids being broken. So, I go to my shop and bury myself in the details of creating instruments that people will love. I'm not thinking about the payday. I'm watching the chisel shear the wood. The rhythm of the saw and file hypnotizes me as I become one with the work, like when you find the musical groove and everything you play is easy. Everyone has to put food on the table and keep a roof over their head, but when you love the process, the result takes care of itself.
Will these trends continue once things return to normal? What will the new, new normal be? Your guess is probably better than mine. I can only hope that we all stay safe, love each other, and learn some sort of useful lessons along the way.
---
Looking for more great gear for the guitar player in your life (yourself included!)? Check out this year's Holiday Gear Finds!
Outlaw Effects introduces their next generation of NOMAD rechargeable battery-powered pedal boards.
Available in two sizes, NOMAD ISO is a compact, versatile tool that offers the convenience of a fully powered board plus the additional freedom of not having to plug into an outlet. NOMAD ISO is ideal for stages with limited outlet availability, quick changeovers, busking outdoors, temporary rehearsal locations, and more!
NOMAD ISO builds upon the legacy of the ultra-convenient and reliable NOMAD rechargeable pedalboard line originally launched in 2018. The brand new NOMAD ISO editions feature eight isolated outputs (1 x 9V DC, and 1 switchable 9V/12V DC) for even more versatility and clean, quiet power. With an integrated lithium-ion battery pack boasting 12800mAh capacity, NOMAD ISO can fuel a wide array of pedals, and will last over 10 hours* on a single charge.
Each NOMAD ISO pedal board includes adhesive hook & loop pedal-mounting tape, eight (8) standard DC connector cables, and one (1) reverse polarity DC cable, giving you everything you need to build your ultimate "off-the-grid" rig. A rugged, road-ready padded gig bag with shoulder strap is also included, to safely protect your gear while you're on the move.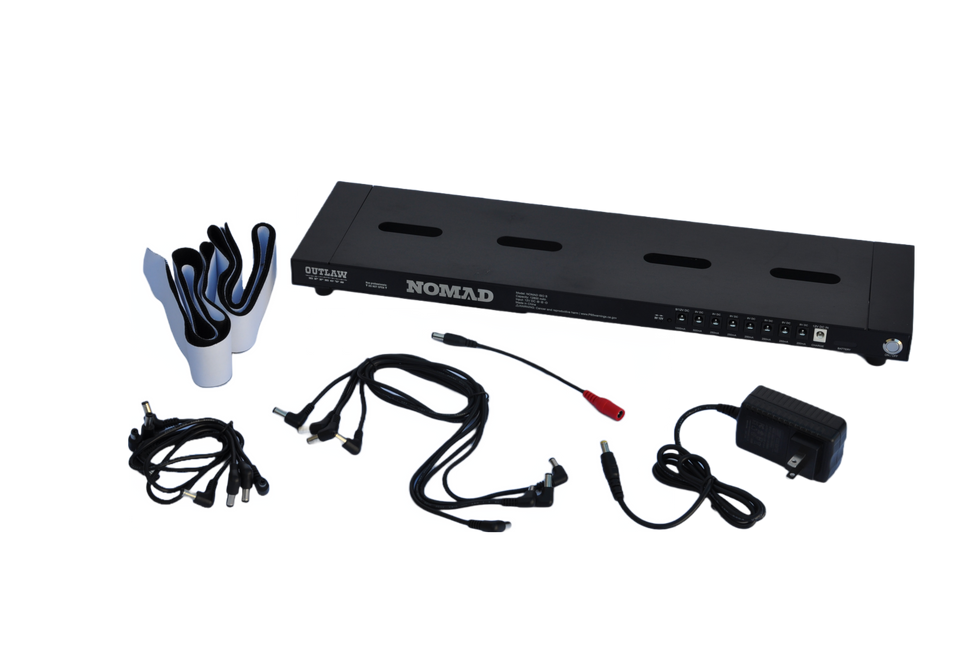 Dunable announce new Minotaur model featuring Grover Rotomatic Keystone tuners.
The Minotaur's DNA is rooted in their classic Moonflower model, which Dunable discontinued in 2017. However, they have long since wanted to create a fresh take on a carved top guitar design, and various attempts to rework the Moonflower led them to a brand new concept with the Minotuar.
Dunable's goal is to give the player a guitar that plays fast and smooth, sounds amazing, and gives maximum physical ergonomic comfort. The Minotaur's soft and meticulous contours, simple and effective control layout, and 25.5" scale length are designed to easily meet this criteria.

Dunable Minotaur!
Features
25.5" scale length
Dual Humbucker
one volume, one tone, push pull for coil splitting
Grover Rotomatic Keystone tuners
Grover Tune O Matic bridge with brass Kluson top-mount tailpiece
jumbo nickel frets
12" fretboard radius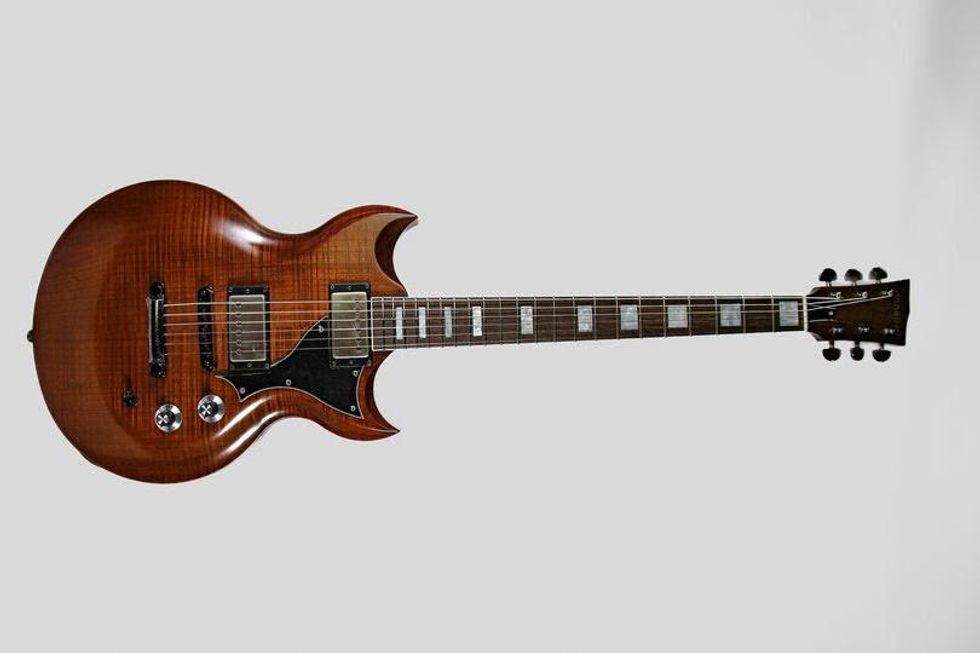 Dunable
This full-amp-stack-in-a-box pedal brings a new flavor to the Guitar Legend Tone Series of pedals, Missing Link Audio's flagship product line.
Adding to the company's line of premium-quality effects pedals, Missing Link Audio has unleashed the new AC/Overdrive pedal. This full-amp-stack-in-a-box pedal – the only Angus & Malcom all-in-one stompbox on the market – brings a new flavor to the Guitar Legend Tone Series of pedals, Missing Link Audio's flagship product line.
The AC/OD layout has three knobs to control Volume, Gain and Tone. That user-friendly format is perfect for quickly getting your ideal tone, and it also offers a ton of versatility. MLA's new AC/OD absolutely nails the Angus tone from the days of "High Voltage" to "Back in Black". You can also easily dial inMalcom with the turn of a knob. The pedal covers a broad range of sonic terrain, from boost to hot overdrive to complete tube-like saturation. The pedal is designed to leave on all the time and is very touch responsive. You can get everything from fat rhythm tones to a perfect lead tone just by using your guitar's volume knob and your right-hand attack.
Features 
Three knobs to control Volume, Gain and Tone
Die-cast aluminum cases for gig-worthy durability
Limited lifetime warranty
True bypass on/off switch
9-volt DC input
Made in the USA
MLA Pedals AC/OD - Music & Demo by A. Barrero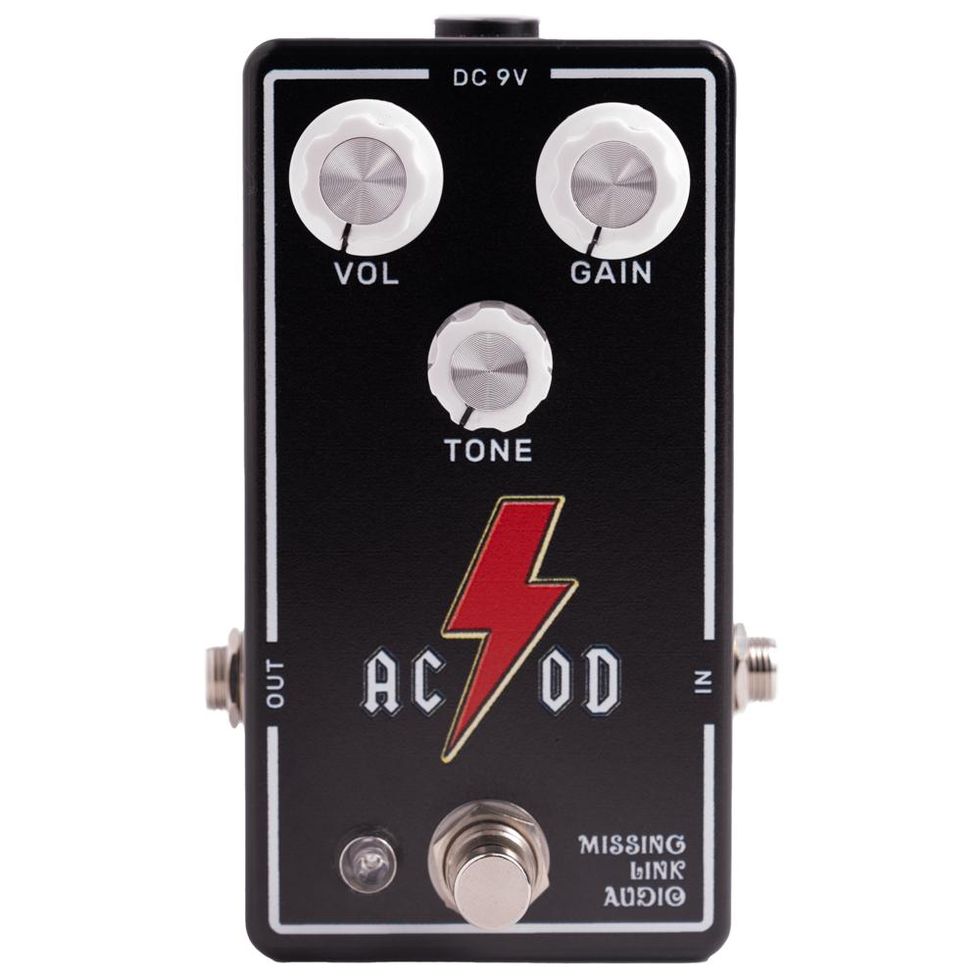 www.mlapedals.com.