Ah, the good old Telecaster. Yes, it's hard to play—at least in comparison to some guitars—but I view it as one of the most flexible recording and gigging guitars around.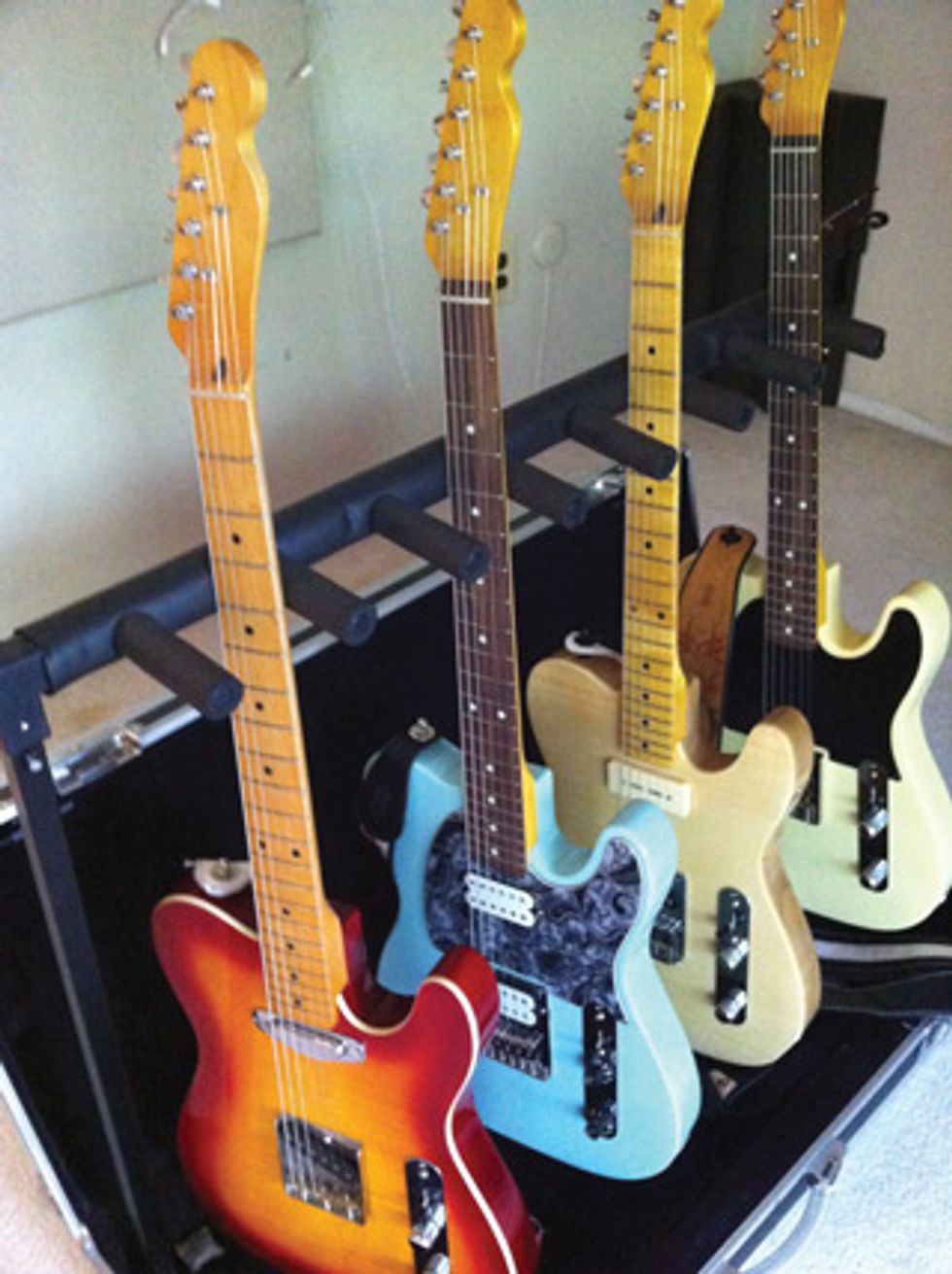 A quartet of T-style guitars: Each is configured with different pickups and wiring schemes to provide a broad sonic palette for stage and studio use.
Ah, the good old Telecaster. Yes, it's hard to play—at least in comparison to some guitars—but I view it as one of the most flexible recording and gigging guitars around. Let me share my experience with four Teles I've collected to get my work done, and then maybe you'll agree.
I grew up as a pure Les Paul guy. I thought a Paul's tone, beef, bottom end, sustain, and sheer power was unbeatable. But I did have trouble keeping them in tune at gigs, they were freakin' heavy, and they couldn't get as funky as I needed. I still have them, use them, and love them—but I needed more. (Don't we all?) My switch to a Tele was instigated by the need for a different sound, yet it also reflected an evolution of my playing style.
At the time that I made the switch, the bands I was gigging with were mostly groove-oriented R&B outfits, so the choice was almost a no-brainer. But my collection of Teles really grew as I began to do more TV composing. Sure, I could use the Les Paul in the studio with no problem, but I needed the sound of country, blues, rock, reggae, and even metal. Could a Tele handle all of those? Yes, but to make this happen I needed to outfit them with different pickups for maximum versatility.
All four of my T-style guitars were built by Rob DiStefano at Fret Tech (frettech.com), who I introduced you to a few columns back ["Emergency Truss-Rod Tweaks," July 2012]. Built of paulownia wood, these Ts are all super lightweight, and when you play them unplugged, they resonate almost like acoustic guitars. But I think of them simply as vehicles for my pickups—each of which delivers a distinctive tone for different jobs.
The main workhorse (which I also play live) is a cherry burst that I string up with .010–.052 string sets. I hate noisy pickups, so it's got Bill Lawrence L-200 Noisefree Singles. Noiseless pickups— okay, pickups with very low noise—are especially crucial when tracking in front of a computer or when recording solos through a cranked amp, and this guitar records as quietly as any 6-string I've ever owned. The L-200s are wired to a 4-way switch. This guitar covers clean country in position 1 (neck pickup), funky clean in position 2 (bridge and neck in series), max rock distortion in position 3 (bridge and neck in parallel), and solos that cut through the band in position 4 (bridge). I love this guitar!
My second T-style guitar is a hybrid with a Lace Sensor PS900 soapbar in the neck, and a Bill Lawrence L-290TL in the bridge. It's my whammy guitar—it's got a Trem King vibrato (soon to be replaced with a Bigsby B50)—because sometimes you need just a touch of trem in country tunes to get that desolate desert sound. The main thing this guitar gives me is that dark, edgy P-90 tone, and it simply sings when plugged into my vintage Gibson amps. I also string this one with .010–.052 sets.
The third T was built to be a light, highgain replacement for my Les Paul, both onstage and for studio work. It's outfitted with a set of 4-conductor Rio Grande Barbeque Bucker pickups. DiStefano wired the guitar like my 'burst T, with four pickup positions, but when I pull up on the tone knob, both pickups run in single-coil mode for even more tonal variations. This guitar is strung with .011–.050 sets, and it puts out a very hot signal, which in turn drives amps quite hard (though I also use a pedal for extra gain). It sounds best through my Mesa/Boogie Mark IV head and is even brighter than my Les Paul—with almost as much beef. The distortion tone is quite nice, but it also gets a cool funky sound with an almost Gretsch-like quality, so it can cover country when need be. I've noticed that humbuckers typically don't have as much sonic personality as singlecoils. To me, humbuckers have an edgy sound that reflects less of the guitar body's character and instead is more defined by the amp they're running through. But this guitar rocks hard and covers all my heavy, nasty humbucking sounds when recording away from home.
The last T-style guitar has Esquire-style wiring and a single pickup handwound by DiStefano. Featuring alnico 5 magnets and overwound with 11,500 turns, the pickup delivers a full, thick tone that makes amps sing. To keep the noise floor down, it also features a dummy coil that sits under the pickguard. It has no magnets and simply generates a signal that's the inverse of the main pickup, which helps kill some of the hum but with minimal treble loss.
This guitar has a 3-position selector switch, where position 1 is just pure pickup—with no tone pot in the signal path—while position 2 engages the tone knob, and position 3 features a .0047 μF cap that slices off some treble. The latter sound is similar to what some players call the "cocked wah" sound—it's as if you have your wah pedal engaged and set to a fixed position. It's also strung with.011–.050 sets, and I keep it in open D tuning for nasty blues, open chord work, and slide.
My point for this column is that, for the most part, one guitar can't cover all your sonic needs. But for the way I play, a Telecaster-style guitar provides a flexible platform that I can load with different pickups to get a huge variety of sounds. Sure, I have a closet full of guitars—and every single one of them gets used—but these four are my main workhorses. So if you need a variety of tones in your music, go forth and buy more guitars ... or at least more pickups!
---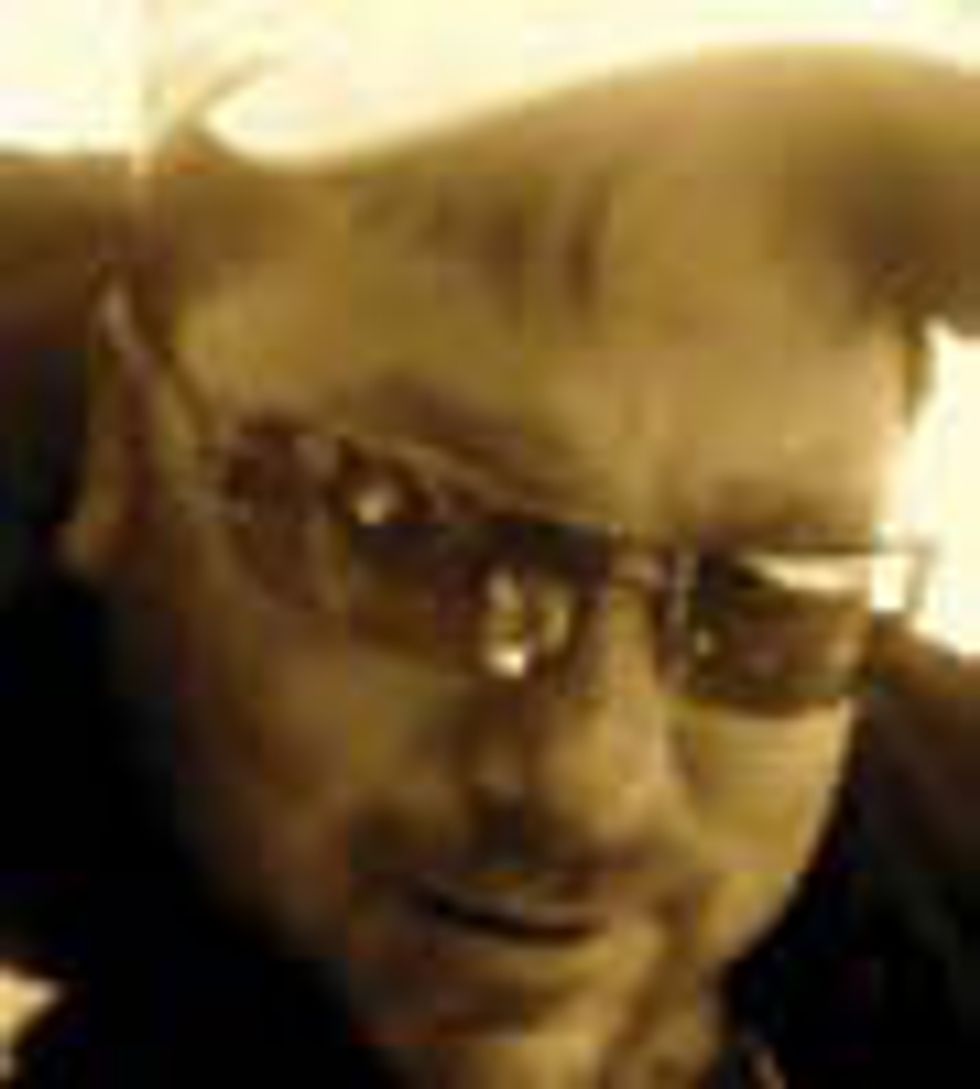 Rich Tozzoli
is a Grammy-nominated mixer/producer/composer who has worked with artists ranging from Al Di Meola and Ace Frehley to David Bowie and Hall & Oates. A life-long guitarist, he's also the author of
Pro Tools Surround Sound Mixing
and his music can be heard on such shows as
Fox NFL
,
Pawn Stars
,
American Guns
, and more.