"Modern guitars for modern times," is a fitting mission statement for Jeff Kosmoski's KOZM Guitars.
AW (Arched Wave)
It has three single-coils and a 5-way selector switch, but the AW model is not your father's Strat. This AW's body is constructed from a piece of resonant hard maple in the central area, bordered by strips of ribbon mahogany on each side, and then followed by Eastern ash for the outer areas. The neck is maple and is topped with an East Indian rosewood fretboard. The sleek, black hardware appointments include a Hipshot hardtail bridge and Gotoh 510 sealed tuning machines. The single-coil trio is made up of DiMarzio True Velvets with a DP176 in the bridge, a DP175S in the middle, and a DP175 in the neck.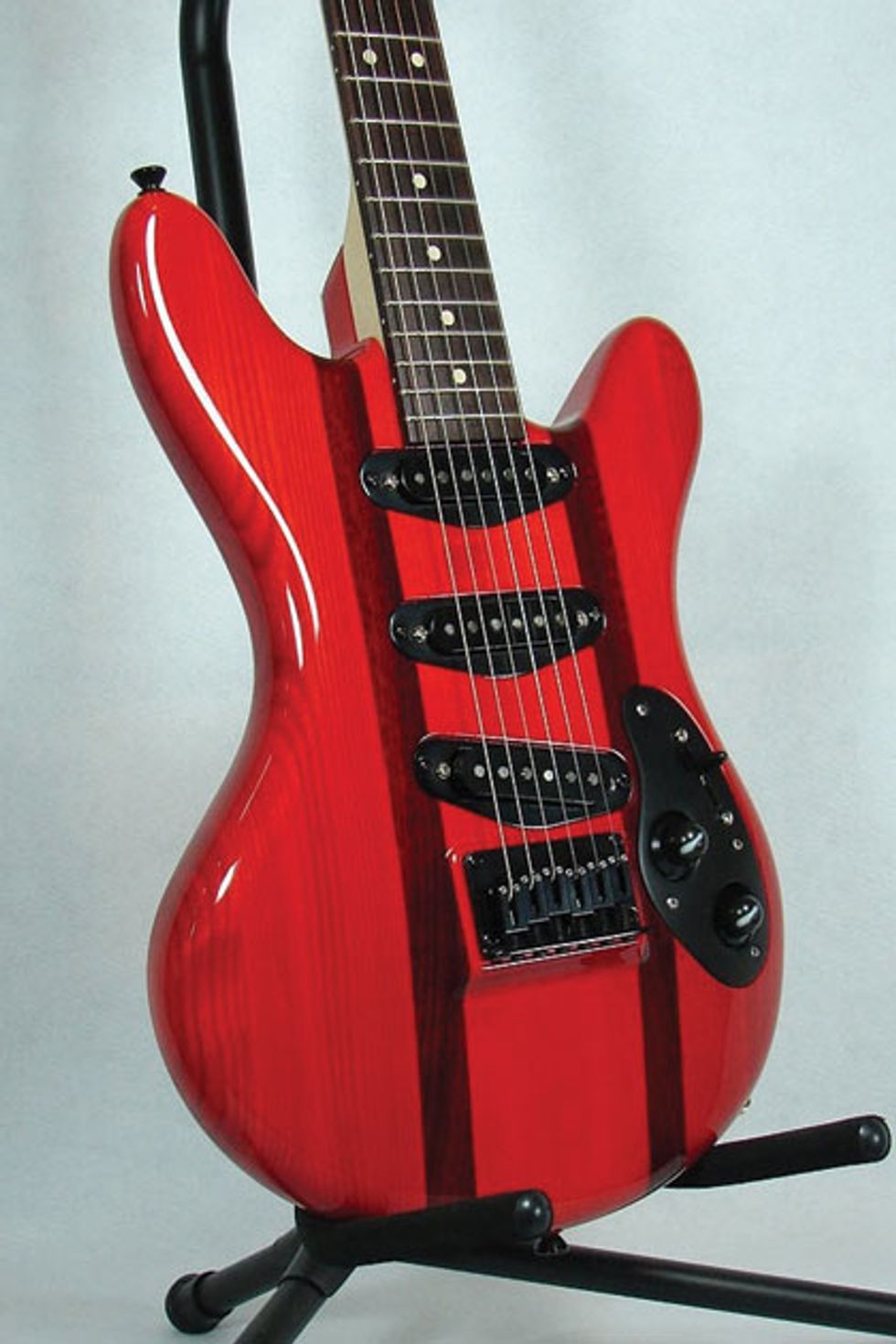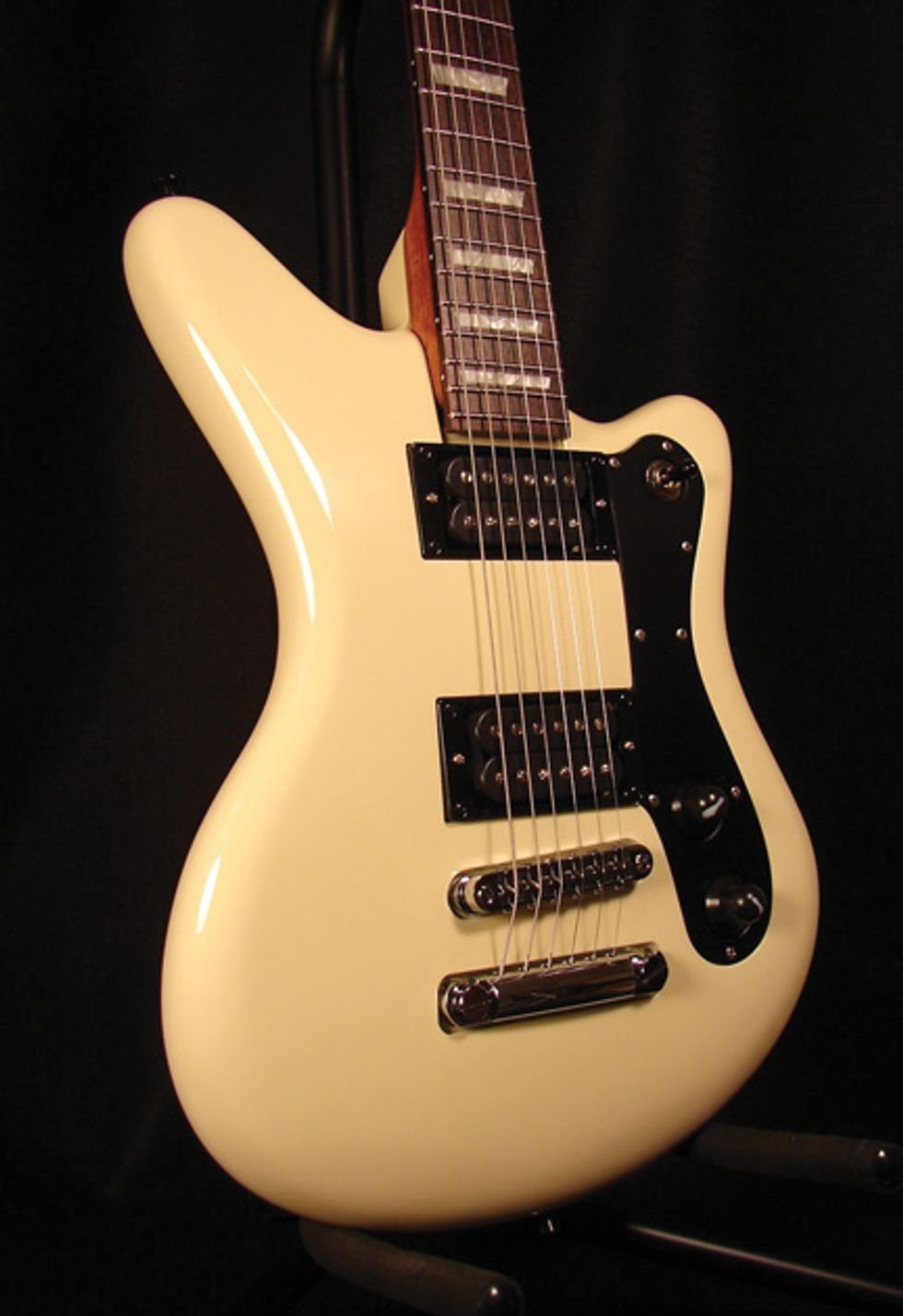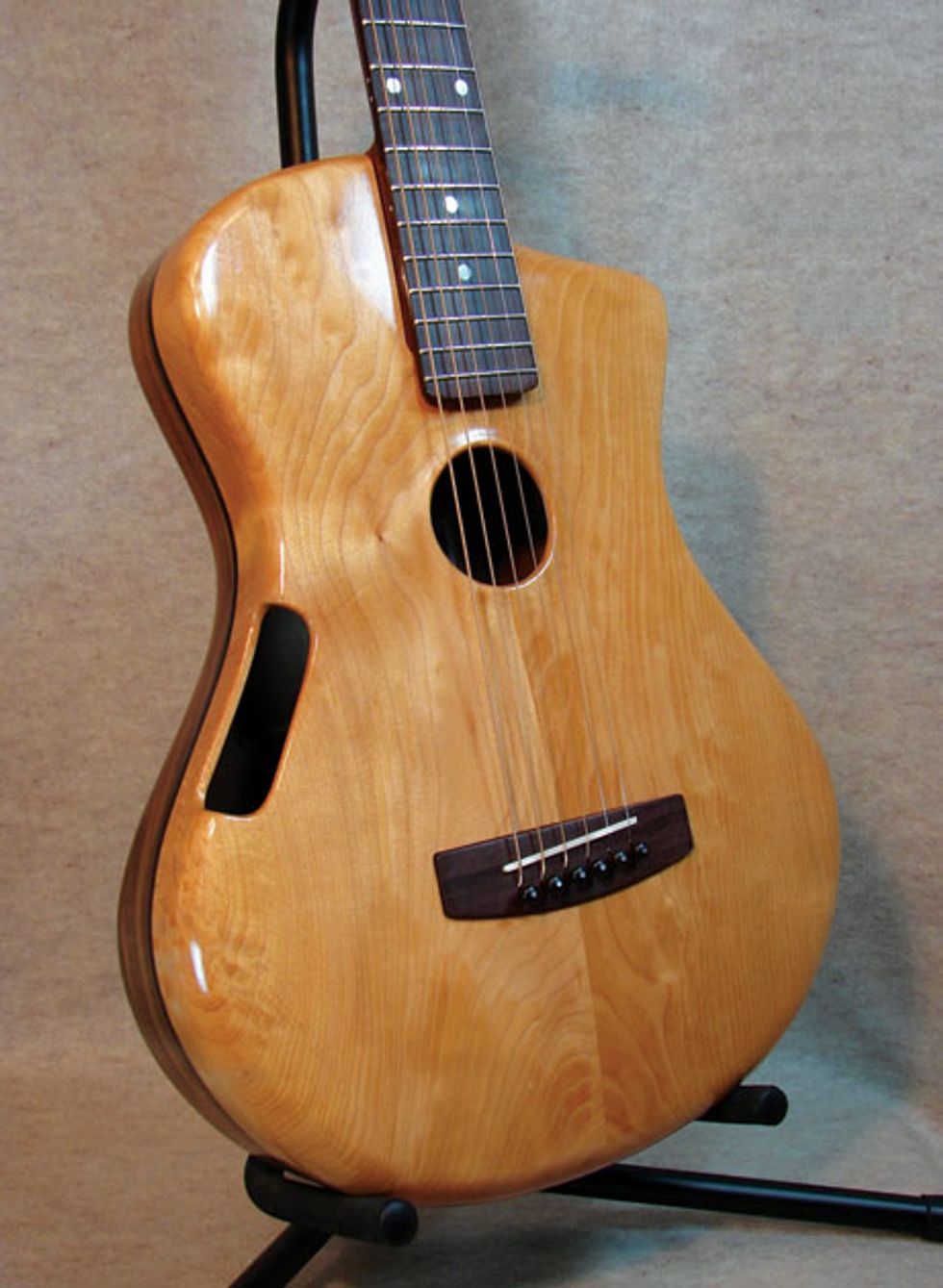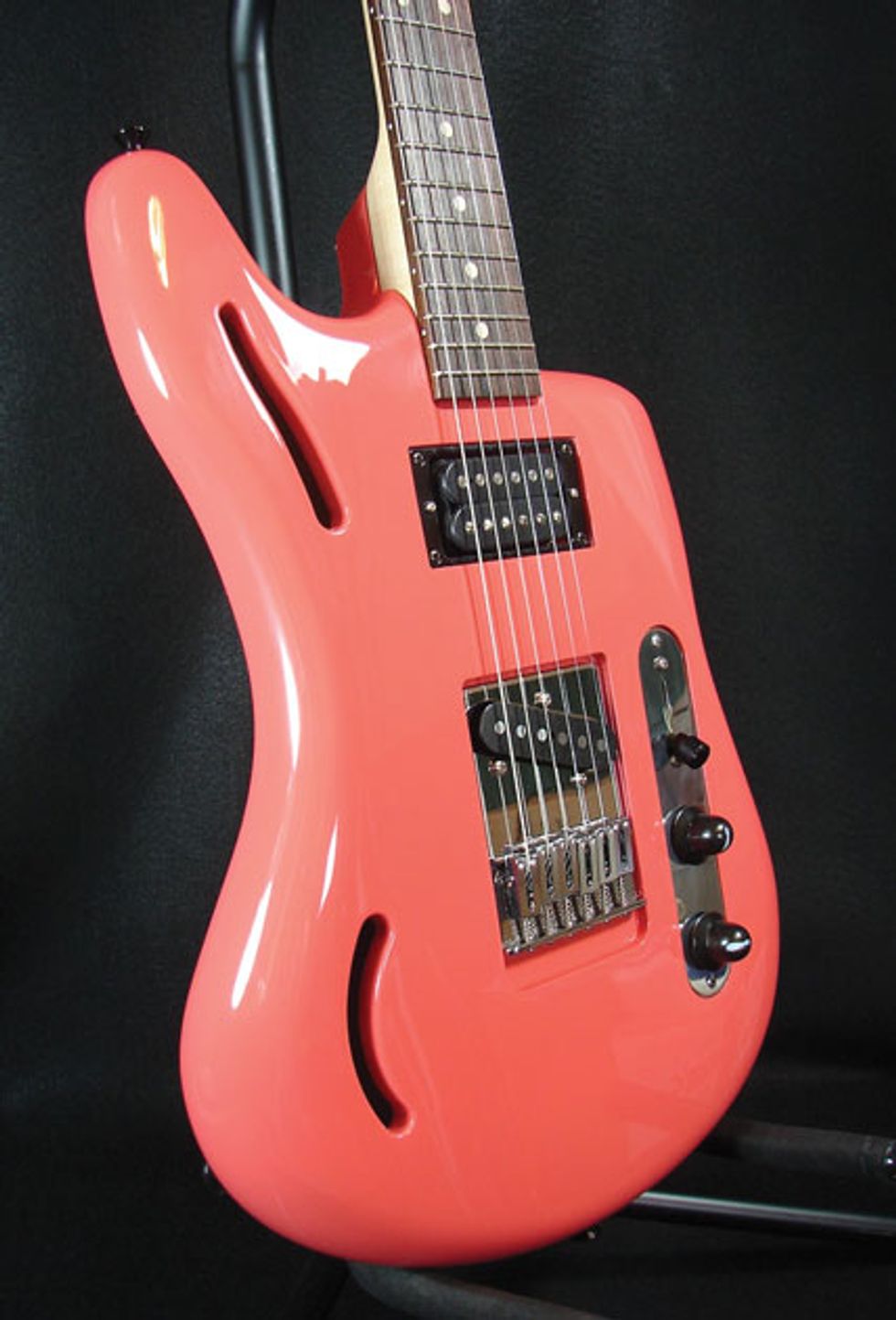 "Modern guitars for modern times," is a fitting mission statement for Jeff Kosmoski's KOZM Guitars. One glance at any of his ergonomic instruments and it's quickly apparent that the luthier isn't interested in producing modern-day versions of guitars that came on the scene 50-plus years ago.
The self-taught builder is a mechanical engineer with a background in product design and computer-aided design (CAD). He's played guitar since grade school but didn't always want to be a luthier. "The idea of actually making my own guitar seemed kind of strange," he says. "Why spend the time making your own guitar, when you can just buy one and let you focus on the main task—creating new music?"
About six years ago, however, Kosmoski was working at a company with a number of guitarists, some of whom were into kit guitars and making their own bodies. It got Kosmoski thinking: If he could use his background and skills with modern 3-D CAD tools to design and build any guitar he could imagine, what would he come up with?
Some boutique luthiers pride themselves on not using CNC for valid reasons, but Kosmoski embraces the technology for his builds because it allows him to create the instruments he envisions. That is, modern, curvaceous guitars that leave the past behind by moving away from flat, 2-D guitar design rooted in 1950s technology. "Yes, there will always be those who say the old ways are the best ways," says Kosmoski. "At the end of the day, however, the important question is, 'Can you make the material do what you want it to do?' If your vision is limited by your tools, maybe it's time to try new tools."
Kosmoski's isn't influenced by a specific designer or instrument manufacturer per se, but he does have a design modus operandi. "In general, I'm inspired by people who aren't afraid of shattering paradigms, people who think way outside the box—Salvador Dali, Jimi Hendrix, Frank Zappa, Nikola Tesla." He considers Les Paul a visionary and says, "I'm pretty sure that if he was just coming on the scene today, he'd be using CAD and a computer-controlled router to design and build guitars."
Kosmoski builds both electrics and acoustics, and doesn't necessarily have a model he considers his signature or one he's most pleased with. "To be honest, I'm more interested in my next guitar design—to see what I can come up with and to see how it's going to sound," shares the builder. "Although I like building electrics, these days I'm more intrigued with the possibilities in the acoustic guitar realm. In some ways, I'm just scratching the surface of what's possible. There's a lot of room in the design space of 3-D, ergonomic, organic acoustic guitars." Kosmoski contends happy with the way his acoustics sound so far, but added, "I'm eager to see how far I can modify the sound by altering the body geometry, the size and location of the sound holes, the stiffeners, wall thicknesses, and woods."
"Guitar players are an interesting breed," says the luthier. "In a realm that's all about breaking the mold, moving forward, and being innovative, I'm intrigued that so many guitarists feel obliged to reach for the guitars of yesterday. Most builders today are confined to the world of flat. However, the human body isn't flat. Nor is the natural world in general. I strive to make my guitars as ergonomic, organic, non-flat, and seductive as possible."
Pricing and Availability
Kosmoski is currently only selling direct through his website, but hopes to have some of his acoustic models in Portland, Oregon, guitar stores soon. The base price for his guitars is $2,395 for the acoustics and $2,595 for the electrics, and Kosmoski highly encourages customer involvement in the build process. "Because I don't start making the guitar until everything is designed on the computer, I have the ability to take screen images of the design, and email them to the customer," says Kosmoski. "My CAD software also lets me play with colors and details, so if the customer doesn't like something, we can manipulate the design until we get it right."
Looking for more great gear for the guitar player in your life (yourself included!)? Check out this year's Holiday Gear Finds!
Outlaw Effects introduces their next generation of NOMAD rechargeable battery-powered pedal boards.
Available in two sizes, NOMAD ISO is a compact, versatile tool that offers the convenience of a fully powered board plus the additional freedom of not having to plug into an outlet. NOMAD ISO is ideal for stages with limited outlet availability, quick changeovers, busking outdoors, temporary rehearsal locations, and more!
NOMAD ISO builds upon the legacy of the ultra-convenient and reliable NOMAD rechargeable pedalboard line originally launched in 2018. The brand new NOMAD ISO editions feature eight isolated outputs (1 x 9V DC, and 1 switchable 9V/12V DC) for even more versatility and clean, quiet power. With an integrated lithium-ion battery pack boasting 12800mAh capacity, NOMAD ISO can fuel a wide array of pedals, and will last over 10 hours* on a single charge.
Each NOMAD ISO pedal board includes adhesive hook & loop pedal-mounting tape, eight (8) standard DC connector cables, and one (1) reverse polarity DC cable, giving you everything you need to build your ultimate "off-the-grid" rig. A rugged, road-ready padded gig bag with shoulder strap is also included, to safely protect your gear while you're on the move.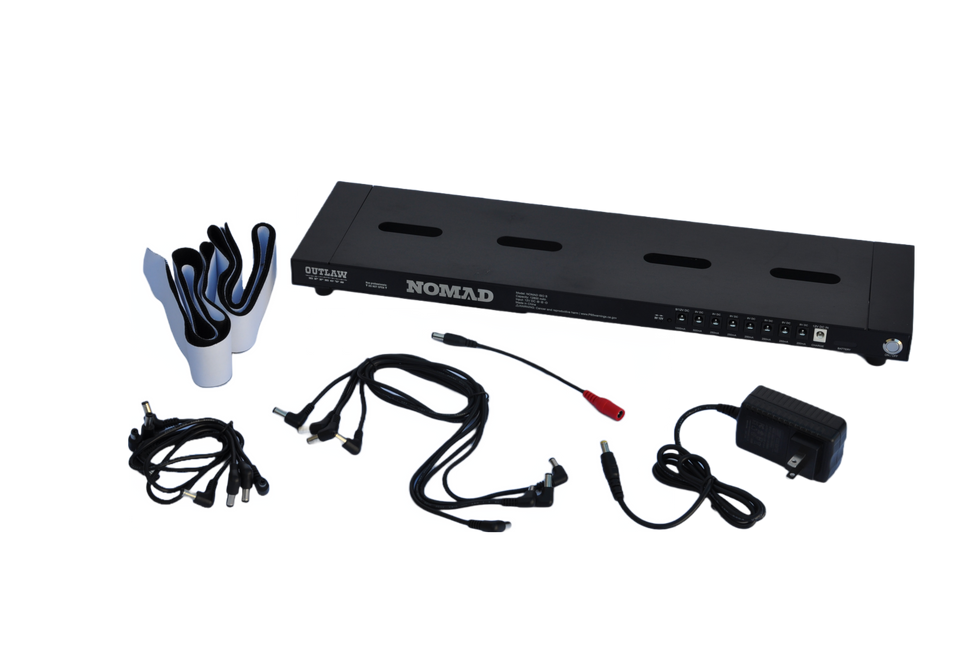 Dunable announce new Minotaur model featuring Grover Rotomatic Keystone tuners.
The Minotaur's DNA is rooted in their classic Moonflower model, which Dunable discontinued in 2017. However, they have long since wanted to create a fresh take on a carved top guitar design, and various attempts to rework the Moonflower led them to a brand new concept with the Minotuar.
Dunable's goal is to give the player a guitar that plays fast and smooth, sounds amazing, and gives maximum physical ergonomic comfort. The Minotaur's soft and meticulous contours, simple and effective control layout, and 25.5" scale length are designed to easily meet this criteria.

Dunable Minotaur!
Features
25.5" scale length
Dual Humbucker
one volume, one tone, push pull for coil splitting
Grover Rotomatic Keystone tuners
Grover Tune O Matic bridge with brass Kluson top-mount tailpiece
jumbo nickel frets
12" fretboard radius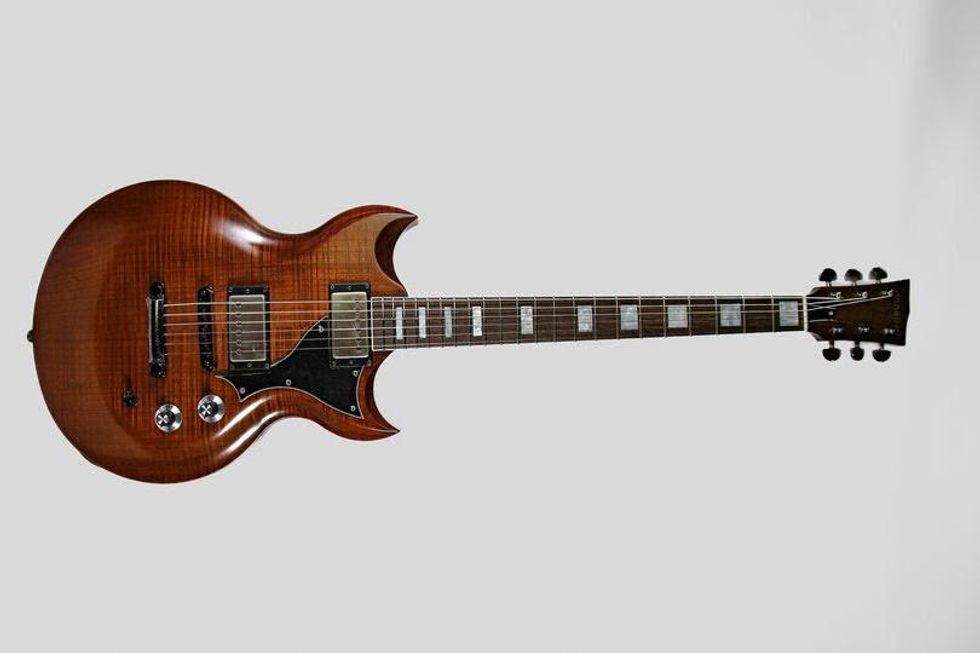 Dunable
This full-amp-stack-in-a-box pedal brings a new flavor to the Guitar Legend Tone Series of pedals, Missing Link Audio's flagship product line.
Adding to the company's line of premium-quality effects pedals, Missing Link Audio has unleashed the new AC/Overdrive pedal. This full-amp-stack-in-a-box pedal – the only Angus & Malcom all-in-one stompbox on the market – brings a new flavor to the Guitar Legend Tone Series of pedals, Missing Link Audio's flagship product line.
The AC/OD layout has three knobs to control Volume, Gain and Tone. That user-friendly format is perfect for quickly getting your ideal tone, and it also offers a ton of versatility. MLA's new AC/OD absolutely nails the Angus tone from the days of "High Voltage" to "Back in Black". You can also easily dial inMalcom with the turn of a knob. The pedal covers a broad range of sonic terrain, from boost to hot overdrive to complete tube-like saturation. The pedal is designed to leave on all the time and is very touch responsive. You can get everything from fat rhythm tones to a perfect lead tone just by using your guitar's volume knob and your right-hand attack.
Features 
Three knobs to control Volume, Gain and Tone
Die-cast aluminum cases for gig-worthy durability
Limited lifetime warranty
True bypass on/off switch
9-volt DC input
Made in the USA
MLA Pedals AC/OD - Music & Demo by A. Barrero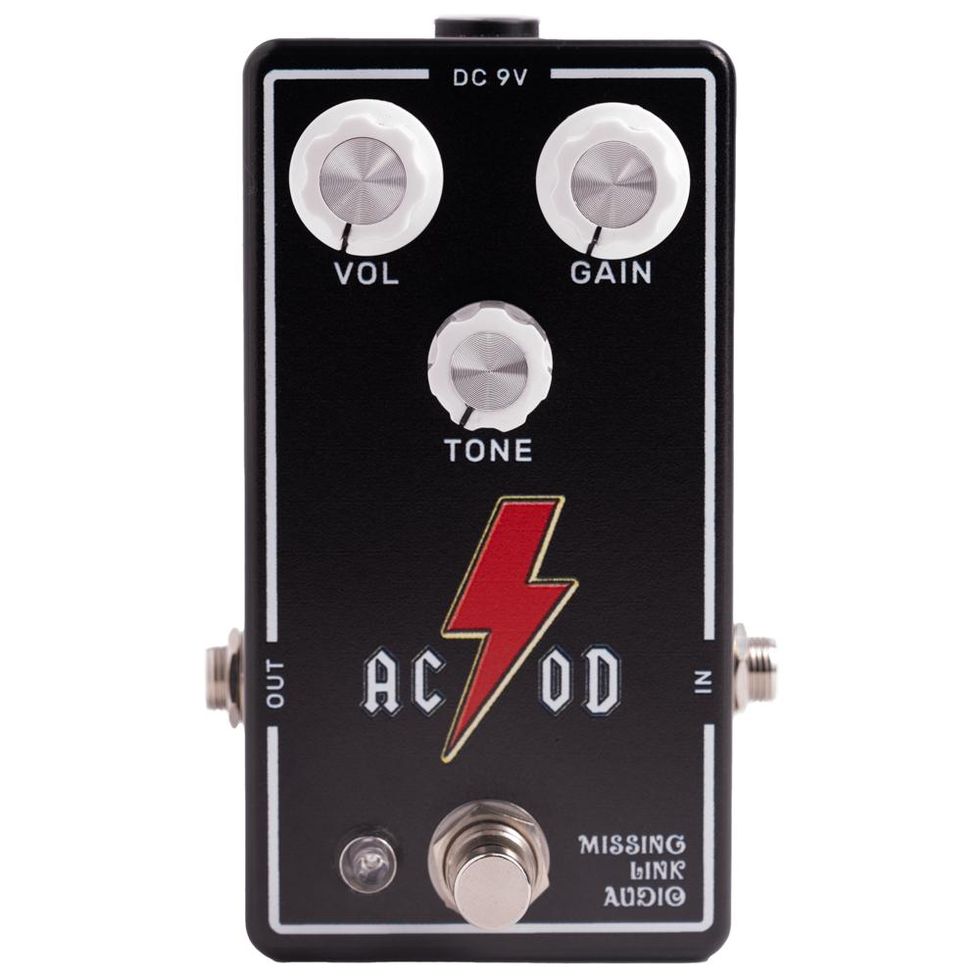 www.mlapedals.com.