Quick Hit: KLIQ UberTuner Review
A fast, new clip-on tuner with an easy-to-read screen.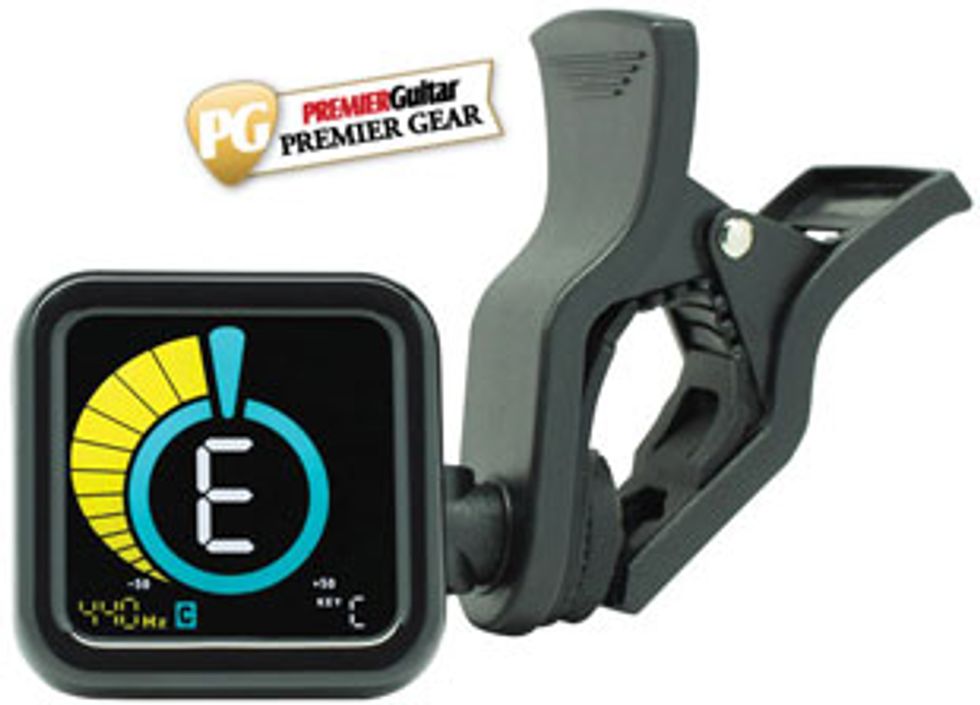 There are some excellent clip-on tuners out there today. But even some of the better ones can be hard to read and a bit slow. KLIQ Music Gear built their UberTuner with an emphasis on tuning fast without having to squint.
At first glance, the UberTuner appears like many others in its class: It's black, it clips to your headstock, and the viewing angle of the screen is adjustable. Turn it on, however, and the large, color display become as bright as your prized lava lamp. The flat/sharp and note indicators are, yes, uber-easy to read. Three different adjustment points also means you can position the screen to suit whatever stringed instrument you have in hand.
The UberTuner is +/- 1 cent accurate (I cross checked with both a Korg Pitchblack Pro rack tuner and BOSS TU-2.) It also has five different tuning modes for chromatic, guitar, bass, violin, and uke, and adjustable pitch calibration from 430-450 Hz. I've owned a ton of clip-on tuners and the UberTuner ranks up there in the top of the class in terms of speed, accuracy, and convenience. At just over 20 bucks, what's not to like?
Test Gear: 2008 Dell'Arte Dark Eyes Selmer-style, 2001 Fender Precision
Ratings
Pros:
Brilliant display. Excellent display adjustability.
Cons:
Control buttons are uber tiny. Know them before venturing onto a dark stage.
Street:
$22
KLIQ UberTuner
kliqmusicgear.com
Ease of Use:


Build/Design:


Value: