Quick Hit: MXR Carbon Copy Bright
Enhanced top end makes this take on a classic delay a cool way to bridge the digital/analog divide.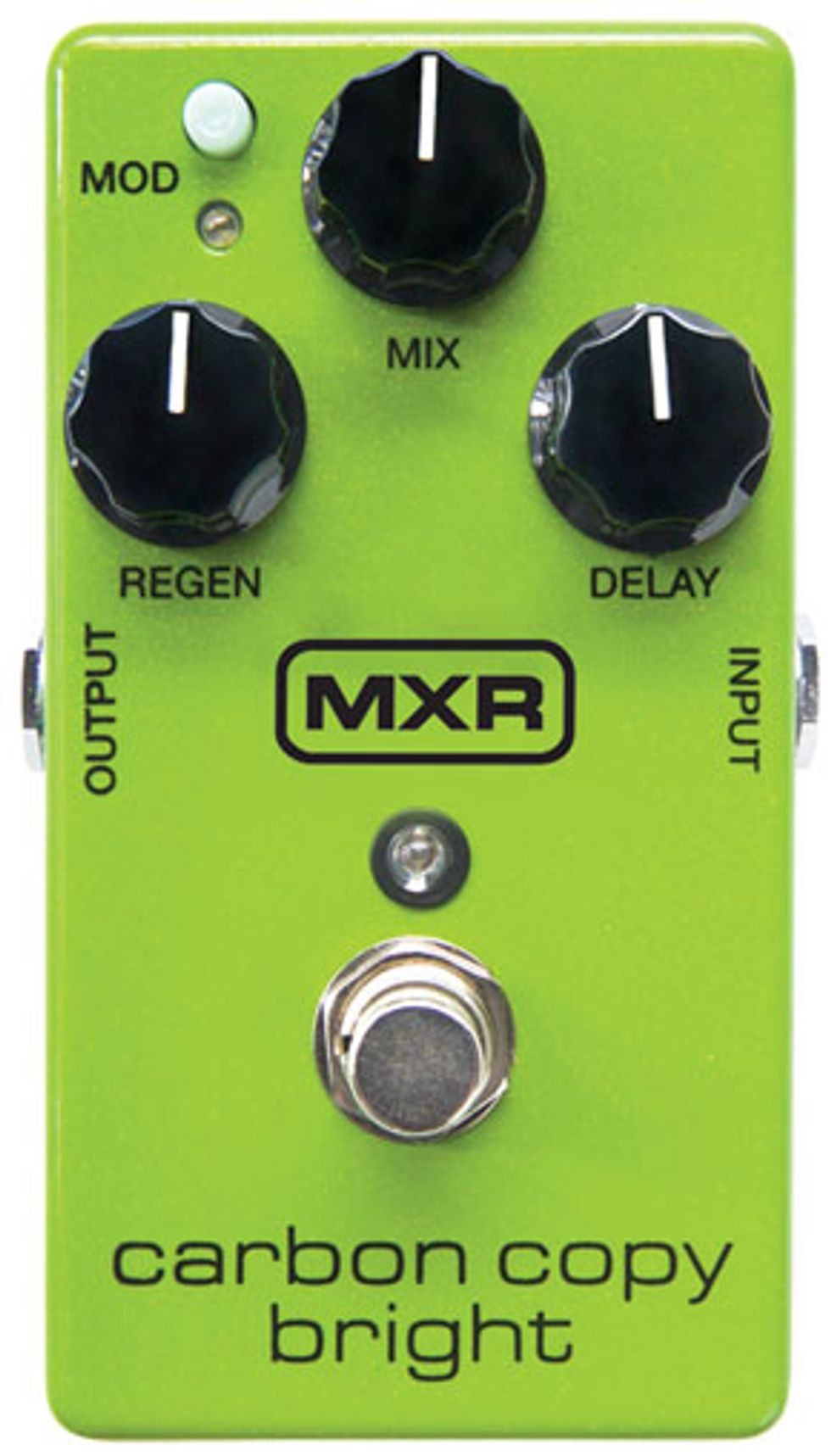 Guitarists are funny about the power of suggestion. Take delays. Most players will nod their heads enthusiastically when discussing the legendary virtues of dark, ghostly, analog echoes—until they plug one in, of course, at which point they gripe about being lost in the mix and reach for the nearest DD-3. MXR's Carbon Copy Bright is designed to confront this paradox.

The Bright's feature set is identical to the original Carbon Copy: mix, regen, and delay knobs, plus a button that activates the modulation, which can be adjusted for width (intensity) and speed. I used mellower modulation settings than I do on my original. The more-pronounced high end makes the warbles feel less hazy and tape-like. The tones of the repeats themselves, however, are beautiful—a perfect match for clean chord arpeggios and mildly overdriven lead sounds.

I love both the Bright and the original—favoring the Bright for clean tones on this test, and the original for fuzz assaults. If you're on the fence about whether to go analog or digital, the Carbon Copy Bright is a rich, colorful, and classy sounding way to split the difference.
Test Gear: Fender Jaguar, Fender Telecaster, Fender silverface Bassman, Stomp Under Foot Civil War, Jesse Trbovich TrboBender, Ibanez TS-9
MXR Carbon Copy Bright and Carbon Copy standard. Bright passages are first followed by standard Carbon Copy. Mix is at noon for both "slapback" and "skank." Repeats and Regen are at 8 o'clock for "slapback" and between 10 and 11 o'clock for "skank" riff. Fender Jaguar and Champ.
Ratings
Pros:
Yummy echo tones deftly straddle the divide between digital definition and analog soul. Adjustable modulation section.
Cons:
Enhanced high end can make modulation sound less natural and make some analog clock noise more pronounced.
Street:
$159
Company
jimdulop.com