Mills Acoustics Afterburner 4x12 Cab
It's a daring thing to stake your name on cabinets alone, and the folks at Mills gladly take on the challenge – talk to them for five minutes and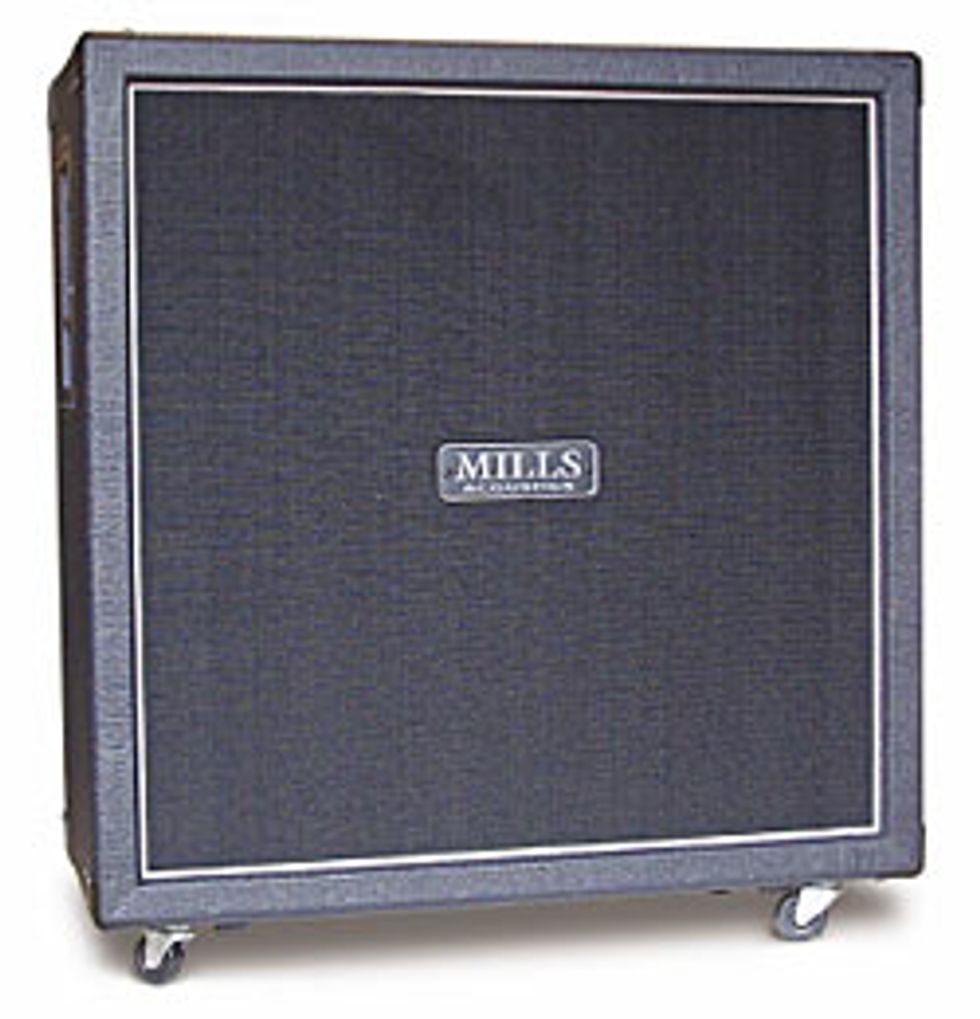 It's a daring thing to stake your name on cabinets alone, and the folks at Mills gladly take on the challenge – talk to them for five minutes and it becomes obvious that they are skilled at the art of self-promotion, shamelessly telling you that they produce the best 4x12 on the planet. Big words to be sure, but how on Earth do you back that up? Aren't all high-end 4x12 cabs pretty much the same, with the exception of speaker choice and minor aesthetics?
However, it quickly becomes apparent that people at Mills Acoustics aren't deluded – even the cabinet's entrance is big. It showed up on my doorstep not by UPS or FedEx, but by freight. The box was gargantuan and the cab's oversized build means that it cannot be shipped by standard methods. It quickly dawned on me that Dave Mills has no intent of sacrificing sonic purity to reduce shipping costs, and the use of a musiccentric frieghting company means that your cab will get there in one piece. Nice.
The Afterburner – a name that conjures up badass images of fighter jets and rockets – comes ready to rock and is not for the faint of heart. Weighing in at a portly 116 pounds, a bit heavier than your standard 4x12, and loaded with Celestion V30s, this cabinet seems poised to single-handedly prove the laws of physics – mainly, more mass means bigger tone.
So just what is different about the Afterburner's construction that makes it sonically exceptional? It's oversized, sure, but it's the sum of the improvements that creates the whole. The first noticeable innovation is the 3/4" thick, 13-ply Russian birch plywood baffle that locks the rear panel to the front soundboard (high quality, virtually voidless plywood is used through out the entire cab). The baffle is ported and acts as a diffuser to move standing sound waves in the proper direction for better projection – even better, the baffle, combined with the cab's height and depth, helps eliminate phasing issues. No detail has been left out; the connections have been upgraded with 14 gauge copper stranded wire, instead of the thinner 20-22 gauge wiring used by many cab manufacturers, and even the recessed handles feel beefier than normal.
So it's all pro, but what does that mean for you? Plugging in with both Diezel Herbert and EVH 5150 III heads, the Afterburner delivered huge bottom-end, clear and articulate mids and highs and a larger-than-usual soundscape. There's a complexity, a three dimensional quality present that all guitarists crave. Even when cranking up the volume, all of the frequencies held together, instead of falling off at different rates.
The Final Mojo
With the caveat that sound is always subjective, I'll go on record saying that not all hype is bullshit – this thing is a monstrous 4x12, and that's not just a reference to its size. If you can deal with a little extra weight, the Afterburner will excel in any live or recording setting. Added bonus: if you accidentally drop it off a small building, you'll more than likely have to repair the sidewalk, not the cab.
Buy if...
you want an industrial strength 4x12 with huge sound, clarity and focus.
Skip if...
you drive a Ford Fiesta and are looking for portability.
Rating...

Our expert has stated his case, now we want to hear yours. Share your comments and ratings below.