A satisfying, compact digital Space Echo facsimile that offers looping, tap tempo, and more.
A smart control interface that enables cool realtime Space Echo emulations. Tap tempo. Looper. Small and sturdy. Stereo outs.
Repeats can sound a touch thin. Looper can feel clunky at times.
4
4.5
4.5
4.5
The Roland RE-201 Space Echo is one of the greatest inventions of the 20th century. So, any compact digital approximation that offers some of its creative functionality and even a fraction of its rich sounds is bound to be fun. NUX's Tape Echo comes up a little short in terms of replicating the deep, foggy tonalities of a Space Echo (what digital pedal doesn't?). But the addition of looping functionality and tap tempo, as well as a satisfying reverb that doesn't sound worlds away from a big Fender spring unit, make it a tempting tour pal.
---
Save for controls for reverb, input, and output level (which are a big deal for many original RE-201 users), the NUX unit's control set approximates that of the Space Echo. And the interface is great. The small digital readout, while hard to read on account of its tiny size, provides useful graphical representations of the on/off positions of the three virtual tape heads and the delay time. (Maximum delay for the heads are a fairly authentic 183, 366, and 550 ms, though you can create delay times up to 1600 ms with the tap tempo switch.) The compact dial arrangement also makes it easy to create realtime, dramatic pitch shift and swelling oscillation effects with ease. These effects are some of the real joys of a genuine Space Echo, and the fact that you can so readily achieve those effects on the fly is awesome. With an external expression pedal (not included) you can probe this interactivity even further. That long list of features makes the NUX a value at $179.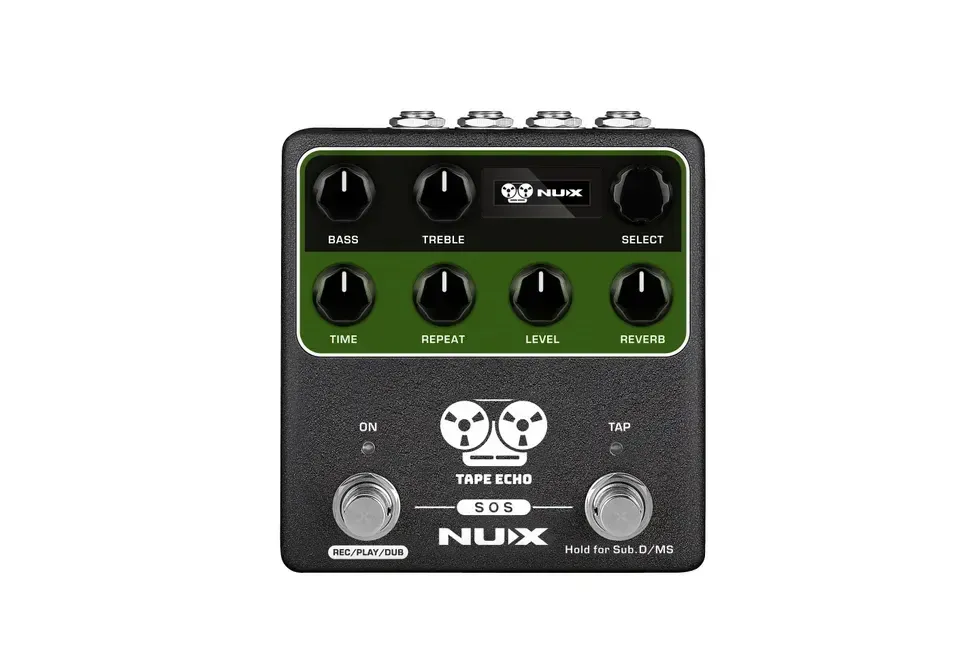 NUX