Strong signal and colorless connectivity with improved battery life.
Good range, solid connectivity, easy to use, sturdy, no lag.
Pushes the budget for van dogs.
5
4
4
Over 20 years, I've used different brands and models of wireless transmitter and receiver systems, always on the budget side. Some were very prone to dropouts, which are a real issue for those of us who play rooms with metal stairs, brick pillars, and other signal blockers. And all the units I've used added compression and slightly blunted the high end.
The GLXD16+ allowed me to be, and sound like, myself.
But these days, since I'm using Carr amps in stereo, I want nothing coloring my tone. So, connecting with Shure's new pedal-format GLXD16+ system was a pleasure. I had the same full-range sound that organically emerges from my amps. Through four sets at Clarksdale, Mississippi's sizeable Ground Zero Blues Club, I experienced just one drop-out, and, since I was playing outside the building with a thick brick-and-cement wall at my back, more than 200 feet off stage, I was asking for it. Otherwise, the GLXD16+ allowed me to be, and sound like, myself. Chalk that up to the device's improved dual bandwidth, which can operate at 2.4 GHz and 5.8 GHz, and automatically scans for the cleanest available frequencies. Other charms include a rechargeable lithium battery with a 12-hour life. The receiver is rugged metal (as is the transmitter) with raised bumpers to protect the controls, which link the receiver and transmitter. The receiver also includes a mode button to lock in the signal, a link button for linking with other transmitters, and a built-in tuner. There's also a 1/4" input jack, should you want to use the pedal as a tuner alone, and a battery charger is included. I'm hooked.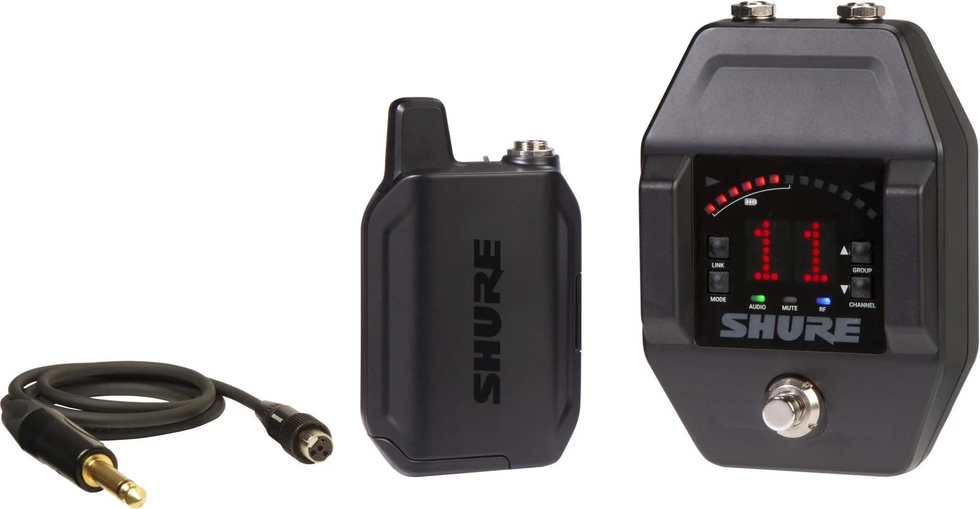 The new GLX-D+ Wireless Guitar Pedal System features the WA305 Premium Guitar Cable, the GLXD1+ Digital Bodypack, and the GLXD6+ Guitar Pedal. Go wireless without compromising your tone or complicating your rig.
Shure Microphones
You could win a Lightcycle Phaser Pedal Kit from StewMac in this 24 hour giveaway!
Feeling limited by phasers that are one-knob-wonders? Not anymore! This is our take on the revered Mu-Tron Phasor II—the most versatile phaser ever made! A studio-quality optical phaser, we pack all the tone and legendary flexibility of the original in a pedalboard friendly box.
Designed to recreate double tracking and synths studio sounds, the Mu-Tron Phasor II gave players a dynamic and lush phase sound right at their feet. Finally players could recreate those complicated textures live—and nothing was the same after. From rotary speaker shimmer or wild spacey soundscapes, every knob twist sparks inspiration.
StewMac
Acoustic virtuoso Mike Dawes demonstrates the latest iteration of the company's flagship capo.
The Performance 3 is the culmination of years of designing, tweaking, and improving - but most importantly, listening to guitarists and their views on what a capo SHOULD do. Now, coupling our Unique Tension ControlTM system with the groundbreaking ART® string pad mechanism gives a near-perfect capo experience.
Perfect for virtually all* steel 6 string acoustic, electric or hybrid nylon string guitars.
Be sure to check out more demos in this year's Winter Gear Slam
The new strings are available in three different gauges and is made of brass amalgam.
Allston, MA (February 9, 2021) -- SonoTone, the Massachusetts-based manufacturer of boutique, premium guitar strings, has debuted its Concert series of acoustic guitar strings. SonoTone Concert brass strings offer guitarists, luthiers and vintage instrument collectors, alike, the opportunity to outfit their instruments with strings formulated using an 80/20 bronze wrap-wire on steel-string acoustic guitars, before the advent of phosphor bronze strings.
Manufactured in the U.S. using domestically sourced metals, SonoTone Concert brass strings offer folk, bluegrass and americana music players and fans the ability to achieve the same bright acoustic guitar tone and percussive attack heard on recordings of an earlier era, along with enhance the right-hand responsiveness, whether picking with or without a plectrum.
Features:
Brass amalgam reproduces standard 80/20 bronze guitar strings used on vintage steel-string acoustics
Available in three gauge sets (11-50, 12-53, 13-56) for $18.99 each
All SonoTone premium strings are made in small batches in the U.S. and sold directly to consumers via www.sono-tone.com in the U.S. and in select European countries through Fulfillment by Amazon, as well as in Japan through the manufacturer's distribution partner
The Sound and Feel of Yesteryear
The SonoTone Concert series represents the culmination of over three years of experimentation with various materials and manufacturing techniques by SonoTone founder P.K. Pandey. Having spent more than 25 years on a quest for impeccable tone, both as a studio recording engineer and A/V systems design/build engineer, Pandey's journey eventually led him to reconsider the fundamental medium and point-of-contact between the player and the guitar, the material source of the instrument's "voice" — the guitar strings.
Starting from this fundamental level, Pandey tested different metals, amalgams, and manufacturing processes until he eventually found the hard-won formula, known only to him, which at last recreated the vintage tone and feel of the guitars he remembered playing as a kid.
Unlike many contemporary, machine-made strings produced in bulk quantities outside the U.S. at mass-market, commodity prices, SonoTone Concert strings use highest-quality materials, with additional measures taken throughout the manufacturing process to optimize string behavior, playability, tuning stability and longevity — without using any coatings, so that only the pure elements that make up the string-wire ring out, unencumbered, through the entire body of the guitar.
Watch the company's video demo:

For more information:
SonoTone
Watch how a pair of new additions to the core line flex the versatility of a newly redesigned pickup.