A powerful pedalboard tamer for the masses.
A breeze to program. Ability to edit loops on the fly.
Only eight presets. Large footprint for small pedal boards.
5
4
4
Any time I come across a new, powerful piece of compact switching technology, I can't help but flash back to the fridge-sized racks and massive MIDI controllers that were once at the heart of many pro rigs. Until pretty recently, a pro-level switching system still cost serious coin. Carl Martin did a lot to close the affordability gap in that product category with their Octa-Switch series. But Carl Martin's latest (and slimmest) iteration of their Octa-Switch line, the Strip, is one of the easiest ways yet to manage your pedalboard and not break the bank.
Cruise Controls
The 23-inch-long Strip (which will fit at the foot of a Pedaltrain Novo 24 pedalboard) is built with eight effects loops and eight switches for presets, which Carl Martin calls "banks."The Strip also provides a MIDI input, four external relay switches, and two outputs in case you want to run a dual amp rig. Carl Martin also smartly added a switchable buffer, a mute, an instant access switch that enables preset customization or use of an isolated effect on the fly, a preset store button, and four sets of DIP switches for the four relays and two outputs. It's a well-engineered and designed unit that strikes a great balance between making practical features accessible and avoiding user option paralysis.
Getting your head around how the Strip works is simple stuff, even if you haven't used switchers extensively. Each loop contains a pedal—or a group of pedals. With a single tap of a bank switch you can turn any number of pedals on while simultaneously turning others off. And thanks to the DIP switches, you can also assign amp outputs, amp channel switching functions, and amplifier reverb to a dedicated presets.
It's a well-engineered and designed unit that strikes a great balance between making practical features accessible without giving users option paralysis.
Strolling the Strip
I wired the Strip up with an MXR Dyna Comp in loop 1, a Nobels ODR-Mini in loop 2, a Wampler Hot Wired in loop 3, and a Line 6 HX Stomp in loop 8—which was also connected via MIDI. My goal was to create a single preset that used the Dyna-Comp and Nobels, and then a second that used just the Wampler. With switch 1 engaged, I hit the instant access button, the LEDs turned blue, and I chose which loops I wanted assigned to preset 1. I chose loops 1 and 2, hit the little store button, and the instant access light blinked three times to indicate that preset was saved. I repeated the process bank 2. In short, I was able to program two distinctly different tones in less than five minutes. The process couldn't be much more straightforward.
Using the DIP switches to assign presets to different outputs is easy too. For my test, I placed a Revv D20 in output 1 and a Fender Hot Rod Deluxe in output 2 and assigned a preset to each output by selecting the corresponding DIP switch position under each output. If you prefer stereo operation, you can also use the two outputs in stereo via the stereo return on loop 8. And if you're into the four-cable switching method, which enables you to situate pedals before or after the preamp in your amp's effects loop, you can run loops 6, 7, and 8 via dedicated sends and returns.
The Verdict
Carl Martin's Octa-Switch is a real refinement of the already impressive Octa-Switch series. It's intuitive, the build quality is top notch, the ease of programming is tough to beat, and the unit and ease of operation reflect a thoughtful, user-oriented, real-world, stage-centric engineering sensibility. If you're looking for a pro-level solution to your increasingly complex pedal puzzle and don't have loads to spend, the Strip warrants serious consideration.

P-90 heat without the hiss.
Great versatility. Three terrific-sounding, distinct voices. Quiet!
Lacks a little of the grit and granularity of traditional P-90s (if you like that in the first place).
$169 (single) $289 (pair)
Fishman Fluence Greg Koch Gristle-Tone P-90s
fishman.com
4.5
5
4
4.5
Pickup companies often look backwards for inspiration. But Fishman redrew the blueprint for electric guitar pickups when it introduced the Fluence series in the early 2010s. Different in design and constriction from both the traditional passive electro-magnetic pickups of old and powered active pickups, they are relatively hum-free and much more consistent in sound and quality from unit to unit.
The newest member of the growing Fluence family is the Greg Koch Signature Series Gristle-Tone P-90 set. "Hum-free" and "P-90" are not words you often see together, but the Gristle-Tone delivers impressively on the promise of a quieter P-90. They're easy to drop into any soapbar-pickup-routed guitar (provided you also have a space routed for a 9V battery). And when mated to a pair of included push-pull pots, they can generate three distinctly different voices—delivering unexpected versatility and an original take on one of the guitar world's oldest pickup designs.
Played in an Epiphone Les Paul Special, recorded direct via a Neural DSP Quad Cortex modeling unit.
 Chewin' It Over
Behind their relatively traditional-looking covers, the Fluence P-90s utilize a means of signal generation that departs from conventional wire/coil architecture. Instead of wire wrapped around a bobbin and an array of poles, each Fluence Core is made from a 48-layer coil on a robust substrate. The structure not only makes the pickups impervious to variations in wire-gauge and insulation, but also resistant to fluctuations in heat and humidity. Fluence pickups still have some things in common with traditional pickups. They're essentially electro-magnetic in nature, of course, using alnico bar magnets and threaded steel pole pieces, just like traditional P-90s. But without variations in wire and winding, the Fluence pickups can be much more consistent.
Fluence architecture also enables a given pickup to stretch its capabilities. And in the case of Gristle-Tone P-90s, Fishman managed to extract three distinct voices: a vintage P-90, a hot, overwound P-90, and a clear single-coil—all of which are selected via the push-pull tone control.
In a Lather
The Gristle-Tone's hum-cancelling capabilities will be good news to fans of old-school P-90s, which are famously some of the most hum-inducing pickups on the planet. But reduced noise is just part of the story. And my initial impressions of the Greg Koch Gristle-Tone Signature P-90 set were that they were dynamic, versatile, and sweet-sounding.
Fishman supplied the review set in an Epiphone Les Paul Special which I played through Marshall and tweed Deluxe-style amps. Compared to vintage-voiced P-90s, the Gristle-Tone might lack a little of the characteristic grit and granularity that many players dig. The Fishman pickups are also a little clearer and more precise in all three voices. But given the overall musicality and expressiveness of the Fishmans, I rarely felt like I missed those vintage elements—unless they were central to a very specific tone quest.
That said, the vintage P-90 setting is convincing enough that no one will be scowling at you from a packed mosh pit on a Saturday night. It yields a fat, juicy voice through a pushed amp or overdrive pedal, while adding bite and edge to clean settings. The overwound setting offers instant sizzle and burn for leads or chunkier power-chord rhythms, and impressively adds the extra dash of heat without sacrificing articulation. The clear single-coil option took the Les Paul Special straight to Tele town—generating a brighter kind of twang and jangle in settings where standard P-90s can sound muddy.
The Verdict
Together, the Fluence Greg Koch Signature Gristle-Tone P-90s make an impressive pair, and instantly give you access to vintage, rocking P-90 sounds, contemporary, high-gain rock textures, or immaculate country and pop tones at the pull of a switch. You'll have to switch batteries out every 100 hours (for a 9V), or 120+ hours between charges (on Fishman Battery packs). And vintage purists may miss some of the wild-and-wooly attitude that comes along with the noise in an old-school P-90. But for guitarists who value maximum possibilities, a wider palette of tones, and a more dynamic feel, the Gristle-Tones are a load of fun and full of potential.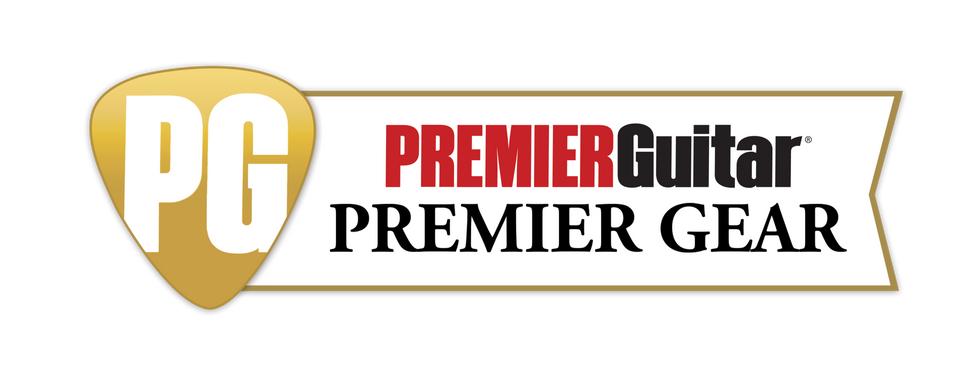 A locking spring claw for tremolo-equipped guitars.
Wall Township, NJ (March 18, 2021) -- AP International, manufacturer and distributor of Floyd Rose Tremolo Systems, is pleased to announce the release of the innovative Tone Claw locking spring claw for tremolo-equipped guitars.
The Tone Claw is a robust spring claw engineered with a locking clamp plate to lock the springs down at the hoop ends. CNC-machined from solid brass and at 4x the mass of a traditional claw, the Tone Claw is designed to enhance tone and increase sustain while also aiding tuning stability by preventing the springs from shifting during tremolo dives.
As the last distribution point of vibrational energy on a synchronized tremolo, the Tone Claw replaces the traditional stamped tin claw found in many guitars. Installation is a direct swap for most existing spring claws such as those from Fender®, Floyd Rose®, PRS®, Ibanez, and many others. The kit includes all hardware necessary for installation: four quality steel springs and two claw mounting screws. An adjustable ground soldering tab is also integrated which can be switched between two available mounting holes depending on required orientation. The claw is available in either raw brass or a nickel-plated finish.
With over forty years of experience in manufacturing and distribution, AP International has long been a pillar in the music industry. Their new line of AxLabs Guitar Hardware will be unveiling new innovations as well as many classic replacement parts throughout 2021.
Street Price: $59.99
Watch the company's video demo:

For more information:
AP International
This motorized tuner promises to tune your guitar for you—is it too good to be true? The PG Band Industries Roadie 3 review.
 

Ratings

Pros:

Tons of instrument flexibility and tuning presets. Convenient built-in metronome.

Cons:

Not for bass. Doesn't display note names.

Street:

$129

Band Industries Roadie 3roadiemusic.com

Ease of Use:Build/Design:Value:
The third incarnation of Band Industries' "automatic instrument tuner" physically interfaces with individual tuning machines and turns them to the desired pitch via its encased motor—which has impressive torque. It reportedly supplies enough juice to tune 150 strings on a single charge, and its TFT LCD screen leads you through a large menu of instrument options (guitar, banjo, ukulele, mandolin, and virtually anything else with guitar-style tuning machines—except bass) and more than a hundred preset tunings.
The palm-sized tuner detects notes pretty quickly, both vibrates and emits an audio alert once a string is in tune, and then automatically readies itself for the next string and pitch in the chosen tuning sequence. Cool! But is it a faster, more convenient way of tuning? Not necessarily. That said, it could be a helpful piece of gear for beginners and/or players exploring alternate tunings. However, given that Roadie 3 doesn't display the current note name—instead it displays the frequency of the current pitch, something many seasoned players don't know in Hz, even for their favorite tunings—it can be a bit confusing to use, especially since it can struggle to attain the desired pitch if the string isn't already within a couple of steps of the target frequency. Further, I'm not certain what to chalk this up to—perhaps tuner and/or headstock mass?—but Roadie 3 had difficulty detecting my parlor guitar's 1st string. In sum, I wouldn't call Roadie 3 an ideal primary tuner, but this petite, hands-off gadget with built-in extras could still be a welcome addition to your accessory collection.
Test Gear: Gibson SG, Larrivee P-1, Les Stansell tenor uke