Rig Rundown - Aerosmith's Joe Perry and Brad Whitford
In this segment, we get to see Joe Perry's collection of touring gear and Brad Whitford take us through his rig.

PG's Jason Shadrick is On Location in Milwaukee, WI, where he catches up with Trace Foster guitar tech for Aerosmith's Joe Perry during their Global Warming 2012 tour. In this segment, we get to see Perry's collection of touring gear.
Watch Brad Whitford take us through his rig below.
Guitars
Joe Perry travels with a ton of guitars, including recognizable favorites like the Billy 335, Dan Armstrong lucite, and BC Rich 10-string Bich, as well as a number of Custom Shop Teles and Strats from Fender and guitars from California-based boutique builder Echopark Guitars. See photos of each of Joe's guitars as well as the rest of his gear in our photo gallery.
Brad Whitford also has an impressive arsenal of guitars, including a variety of Gibson Custom Shop Tom Murphy reissue Les Pauls, Fender Custom Shop Strats, a Tele, an Epiphone Casino. He also uses guitars from Echopark.
Amps
Guitar tech Trace Foster wasn't exaggerating when he told us that Joe Perry has "20 feet of amps." All of them are on, but not all are used for live sound. Mic'd cabinets feed the live sound, while un-mic'd cabs are used for stage sound.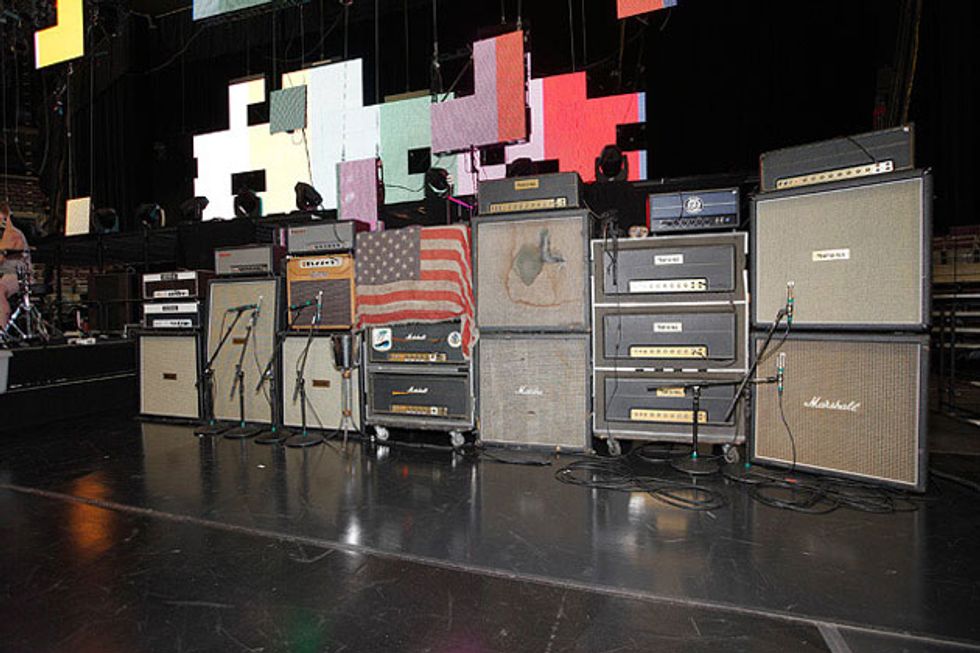 Brad Whitford, founder of 3 Monkeys Amplification, travels with an impressive stack of his own amps. However, the core of his tone is the PRS amp in the center. It is one of two of Paul Reed Smith's personal favorite amps that was loaned to Whitford for this tour. Whitford says it has a "dream Marshall" type of sound and calls it his "holy grail amp." The PRS is ran through one of the 412s, while the other 412 is powered by a second PRS amp behind the stack.
Pedals
In Joe Perry's rack drawer is a TC Electronic Vortex flanger set mildly for a bit of texture, a TC Electronic Flashback delay set for long delays, an MXR Carbon Copy delay, a TC Electronic Hall of Fame reverb, a Duesenberg Gold Boost set to about 15dB, an Option 5 Destination Bump Boost set to about 20 dB, and a Klon Centaur. Perry prefers boost effects to overdrive or distortion, but his Centaur is a core part of his tone that he's relied on for about 10 years. Tech Trace Foster says Perry uses the pedals differently every night, depending upon how they feel. He explains, "He likes to be inspired. I have about 200 pedals out with me."
Whitford's pedalboard is set up with a trio of Voodoo Lab pedal switchers with four loops each, which feed the Pedal Commander with preset pedal combinations. On the board is a Boss TU-2 Tuner, Framptone amp selector (though all three amps are always on), Mojo Hand Rook (which recently replaced Whitford's Klon Centaur on his board), Pigtronix Philosopher's Rock (used as a sustainer), Pigtronix Fat Boost, Xotic EP Booster, BK Butler Tube Driver (new issue), Eventide TimeFactor, Fulltone wah, Pigtronix Disnortion (one of Whitford's go-to effects he calls "Hendrix in a box"), TC Electronic VPD1 Vintage Pre-Drive, two TC Electronic Flashback delays (set similarly while he experiments with different sounds), TC Electronic Vortex flanger, TC Electronic Corona Chorus, TC Electronic Hall of Fame reverb, and Fulltone Supa-Trem. The Fender combos on each side are used as monitors.