Rig Rundown - Styx's James Young and Ricky Phillips
Check out the gear Styx guitarist James Young and bassist Ricky Phillips use on tour!
Premier Guitar's Jason Shadrick is on location in Moline, IL, where he catches up with Styx guitarist James Young's tech and bassist Ricky Phillips who details their rigs during the recent Midwest Rock 'n Roll Express tour with REO Speedwagon and Ted Nugent.
James Young
Guitars
Most of James Young's guitars follow a pretty basic formula: S-style with some added bells and whistles. His main guitar for this tour is a sunburst Fender Strat with a Fernandes Sustainer and Seymour Duncan pickups. Since there aren't any cabs onstage, Young gets two types of feedback from the Sustainer via a flick of one of the switches mounted behind the bridge. All of his guitars have Floyd Rose locking trems and are strung with .008-.038-gauge strings.
Ricky Phillips
Basses
During his tenure at Fender, luthier John Page built this this custom, Telecaster Bass-inspired semi-hollowbody for Phillips, who'd requested an instrument that would help him better complement keyboardists when they played lower frequencies. It sports active EMG pickups and incorporates elements of different basses from Phillip's collection. Over the years it has appeared on projects with David Coverdale, Jimmy Page, and Styx.
Amps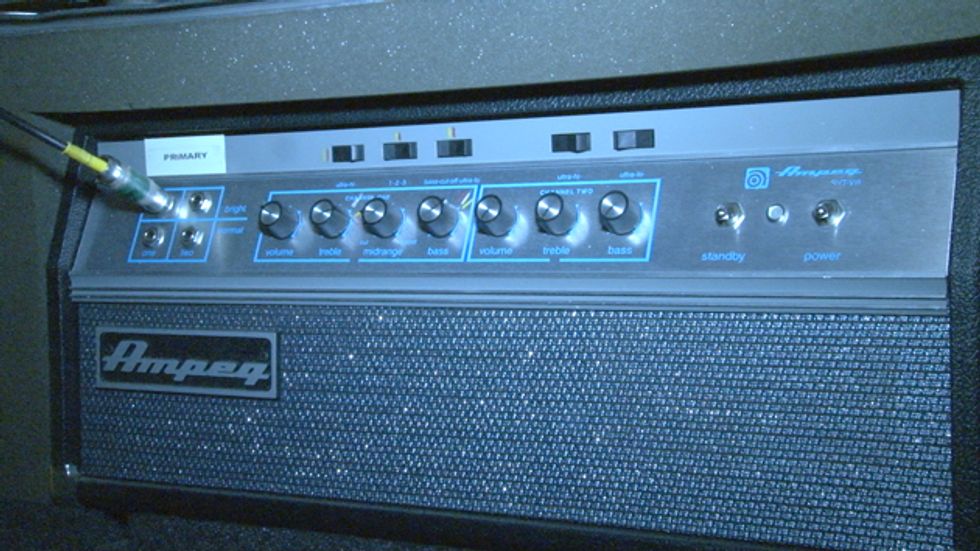 In order to provide front-of-house engineers with the cleanest, most malleable mix, Styx doesn't use any amp cabs onstage. However, Phillips does run his vintage reissue Ampeg SVT-PRO heads through Palmer speaker simulators. Originally, Phillips used an 8x10 SVT cab, but when the band moved away from live cabs, he chose the Palmer PDI-03 units to replicate the sounds from studio albums.