Sneak Peek: Line 6 Spider IV
Line 6 recently unveiled their new Spider IV line; here''s the details on the amps
SPECIAL ADVERTISING SECTION
"Who do you want to sound like today?"

Spider IV 75
With the Line 6 Spider IV 75, 120, 150, HD150, access over 300 signature guitar tones masterfully dialed in by 50 world-famous bands and rock stars including Slipknot, 311, Meshuggah, Lacuna Coil, As I Lay Dying, Johnny Marr, the Donnas, Steve Stevens, Minus the Bear, producer/ guitarist Pete Anderson and many others!
Rip scorching leads with high-gain tones hand-crafted by Slipknot; play arena-rock anthems with the classic snarling rhythm tones of Steve Stevens; unleash the swirling, effect-laden rock tones dialed in by Minus the Bear; play with Johnny Marr's bright, snappy rhythm tones (and even a well-known signature tremolo tone from his past).
Plus, rock with almost 200 dialed-in song-based presets that give you access to legendary guitar tones from the vibey rockabilly slapback of the 50s to the mid-range mayhem of today. Get the tones of Master of Puppets, Back in Black, Whole Lotta Love, Daytripper, Toxicity, Purple Haze, Head Like a Hole, Smells Like Teen Spirit, Crazy Train and more!
• 300+ hand-crafted artist-created presets dialed in by 50 world-famous bands and rock stars
• Almost 200 dialed in song-based presets giving you legendary tones from the 50s to today
• Jangly cleans, scorching distortions, effect-laden tones, and everything in between!
| | |
| --- | --- |
| Spider IV 120 | Spider IV 150 |
All the vintage and modern amp tones you want:
Play with: Sparkling clean tones based on* a 1973 Hiwatt® Custom 100, syrupy smooth drive tones based on* a mix of a '65 Marshall® JTM-45, a '58 Fender® Bassman® and a '63 Fender® Vibroverb, British pop/rock tones based on* a fawn Vox® AC-30, high-gain onslaughts based on* a Mesa/ Boogie® Dual Rectifier® and a Diezel® Herbert, the Class A crunch based on* a Divided by 13 9/15, the classic Class A breakup based on* an Orange® AD-30, and more!
• 16 evolved amp models redefine what is sonically possible from a modeling amplifier
• Get the cleanest clean tones, the most insane distortions and the hot and hard-to-find midrange tones
• Tube-style characteristics and nuances of historic vintage and modern guitar amps
• 64 user-created presets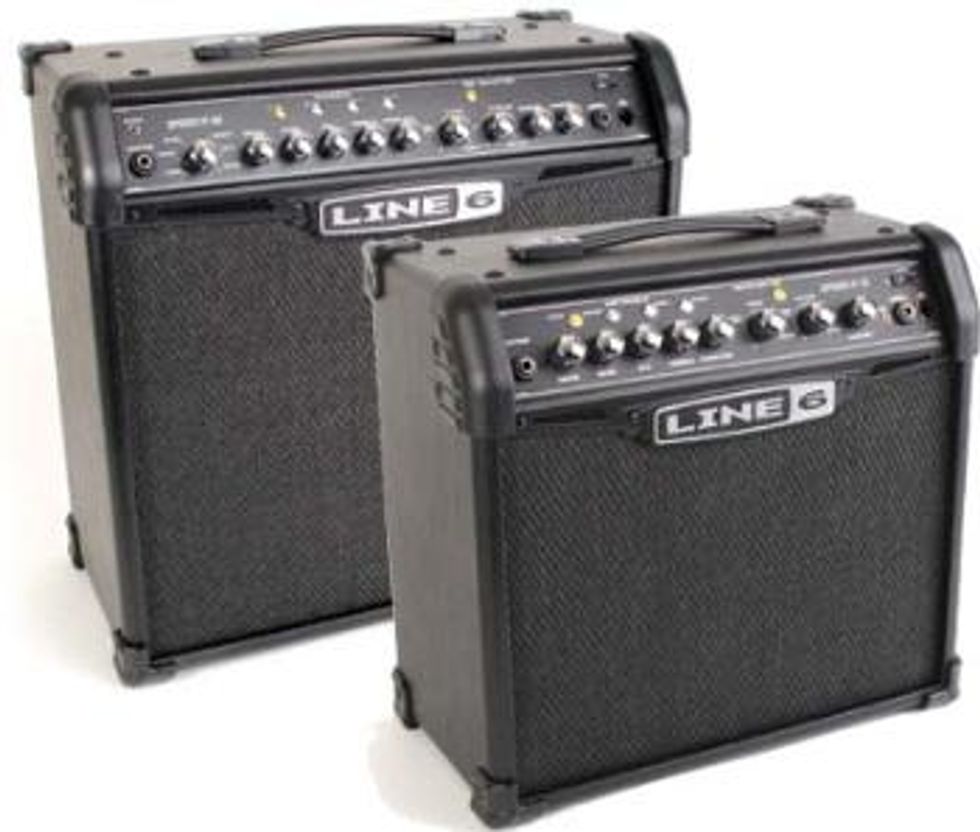 Pictured at right, the 15-watt Spider IV combo features four amp models and six Smart FX (two effects simultaneously); the 30-watt Spider IV combo features 12 amp models and seven Smart FX (three effects simultaneously).
line6.com
* All product names used in this advertisement are trademarks of their respective owners, which are in no way associated or affiliated with Line 6. These trademarks of other manufacturers are used solely to identify the products of those manufacturers whose tones and sounds were studied during Line 6's sound model development.