Soundshine Electronics Magnum Swampus Review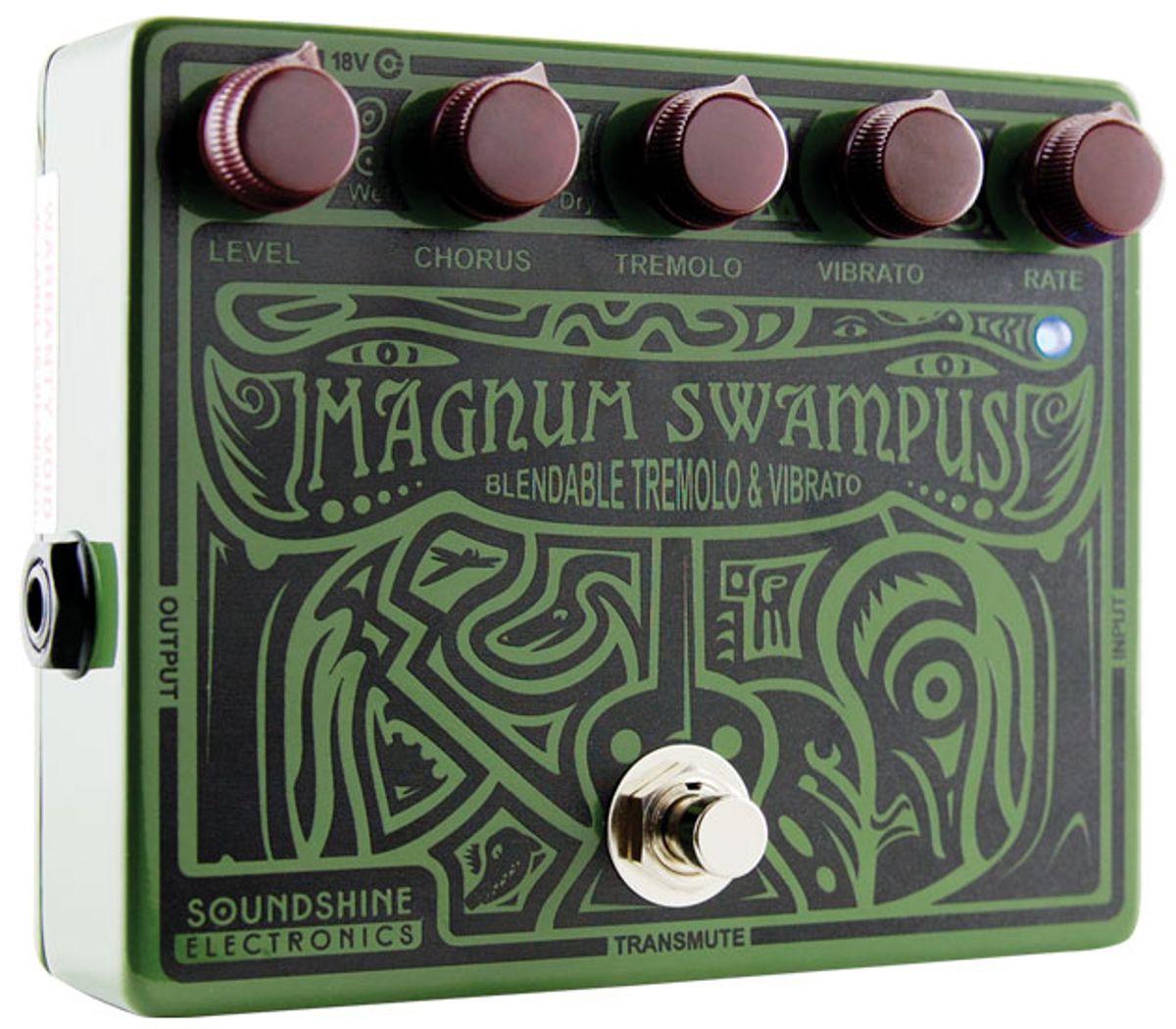 A bewitched-looking box that nails Kustom trem tones and modulation sounds beyond the bog.
Vibrato-rich tremolo tones are one of the big hallmarks of the classic Creedence Clearwater Revival sound. For those seminal albums, bandleader John Fogerty likely achieved the mesmerizingly throbbing textures through the unique vibrato/tremolo circuit on his Kustom K200 amps or perhaps the onboard tremolo on his Fender amps—or possibly some combination of those. Either way, the material point is that those elusive tones can be quite impressively approximated with the Soundshine Electronics Magnum Swampus. However, the Magnum's wide sonic range and warm tonality also deliver tremolo sounds way beyond the confines of Creedence country.
Interactively Yours
The Magnum Swampus feels solid. And if Soundshine cut any corners in building the Magnum Swampus, they are hidden beyond the reach of daylight. Five Davies Daka-ware control knobs hint at the top-tier components used to build the unit, but you have to guess the origins of the components inside. Two tamper-evident seals make it very clear that your warranty will be voided if you decide to crack open the back. We didn't peer inside the unit, but the pictures we've seen reveal a very clean analog circuit layout—particularly given the multi-functional nature of the pedal. On the outside, the Magnum Swampus sports an attractive olive green finish with psychedelically tinged silkscreened graphics. A bright blue LED is activated when you engage the pedal, and pulses at the modulation rate you dial in.
As this reviewer quickly discovered, you're going to want to read the brief manual before digging into the Magnum Swampus. After a couple unsuccessful attempts to fire up the pedal with my standard, center-negative 9V power supplies, I discovered that the Magnum Swampus requires a center-positive, 18V power supply. Luckily, one ships with the pedal.
The composite settings sound great in less conventional applications, too. I loved pushing the pitch-shifted, pulsing tones to seasick extremes.

Along the top you'll find controls for level, chorus, tremolo, vibrato, and rate. While a few of these are self-explanatory, a couple controls deserve extra attention. The pedal's level control is quite subtle and designed to overcome the perceived signal drop that plagues most tremolo pedals, although it's not an especially effective or powerful boost on its own. The chorus control works in conjunction with the vibrato knob by dialing in dry signal. (Chorus effects are, for all practical purposes, pitch-shifting vibrato stacked with dry signal. Adding more dry signal makes a pitch-shifted signal sound more "chorus-y.")

Swamp to Space and Back
The Magnum Swampus has the ability to appeal to the most out-there sonic adventurers and vintage tone freaks. Just a few knob manipulations summoned everything from warm sounding choruses to vintage tremolo throb, and even a great-sounding rotary speaker effect.

But the real magic of the Magnum Swampus comes from blending effects, which is made easier by a shared and synched LFO. The most authentic Fogerty tones—at least to my ear—came from adding chorus to the vibrato and blending in tremolo as necessary. But these composite settings sound great in less conventional and more intense applications, too. I loved pushing the pitch-shifted, pulsing tones to seasick extremes.

I took the Magnum Swampus on a gig—along with a Warmoth Telecaster with Lollar vintage-style pickups, a JHS Panther Cub analog delay, a Nunomo Limbo Overdrive, and a class-A tube amp with Celestion V-Type speakers. The Magnum Swampus worked seamlessly with the other effects, even at extreme settings. In fact, I was able to approximate a mammoth-sounding synth line using the Magnum Swampus and the overdrive at deeply modulated settings. In every application the Magnum Swampus stayed present, musical, and defined in the mix. It's also exceptionally free of noise.
Ratings
Pros:
Wide array of warm, all-analog modulation tones. Easily nails Fogerty's elusive tremolo sounds.
Cons:
Requires 18V power. Expensive. Vibrato and tremolo aren't independently selectable.
Tones:


Ease of Use:


Build/Design:


Value:


Street:
$260
Soundshine Electronics Magnum Swampus Blendable Tremolo and Vibrato
tgt11.com
By backing the vibrato off and turning up the tremolo on its own, the Magnum Swampus added spaciousness and rhythm to one of my band's more ambient songs. With a single rate control, it's also very simple to move from smooth, tube-like pulses to choppy, staccato stabs. Some might lament the lack of individual rate controls for each effect. Then again, the ability to blend all three textures so seamlessly is a big part of what makes Magnum Swampus sound so rewardingly different from many other tremolo pedals.

Soloing the vibrato circuit is where I most easily heard the pedal's NOS MN3007 bucket-brigade chip at work in all its analog glory. It helps generate everything from the warm, gentle chorus sounds to a pitch warble better suited to special effects than playing a song in concert tuning. That range is effectively extended by the pedal's agreeable nature. It's equally inspiring with clean, crunch, and distorted tones, or even intense fuzz.

The Verdict
Though born from the goal of nailing John Fogerty's iconic swamp-rock tones, the Soundshine Electronics Magnum Swampus Blendable Tremolo and Vibrato goes way beyond those familiar modulation colors. Its highly tweakable vibrato circuit and vintage-voiced tremolo, and the ability to blend them, opens up a world of options for radical players without sacrificing any of the more familiar sounds that old-school rockers will love.

There are minor (and arguable) drawbacks. The lack of tremolo intensity or depth controls is limiting, and dedicated footswitches for vibrato/chorus and tremolo effects would be nice for stage use. Additionally, it's hard to know how long Soundshine Electronics' limited supply of rare NOS MN3007 chips will last, so this pedal isn't cheap, and it won't be available in this exact incarnation forever. If you're on the hunt for high-quality warbling, pulsating modulation goodness that lives in the realms of the swamp and outer space, it might behoove you to get your hands on a Magnum Swampus while you still can.