Stomp Under Foot Sonic Generator Review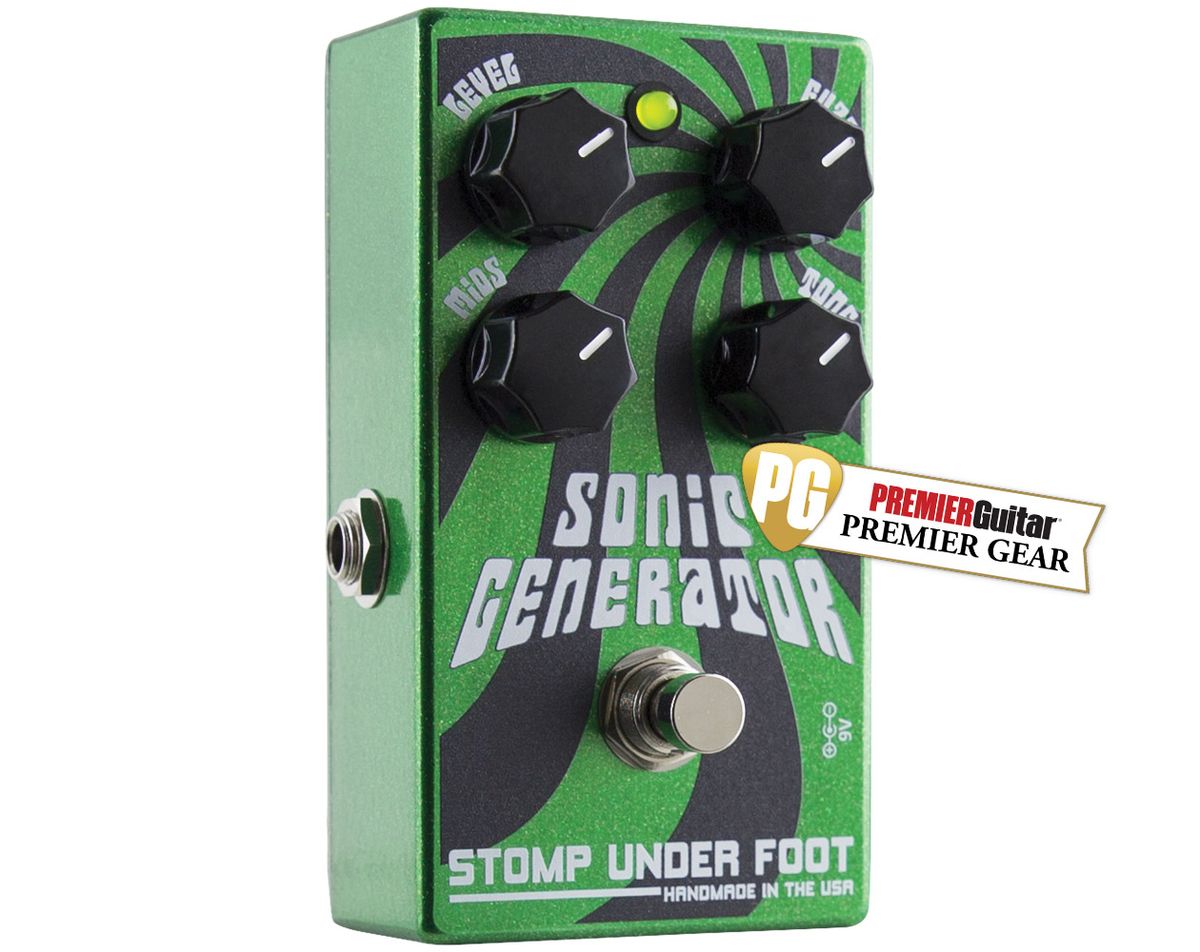 Maximum muffery and more!
 

Ratings

Pros:

Fantastic tone control with a colorful, rich voicing.

Cons:

None.

Street:

$189

Stomp Under Foot Sonic Generatorstompunderfoot.com

Tones:Ease of Use:Build/Design:Value:
---
Predominantly known for its Muff-inspired clones, Stomp Under Foot has produced scads of fantastic fuzz pedals over the years. The company's Big Muff clones range from excellent recreations of the sacred Ram's Head to Op-Amp Muffs to Green Russians to Civil Wars. But they've also built inspiring and unique variations on Colorsound, Roland Bee Baa, and Tone Bender circuits, to name a few. Whatever your jones, S.U.F. probably has a handwired solution for your fuzz fix.
Drawing inspiration from the desert/stoner rock scene, S.U.F. has released the Sonic Generator, a 4-knob fuzz that serves up syrupy walls of gain via a dynamic, powerful EQ. If the lumbering grit and grunt of Fu Manchu or Kyuss are your cup of tea, the Sonic Generator is an ideal brew.
Compact Destruction
Decked out in a sparkling, forest-and-radioactive-neon-green paint job, the Sonic Generator is simple, flexible, and makes the most of four knobs. There's more than enough output available via the level control to boost your volume to prodigious levels, though unity gain is right around noon, depending on your pickups. The fuzz knob coaxes gain from the BC549C silicon transistors (a classic Muff-clone building block) that ranges from a smooth growl to cataclysmic torrents. The mids control boosts or scoops the midrange, depending on which side of noon you set it. The tone control adds doses of the airy, heated top end that gives the Sonic Generator extra presence. But it can just as easily lend emphasis to the fat, powerful bass frequencies when set left of the noon position. Input and output jacks are mounted on the sides of the unit, and a 9V barrel adaptor (center-pin negative) is located next to the input. A 9V battery may also be used.
While it generates these lurching drone tones with ease, it's just as simple to coax driving, punky chord sounds and Sabbath riffage by adding high end.
Stone Crushing Companion
While the Sonic Generator isn't marketed as a specific Big Muff clone (like many S.U.F. fuzzes), it's Muff-y inspirations are apparent right out of the gate. Live, plugged into a '71 Fender Bandmaster and an oversized, closed-back 2 x 12" cab, the single-coils of a Stratocaster were chunky and defined in power chord situations—generating walls of Dinosaur Jr.-style grind when the pedal gain settings approached maximum. There's a growl at these settings that evokes a Sovtek Big Muff, but with more top-end bite and (somehow) an even heavier low-end. Twisting the tone knob counterclockwise emphasizes the bass frequencies significantly. But while this might seem cool conceptually, you can easily drown in the mix of a full band, battling for low end with the bass player. By turning up the Generator's mids, though, you can retain the bottom-end distortion and add presence enough to cut through a live mix.
Generally speaking, humbuckers are a big part of the quintessential "stoner rock" sound. Not suprisingly, the Sonic Generator is a perfect fit for a Les Paul. The EQ section needed a little adjustment to compensate for the hotter, more compressed pickups, and, predictably, more midrange and high end from the tone control made the Les Paul sound completely present within a full band. The sustain the Sonic Generator produces with humbuckers can be eye-popping and tantamount to the punishing drones of Sunn O))). And while it generates these lurching drone tones with ease, it's just as simple to coax driving, punky chord sounds and Sabbath riffage by adding high end via the tone control, which enhances the percussiveness of pick attack. Turning down the fuzz control brings the generator's gain to a simmer. The Sonic Generator stays somewhat crunchy at these low-gain settings, so it's also perfect for the more subdued and sultry lead tones of the legendary Desert Sessions tracks.
The Verdict
Stomp Under Foot's handwired effects aren't inexpensive, but the handful I've played have always been top-notch. The Sonic Generator is more of the same. The $189 price tag is fair, if in the mid-to-high range for a fuzz, but the control, tones, and versatility are truly hard to beat. And while a high-headroom amp is best for hearing the Sonic Generator's deep, harmonic-rich voice, I found smaller bedroom amplifiers sounded awesome and equally responsive to the pedal's sensitive EQ. If you like heavy, this is a fuzz that can do it all.
---