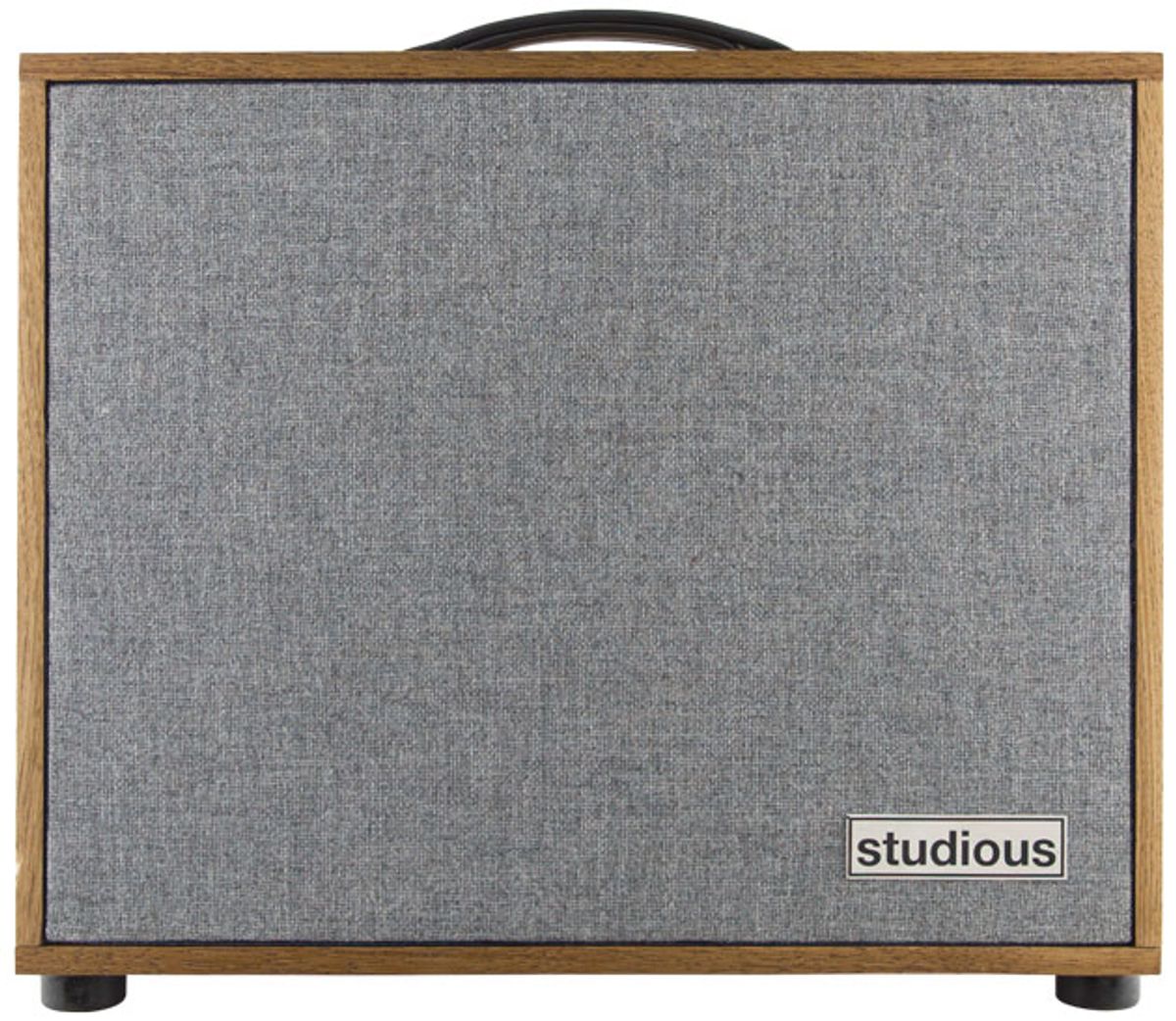 An ultra-minimal amp with two EL84s—and a unique voice.
If Nigel Tufnel wrote amp reviews, he might have said this about the Moseley: "How much more minimal could it be? And the answer is none—none more minimal."

As is so often the case, Nigel wouldn't be 100 percent correct. This amp would be even more stripped-down if it lacked its volume knob, treble, and bass controls, and speaker impedance selector. Still, this is about as simple as boutique combo amps get.
It's a bit like plugging into an old tube-powered portable P.A. head.

And that's clearly by design. Moseley, an 18-watt combo from Chicago's Studious Amplifiers, is practically an exercise in design simplicity. It's a dual EL84 combo housed in a plain yet beautiful solid-wood, dovetail-jointed cabinet. (Our review model's cab is pecan, but Moseley is also available in walnut, maple, Brazilian cherry, and bamboo. It also comes in a head-only version.) It looks a lot like a DIY hi-fi project from 1961—and I say that with the utmost fondness. It manages a hip, mid-century modern look without being kitschy.
A Different Approach
Bryant Howe owns, designs, and builds Studious amps. Unlike other builders obsessed with mid-20th-century design and circuitry, he doesn't name his models after classic cars or NASA rockets, but historic scientists. His 42-watt Boulton is a tribute to M.P.W. Boulton, the inventor of the aileron, while his single-6L6 Selye memorializes Hans Selye, who studied stress responses in organisms. Moseley is named for Henry G.W. Moseley, who did pioneering work in atomic physics before dying young at the Battle of Gallipoli.
Howe got his start converting old stereo receivers into guitar amps, and the home-stereo influences here aren't merely visual. While Moseley's dual-power-tube/phase-inverter design isn't radical per se, it sounds nothing like a Vox AC15 or Marshall 18 watt, the amps that probably spring to mind when you think "dual EL84s." Moseley has a broader frequency range than either amp, with strong, defined lows and boldly present highs. There's also less-than-usual midrange scoop, which nudges the response closer to that of a hi-fi amp. It's a bit like plugging into an old tube-powered portable PA head. It's a tone profile you may love or hate (I tend toward "love"), but it's undeniably a fresh sound, full of character.
Ratings
Pros:
Bold, full-frequency tones. Lovely looks. Great dynamic response.
Cons:
Treble-rich overdrive tones not for everyone. A bit pricy for such a minimal amp.
Tones:


Ease of Use:


Build/Design:


Value:


Street:
$1,600
Studious Amplifiers Moseley
studiousamplifiers.com
Fizzy Biz
Moseley isn't particularly loud or gainy, though it's powerful enough for small gigs with an understated drummer. Clean sounds are crisp, balanced, and sonorous. Distortion comes on linearly as you push the volume. There are no gain or master volume controls. High-gain tones have less treble roll-off than on most low-wattage combos, with a pronounced upper-mid fizz. Everything is exceedingly dynamic—no problem setting the amp volume high and controlling the drive with your guitar's volume knob.

The 2-band tone stack is simple but effective, and ideal for nudging tones closer to "normal" dual-EL84 tones. Nixing lows tightens and focuses crunch sounds, while trimming treble de-emphasizes that signature fizz. The amp's wide frequency range works well with effects, and Moseley responds nicely to drive and distortion pedals. (I added a germanium overdrive pedal for the final part of the demo clip, starting at 01:53.)
A peek inside Moseley's chassis reveals a decidedly handmade instrument. Small parts are arranged on turret board. The components are solid, standard-issue stuff, with a nice pair of ClassicTone transformers. The soldering and lead dress seem dependable, if not as virtuosic as on some handbuilt amps in this price range. The two 12AX7 preamp tubes are Tung-Sols, while the matched EL84s are from Tube Amp Doctor. Large metal knobs lend the perfect period touch.

The Verdict
Don't make the mistake of comparing Moseley to better-known dual EL-84 amps such as the Vox AC15 and Marshall 18 watt. The amp has a voice of its own: full-frequency, present, and fizzy on top when overdriven. Moseley is on the pricy side for such a simple, stripped-down amp, though is does boast a lovely minimal look and exceptional cabinetry.
Its overdrive tones won't suit all tastes, though I dig its ultra-present drive. I can imagine many uses for Moseley's unique voice.