Wampler Pedals SLOstortion Pedal Review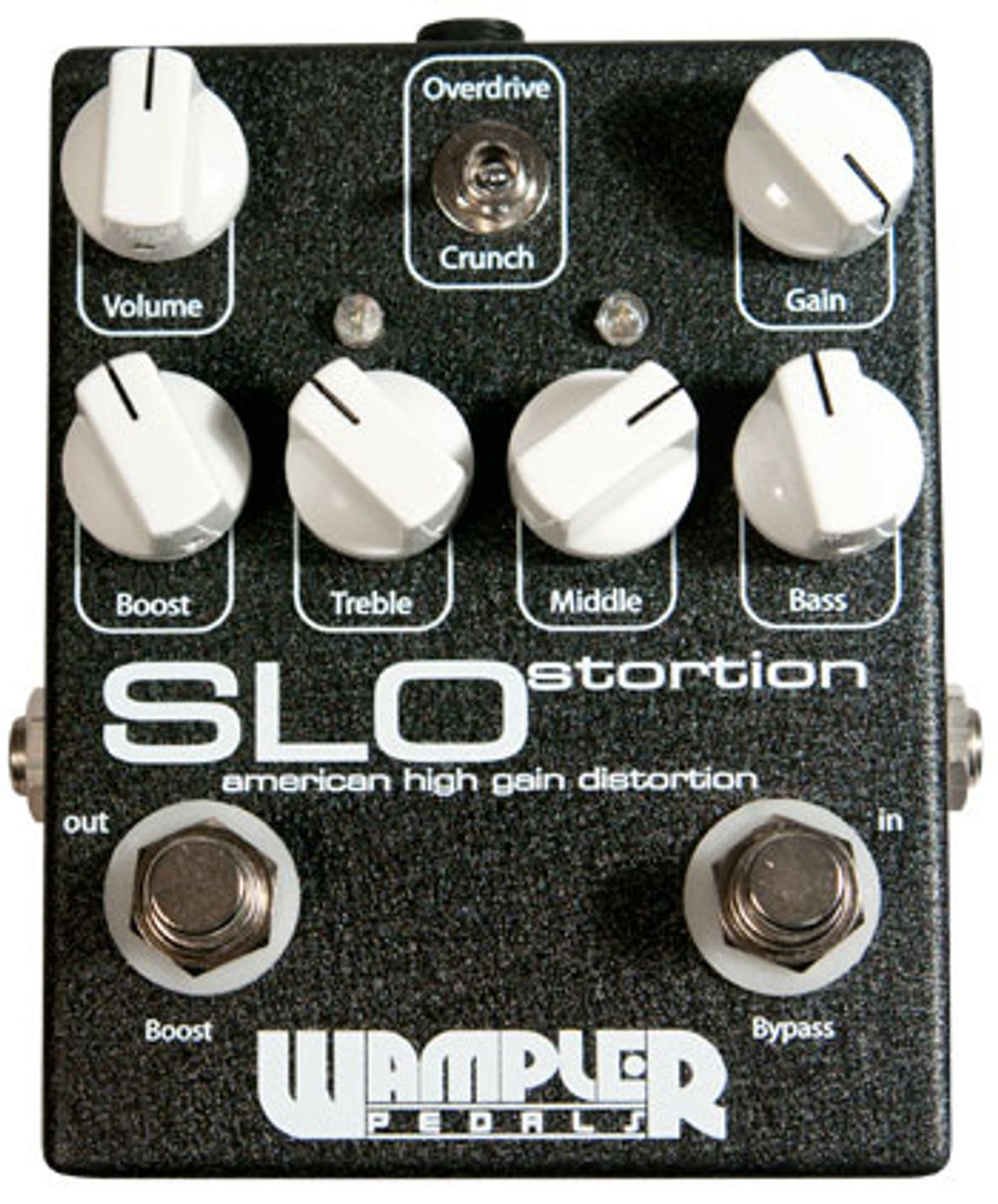 Known for previous successes in the amp-in-a-box pedal market, Brian Wampler is back with his take on the venerable SLO-100.
Wampler pedals made a name for themselves with pedals that mimic the performance of classic amps. And with pedals like the Triple Wreck, Plextortion and Pinnacle they ambitiously covered some impressive territory. The list of artists that swear by the brand is impressive too—among them Brent Mason, Keith Urban, and Brad Paisley who has his own Paisley Drive model.
The newest addition is the SLOstortion, which takes its name and inspiration from the Soldano SLO-100 that the company built in the late '80s and which became the weapon of choice for players ranging from Clapton to Michael Landau, Mark Knopfler and Vivian Campbell.
SLO Approach
The six-knob pedal is laid out logically in amp-inspired style with Volume and Gain on the top (separated by an Overdrive/Crunch toggle) and Boost, Treble, Middle and Bass below. Boost and Bypass stomp switches round out the controls on the front of the pedal. Keeping with the current trend toward blindingly bright LEDs, there is a red one for Boost and blue for Bypass. Standard ins and outs are located on the sides as well as a 9VDC input on the top font. A 9V battery can also be used, and is accessed by taking off the back panel.
SLO Burn
Having played an early SLO-100 at Mike Soldano's shop on Melrose Boulevard in Los Angeles back in the late '80s I remember that sound well. And plugging in the SLOstortion got me very close right away—most notably the gain characteristics.
Like any pedal, the SLOstortion will work differently with every amp. This pedal didn't like my Marshall Superlead nearly as much as my Rivera-era Fender Concert II combo or Stiff Amplification Dirthead on the clean channel. It
definitely
seems to like higher headroom and a fundamentally cleaner tone as the platform—worth noting if your amp has a lot of built-in grit.
Having set up the SLOstortion with the Dirthead and a
Les Paul
, I went right for the high gain setting (isn't that what we all loved about the Soldano amp when it first came out?) and it delivered a saturated, grinding tone that can really cut through a thick band mix. Backing the gain down and working with the Treble knob gave me a great deal of flexibility and touch sensitivity. The Crunch/Overdrive switch, meanwhile, does exactly what you'd expect—delivering thick rhythm grit or over-the-top singing distortion.
The Boost function is a great addition. It's a clean op-amp boost that gives you that little push or a lot depending on how much you dial in and it's great for solos in loud settings. You can also use it to push the front end of the amp in lower gain environments to add a muscular grit. As Clapton showed back in the day with the SLO-100, this kind of circuit loves Stratocasters and single coils too, and it will do the trick of both thickening and lending cut to your tone—not to mention great clarity, dynamic range, beautiful pick articulation, and attitude.
The Verdict
Wampler amp-inspired approach to building pedals is no gimmick. And in the case of the SLOstortion he's built a convincing alternative to the classic Soldano that's obviously much more cost effective. It's best with a clean, high-headroom amp, which may frustrate some players that have already invested in a high-gain oriented foundation for their tone. But if you have the headroom, the SLOstortion can give you a huge arsenal of coveted amp tones for a fraction of the cost—and way less back fatigue.
Buy if...
you want Soldano-inspired amp tones in a convenient and well-built pedal.
Skip if...
you get your distortion from your primary amp.
Rating...