Will Ray's Bottom Feeder: Epiphone 50th Anniversary "1962" Sorrento E452TDN Reissue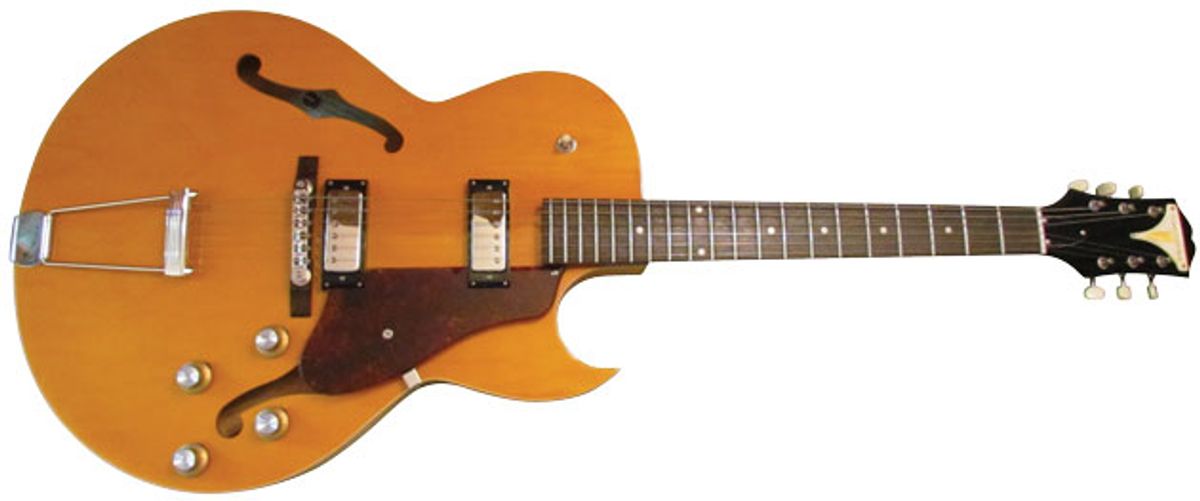 A possible factory second turns out to be a first-class guitar.
In recent years, Epiphone has come out with interesting reissues of some of its classic models. Recently one that caught my eye was the 50th Anniversary "1962" Sorrento E452TDN in a choice of two finishes—natural and royal olive sunburst. These feature a laminated maple top and body, a 1960s SlimTaper neck, a rosewood fretboard with 20 medium jumbo frets, a Tune-o-matic floating bridge, and Gibson USA mini-humbuckers. The mini-humbuckers bothered me, for some reason. I come from the Telecaster side of the tracks and humbuckers of any type have always bugged me. They never seem to be bright and snappy enough to my ears. But as I read more and more user reviews, I learned Gibson mini-humbuckers were considered quite bright by many users—even too bright by some. Whoa! Could I be wrong about them?

So I decided to take a chance on a reissue Sorrento. I went to the 'Bay first, but didn't have much luck. However, later I found a Sorrento online at a dealer in the Midwest for $399 plus $30 shipping. It also came with a really nice Ritter heavy-duty gig bag. The guitar was stamped "used" on the back, indicating a factory second or "B" stock, so I had some concerns.
Bottom Feeder Tip #369: Sometimes you can teach an old dog
a new trick.

I liked the pictures of it, though, and since the ad had a phone number, I called. The storeowner's name was Brian. He was really nice, talked to me about my concerns, and explained that neither he nor another well-known dealer he got it from could find any defects with the guitar.

In typical bottom feeder tradition I offered him a price of $360 plus $30 shipping. He thought about it for a second and then said "sure." So I sent him $390 via PayPal, he shipped it the next day, and it arrived only two days later. When I opened the box I was in hog heaven. It was beautiful! The Ritter gig bag had protected it well and after careful examination I declared it to be in excellent condition. Sure, it was stamped "used" on the back, but I couldn't find any flaw that would designate it as a factory second. I changed the strings to a lighter gauge and sat out on my deck and played it. I just couldn't put it down.

A "Kelvinator" style headstock plate adds a touch of vintage class.
Played acoustically, it rang out nicely and was really easy to play. The music store must have done a setup on it because I didn't have to adjust anything. When I plugged it in, I was even more blown away. The pickups were very bright and punchy, like on a single-coil guitar, but with more midrange. They're even brighter than P-90s, which kind of shocked me. And the instrument's light weight—only 5.63 pounds—sealed the deal for me. This guitar is a keeper. It's one of those instruments that just speaks to me. Bottom Feeder Tip #369: Sometimes you can teach an old dog a new trick, and from now on I will consider buying more guitars with mini-humbuckers. Sometimes a little research can go a long way.