Photo credit: Epiphone
Epiphone launches the Joe Bonamassa 1963 SG Custom.

One of Bonamassa's prized acquisitions is a 1963 Gibson SG Custom with some unusual features, including a unique smoothly contoured neck heel joint and a Dark Wine Red finish to honor the original guitar's Dark Cherry Red color, which was a rarity for that model and year. It features the same smooth neck joint contour, a Maestro Vibrola, classic SG Custom cosmetics, gold-plated hardware, and three powerful Epiphone ProBucker pickups. As a result, the new Epiphone Joe Bonamassa 1963 SG Custom aims to faithfully recreate the magic of this unique guitar. The Epiphone Joe Bonamassa 1963 SG Custom arrives with a Custom Hardshell case with a goldenrod plush interior and Epiphone and Joe Bonamassa exterior graphics, and a certificate of authenticity.

Bonamassa recently performed a one-night-only performance at the Hollywood Bowl on August 9th, recorded for his next live concert film. After finishing up the summer with two special performances featuring Styx and Don Felder, the hardest working bluesman in show business will begin his U.S. Fall Tour on October 23rd at The Cannon Center in Memphis, TN, before crisscrossing the country and capping the year at the guitar-shaped Hard Rock Live in Hollywood, FL on December 2nd. As we look further ahead, Bonamassa's 2024 spring tour boasts performances at historic venues, culminating with 'Keeping the Blues Alive at Sea IX'. For more information and to purchase tickets, click HERE.
Epiphone Joe Bonamassa 1963 SG Custom Guitar - Demo & Rundown with Joe Bonamassa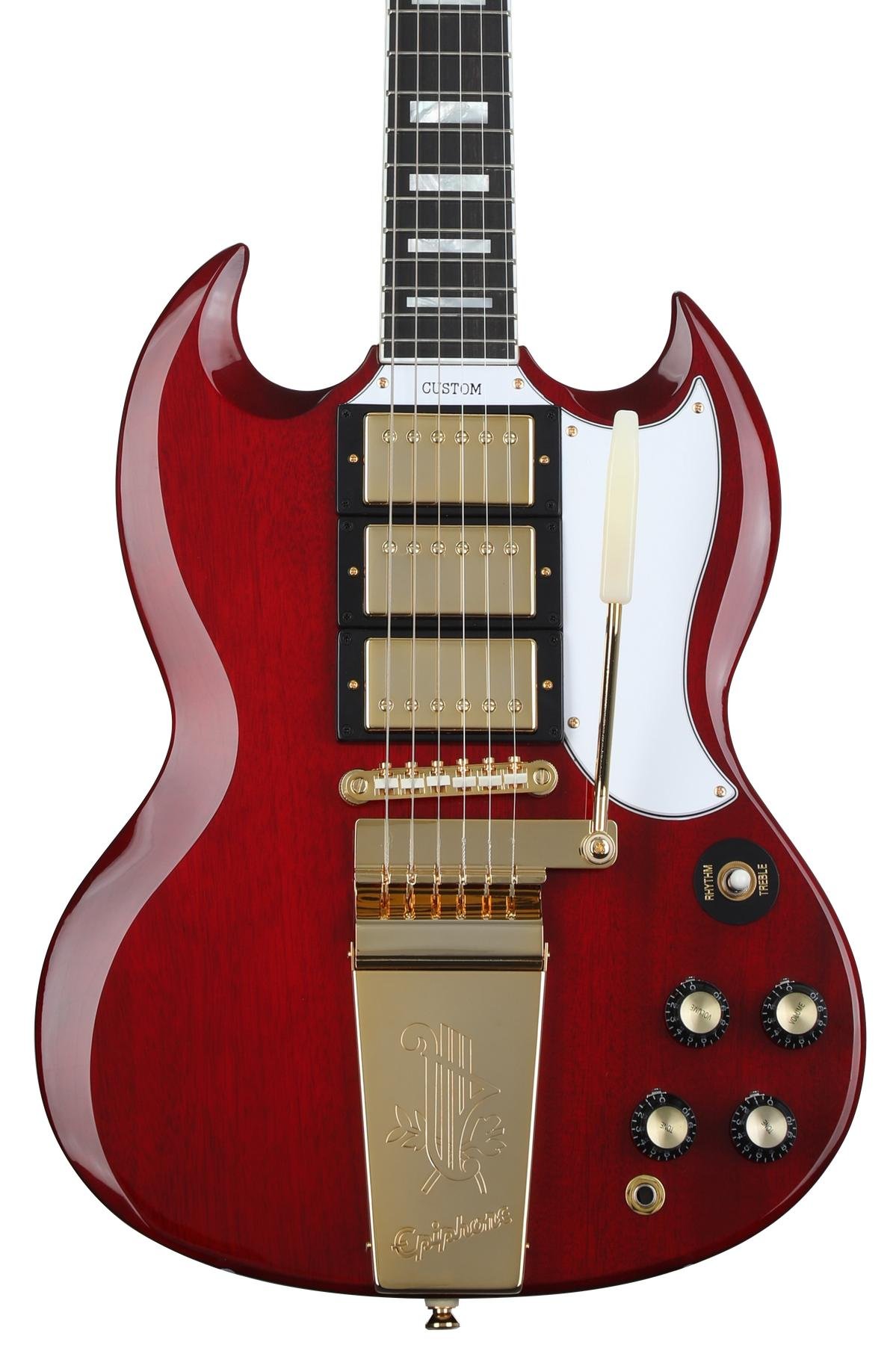 The Epiphone Joe Bonamassa 1963 SG Custom is now available worldwide in limited quantities at authorized Epiphone dealers, and on https://www.epiphone.com.
Epiphone
Mark Tremonti and Myles Kennedy take PG through their Alter Bridge road rigs.
PG's John Bohlinger hung with Alter Bridge's two-man guitar army, Mark Tremonti and Myles Kennedy, before their sold-out show at The Orpheum Theater in Memphis. Tremonti and Kennedy showcased some beautiful signature Paul Reed Smith guitars, as well as a not-yet-released PRS signature amp.
Thanks to techs Dave Pate and Scott Davis for their help with the details.
Brought to you by D'Addario Strings.
Brown Sound
Not surprisingly, Tremonti exclusively plays his Paul Reed Smith Mark Tremonti Signature.
The first is an early model from around 2002, sporting a signature brown burst with a tremolo bar. All guitars have D'Addario strings, though gauges vary by tuning. This one is tuned to Eb with 49–38– 28–17–13–10. Tremonti uses Dunlop Tortex 1.3 mm picks.
Spare Some Change?
This is Dime—short for Dimebag—Tremonti's second PRS single-cut with a whammy bar.
Don't Call Me Daughter
This is Stella, named after Tremonti's two-year old daughter. Tremonti and Paul Reed Smith came up with the body design together. PRS isn't set up to mass-produce this shape, so there won't be a wide-scale production.
Bearded Beauty
This "Fenton" graphic guitar is one of 20 produced. This was a 20th anniversary model with original art painted by Joe Fenton.
Outlaw Style
H.A. (Hell's Angels) was the second prototype Tremonti signature made by PRS. The pickups are early prototypes.
Mark Tremonti's Pedalboard
Tremonti's signal starts with an Evidence Audio 'The Reveal' cable from his guitar to his pedals, and Mogami W2319 and Square Plug SP5 plugs for patch cables. Pedals include a Morley "Mark Tremonti" Signature Wah, Ibanez TS808HW, Boss TU-3, Boss OC-5, Digitech The Drop, MXR Smart Gate, Mark Tremonti prototype signature chorus/vibrato, and a Lehle Little Lehle III true bypass loop pedal. There's also a G-Lab SD-1 running into the amp's effects loop.
The Big Reveal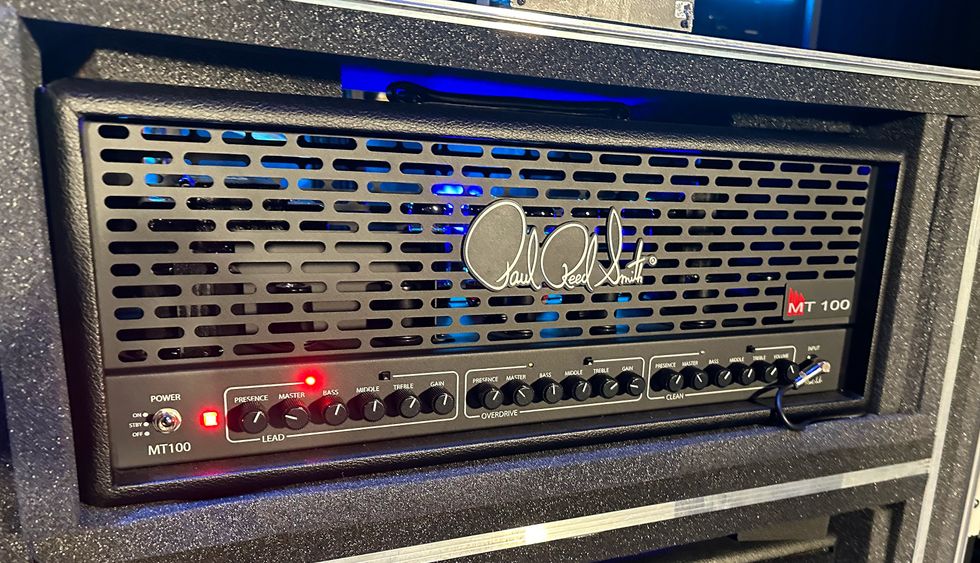 The PRS MT 100 Mark Tremonti Signature 100-watt three-channel head has not been officially released yet, but Tremonti has been touring with it for a while, as a shake-down cruise.
Crushin' Cabs
He runs this tube-driven beast into two oversized Mesa 4x12 cabs, loaded with Celestion British V30s wired at 8 ohms. The amp uses a Kikusui PCR1000M voltage regulator/power conditioner, plus there's a Lehle P-Split for splitting signals to main and backup heads.
The Four Horsemen
Kennedy tours with four of his new PRS Signature guitars. The ones finished in natural and white are both tuned to Eb or Eb with a dropped C#, depending on the song. The signature is a bolt neck, T-style guitar with 10" radius, and Narrowfield pickups. All guitars are strung with D'Addario Light Top/Heavy Bottom Strings (.010-.052).
Dr. Hoo
Kennedy reveres owls for their wisdom and adaptability. PRS has a long-standing tradition of using bird silhouettes for inlay markers, so it only made sense that Kennedy and PRS would incorporate their collective avis admiration in the signature model.
Green Machine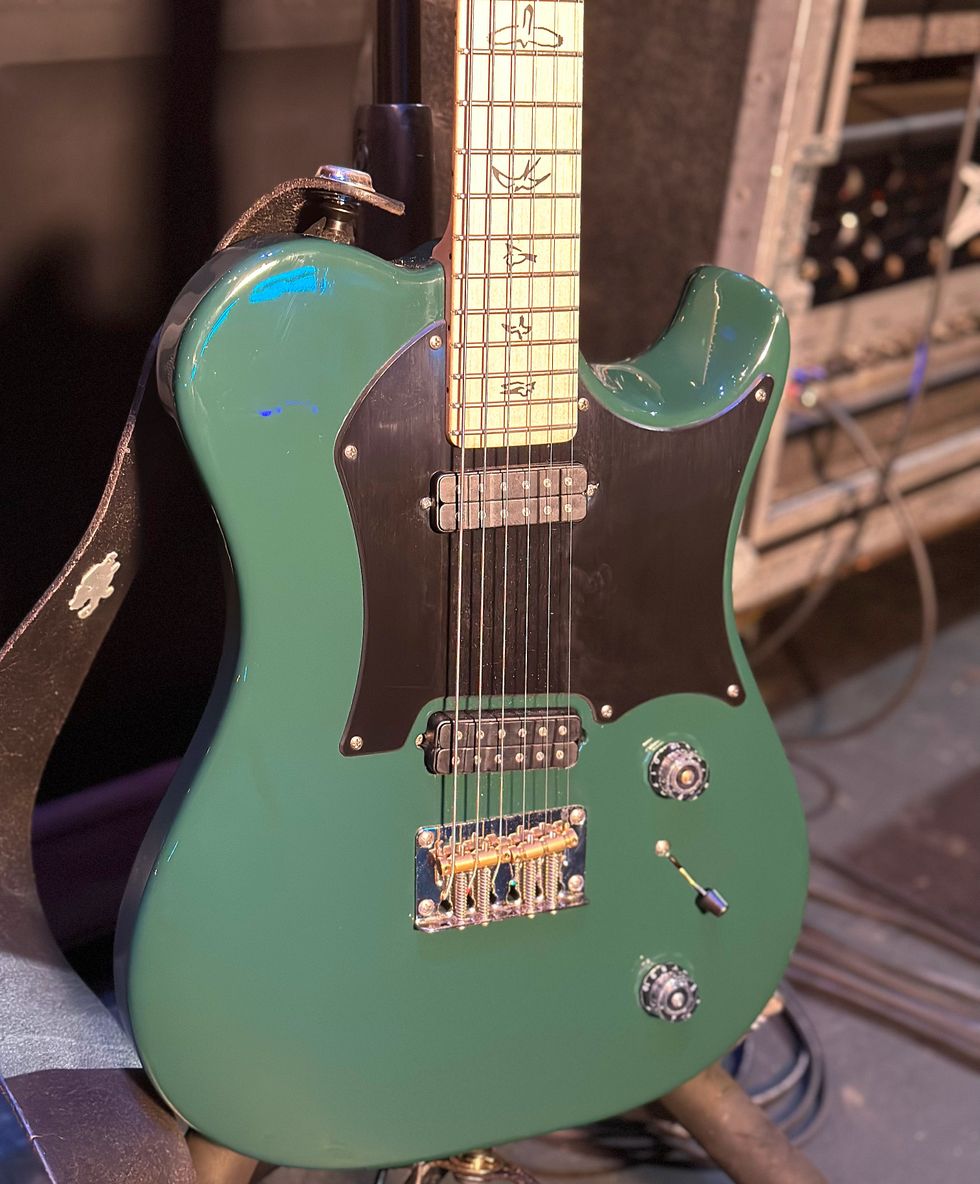 Kennedy's green Signature is tuned to A#–G#–C#–F#–A–#D#, and G–#G–#C#–F#–A#–D#, depending on the song.
Back(up) In Black
Kennedy's black Signature is strictly a backup in case there are problems with any of the others.
Diezel Power
Kennedy runs two Diezel heads: a Diezel VH4 and a Diezel Herbert. The amps run into two Diezel 4x12 cabs loaded with green Tone Tubby Hempcone 40/40 Ceramic speakers.
Myles Kennedy's Pedalboard
Kennedy runs his MXR Carbon Copy and an EarthQuaker Devices Dispatch Master in the VH4's clean loop. Over on his pedalboard, there's a Dunlop MC404 CAE Wah, Boss TU-2 tuner, Electro-Harmonix's Nano POG, Lizard Queen, and Freeze, a Ceriatone Centura, Strymon Deco, Line 6 MM4, and a Boss RV-6.
How I'll always remember Edward.
One memory often triggers another, so, while writing about my experiences with Metallica over a crucial decade in their career for this issue, I kept flashing back on my sole encounter with Van Halen—the man and the band. It was during 1988's Monsters of Rock, and I was on assignment for the tour's two-day stand in Akron's Rubber Bowl, a decrepit concrete pit turned convection oven by the summer heat, to interview all the guitarists on the tour: Kingdom Come's Danny Stag, Dokken's George Lynch, Kirk Hammett and James Hetfield of Metallica, Rudolf Schenker and Matthias Jabs of Scorpions, and, of course, Edward.
For the first day I was there, Van Halen's publicist kept nudging me aside. Nonetheless, I enjoyed their headlining set, save for the perplexing choice of a Sammy Hagar ballad about burying the placenta from the birth of one of his children under a tree. (If you know what that song is called, please let me know so I can more purposefully continue to avoid it.) Edward was especially brilliant, of course.
I was literally and anxiously sweating it out as Van Halen's second-night performance neared, when the publicist finally ushered me back into the band's dressing room, in the distressed bowels of the Rubber Bowl. Their green room was actually a casbah created within the area's grim concrete walls. There were hanging tapestries, plush furniture, floor lamps, and other homey appointments, all cooled by giant fans at its edges. But the most impressive sight was Edward, Sammy Hagar, and Michael Anthony plugged into a vertical-standing road case packed with practice amps, jamming out some blues. Alex had a practice pad atop the case, and pounded so hard he cut through the astonishing web of sound. They tossed me a few nods, and I sat on the couch next to a table with a bowl of M&M's on it—I did not check the colors—and watched them wail on for a good 10 minutes. Edward, plugged into what I think was a Fender Champ, still sounded every bit like himself. I thought, "Well, even if I don't get to ask a single question, this is worth the trip."
But they did unplug, and suddenly I felt like I was in the middle of a cartoon—or maybe an episode of The Monkees. They all raced toward me and piled onto the arms and back of the couch. I was surprised and surrounded. They answered my questions, but Eddie kept playing his unplugged 6-string, and nearly every reply came with a silly joke or a pun that left them in stitches. They all talked at the same time, sometimes completing each other's sentences—always answering me but spinning off into all kinds of wild digressions. At one point, Sammy did a decidedly un-PC Ray Charles impersonation that put Edward, Alex, and Michael on the floor. And when I asked a guitar-centric question, Edward slid off the back of the couch and landed next to me to reply.
"But they did unplug, and suddenly I felt like I was in the middle of a cartoon—or maybe an episode of The Monkees."
It was hilarious—almost sketch comedy. But it was also beautiful, because it was obvious that at this point they were deeply connected by friendship and the joy of still discovering what this line up of the band, which had released OU812 a month earlier, could do. There was a tangible, open-hearted purity to them—at least about this music they were making and the experience of making it—and it wasn't drugs, because Edward had recently been through rehab and not even beer was allowed in their green room. They were, in June 1988, truly a band of brothers.
Somehow, amidst all the crosstalk and antics, I managed to get all my questions answered, and spent a few more minutes hanging out with them, enjoying a cold cola and avoiding the near-100-degree outside temperature, as they bantered with each other and prepped for the stage. Then it was time for the publicist to reappear and throw my butt out, and for them to hustle theirs into the spotlights.
There were more troubles to come for Edward—struggles with addictions, divorce, and cancers—and a lot more music to be made, until he died, too young, in 2020 at age 65. But because of that day, I always think of him as happy-go-lucky, practically exploding with positivity and elation. And I'm very glad for that. Seeing somebody at their best and happiest is always a gift, and when it's somebody like Edward Van Halen, it's a treasure.