PG's Digital Strategist has helped hundreds of clients with the most common question I get: "What should I put in my banner ad?"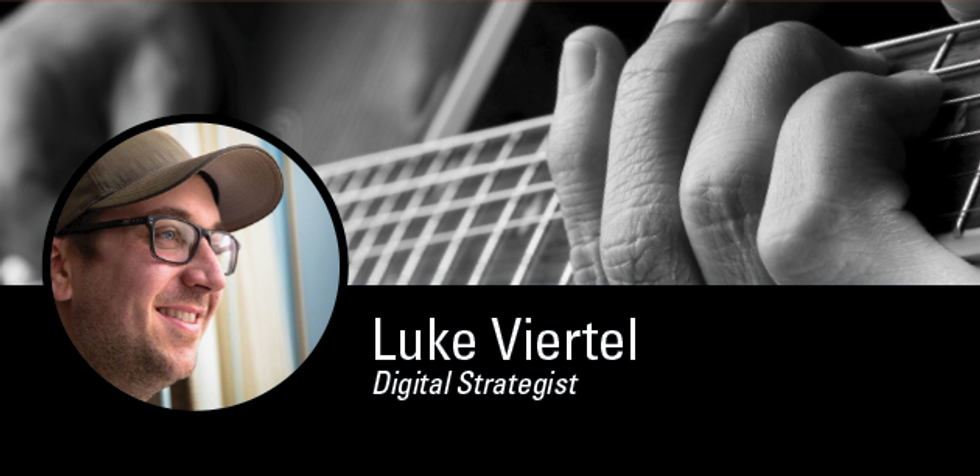 Since I started at Premier Guitar almost 10 years ago, I've implemented and analyzed over 10k campaigns with creative sets ranging from static banner ads to multi-platform, rich media. Over the years, I've been able to develop a data-driven understanding of what makes a good piece of creative and I've helped hundreds of clients with the most common question I get: "What should I put in my banner ad?"
Good creative tells YOUR story and highlights your products, so the "best" way is unique to each brand and product. Instead, I like to focus on highlighting what you shouldn't do. So, I present my Top 5 mistakes in creative design:
1. Now what?: There's no call-to-action.
Every piece of creative needs a call-to-action. Traditionally this is a button like "Click Here", "Learn More", etc., but it could also be a simple offer for readers to engage with your products by visiting your website, watching your videos, or shopping in your online store. Whatever it is, it HAS to be there.
2. ZzZzZz...It's too wordy.
Brevity is essential in display advertising. If you don't hook the reader immediately, they will move on, so time is of the essence. For standard banner ads, keep your message simple and memorable. That means there isn't room for every specification or detail of your product. Find the most desirable/unique aspect (or 2) of your gear and build your creative around that.
3. My eyes!: It's too busy (or boring)
Digital display advertising is a visual medium. It's important to keep your potential customer's perspective in mind when designing your creative. So, if you're going to animate your creative, don't rotate 6 panels in 2 seconds. Conversely, don't rotate 2 panels in 20 seconds. Don't flash the brightest white after the deepest black. You get it. If your ad isn't pleasing to look at, it's not pleasing to engage with.
4. Call in reinforcements: It looks amateur.
The best representation of your brand and product is your imagery. The most valuable investment you can make in the success of your online advertisement is your photography and creative design. It's ok it you aren't able to do this yourself, but I advise you to beg, borrow, or barter with a professional who can help feature your product in the best way possible. If you strike out with a pro, check out products like Canva and Bannersnack which can give you a great foundation to do it yourself.
5. Cast a lure: It doesn't inspire an emotion.
Once you have dialed in your concept and photography, the last step is to hone your message. Successful banner ads convey a fact, intrigue the reader, and entice them to click to learn more. Without venturing into hyperbole, your message should inspire an emotion in the viewer - surprise, shock, intrigue, humor, etc. The best way to do this is to convey a simple, clear, message that sets you apart and piques the interest of the reader along the way. 
__
Still have questions about the do's and don'ts of creative design? There are plenty of resources out there that can offer additional tips and tricks. Remember: there is no one-size-fits-all solution. Use trial and error to find out what works best for you and your company's goals. If you need a more personal touch, PG's Marketing Lab is here to help with any and all of your marketing questions. We'd love to help you develop a strategy for your display advertising online. You can sign up for a free, no-pressure consultation with PG's Digital Strategist, Luke Viertel, using the calendar below.