See how this badass Texan uses her signature Epiphone Sheratons to create pop-music earworms that get wrapped in barbed wire thanks to a "patent-pending," 3-pedal-combination trademark.
Emily Wolfe doesn't play guitar. She bends it to her will. Like a bronco buster taming a stallion, she saddles up on her signature Sheratons and lets it rip. Much of the magic felt and heard on her self-titled debut was pure adrenaline hitting your speaker. Her second album, 2021's Outlier, incorporated Wolfe's love of Motown grooves and modern-pop stickiness, both of which refreshed her songwriting with backdrops of more polished, waxy tones, but tumbleweed oscillation, helicopter, square-wave chops, and barbed-wire fuzz are still howls welcomed in this Wolfe pack.
"When I go up there, something could hit me at any point—an emotion that I felt 10 years ago could come out in a bend on the low E. There's so much rawness [to classic rock]; the edges are not perfect, but there's a magic in that," Wolfe told PG in 2021.
But how do you marry earworm poppiness with a gunslinger's approach to guitar?
"Some of my rock friends say, 'Pop isn't relevant,' and I'm like, 'What are you talking about—it's everywhere!' It's so sticky for people, and that's really fascinating to me. I want my music to have that quality … but also the realness of a raw guitar tone. [With Outlier] I wanted to make something that would be classic 10, 20, 30 years from now," she explained in our profile. "That was the goal, and I think we achieved it."
Before Wolfe's headlining show at Nashville's Blue Room (located inside the Third Man Records compound),
PG
's Chris Kies joined the shredding songwriter onstage to talk shop. The resulting conversation covers the development behind her Epiphone Sheraton, how a boring night in Cleveland spent with her "Chex-mix-crushing, brother-in-tone" bass player Evan Nicholson convinced her to play a doubleneck guitar, and we discover what three pedals work together to make what she describes as "the sound that belongs to me."
Brought to you by D'Addario XPND.
Signature Steed
Emily Wolfe's first "real" guitar was an Epiphone Sheraton. (She really wanted a Gibson ES-355 like blues hero B.B. King, but Wolfe was just a strapped college student.) That first experience with a semi-hollowbody guitar had a seminal influence on her guitar-playing journey, contributing to her singular sound. "Every decision I made with my gear was as a result of building my tone around that first Sheraton." Now honored with a signature Epiphone Sheraton of her own, the Stealth is a modern take on John Lee Hooker's longtime favored ride. It has a layered maple body with a mahogany neck, signature bolt inlays, a Tune-o-matic bridge, CTS pots, two volume controls and one tone control, and Epiphone's Alnico Classic PRO pickups. She discreetly put her John Hancock on the back of the headstock. She uses Ernie Ball Slinky Cobalt strings (.010–.046) and strikes them with Dunlop Tortex Jazz III .88 mm picks. This one stays in either standard or drop-D tunings.


The White Wolfe
The "White Walker" edition of Emily's signature Stealth features all the same specs of the black model aside from the aged bone white finish. This one does take a custom set of Slinkys (.012–.060) and holds a Wolfe-tweaked open-C tuning (C–G–C–E–A–D).
You could win your own if you enter this giveaway before October 20, 2023. Click here to enter
Double Trouble
How does a boring night in a Cleveland hotel lead to Wolfe owning a doubleneck Epiphone? Well, her bass player (and best friend) Evan Nicholson wondered if Wolfe had ever tried a doubleneck guitar. She said 'no,' and so started the quest to prove that women can rock a pair of necks, too! She acquired this Epiphone G-1275 and uses it mainly for her cover of T. Rex's "The Slider" by using the lower 6-string (in drop-C) for the rhythm parts and the 12-string for the song's solo. The two necks tuned separately allow her to put both guitar parts under her hands with one guitar.
Dancing with the DeVille
Saying an amp has "no character" might be seen as negative by some, but Wolfe prefers the "middle-of-the-road" base tone in this Fender Hot Rod DeVille 410 III. It packs plenty of volume, and Wolfe adds, "I get to pick what character I want with my pedals."
Emily Wolfe's Pedalboard
"If I get a new piece of gear, I have to figure out every single part of it before I can really use it," Wolfe confessed to PG while talking about Outlier. That sensible curiosity has led her to dialing in precise parameters on the pedals and creating colossal combos with singular Wolfe gain staging. Her silver bullet is the EarthQuaker Devices Tentacle analog octave-up pedal, running into a Fulltone OCD, and an MXR Six Band EQ. She claimed to PG, "That's the sound that belongs to me." The sequence creates a "crazy fuzztone" from the overdrive. Then she uses the EQ to reduce some of the lows and boost the mids for a sound she says will get her guitar to cut through any mix.
Other spices in the rack include an Analogman King of Tone, an EarthQuaker Devices Dirt Transmitter fuzz, an Ibanez Analog Delay Mini, an Origin Effects Cali76 Compact Deluxe, a Walrus Audio Julia chorus/vibrato, and a Strymon Flint. The Empress Buffer puts the Delay Mini and Flint outside the RJM Mastermind PBC's control.
But Wait... There's More!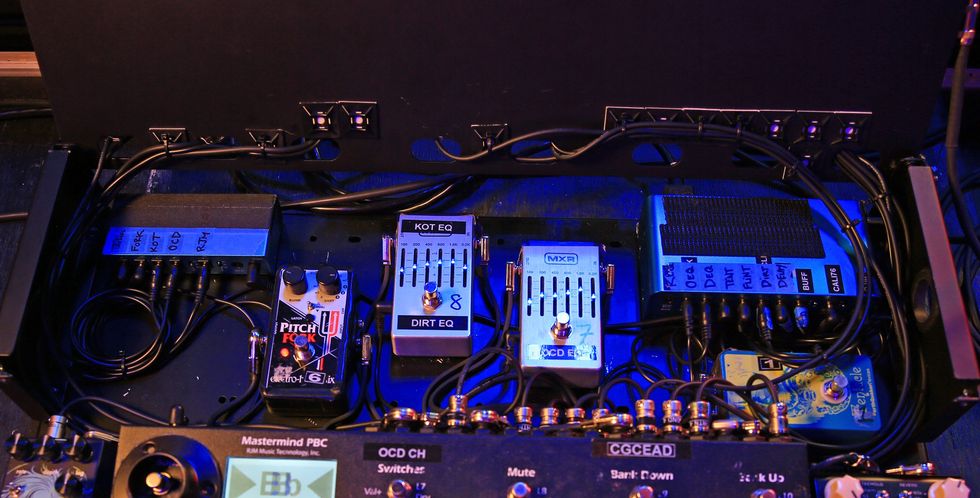 Underneath the hood, Wolfe has tucked in a pair of MXR M109S Six Band EQ pedals (one hitting the King of Tone and the other hitting the OCD), an Electro-Harmonix Pitch Fork, an EarthQuaker Devices Tentacle analog octave up, and a couple of Strymon power supplies (Ojai and Zuma).
Designed to deliver the modern style and capabilities sought by contemporary bassists.

The Venture Series comprises the V3, V7, and V12 heads and the VB-112, VB-115, VB-210, VB-212, and VB-410 cabs.
"Venture Series amps and cabs represent the next step in the evolution of the Ampeg brand," said Dino Monoxelos, Ampeg Product Marketing Manager. "We designed them to give gigging bassists playing all styles of music the capabilities they need to dial in both modern and classic sounds. We also know how important it is to them that their gear be rugged enough to perform reliably gig after gig, while at the same time being as light and portable as possible. Most importantly, of course, Ampeg amps have to deliver tone that lives up to our legacy."
With their intuitive controls, Venture Series amplifiers offer an extensive array of tone-shaping tools that include 3-band EQ with sweepable Mids, Ultra Hi and 3-way Ultra Lo switches, and a Super Grit Technology (SGT) Overdrive circuit with SVT and B15 voicings. The V7 and V12 amplifiers also include a variable compressor. An effects loop, an XLR direct output, an Aux input, and a Phones output enhance connectivity. All circuitry is analog except for the solid-state Class D amplifiers. Players can add an optional AFS2 footswitch for remote control of the SGT overdrive and Mute, and an optional heavy-duty padded Venture carrying bag.
Venture Series cabinets are available in the most popular configurations, enabling bassists to choose the right cab—or combination of cabs—for any gig. The stylish cabinets are covered in carbon fiber-style Tolex and built to handle the rigors of the road, while at the same being some of the lightest bass enclosures currently available. They are loaded with lightweight custom-voiced Lavoce neodymium woofers and high-frequency drivers. Optional Portaflex-style grille assemblies provide players with an aesthetic choice, and optional heavy-duty padded covers are also available.
Pricing & Availability:
V3 Amp $499.99 US MSRP (Carry Bag $69.99 US MSRP) 300 watts output
V7 Amp $749.99 US MSRP (Carry Bag $79.99 US MSRP) 700 watts output
V12 Amp $999.99 US MSRP (Carry Bag $99.99 US MSRP) 1200 watts output
VB-112 Cab $749.99 US MSRP (Cover $69.99 Grille Assembly $69.99 US MSRP) 250W RMS/500W Program
VB-115 Cab $849.99 US MSRP (Cover $79.99 Grille Assembly $79.99 US MSRP) 250W RMS/500W Program
VB-210 Cab $899.99 US MSRP (Cover $79.99 Grille Assembly $84.99 US MSRP) 300W RMS/600W Program
VB-212 Cab $1099.99 US MSRP (Cover $89.99 Grille Assembly $99.99 US MSRP) 300W RMS/600W Program
VB-410 Cab $1249.99 US MSRP (Cover $99.99 Grille Assembly $129.99 US MSRP) 600W RMS/1200W Program
Venture series heads and cabs are available now with the exception of the V7 (available spring 2024).
The KISS co-founder partners with Gibson for second signature bass, a limited-edition run of 100 guitars.
Based on Gene's heavily modified 1959 EB-0, the new Gene Simmons EB-0 Bass is the first 30.5" scale bass from the Gibson Custom Shop and the first bass the Custom Shop has produced in quantity. The Gene Simmons EB-0 Bass features a VOS finish in Ebony, as well as VOS hardware throughout, in addition, Gene made several modifications to his EB-0, including refinishing it, reshaping the neck to a custom profile, replacing the pickup with a later model Gibson unit, and relocating it much closer to the bridge, installing a custom pickguard, a fingerboard with Corian nut, adding binding, and changing the original tuners to Grovers. The bridge was also replaced with a high-mass model and can now be strung through-body or as a top-loaded bridge. All of these details are faithfully represented in the new Gene Simmons EB-0 Bass from Gibson Custom Shop. A custom hardshell case as well as case candy developed in collaboration with Gene is also included.

The Gene Simmons EB-0 Bass is inspired by the same Bass that Gene played with KISS in the 1970s. The new Gene Simmons EB-0 Bass is a limited-edition run of 100 guitars and is available worldwide at authorized Gibson Custom Shop dealers and via www.gibson.com. $6,999.00 USD.