Get schooled where country and rock meet with some ripping hybrid picking lines and touches of Jerry Reed and Chet Atkins.
This month I want to expand on Future Rock and get into some hybrid picking and twangy awesomeness. I know most people think of me as more of a rock dude, but growing up in Virginia exposed me to other genres of music, including bluegrass and country. A lot of my friends back home are smoking bluegrass pickers and that's where my love for bluegrass and country comes from. I used to sit there all day and listen to those dudes tear it up!!
For me, the whole hybrid thing just happened out of necessity and trying to keep up with those cats. Hybrid picking is very easy to understand, but it will take some time to work it into your technique. Basically, the idea is that you hold your pick normally and then add your middle and ring fingers into the mix. All right, let's get to some pickin' and a-grinnin'!
The example shown in Fig. 1 is a bit of a barnburner—it sounds more impressive then it actually is, but the kids will love it. I would use a lick like this over a G7 vibe. The twist on this one, which is kind of cool, is that I am throwing in the b9 (Ab) just to give it a bit of flavor. The basic shape falls within the G minor pentatonic scale (G–Bb–C–D–F), but I add a few "blue" notes here and there. Underneath the tab I have added a suggested right-hand picking pattern. Remember, the m indicates the middle finger and the a is for the ring finger. Now the way to play this lick fluidly is to combine the hybrid picking approach with hammer-ons and pull-offs. It's a bit of an illusion because we want everything to sound like it's picked.
This next lick (Fig. 2) is very fancy sounding but not really that hard to play. We will stick with a G7 vamp and the minor pentatonic scale. The awesome factor is that we are just going to throw in some open strings. Why the hell not? Right! It's just a sequence and as we descend down the G minor pentatonic scale, we are adding all those open strings. One thing you can try—it's a move I like—is replace the 4th degree (C) with the b5 (Db). This gives you a little more of a blues sound.
We are going to the key of E major for Fig. 3. This is a really fun key because you can use some jangly open strings. You just have to be careful and not hit an open G on the 3rd string, but all the rest work. This lick is a descending cascade that's very useful for throwing in a solo or ending a song. It's a little long, so if you use it to end a song you may have to shorten it a bit, but it resolves nicely. Again, it is a sequenced-based lick and the only open strings that keep appearing are the 2nd and 1st strings.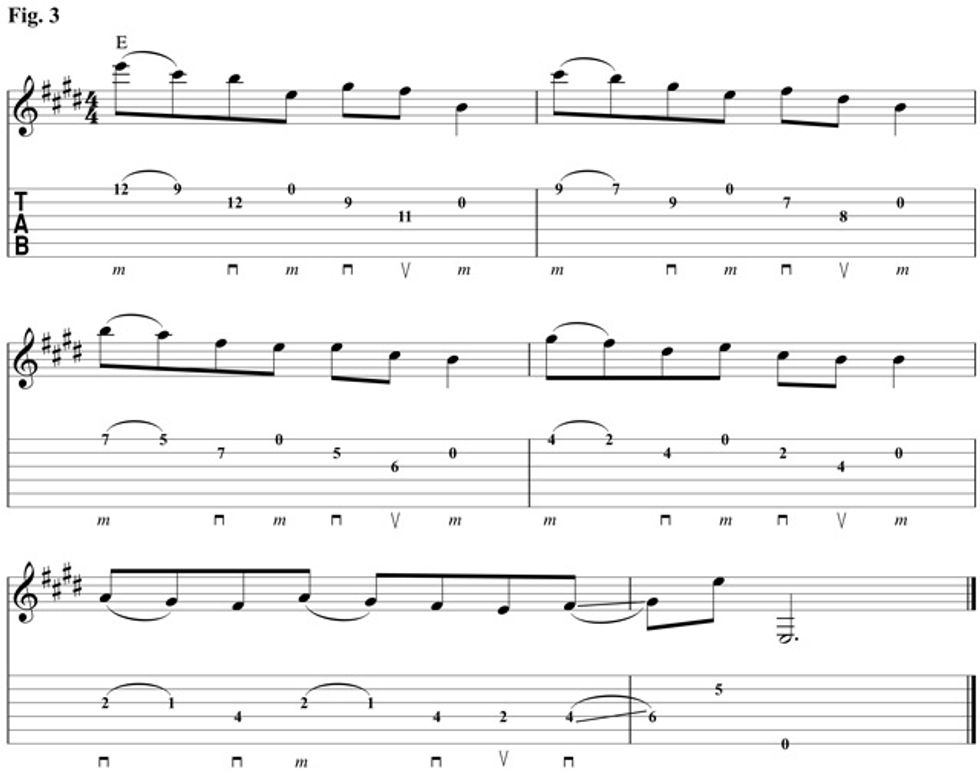 We will stick with E major for Fig. 4, which is a cascading lick in the style of Chet Atkins and Jerry Reed. Both of those guys are the kings of open-string lines, so if you are ever looking for more ideas, check out just about any of their records and I promise it will blow your mind. A lot of these descending lines require just pick and middle finger, but when playing an ascending lick I will use my pick, middle finger, and ring finger.
Fig. 5 is an example of an ascending D major scale where I use my pick, middle, and ring fingers. This one sounds beautiful on acoustic. I actually used this very same scale on my record to end a song called "Peach Pie." When you play this lick, make sure to keep all the strings ringing as much as possible. The goal is to make it almost sound like a piano player running up a scale with the sustain pedal on.

I know these phrases are more on the country side of things, but throw on some distortion and see what happens. You may be surprised how cool these licks and tricks actually sound in a rock setting—or any setting for that matter. I hope these examples provide new inspiration and creativity to your playing. Try to mess around with the open strings in different keys as well. You might just come up with some wacky, out stuff or some beautiful things that become a cool and interesting part of your playing.
---
Since graduating from Musician's Institute in 2004,
Justin Derrico
has toured with artists such as The Calling and Robin Thicke, and also performed with Tina Turner and Beyonce at the Grammys. He is currently touring with Pink as well as playing in the house band for NBC's hit show,
The Voice
. For more information, visit
justinderrico.com
.
Looking for more great gear for the guitar player in your life (yourself included!)? Check out this year's Holiday Gear Finds!
Outlaw Effects introduces their next generation of NOMAD rechargeable battery-powered pedal boards.
Available in two sizes, NOMAD ISO is a compact, versatile tool that offers the convenience of a fully powered board plus the additional freedom of not having to plug into an outlet. NOMAD ISO is ideal for stages with limited outlet availability, quick changeovers, busking outdoors, temporary rehearsal locations, and more!
NOMAD ISO builds upon the legacy of the ultra-convenient and reliable NOMAD rechargeable pedalboard line originally launched in 2018. The brand new NOMAD ISO editions feature eight isolated outputs (1 x 9V DC, and 1 switchable 9V/12V DC) for even more versatility and clean, quiet power. With an integrated lithium-ion battery pack boasting 12800mAh capacity, NOMAD ISO can fuel a wide array of pedals, and will last over 10 hours* on a single charge.
Each NOMAD ISO pedal board includes adhesive hook & loop pedal-mounting tape, eight (8) standard DC connector cables, and one (1) reverse polarity DC cable, giving you everything you need to build your ultimate "off-the-grid" rig. A rugged, road-ready padded gig bag with shoulder strap is also included, to safely protect your gear while you're on the move.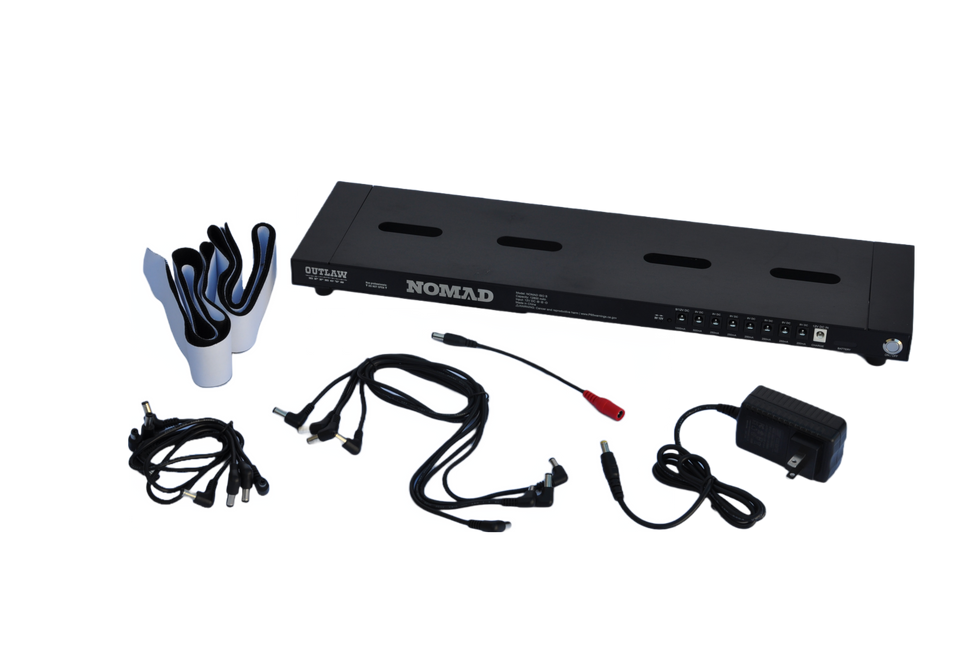 Dunable announce new Minotaur model featuring Grover Rotomatic Keystone tuners.
The Minotaur's DNA is rooted in their classic Moonflower model, which Dunable discontinued in 2017. However, they have long since wanted to create a fresh take on a carved top guitar design, and various attempts to rework the Moonflower led them to a brand new concept with the Minotuar.
Dunable's goal is to give the player a guitar that plays fast and smooth, sounds amazing, and gives maximum physical ergonomic comfort. The Minotaur's soft and meticulous contours, simple and effective control layout, and 25.5" scale length are designed to easily meet this criteria.

Dunable Minotaur!
Features
25.5" scale length
Dual Humbucker
one volume, one tone, push pull for coil splitting
Grover Rotomatic Keystone tuners
Grover Tune O Matic bridge with brass Kluson top-mount tailpiece
jumbo nickel frets
12" fretboard radius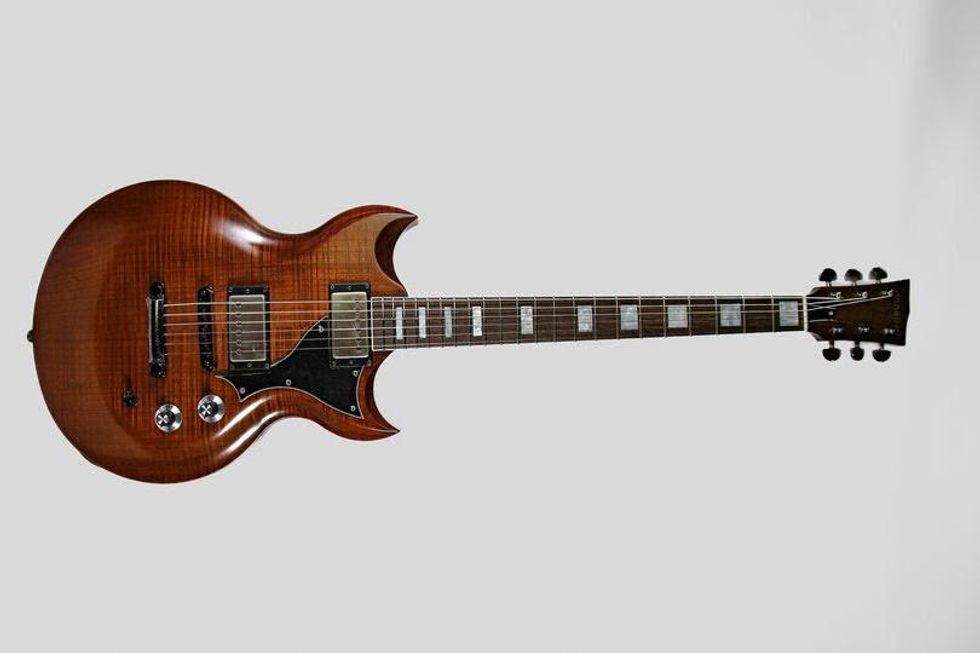 Dunable
This full-amp-stack-in-a-box pedal brings a new flavor to the Guitar Legend Tone Series of pedals, Missing Link Audio's flagship product line.
Adding to the company's line of premium-quality effects pedals, Missing Link Audio has unleashed the new AC/Overdrive pedal. This full-amp-stack-in-a-box pedal – the only Angus & Malcom all-in-one stompbox on the market – brings a new flavor to the Guitar Legend Tone Series of pedals, Missing Link Audio's flagship product line.
The AC/OD layout has three knobs to control Volume, Gain and Tone. That user-friendly format is perfect for quickly getting your ideal tone, and it also offers a ton of versatility. MLA's new AC/OD absolutely nails the Angus tone from the days of "High Voltage" to "Back in Black". You can also easily dial inMalcom with the turn of a knob. The pedal covers a broad range of sonic terrain, from boost to hot overdrive to complete tube-like saturation. The pedal is designed to leave on all the time and is very touch responsive. You can get everything from fat rhythm tones to a perfect lead tone just by using your guitar's volume knob and your right-hand attack.
Features 
Three knobs to control Volume, Gain and Tone
Die-cast aluminum cases for gig-worthy durability
Limited lifetime warranty
True bypass on/off switch
9-volt DC input
Made in the USA
MLA Pedals AC/OD - Music & Demo by A. Barrero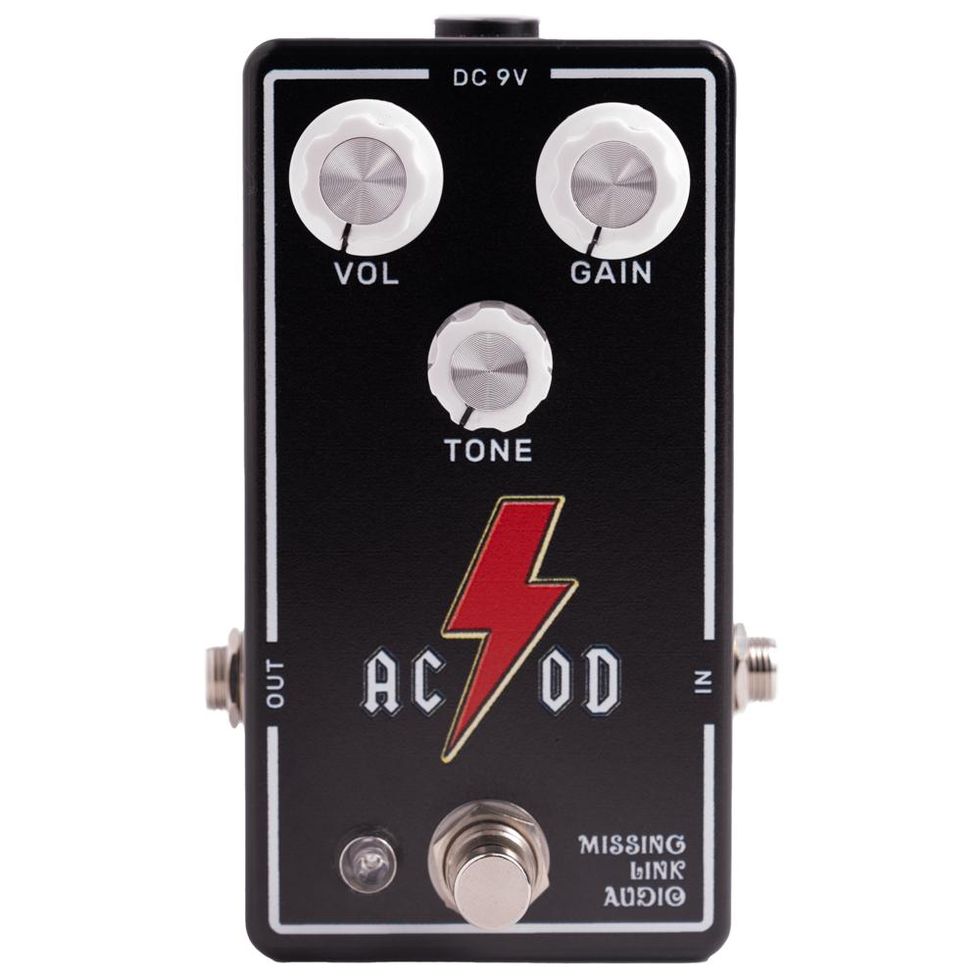 www.mlapedals.com.