The new guitars feature a hand-painted tobacco sunburst top, firestripe faux tortoiseshell pickguard and 4mm Italian acrylic dot fretboard inlays for a rootsy, vintage look.

The award-winning American Dream Series was first introduced in 2020 during the pandemic. The solid-wood, U.S.-made acoustic guitars were designed to deliver all the essentials of a premium acoustic guitar, with a thoughtfully streamlined appointment package to make the guitars more accessible during a time of economic uncertainty and increased consumer demand. Each American Dream guitar is voiced with Taylor's tone-enhancing V-Class® bracing system (and new C-Class® bracing for the AD11e-SB). Appointments on the new sunburst American Dream guitars support the rootsy, organic vibe, with black top purfling, a black/maple/black rosette, black satin tuners and a thin matte finish. Chamfered body edges add additional playing comfort alongside Taylor's ultra-playable necks.



AD11e-SB
The all-new AD11e-SB features the new Taylor Grand Theater (GT) body shape, which sports a comfortably downsized frame and scale length. Tonally, it's voiced with C-Class bracing (a variation on V-Class bracing) that enhances the low-end response to give the guitar the tonal depth of a full-size guitar. The new model includes a special 24-1/8" scale length and is strung with light-gauge D'Addario XS coated phosphor bronze strings. Starting at $1799.
AD12e-SB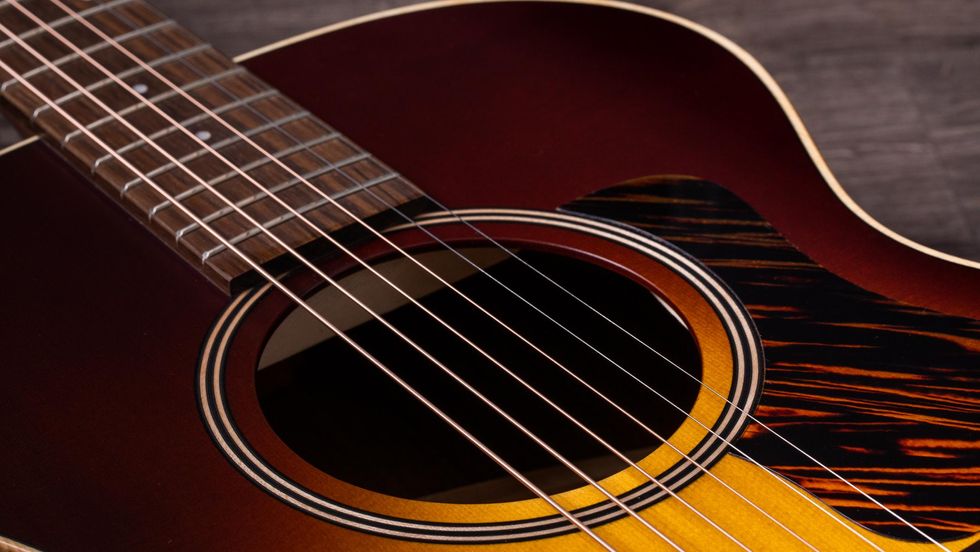 The AD12e-SB brings the first spruce-top Grand Concert to the American Dream Series. Powered by V-Class bracing, the clarity, responsiveness, and note-to-note definition of the compact body makes the AD12e-SB perfect for fingerstyle guitarists, nimble flatpickers, and recording applications. The guitar is strung with light-gauge D'Addario XS-coated phosphor bronze strings. Starting at $1999.
AD17e-SB
The AD17e-SB features Taylor's Grand Pacific body shape, a round-shoulder dreadnought inspired by classic acoustic guitar recordings. With a 25-½" scale length and medium-gauge, D'Addario XS coated phosphor bronze strings, this guitar is a midrange powerhouse that serves up seasoned tone without sacrificing balance or articulation. Starting at $1999.
Introducing New Sunburst American Dream Acoustic Guitars
The new sunburst American Dream guitars include Taylor's onboard ES2 electronics and a brown or gray AeroCase for convenient transportation.

For more information, please visit taylorguitars.com.

The Gibson acoustic division's head dreamer studied with Christopher Parkening, toured, played, taught, and has collaborated with many artists on signature models in his three-decade career.
Bozeman is known as the Sweet Pea City, a reference to the prolific flower that put this colorful Montana burgh on the map in the early 1900s. But most of us know it as the home of the Gibson Acoustic Craftory, where the brand makes guitars ranging from historic models like the L-00, J-45, Hummingbird, Dove, and J-200 to signature guitars for Jerry Cantrell, Orianthi, and Keb' Mo' to the company's budget-priced Generation Collection, which offers updates on Gibson's slope-, broad-shouldered, and cutaway models, all with sound ports. Turns out the region's stable, dry climate is good for building guitars as well as raising blossoms.
When Robi Johns arrived at Gibson's Bozeman location in 1990, "it was a small cinder block building. It was relatively crowded, dusty, and noisy, but safe, and we had this little office area with one fax machine—the key communication tool back in the day. Now, I'm sitting in an office that's quiet, clean, and well-lit. We have meeting areas and beautiful showroom and event areas. And the plant is spacious and quiet in most areas, and certainly very clean and very modern."
How modern and spacious? Gibson unveiled an expansion at the facility in November, more than doubling its size from 21,000 to 48,000 square feet, updating and enlarging the machine shop, the Custom Shop, and overall guitar-building space. It's a testament to both the durability of Gibson's long-established models as well as the success of new instruments like the Generation Collection.
"We put the very lightest, thinnest neck on it possible—we couldn't go any thinner, quite frankly. It's thin as a Les Paul from the 1960s."
Johns' title is senior product development manager, Gibson acoustics, but he's also one of the Craftory's key guitar designers and an accomplished player. As a young man, he studied with classical-guitar virtuoso Christopher Parkening and became an adjunct professor in classical guitar at Montana State University, also in Bozeman. In addition to the aforementioned guitarists, he's designed instruments for Sheryl Crow (a signature Southern Jumbo Supreme), Jackson Brown (a 10-year process that culminated in the Model 1 that bears Brown's name), Slash, and Eric Church, among many others.
"If I had to summarize the qualities that each player desires," he says of the artists he's created instruments for, "number one is tone of the acoustic guitar, because that reflects the sound of the music that artist makes, and inspires them. They are looking for a response from the instrument—response and tone affects how you're playing and causes a different emotional state. They are also searching for a certain look or design that reflects their persona and helps define how they look on stage. It's a symbiotic relationship between the artist and model."
A J-45 Deluxe Rosewood guitar gets its neck set with one of the company's trademark dovetail neck-to-body joints.
Johns' latest signature project is a collaboration for Americana/country darling Brandi Carlile, for release this year. "Brandi loves 1940s small-body LG-2s, so about three years ago she came to us and said, 'Would you build me one of these ... like the one I use normally, but, you know, new?' So, I had the honor of designing a historic-based LG-2 for her that she fell in love with. Recently, she asked us to do a model for her, so I was able to take the qualities of her LG-2 and put them into a guitar that would be suitable for consumers. In other words, we made it so it wasn't so expensive to build, like her original, but I was able to include the sound and the feel of what she loved. I had to please the artist and people who love our guitars with the new Brandi Carlile LG-2 Custom."
Johns was also involved in the creation of the Generation Collection, a new line of five acoustics—the G-Writer, the G-Bird, the G-45, G-200, and G-00—inspired by legacy designs but updated with sound ports and alternative neck woods, like utile (an African hardwood), and slim neck profiles, among other features. The idea was to create a fleet priced between $999 and $1,999 street—more easily affordable instruments targeted at less experienced players. For Johns, the project was both a strategic and a design challenge.
"The acoustic guitar is more introverted, and the electric guitar is more for an extroverted experience."
"We thought about this for a couple years," says Johns. "'What do new guitarists, that aren't necessarily Gibson fans, want?' So, we gave them a guitar at a lower price point, relative to our other guitars, that is really easy to play. We put the very lightest, thinnest neck on it possible—we couldn't go any thinner, quite frankly. It's thin as a Les Paul from the 1960s. And we flattened out the fretboards so you can bend notes really easily. We also include all of the benefits of how we build guitars: a dovetail neck-to-body joint, a radius top or curved top with curved bracing, and a very light lacquer finish. We took the best of Gibson construction features and put them in this lower-price-point instrument."
The Generation Collection are also the first Gibsons to feature a sound port, which the company calls a "Player Port," following boutique builders and Taylor, Breedlove, and other well-respected acoustic guitar makers into this terrain.
"Response and tone affects how you're playing and causes a different emotional state."
"Other builders have done that over the years, but Gibson was actually looking at this concept in the mid-'60s," Johns says. "There is a blueprint of a J-45-style guitar with a Player-type port on the side. We took that concept and modified it, so not only does it sound wonderful out front, but it sounds wonderful to the player. The player can hear very clearly with this Player Port, so it's an overall experience. I say that the acoustic guitar is more introverted, and the electric guitar is more for an extroverted experience, because it blasts out forwards and you're usually with a band, and so on. But that internal experience for acoustic players is very important. You create a protective … I'm going to use my own terminology … bubble, where you live in this beautiful fantasy world of your acoustic sound."
Here's an upper-deck view of the finishing area in Gibson's Acoustic Craftory.
Besides its lovely climbing flowers and the Gibson Craftory, Bozeman is also known as a railroad town. A modest freight yard is nestled in its center, and there's even an old beanery where railroad workers for the Northern Pacific grabbed a bite during that line's heyday. Johns also comes from a place famous for the rails—Altoona, Pennsylvania. "It's a very blue-collar coal mining and railroad town, so that kind of forced me into loving the expressive arts, in contrast. I became a lover of painting and music, so that led me into going to music school. I got a couple of degrees in guitar performance, and later became a recording artist, and I had interest in many diverse musical styles. I practiced, practiced, practiced the guitar, every day, to the Nth degree. So, I've spent all my life on a guitar."
Johns was teaching and running a music store in Bozeman when he was invited to Gibson. "The president of this division called me up and said, 'We need an artist here. We have everything but a real musician.' So, I became the sales and marketing director for acoustic guitars in 1990 and have been here ever since. I had a lot to learn. Gibson was such a big brand, and initially, I was going all over the world promoting the guitars and helping with the marketing and sales of them. And then, I started working here with the best luthiers in the music industry, so that's how it morphed into my work with designing guitars."
An SJ-200 reaches the final stage of its building process—a meticulous setup.
Johns' creative patch was interrupted, gravely, in 2012, when he suffered a hemorrhagic stroke. "I was told I was not going to live, I was not going to walk again, I was not going to use my arm again," he recounts. "That is not what I decided was my fate. I had this strong wish to continue to use all that I've learned in my life's experience—to contribute to what I love in music and arts and particularly the guitar. That kept me going and drove me to take on all these therapies. I still do therapy every day, because I want that quality of life back, and I'm enjoying doing what I'm doing with Gibson. It's stopped me from being a player for a period of time, but it did not stop me from being a dreamer, or that I get to dream these guitars up with the artists and the great builders here." Johns is working to reclaim his former playing prowess with the help of his current favorite guitars: a Gibson ES-175, which he praises for its acoustic-like tone—"I was a fan of Steve Howe in the '70s"—and an acoustic Gibson Songwriter, along with a nylon-string instrument custom-built in Madrid.
If fate hadn't lured Johns into the guitar life, he thinks that perhaps he might have chased his creative pursuits into film. "Sometimes I feel like a movie director," he says. "I work with an artist and he or she creates a plot, and I get to direct the movie—analogous to designing the guitar, the most joyous part of my work. This is not just patronizing my own company, but I love Gibson. I get to work with the most absolutely brilliant people, highly skilled and inspiring, which nurtures me as a human being. I'm not playing guitar and being a performer anymore, but, metaphorically, I'm still reaching people all over the world—not with my music, but with the guitars that we build. And that fulfills me. That really is true."
The silky smooth slide man may raise a few eyebrows with his gear—a hollow, steel-bodied baritone and .017s on a Jazzmaster—but every note and tone he plays sounds just right.
KingTone's The Duellist is currently Ariel Posen's most-used pedal. One side of the dual drive (the Bluesbreaker voicing) is always on. But there's another duality at play when Posen plugs in—the balance between songwriter and guitarist.
"These days, I like listening to songs and the story and the total package," Posen told PG back in 2019, when talking about his solo debut, How Long, after departing from his sideman slot for the Bros. Landreth. "Obviously, I'm known as a guitar player, but my music and the music I write is not guitar music. It's songs, and it goes back to the Beatles. I love songs, and I love story and melody and singing, and there was a lot of detail and attention put into the guitar sound and the playing and the parts—almost more than I've ever done."
And in 2021, he found himself equally expressing his yin-and-yang artistry by releasing two albums that represented both sides of his musicality. First, Headway continued the sultry sizzle of songwriting featured on How Long. Then he surprised everyone, especially guitarists, by dropping Mile End, which is a 6-string buffet of solo dishes with nothing but Ariel and his instrument of choice.
But what should fans expect when they see him perform live? "I just trust my gut. I can reach more people by playing songs, and I get moved more by a story and lyrics and harmony, so that's where I naturally go. The live show is a lot more guitar centric. If you want to hear me stretch out on some solos, come see a show. I want the record and the live show to be two separate things."
The afternoon ahead of Posen's headlining performance at Nashville's Basement East, the guitar-playing musical force invited PG's Chris Kies on stage for a robust chat about gear. The 30-minute conversation covers Posen's potent pair of moody blue bombshells—a hollow, metal-bodied Mule Resophonic and a Fender Custom Shop Jazzmaster—and why any Two-Rock is his go-to amp. He also shares his reasoning behind avoiding effects loops and volume pedals.
Brought to you by D'Addario XPND Pedalboard.
Blue the Mule III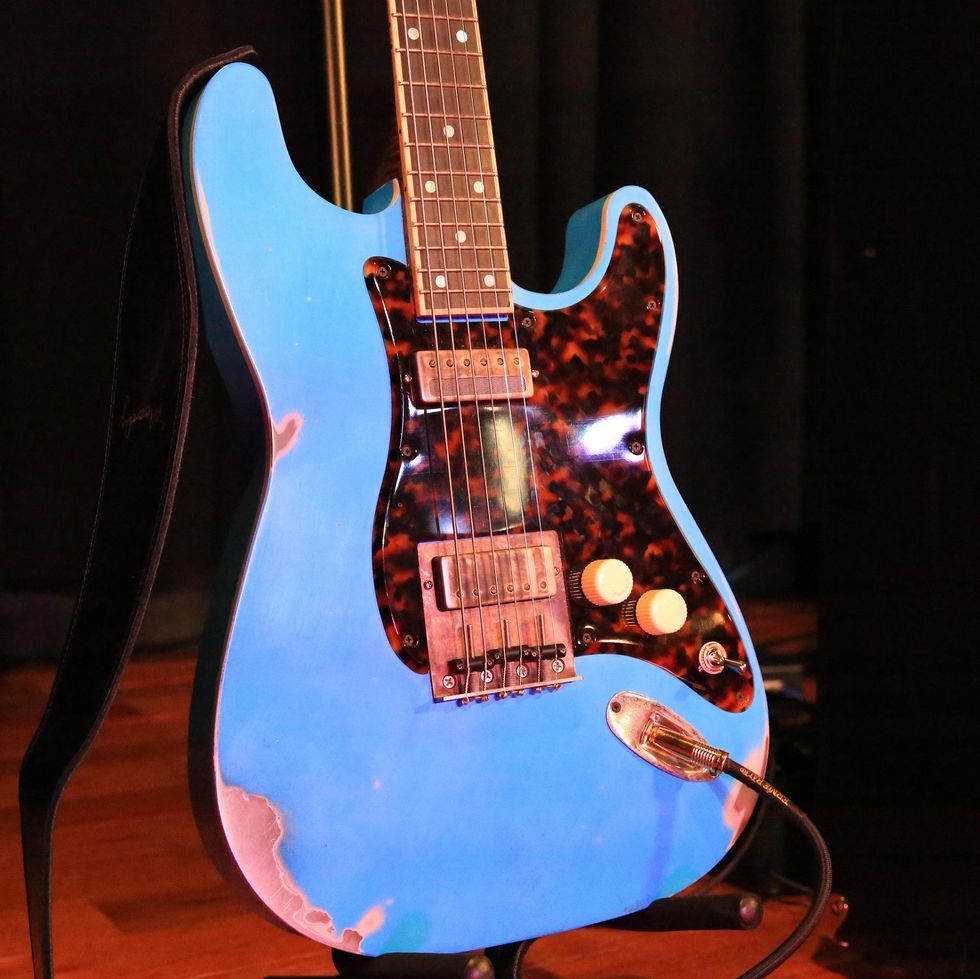 If you've spent any time with Ariel Posen's first solo record, How Long, you know that the ripping, raunchy slide solo packed within "Get You Back" is an aural high mark. As explained in a 2019 PG interview, Posen's pairing for that song were two cheapos: a $50 Teisco Del Rey into a Kay combo. However, when he took the pawnshop prize onstage, the magic was gone. "It wouldn't stay in tune and wouldn't stop feeding back—it was unbearable [laughs]."
Posen was familiar with Matt Eich of Mule Resophonic—who specializes in building metal-body resonators—so he approached the luthier to construct him a steel-bodied, Strat-style baritone. Eich was reluctant at first (he typically builds roundneck resos and T-style baritones), but after seeing a clip of Posen playing live, the partnership was started.
The above steel-bodied Strat-style guitar is Posen's third custom 25"-scale baritone. (On Mule Resophonic's website, it's affectionately named the "Posencaster.") The gold-foil-looking pickups are handwound by Eich, and are actually mini humbuckers. He employs a custom Stringjoy set (.017–.064 with a wound G) and typically tunes to B standard. The massive strings allow the shorter-scale baritone to maintain a regular-tension feel. And when he gigs, he tours light (usually with two guitars), so he'll use a capo to morph into D or E standard.
Moody Blue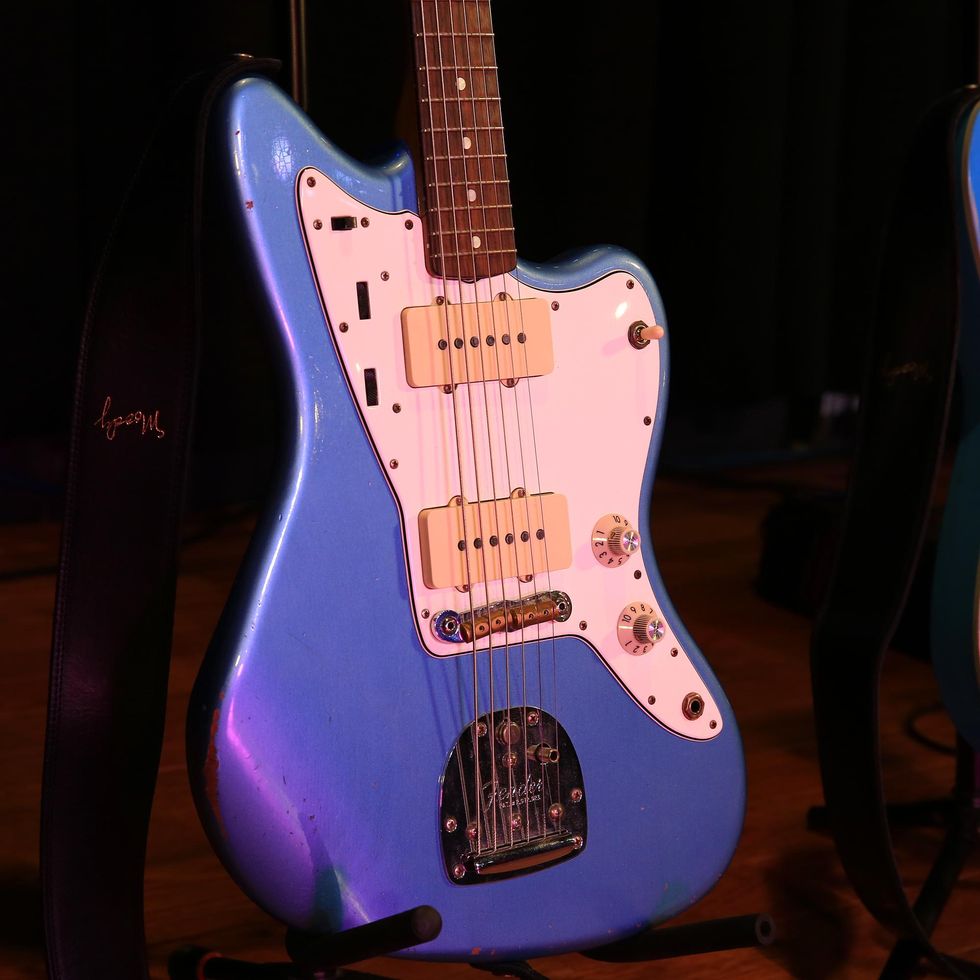 Another one that saw recording time for Headway and Mile End was the above Fender Custom Shop Masterbuilt '60s Jazzmaster, made by Carlos Lopez. To make it work better for him, he had the treble-bleed circuit removed, so that when the guitar's volume is lowered it actually gets warmer.
"Clean and Loud"
Last time we spoke with Posen, he plugged into a Two-Rock Classic Reverb Signature. It's typically his live amp. However, since this winter's U.S. run was a batch of fly dates, he packed light and rented backlines. Being in Music City, he didn't need to go too deep into his phone's contacts to find a guitar-playing friend that owned a Two-Rock. This Bloomfield Drive was loaned to Ariel by occasional PG contributor Corey Congilio. On the brand's consistent tone monsters, Posen said, "To be honest, put a blindfold on me and make one of Two-Rock's amps clean and loud—I don't care what one it is."
Stacked Speakers
The loaner vertical 2x12 cab was stocked with a pair of Two-Rock 12-65B speakers made by Warehouse Guitar Speakers.
Ariel Posen's Pedalboard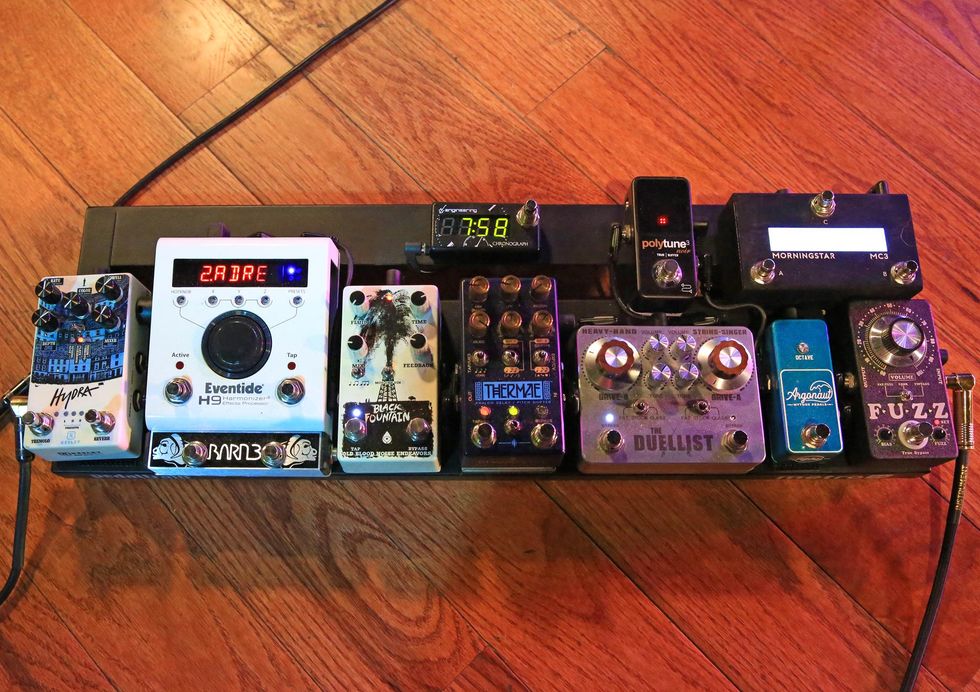 There are a handful of carryovers from Ariel's previous pedalboard that was featured in our 2021 tone talk: a TC Electronic PolyTune 3 Noir, a Morningstar MC3 MIDI Controller, an Eventide H9, a Mythos Pedals Argonaut Mini Octave Up, and a KingTone miniFUZZ Ge. His additions include a custom edition Keeley Hydra Stereo Reverb & Tremolo (featuring Headway artwork), an Old Blood Noise Endeavors Black Fountain oil can delay, Chase Bliss Audio Thermae Analog Delay and Pitch Shifter, and a KingTone The Duellist overdrive.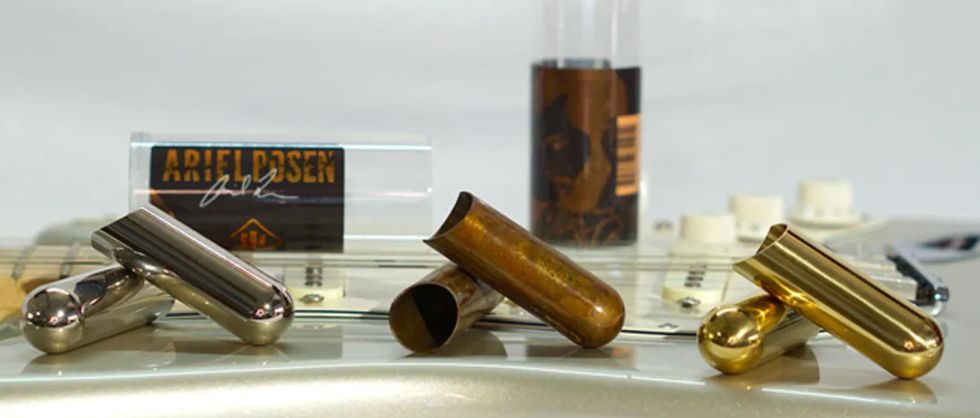 Another big piece of the tonal pie for Posen is his signature brass Rock Slide. He worked alongside Rock Slide's Danny Songhurst to develop his namesake slide that features a round-tip end that helps Posen avoid dead spots or unwanted scratching. While he prefers polished brass, you can see above that it's also available in a nickel-plated finish and an aged brass.