Week #2 is here! You could win one of SIX Pedals! This giveaway ends September 26, 2022.
Click here to jump to the entry.
This page contains affiliate links. Any purchases made through these links may support Premier Guitar financially.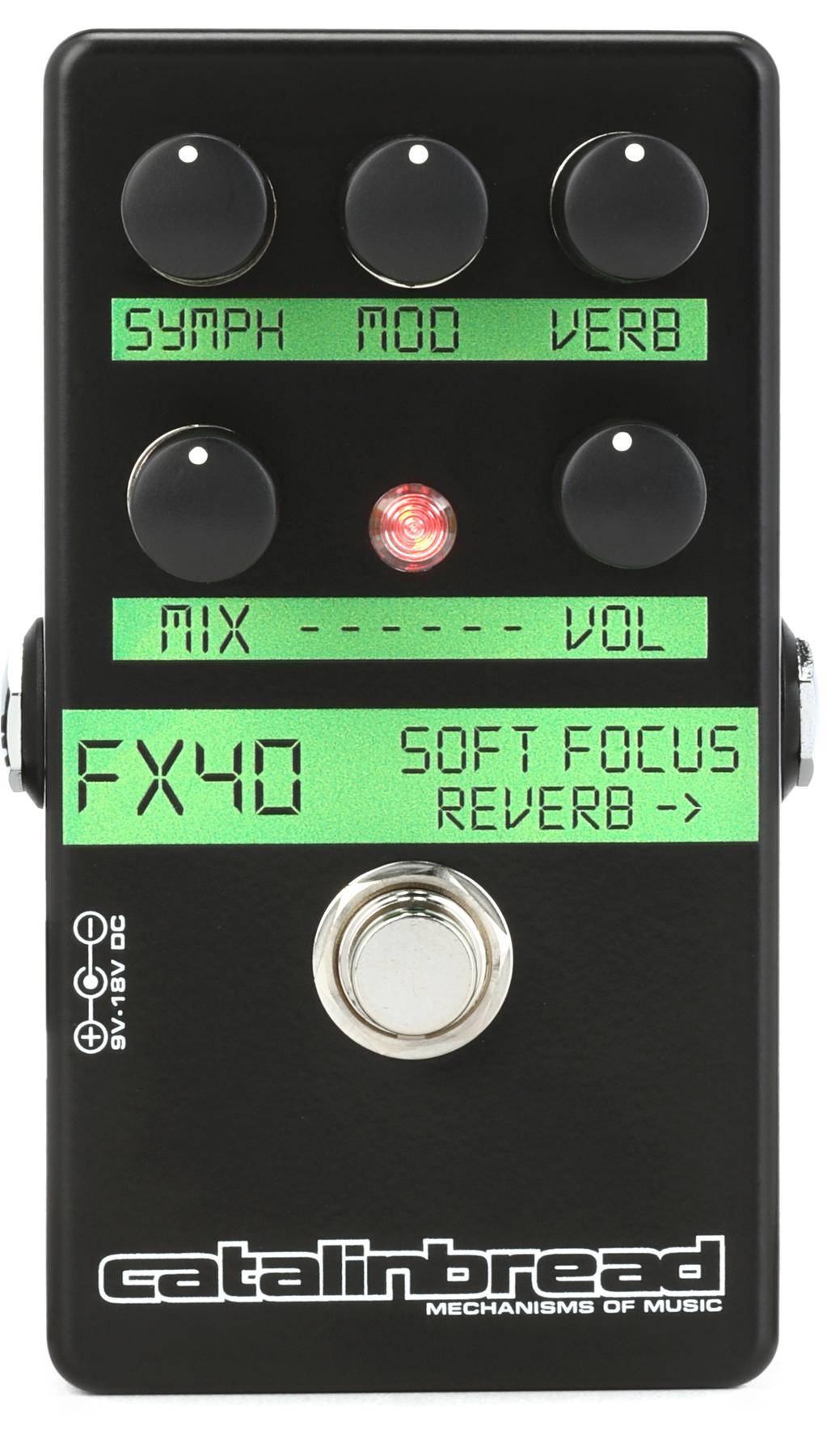 The Soft Focus patch on the Yamaha FX500 was widely used in the '90s by early shoegaze bands, most notably Slowdive on Souvlaki. With its roots in that patch, the Catalinbread Soft Focus is intended to be an instant shoegaze button, while addressing the most glaring issues of the original unit. The original unit had a very plug-and-play approach, offering no mix control, a sub-par preamp and a ghastly tone-sucking bypass signal. At its heart, the Soft Focus is a heavily modified plate reverb with adjustable time, which is subsequently split into three. One path contains a "symphonic" chorus modulator, another features a well-appointed octave-up mixed in with the reverb, and the third path leaves the reverb untouched. The Mod knob controls the rate of the chorus on path one, and the Symphony knob controls the level of the octave on path two. All controls are "coupled" to the tone of the reverb to give users an expansive playing field of sounds to discover and fine tune. Our Soft Focus is not an exact recreation but was exhaustively compared with our own FX500; the difference is that a fairly generic fixed-time digital delay is present on the Soft Focus patch. We found that leaving this feature intact ate into the patch's memory just a little too much for such little payoff, so we leave that addition to you and your favorite delay.
Catalinbread
NEED A SMALL RIG FOR STUDIO WORK, PRACTICE OR CRAMPED GIG SPACES?

The EARTHBOARD EBII-SR is a junior version of the EBII! It has all the innovative features that came with the original EARTHBOARD as well as new built-ins designed to simplify the process of building and using your rig! The world's only magnetically designed and powered complete Effects Pedal System comes with everything you need so you can Focus on the Music, Not the Set-Up. Just add your pedals and patch cables - in under 30 minutes - and you're on your way...

EARTHBOARD EBII-SR System holds up to 5 standard size pedals plus 1 battery and comes with:
5 Gravity Boots (for 4 pedals and the battery)
Gravity Boots come with "fuzzy" hook-side Velcro to easily transfer your pedals from your current board
4 Gravity Boot Tethers and 1 Battery Tether (connecting cables) to provide power from the Gravity Boots to your pedals
Standard 9v, 10,000mA long-lasting, rechargeable battery (includes USB charging cable and mesh carry pouch)
PLUS these unique built-in features:
- undermount Blue LED lights for the cool factor
- 2 Battery Port Input Jacks (side-mounted) for the option to place the battery on the floor next to the board to make room for one more pedal!
- 2 Power Port Input/Output Jacks - 1 on each side for maximum flexibility to: convert to wall power if desired (AC adapter sold separately), power a pedal on the floor next to the board rather than on the board (Requires the Lifeline Tether, sold separately) or connect additional EARTHBOARDs because one battery can power multiple connected EARTHBOARDs (Requires the Lifeline Tether, sold separately)

Compare this complete Effects Pedal Platform to plain ol' pedalboards. It comes with everything you need to get playing - just add your pedals and patch cables! And it's the cleanest, uncluttered rig available because we've eliminated the messy cobweb of daisy chains and power cords! The flexible, modular design allows you to build upon, move and re-arrange pedals and change your rig on the fly. No need to schedule half a day to modify your board…So you can Focus on the Music, not the Set-Up!
Earthboard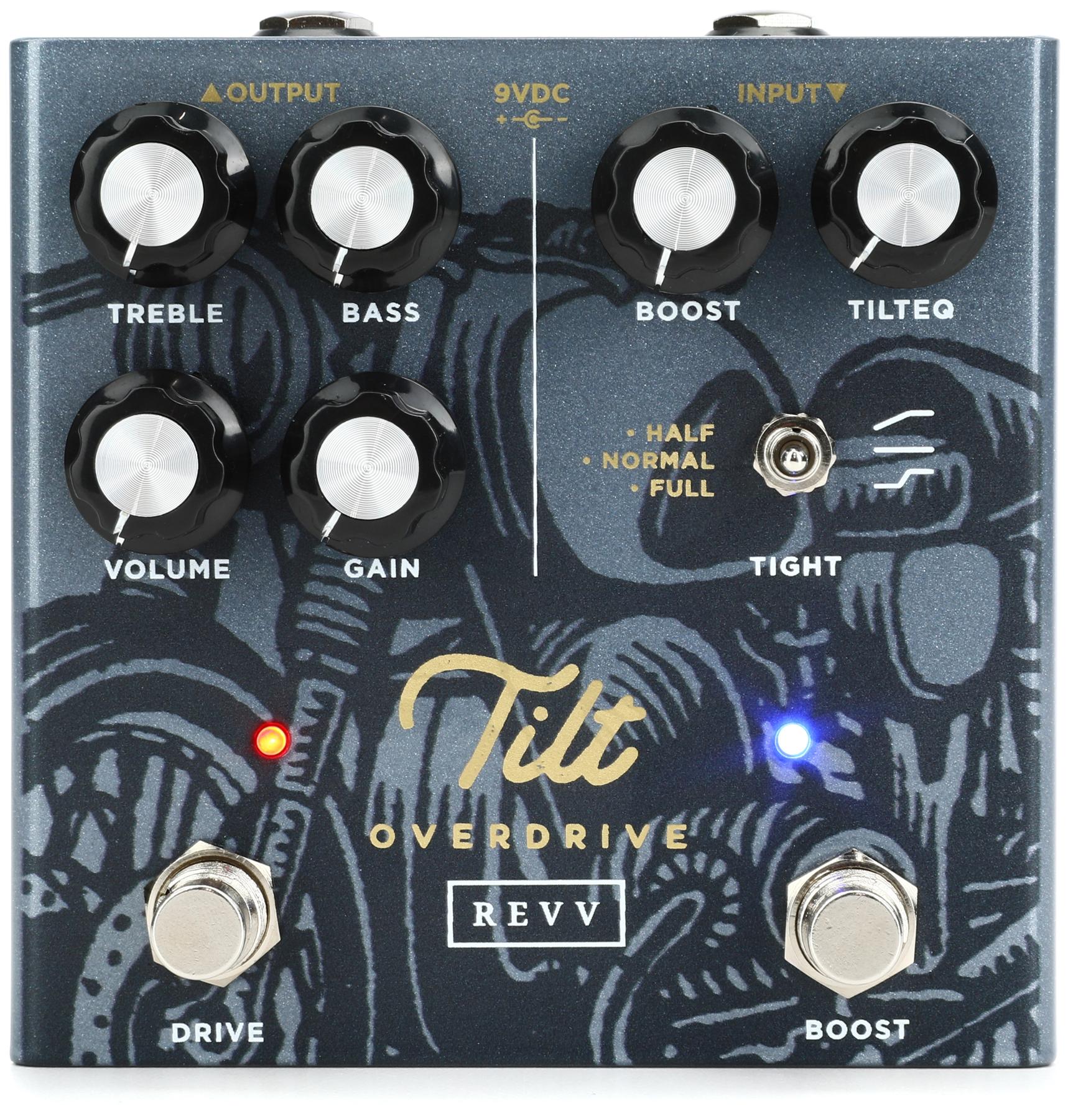 The Shawn Tubbs Tilt Overdrive is the tonal culmination of a lifetime in music. Shawn not only needed a practical tone tool to give him the right sound quickly in any musical context - he aimed to combine the greatest vintage amp tones & recorded guitar sounds of all time into one ideal sound. Now that tone is available to you in a compact 9v double pedal with a unique Tilt Boost.
Revv
**A harmonic tremolo pedal you can keep on Earth, or get lost in space**
This harmonic tremolo gives you a huge range of tonal possibilities. It can be used as a standalone tremolo, optionally with with some layered on reverb, or you can dial in some complex textured delays and feedback to create dreamy soundscapes. And of course you have everything inbetween.
MAS Effects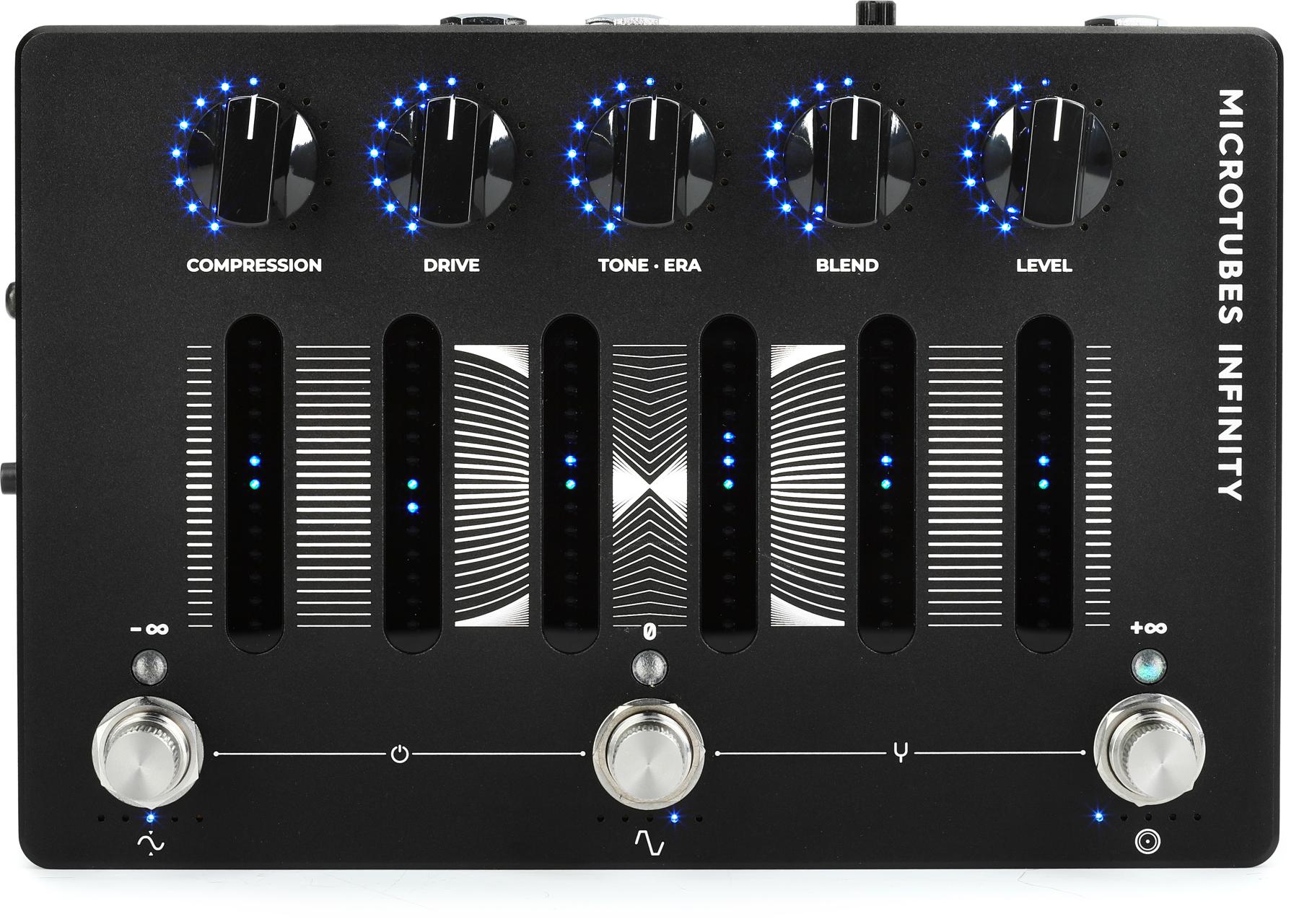 If we get to choose only one piece of gear to take on tour: how would we want it to be? The Microtubes Infinity shares the footmark of the Darkglass programmable line, packed with our three legendary Microtubes distortions: B3K, Vintage, and X. It allows multiband compression on every mode and blending Impulse responses between distortions: an infinity of possibilities.
Darkglass
Up to one second delay with pitch-shifting modulation. And that modulation! Pitch shifting modulation on the repeats which makes those delays sound MASSIVE! And the modulation is foot-switchable: leave it on for those big clean chords, and turn it off when you kick in the overdrive for that crushing solo.
Repeats controllable from one to infinite.
Mix control to perfectly dial in the amount of effect.
Tone control to adjust the tone of the delayed signal from a hard bright room to a soft dark room.
Foot-switchable pitch shifting modulation with Speed and Intensity controls.
Full bypass wth fail-safe relay control; the effect is automatically bypassed if the pedalboard looses power.
9V DC input.
Mayfly Effects
No tone control? No problem. Shuksan is big, bold, and versatile.
Power and surprising versatility. High-quality build.
Some players will miss having a tone control to mellow the mood.
4.5
4.5
4.5
4
The staying power of fuzz speaks a lot to the way it can transcend musical styles. And that adaptability and lasting appeal means pedal builders are still developing fresh designs like this Shuksan Fuzz from Spun Loud Effects. Relatively straightforward in one sense, it's different from most fuzzes in a fundamental way: the knobs enable control over its two main gain stages (out of three total)—an unusual approach that delivers big fuzz tones, but also a lot of unusual ones.
Knob and Tube
For the most part, the Shuksan's interface is simple. Input controls the guitar signal's level at the front of the circuit. Sustain controls the middle gain stage. Volume controls the overall output signal but doesn't control the third gain stage. With unity gain at around 11 o'clock, there's plenty of room to blast beyond that. There's no tone or EQ control of any sort. Input and output jacks are top mounted, with a 9VDC center-negative socket between them, and the footswitch is wired for true bypass.
The Shuksan's cosmetics allude to its heaviness. The enclosure is adorned with a graphic of Mount Shuksan, a peak in the North Cascades National Park, not far from Spun Loud's home in Bellingham, Washington. Granite metaphors could also describe the construction. The sturdy circuit board is loaded with WIMA, TDK, and Wurth capacitors and the LED pair that gives one gain stage its oomph. The pedal's bottom plate even offers a fun quiz in the form of a unique "guess the lyrics" puzzler for each proud owner. (Our review unit dared us to identify a snippet from Green Day's "When I Come Around.")
Interestingly, for a high-gain fuzz, Shuksan's personality strikes me as rather vintage-leaning overall.
Spin the Bottle
The absence of EQ might suggest the Shuksan is more loud than colorful. But whether it was paired with Fender single-coils, P-90s, Marshall-style amps, or Fender combos, the Shuksan demonstrated great versatility on top of power, and the capacity for a surprising range of moods. Having control over two gain stages within the circuit—plus the output, of course—opens up a lot of possibilities and allows for settings that just can't be had from standard gain-plus-output fuzz boxes.
It's easy to dial in spitty and gated sounds with input set low and sustain relatively high, a snarly ripping-Velcro sound with a few quick twists of the knobs, or mellower sounds with input high and sustain low. Crank both input and sustain, though, and you've got roaring freak-fuzz leads aplenty. Once you get a feel for the Shuksan's range of sounds, chasing just-right balances of drive, sizzle and output takes careful experimentation. While they may be sensitive, the interactivity between them yields cool surprises, too. Interestingly, for a high-gain fuzz, Shuksan's personality strikes me as rather vintage-leaning overall. There's contemporary attitude, too, in the razory, bright-edged cutting sounds you hear when you advance the gain. It also bears mentioning that Shuksan's noise floor is admirably low.
But while I loved the Shuksan's novel approach to tone and gain shaping, I did miss a tone control. It's a bright fuzz, and attenuating guitar tone doesn't entirely tame the treble until you get right down to muffled, Clapton-in-Cream levels with guitar tone dialed completely off—which is still slightly brighter through the Shuksan than through many fuzz pedals.
The Verdict
The Shuksan is a powerful, great-sounding fuzz that uses three independent, cascaded gain stages to achieve a lot of unique and gigantic sounds. It rolls easily from mellow-but-bright to ripping, with plenty of interesting stops in between. The build quality is excellent and the low noise floor is impressive. If you're looking for a high-quality alternative to the same old fuzz sounds, Shuksan definitely has the potential to deliver.
MG-400 houses 2 powerful DSP chips for high-definition White-Box Amp Modeling algorithm (TS/AC-HD) and Core-Image post-effects.
The Nu-X MG-400 is a value-packed modeler akin to his little brother, the MG-300. MG-400 houses 2 powerful DSP chips for high-definition White-Box Amp Modeling algorithm (TS/AC-HD) and Core-Image post-effects. Since releasing the MG-300, people have been blown away by the sound and playability, not to mention the ease-of-use tone tweaking and intuitive interface. And now, the MG-400builds upon the MG-300 feature set moveable signal blocks, extra 12 IR COLLECTION slots, flexible P.L block with MIN & MAX parameter setup, send/return fx loop, abundant SYSTEM MENU, and physical master volume knob, MG-400 is now the best value modeler for the money.
The white-box algorithm offers realistic playability and analog-chaos response. The concept of "Chaos makes the muse" perfectly applies to the analog circuit. When you tweak the knob, it affects itself as well as other parameters. For a linear digital system, the parameter is independent. The white-box algorithm offers real-time feedback, increment-by-increment. Nu-X TS/AC-HD replicates the same playability most guitarists crave in a real tube amplifier.
​MG-400 offers 512 samples of IR, you can also load 3rd party IR files through the editor software. The included 25 guitar cab IRs combine 4 classic microphones with 3 mic positions to allow beginners an easy way to jump into the multi-effects experience. Also included are 8 bass cab IRs and 3 acoustic guitar IRs, giving you the ability to play bass on MG-400 or use an electric guitar to simulate acoustic guitar sound.
NUX MG-400 highlights include:
​2.8" 320*240 color LCD with intuitive UI.
NG, CMP, EFX, AMP, IR, EQ, MOD, DLY, RVB, P.L | 10 independent moveable signal blocks.
White-box Amp Modeling & Pre-efx algorithm.
512 samples IR resolution and USER slot with each patch. (additional 12 IR COLLECTION slots).
Input trim under SYSTEM MENU.
Scene and Jam functionality.
5 output modes with global 3-band EQ for quick tone tweaking.
USB recording interface, firmware update, QuickTone™ edit software.
NUX MG 400: how it compares vs the MG 300 and the MG 30
Nu-X MG-400 carries a street price of $219.
For more information, please visit nuxefx.com.