Boss Announces the Dual Cube LX and Dual Cube Bass LX Amps
These compact amps are designed for home practice and jamming and have custom-designed stereo speakers.
---
Boss announces the Dual Cube LX and Dual Cube Bass LX, the latest members of the acclaimed CUBE amplifier family from Boss and its parent company Roland. For over four decades, Cube amplifiers have brought exceptional value to musicians everywhere, offering great sound and versatile features in portable, go-everywhere designs. These new guitar and bass amplifiers carry on this long tradition, evolved with the latest Boss advancements for unmatched flexibility.
Dual Cube LX Guitar Amp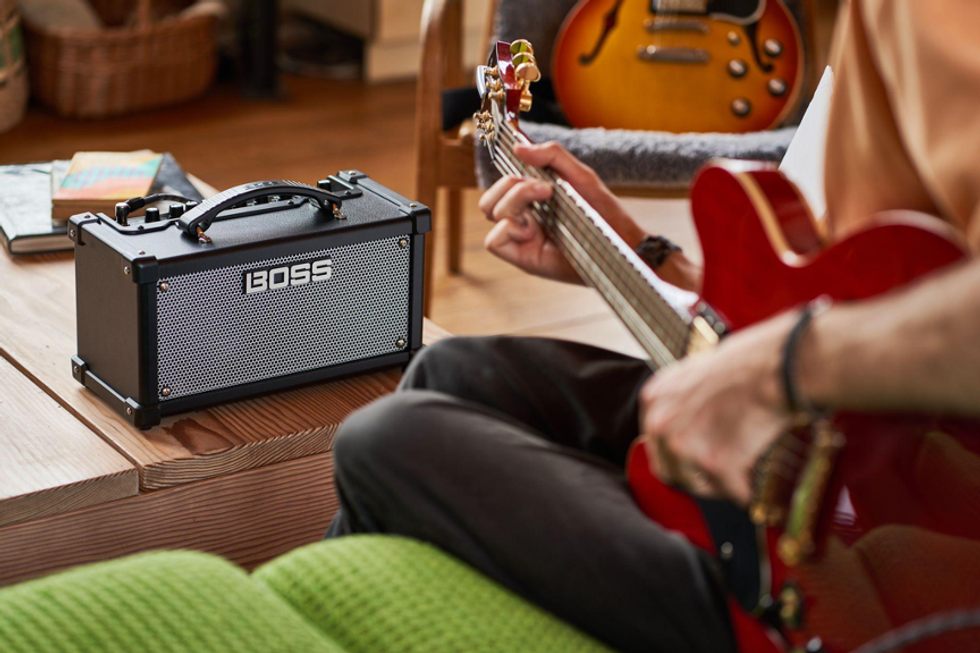 The Dual Cube LX Guitar amp produces full, punchy guitar tones that belie the amp's compact size. There are eight versatile amp types to choose from, all with natural feel and organic response honed with decades of BOSS amp development. There's also a mic preamp type for using the amp as a portable vocal PA system. DUAL CUBE LX The DUAL CUBE LX includes a variety of BOSS stereo and mono effects to enhance the sound. Each amp type features three user memories, allowing users to store gain, EQ, and effect settings for quick recall. Dedicated editor software opens up even more creative power, providing access to different amp and effect variations, detailed parameter adjustments, and more. The DUAL CUBE LX also features a special Stereo In amp type for connecting stereo devices, complete with advanced spatial processing for even more expansive sound. By default, it provides a full-range platform for an amp/effects processor such as the GT-1000, GT-1000CORE, GX-100, GT-1, or IR-200. With the editor, it's possible to choose a neutral guitar amp tone inspired by the famous Roland JC-120, providing an ideal platform for stereo pedals like the BOSS 500 and 200 series.
Dual Cube Bass LX Bass Amp
This amp delivers big, refined bass tones from an amazingly small footprint. Five different preamp types are available, offering uncolored sounds for studio and slap playing, vintage sounds for classic styles, and aggressive modern tones for heavy genres. A variety of bass-tuned effects are also included. Like the DUAL CUBE LX, the amp features onboard memories for storing sounds and support for deeper editing via dedicated software.
BOSS DUAL CUBE LX Guitar Amplifier | CUBE Amp Series
The Dual Cube LX and Dual Cube Bass LX amplifiers will be available in the U.S. in September for $299.99 and $359.99 respectively. To learn more about Dual Cube LX and Dual Cube Bass LX amplifiers, visit boss.info.
From Your Site Articles
Related Articles Around the Web