Ibanez Unveils New 2023 Guitars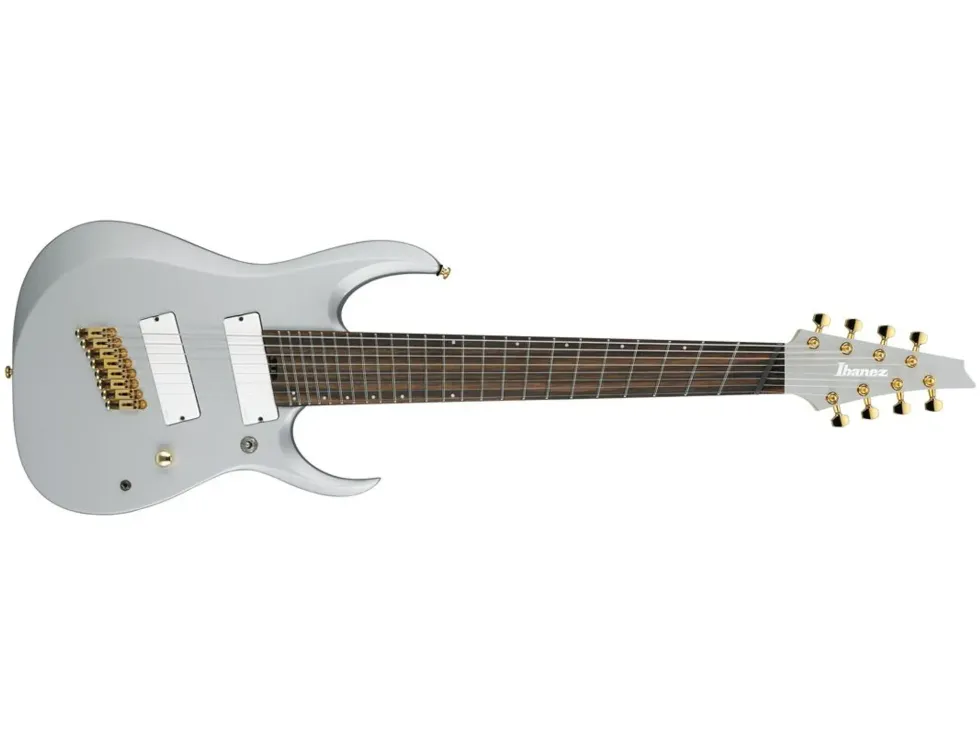 Ibanez introduces new guitars and basses for 2023.
---
FRH10N Acoustic
New for 2023, Ibanez has introduced their new FRN10H acoustic guitar. This new offering from Ibanez looks familiar in that it shares a common lineage with the TOD10N, Tim Henson's signature model unveiled in October of last year. The FRN10H features a 50mm body depth, making it quite a bit thinner than most conventional acoustic instruments. The body is comprised of a solid Sitka Spruce top, and Sapele back and sides, while the neck is made of Nyatoh and capped with a Walnut fretboard.
22 frets
FRH body solid Sitka Spruce top
Sapele back & sides
Body depth: 50/50mm at neck joint/body end
C shape Nyatoh neck
Walnut fretboard & bridge
46mm width nut Bone nut & saddle
Gold Classical tuners
Ibanez T-bar Undersaddle pickup
Ibanez Custom Electronics
D'Addario EXP45 strings
Fan Bracing for FRH
46mm width nut / 400R fretboard radius
Side Sound Port
Finishes: Brown Sunburst Flat, Natural Flat
LIST PRICE: $749.99. ESTIMATED STREET PRICE: $499.99.
SML721 Electric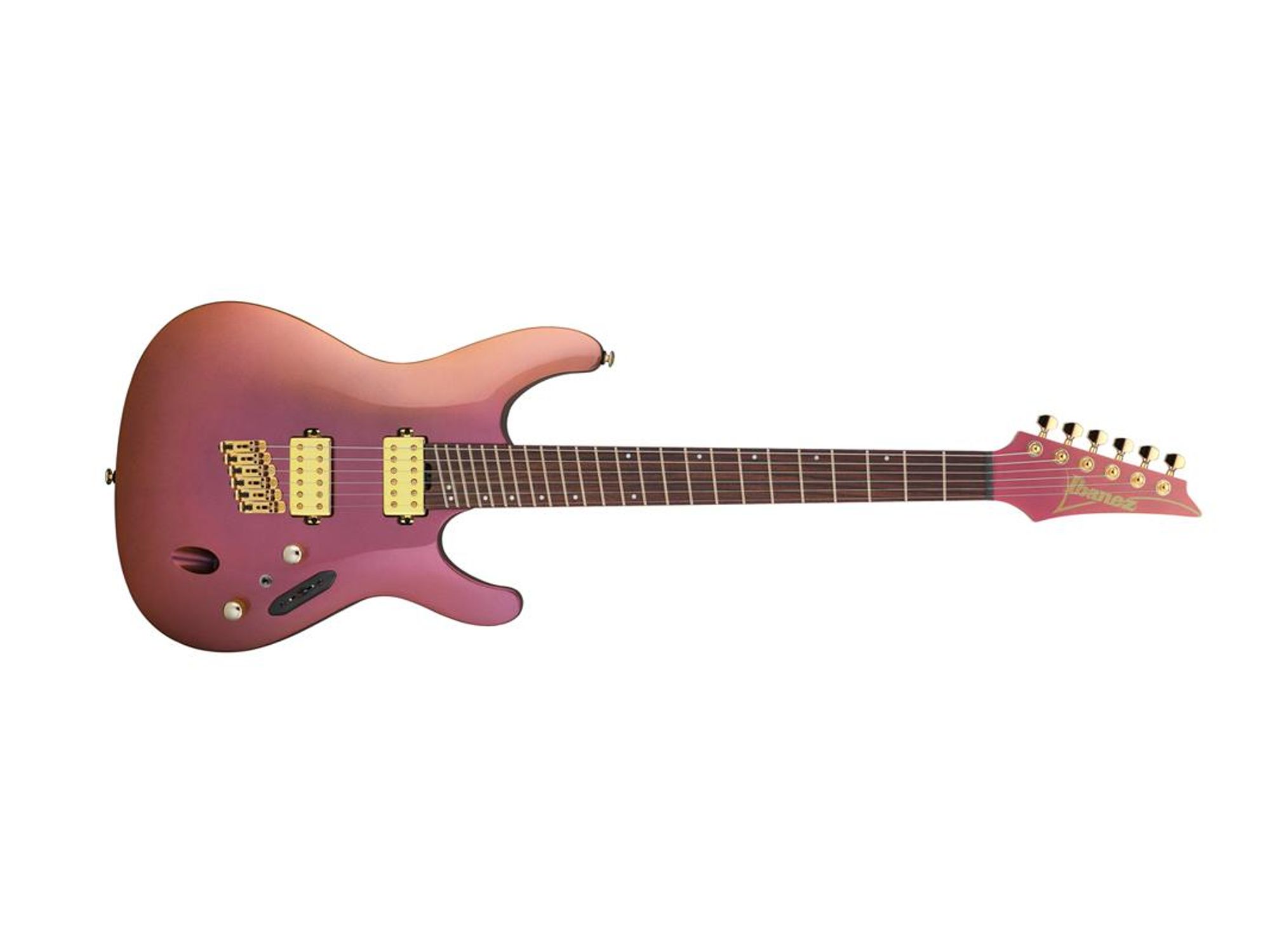 New for 2023, Ibanez has unveiled the new SML721, part of the new Axe Design Lab series. This new instrument is based on the venerable S body shape with several features that make it an exciting, modern interpretation of the S. The central defining feature of this guitar is the use of what Ibanez refers to as "light" multi-scale. Visually, this presents as the first fret being parallel with the nut, with the frets gradually tilting inward as one moved further up the neck. The purpose of this design is not to facilitate drop tuning as it is with other multi-scale designs, but to deliver better string-to-string tension and improved playability in standard tuning. The guitar is also equipped with the same Q58 humbuckers found on the Q series as well as the Dyna-MIX10 switching system, making this model highly versatile from a tonal standpoint. Other notable features include a Rosewood fretboard, Luminescent side dot inlays, Gotoh MG-T locking machine heads, and an eye-capturing Rose Gold Chameleon finish.
Wizard 5pc Maple/Walnut neck
25.5" scale at 6th string, 25" scale at 1st string
Nyatoh body
Rosewood fretboard w/Off-set white dot inlay
Jumbo JESCAR EVO gold frets
Q58 (H) neck pickup
Q58 (H) bridge pickup
Dyna-MIX10 switching system w/Alter Switch
Mono-rail bridge
Gold hardware
Gotoh MG-T locking machine heads
Luminescent side dot inlay
Finish: Rose Gold Chameleon
LIST PRICE: $1,333.32. ESTIMATED STREET PRICE: $999.99.
RGDMS8 Electric
New for 2023, Ibanez has unveiled the RGDMS8, part of the new Axe Design Lab series. Created with the extended-range enthusiast in mind, this new RGD combines features like 25.5"-27.2" multi-scale construction, Fishman Fluence pickups, and an 8-string design. This combination offers not only an exceptional range but also outstanding drop-tuning potential. The guitar also sports an undeniably modern appearance because of the multi-scale neck, white pickup covers, and Classic Silver Metallic finish; a sharp combination not easily missed on stage. Other important features on this model include a Fishman Fluence voicing switch, coil-tap switch, and Gotoh MG-T locking machine heads.
Wizard III-8 for Multi Scale 5pc Maple/Walnut neck
27.2" scale at 8th string, 25.5" scale at 1st string
Nyatoh body
Macassar Ebony fretboard w/White Step off-set dot inlay
Jumbo frets
Fishman Fluence Modern Humbucker (H) neck pickup
Fishman Fluence Modern Humbucker (H) bridge pickup
Coil-tap switch
Fishman Fluence Voicing switch
Mono-rail bridge
Gotoh MG-T locking machine heads
Finish: Classic Silver Metallic
LIST PRICE: $1,653.32. ESTIMATED STREET PRICE: $1,199.99.
EHB1005F Bass
New for 2023, Ibanez has introduced the latest addition to its EHB lineup of headless basses, the EHB1005F. This bass shares a largely similar feature set with that of the EHB1000 series. It's equipped with a chambered AmericanBasswood body, a Roasted Maple/Walnut neck, Bartolini BH2 pickups, luminescent side dots, and a Vari-Mid three-band EQ. However, the instrument is the first-ever fretless EHB. This bass is not only unique in its function, but it's also one of the more unique-looking EHBs. This distinctive look comes from the combination of a blue Richlite fretboard and a brand-new Arctic Ocean Matte finish. Each component plays off the other, creating an uncommon and attention-grabbing aesthetic. This new design combines the modern features and benefits of the EHB series with the artistic dynamics and expressive nature of the fretless bass.
EHB5 5pc Roasted Maple/Walnut neck w/Graphite reinforcement rods
American Basswood body
Richlite Blue Canyon fretboard
Bartolini BH2 neck pickup
Bartolini BH2 bridge pickup
Vari-mid 3-band EQ
EQ bypass switch (passive tone control on treble pot)
MR5HS bridge (18mm string spacing)
Black hardware
Ibanez custom headpieces
Schaller S-Locks strap lock pins
Luminescent side dot inlay
Chambered body
Scooped cut on back of body
Gig bag included
Finish: Arctic Ocean Matte
LIST: $1,791.10. ESTIMATED STREET PRICE: $1,299.99.