Review: Blackstar HT-DIST, HT-DISTX, HT-BOOST & HT-DRIVE
The HT-DUAL I recently reviewed is only the first of five pedals in Blackstar's HT series of preamp/overdrive/distortion units. The DUAL is the only one with two separate channels (along
The HT-DUAL I recently reviewed is only the first of five pedals in Blackstar's HT series of preamp/overdrive/distortion units. The DUAL is the only one with two separate channels (along with a Clean/Crunch option on Ch. 1), but all of the pedals in the HT series share some of the DUAL's most praiseworthy features. All of them use Blackstar's high voltage, dual cascaded ECC83 (12AX7) triode stages to achieve a harmonically rich tube distortion/overdrive; all feature the same buffered bypass and speaker emulated output, as well as sturdy metal construction and sleek looks. Both the DIST and DISTX also share the unique ISF (Infinite Shape Feature) control, which allows for flexible but precise tone shaping from vintage UK to modern US.

While at first glance Blackstar's preamp pedal line-up might seem a lot like many of the other "box sets" available on the effects market -- offering any number of slightly different, color-coded variations on the same basic idea -- the HT series is designed with an array of different uses in mind. Each pedal in the series really is its own creature, with an individual personality and a specific function. In the descriptions below I've tried to give a sense of what each unit is about, but if you're not sure exactly what you're looking for, I'd recommend taking a run at each one of them.


HT-DIST
A slightly less aggressive overdrive than the DUAL, this pedal would be a solid choice for AOR junkies looking to recapture the hard rock tones of the seventies and eighties. It's ballsy and articulate, but stops well short of "roid rage" inducing gain levels, producing instead a thick distortion with a tight crunch that isn't oversaturated or fizzy at the top. The UK side of the ISF control manages a pretty good vintage Plexi-type tone, but the highs seem slightly masked if you roll the knob fully CW. The US side of the ISF has a brighter, more open sound with firmer, punchier mids. For harmonic complexity and richness, this pedal will beat the transistor-based distortion channel on most solid state amps, and while it's not going to give one of those amps the same level of touch sensitivity as an all tube amp, it will make it sound like one.


Buy if...


you want to add classic rock distortion flavors to your solid state amp or DAW


Skip if...


you want the dynamics and touch-sensitivity of an all-tube amp


Rating...

HT-DISTX

Blackstar calls this one "pure valve filth," and they don't lie. The more aggressive sibling of the previous, the DISTX is designed for ulta-high gain metal and drop-tuning string pummeling. The super thick saturation makes it ideal for churning out punishing power chords and heavy harmonics, and it does a 'scooped' tone like nobody's business. The 3-band EQ and ISF control make it easy to find your particular brand of fierce. Like the DIST, the range of gain control here is not very wide, but it is steep. It goes from "Hell yeah!" to "Yikes!" in less than a quarter turn of the knob. I had a tough time hearing the difference past noon, but this is probably an advantage in a live rig. The pedal is still versatile enough that you don't need to fuss over a quantum of gain. Just kick it on and use the 3-band EQ and ISF control to dial in the perfect face-melting tone.
Buy if...


you want fully-saturated distortion without the solid-state harshness


Skip if...


you''re not into ultra-high gain


Rating...

HT-BOOST

Unlike the DUAL, DIST, and DISTX, this pedal is designed specifically for driving a tube amp: as a clean volume boost or, at higher gain levels, to push it into overdrive. Since it effectively adds two more valve stages to your amp, you can also take advantage of an additional tube EQ. Instead of the 3-band EQ and ISF tone control, the BOOST offers individual Cut and Boost controls for Bass and Treble: left of 0 (CCW) sets amount of cut for each; right of 0 (CW) sets amount of boost for each. The first thing I plugged this one into was an Egnater Tourmaster 4212 combo set at 20W. I had the boost gain turned up about halfway, thinking to myself, "How much louder could it really get?" It nearly rattled my teeth loose. When I regained my senses, I realized that the buzzing I was still hearing was coming from the strings of the acoustic hanging on the wall on the other side of the room. Enough said.

Buy if...


you love your amp''s own overdrive tone, but need something that will give it a real kick


Skip if...


you don''t own a tube amp


Rating...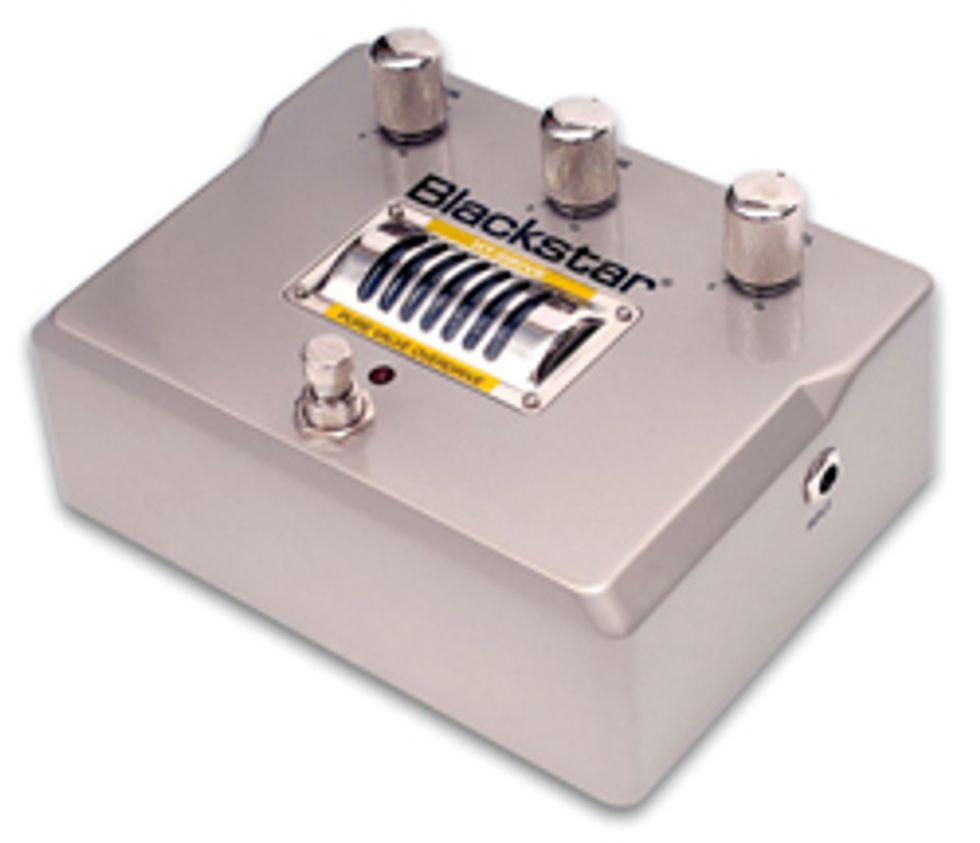 HT-DRIVE

Made for driving a tube amp, like the BOOST, this one has the kind of character that puts the twinkle in a roots rocker's eye. Blues players and country twangers looking for an edge will find it just as righteous. The gain control is much more dynamic than the DUAL, DIST, or DISTX, going from fairly clean with a little dirt to full-on tube overdrive bliss. Like the BOOST, it features individual Cut and Boost tone control for Bass and Treble, making it just as useful as an added valve EQ stage. According to Blackstar, the "unique 'A-Class' tone control cuts the fizz without making your backed-off tone sound dull and lifeless," meaning that you can set this one to a comfortable gain level and just leave it on, using your guitar's volume knob to control the amount of crunch.
We plugged this one into the Clean/Vintage 1 channel of the Egnater Tourmaster 4212 combo (an outstanding amp all by itself) and were immediately rewarded with fat tube grit and warm, smooth compression. I got nice and greasy when digging in, but cleaned up quickly when rolling off the guitar's volume. It's got the sauce to put your amp into a thick and spicy overdrive, but it's also transparent enough that it won't mask the purity of your original tone. Out of all of them, the DRIVE is the one I'd most like to find in my own stocking at Christmas.
Buy if...


you want a first-rate tube overdrive that won''t kill your rig''s natural tone


Skip if...


what you''re really looking for is a distortion pedal


Rating...