This vintage LG120T wasn't in production long, but its movable neck pickup still might seem like a fresh idea.
So many novel guitar ideas have been forgotten to time. If you're a guitar designer and you think you've come up with some epic concept, chances are that someone somewhere already tried it. This month, I was thinking about a rare vintage Guyatone that featured a design that still seems novel when builders toy with it today: the movable pickup.
This instrument probably wasn't the first guitar to use something like a movable pickup. It's worth noting that DeArmond's famed Rhythm Chief pickups, which debuted in the 1940s for mounting on round-soundhole acoustic guitars and hollowbodies, offered a pole along which the pickup could be slid to different positions beneath the strings. But for some, the LG120T was probably a wild introduction to varied sonic possibilities. Introduced in the Japanese domestic market in May 1966, the LG120T was a bit like those old science kits you could buy as kids. Maybe you remember those old sets where you could connect wires and make lights flash?
"The LG120T was a bit like those old science kits you could buy as kids."
The body is similar to that of the Kent guitars offered here in the States, but the electronics were unique for Guyatone. Check out those mini switches above the pickups. They offer options such as "cool" and "hot." But what they really do is select phase, tone cut, and pickup options. Those two switches really provide a lot of sounds.
Then, of course, for even more tones, you have the movable neck pickup, which is attached to the pickguard via two screws, allowing it to rotate. Sliding the pickup around accentuates the bass or treble response. It's a subtle change in tone, but it's still cool and innovative for the time.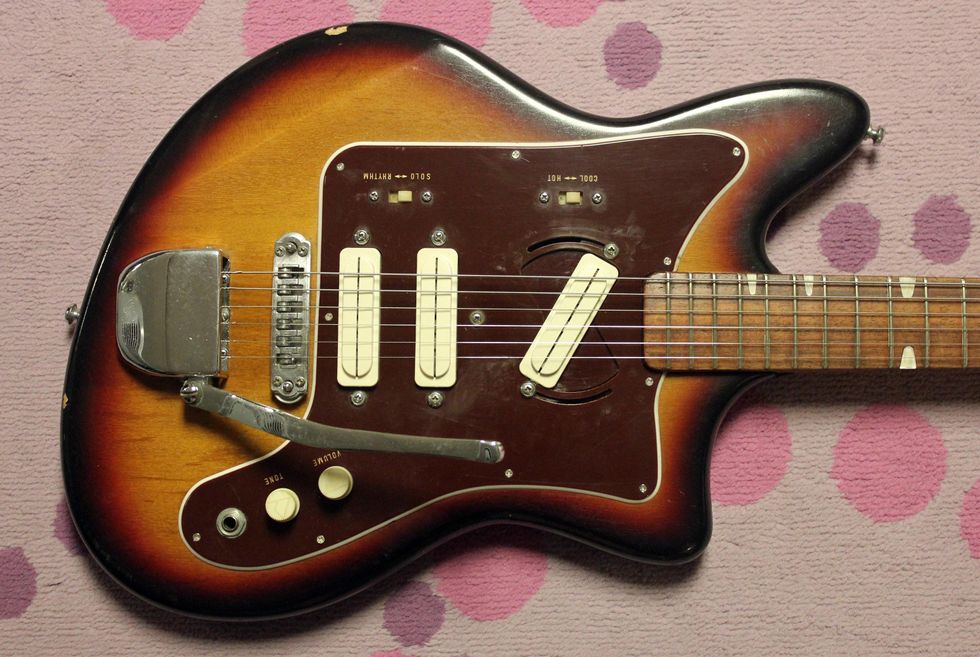 Look closely and you'll see the "solo/rhythm" and "cool/hot" switches, plus those fretboard inlays are pretty hip. But the neck pickup is the real showstopper.
There were problems with the design, though. The pickguard on these guitars often cracked due to movement, and the neck pickup wiring is prone to disconnect after many rotations. That was the case with this month's guitar when I acquired it, so it needed to be rewired at the neck.
Otherwise, the LG120T featured some typical Guyatone design cues of the time, such as a solid wood body and decent tuners. This model clocked in at the lower end of the price range and cost 16,000 yen back in the day. In comparison, the awesome LG180T Telstar was priced at 32,000 yen. The tremolo was somewhat unique on this model. It has a cool-looking arm with a rounded end. It's a little detail, but I like it! This model also featured the roller bridge found on the much more expensive Guyatone Sharp 5. But man, those old roller bridges can be tough to set up!
There were two types of pickups featured on the LG120T, but they are basically the same. This guitar features the plastic covers with a slit across the front, and some models had a more open design where you could see the magnet slugs.
These LG120T guitars only lasted for a year or two. By 1967, Guyatone was really starting to struggle. Their guitars might have been popular, but they were being relegated primarily to the Japanese market. It's sort of a bummer, but that's business, I suppose. It's no surprise that these days they're really hard to find—especially in working condition. Every now and then, you can still see a new take on the movable pickup design, even though it's never caught on en masse.
Free your microphone placement and gain structure, and your EQ and compression will follow.
Hello everyone, and welcome back to another Dojo! In the last two columns, I've focused on bus mixing techniques to get your recordings more on point—and I hope that was helpful. This time, I'd like to place focus in the other direction and give you three tips to capture your best recorded tones yet.
In my experience, the best way to get great recordings begins with getting in tune with your inner ear and the tones you are hearing in your head. This understanding will act as a catalyst for the first important tip: choice and placement of microphones. As simple as this is, we run the risk of listening with our eyes instead of our ears, because we are creatures of habit. How many times have you placed the same mic in the same place on the same amp (or same place at the guitar, for acoustic players)? Did you really explore the possibilities, or was this the best solution at the time and now it has become ingrained? Maybe it's time to re-think the process and try something new?
Regular Dojo readers are already familiar with the three most common microphones used in recording: condenser, ribbon, and dynamic. Regardless of what mics you have, use your ears and listen to the source you want to record. For example, listen not only to where the amp sounds the best at the speaker, but also in the room. For acoustic guitar, placing the mics near the 14th fret in addition to other locations can yield a wide variety of tones. If you are recording by yourself, make several different short recordings and document the mic placement for each, listen, and then make decisions. The idea here is that you want to get the sound you're looking for without using any EQ. In short, if you don't like the sound you're getting, move the mics until you do!
Once the decision has been made, the second tip for making better recordings is to pay careful attention to your gain structure (aka recording level) and give yourself plenty of headroom. The best way to do this is to set the recording track's fader in your DAW to unity (zero), and then adjust your preamp's gain level until the signal meters between -15 and -5 for most DAWs (check your specific DAW to find out which VU metering type you are using). If you're somewhere in this range, you'll have good signal-to-noise ratio and ample headroom for loud passages, like when you kick in the overdrive channel for the chorus and solo sections.
A scenario like Fig. 1 has bad news written all over it. The track faders are pushed near the top of their range and the master bus has already peaked. This can happen quicker than you think if you didn't set your input levels properly to begin with. If you find yourself in this predicament, you'll need to recalibrate your gain structure for every track for the entire mix. Ouch!
The final tip is focused on signal processing and preserving the efforts of the first two tips. Once your tracking is completed, don't be too quick to start adding copious amounts of EQ and compression. The reason for steps one and two was to mitigate the need for EQ and preserve the natural dynamic range of your tracks. Now, when you need to use EQ and compression, you can use it with subtlety and not out of necessity to fix a poorly recorded track.
As always, if you have any questions you can reach me at recordingdojo@premierguitar.com, and I also want to invite you to checkout my new single "Christian Graffiti" on your favorite music platform to hear all of these tips in action. Until next time, namaste.
Christian Graffiti
Provided to YouTube by DistroKidChristian Graffiti · Bryan ClarkChristian Graffiti℗ Rainfeather RecordsReleased on: 2022-09-30Auto-generated by YouTube.



Mystery Stocking is now live! Get yours now!
If the form is visible we still have a stocking for you!
About Mystery Stocking
Each year, Premier Guitar likes to put out these mystery boxes as a part of bringing some fun to the holiday season. Remember, this is supposed to be a fun holiday treat! If the contents of this box will ruin your holiday, deplete the last of your bank account, or end your ability to see the good in humanity, it may not be for you.
This year's Mystery Stocking will cost $44.95. ($39.95 + $5 Flat shipping)
Each box will be guaranteed to contain $40 or more in value.
US only. (Sorry World.)
Make sure your shipping address is correct.
Have your credit card ready to go before you refresh the page. Paypal is not available. Autofill may not fill in your information.
There will be NO REFUNDS given.
There has been a huge demand for these in the past. We really did sell out in less than 4 minutes last year. When they are gone, they are gone.
One per household, one per person.
Q: What's in the Mystery Stocking?
A: It wouldn't be much of a surprise if we told you, now would it?

Q: Will I definitely get my money worth?
A: Yep.
Q: Can I return it if I don't like it?
A: Nope. All sales final.
Q: What if I live outside the US?
A: Sorry, US only.
Q. How much is it?
A. $39.95 Plus $5 shipping
Q. When will it ship?
A. On or before December 10, 2022.
Q. What form of payment do you accept?
A. Credit cards only. Sorry, no Paypal for this.
Q. Can I ship to a different location than my billing address?
A. Yes
Q. I tried last year and didn't get one. Will I get one this year?
A. There is an overwhelming demand for Mystery Stocking. Be sure you have a fast internet connection and be ready when they go on sale. Last year we sold out in 3 min 33 seconds.
Q. I want to buy 5. How can I buy 5?
A. You can't. This year, we're limiting to one per household, so more people can get in on the fun!