She Put the Whammy on Me, Pt. 2
Dean Farley wraps up his discussion of the effect of vibrato tailpieces on the tone of famous guitarists.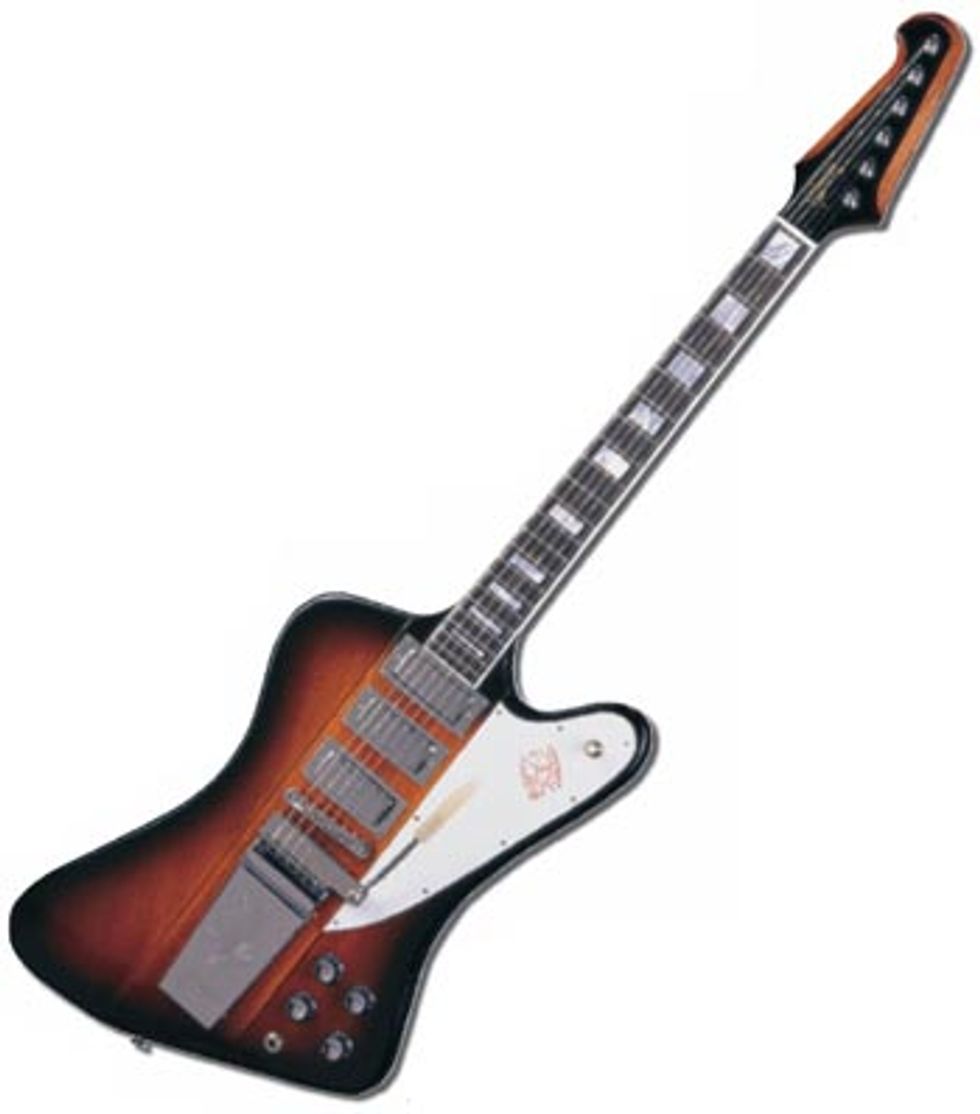 I'd like to finish up the discussion we started last month by giving you a partial list of famous guitarists who are currently or who have previously been associated with instruments featuring the Maestro Vibrola. The list is quite impressive when you consider that the majority of players never really touched the thing to begin with! Let's start with the guys in the Four Seasons, Keith Richards and Brian Jones of the Rolling Stones and Johnny Winter, each of whom used the first "reverse" Firebird models – the III, V and VII. Even Eric Clapton was seen using the single pickup Firebird I, which later showed up in the hands of Stephen Stills.
For those not familiar with the Firebird's sound, it has a very bright tonal character; the top of the line, three-pickup Firebird VII sounds similar to a Strat but with much more "burn." This is particularly true when all three pickups on the Firebird VII are engaged by placing the toggle switch in the middle position, providing an out-of-phase tonality that is in a class of its own. When listening to mid-sixties Stones albums, the Firebirds really stand out in the mix. In fact, if you're ever stuck in a recording situation and none of your regular favorites are doing the trick, my money is on using a good-sounding Firebird to cut through. There must be a reason why Tom Petty and Mike Campbell rely on these instruments. Both of them often play double Firebirds, albeit through different brands of amps to break things up and spread out the sound. Firebirds can also produce the best "woman tone" of any Gibson model made – roll that tone knob down and you will understand exactly what I mean.
During the sixties, Gibson had quite a few high-profile fans of the SG Standard, such as Quicksilver Messenger Service's John Cipollina, Terry Kath of Chicago, Barry Melton from Country Joe & the Fish, the Doors' Robbie Krieger and Sam Andrew of Big Brother & the Holding Co. Of these guitarists, I like to think that John Cipollina obtained his ethereal sound from the use of a stereo amplifier setup, complete with high frequency horns and a Bigsby on his SG.
There were several other players of note who used instruments equipped with the Vibrola, which became a component of their style. Two great examples are fusion player extraordinaire, Allan Holdsworth, who used aN SG Custom in his early days with Soft Machine, and fellow Englishman, blues maven Kim Simmonds of Savoy Brown. Holdsworth mainly used the Vibrola to bend into notes, whereas Simmonds used it in a much less subtle way – usually by yanking on the bar after playing his wild double stops in-between bluesy lines
Some players made it a part of their sound by actually using it to bend notes, while others achieved a great sound from the increased mass the unit offered the instrument (a la Derek Trucks). Jimi Hendrix didn't use the Vibrola on either his Flying V or his white Gibson SG Custom, although we all know that he went beyond crazy on the whammy bar while playing his Fender Strats. It's sort of ironic that Jimi didn't use the stock bar on the V or SG – however, to be fair, the bar's travel wasn't anywhere near that of any StratS. On the other hand, I can fully understand why Neil Young really loves his Bigsby – he can pull (literally) amazing things out of one.
Hopefully this illustrates how you can make anything your very own, from any type of instrument, even those that have additional, unneeded frills. For instance, if you think that a Gretsch Country Gentleman is simply an old-fashioned country and rockabilly guitar, I have a different point of view for you. One night, I was sitting in an Irish pub in Boston, waiting for my good friend's band to begin their set. He had brought his 1967 Country Gentleman and a wonderful 1955 Telecaster to the gig. I was sitting at the bar with my back turned to the stage when I heard the familiar riff from the Yardbird's classic, "Heart Full of Soul." It had such an air of authenticity that I thought for sure he was playing the Telecaster. When I spun around, much to my surprise, I saw the Country Gentleman in his hands and the tone he was getting nailed this classic riff to a tee! I was utterly stunned by this and came to the realization that Gretsch guitars are indeed capable of much more than the stereotypical tone they create in most players' minds. You can get tones ranging from a wicked, old Fender Esquire right on up to a warm, L-5ish jazz box from one of these monsters.
Lately, the Country Gentleman has become quite a valuable recording tool due to its beautiful – and not so beautiful – tones. More often than not, it's used for main rhythm tracks which sit in the mix like a taste of chocolate mousse.
See you next month for more fun with tone!
---
Dean Farley
Dean Farley is the chief designer of "Snake Oil Brand Strings" (
www.sobstrings.net
) and has had a profound influence on the trends in the strings of today