A big, self-deprecating, riff-chugging teddy bear, the rhythm ace for Sweden's legendary death-metal outfit erroneously calls himself "the most boring guitar interviewee" ever.

Photo courtesy of Bob Perine and FMI
In honor of Fender's diamond jubilee, let's glimpse back into history to celebrate the man behind the company that started it all.
Hello and welcome back to Mod Garage. This year, Fender is celebrating its 75th anniversary. In honor of that, let's take a deeper look at some Fender history—exploring some myths and urban legends, all while celebrating the man behind the company that started it all: Mr. Clarence Leonidas Fender (or, as the world called him in short, "Leo").
Leo Fender, the father of the modern electric guitar, was born on August 10, 1909, and died on March 21, 1991, at age 81. Much has been written and published about this man, but still today there are some myths related to him that often cause misunderstandings.
Don't get me wrong: It's absolutely not my goal to downplay the reputation, the importance, or the work of Leo Fender. If I had a time capsule (or a Mr. Fusion that outputs 1.21 gigawatts for my DeLorean) and the chance to meet three people in history, Leo Fender would be one of them. I have a picture of him in my workshop with the imprint, "What would Leo do?" It often really helps me to try to think like Leo Fender to solve a guitar or amp problem.
Let's examine some common statements you might read in a lot of guitar books, mags, and, of course, on the internet. Below each statement is some historical context and my thoughts on the big-picture reality.
1. Leo Fender invented the electric guitar.
This is a common statement that's in wide circulation, but from today's knowledge we know it's not true or at least not the entire story. The attempts of putting homemade pickups and microphones on guitars (mostly acoustic guitars) dates back as far as the 1920s. Leo Fender started putting pickups on solidbody guitars in the mid 1940s, but it's very likely the initial idea for doing so came from Paul Bigsby, who built solidbody guitars only a few miles away from Leo Fender. It's known that Paul and Leo were friends and it's also documented that Leo Fender borrowed such a guitar from Bigsby over the weekend to examine it. But neither Leo Fender nor Paul Bigsby invented the electric guitar. This credit goes to Paul H. Tutmarc, who did so in the 1930s. For sure Leo Fender could be called the father of the modern electric guitar because he made it popular and set up a system for mass production to build great instruments in large numbers.
2. Leo Fender invented the electric bass.
Another statement that can be found on countless pages, but again, it was Paul H. Tutmarc with his "bass fiddle" in the mid 1930s, long before the Fender Precision bass appeared on the scene. Tutmarc's 42" Model 736 Bass Fiddle looked like modern electric basses still look today, and he also sold amplifiers for his instruments. But Leo Fender came up with a real bass lineup, including several bass amps that were specifically designed to not only amplify everything, but focused on electric basses.
3. Leo Fender put out-of-phase sounds into the Stratocaster.
This is a common misunderstanding and perhaps a product of the creative use of technical terms that Leo Fender had. Leo called the Stratocaster's vibrato effect "tremolo," and his amp's tremolo effect "vibrato." So maybe he called the "in-between" pickup positions (bridge + middle and middle + neck in parallel) "out of phase." Naturally, they were still in phase and not out of phase. Leo Fender didn't like these sounds, so the 3-way switch stayed standard on all Stratocasters until the early 1980s when 5-way switches became the standard. It wasn't that they didn't exist earlier, it was because Leo Fender didn't like the "in-between" sounds. But those sounds, with their decent phase cancellation and slightly reduced output, are so popular today that even a new word was created to describe them: "quack."
4. Leo Fender invented the six-in-line arrangement of the tuners on the headstock.
This is simply wrong. It's likely this is another idea he borrowed from the electric guitars Paul Bigsby was building and that Leo closely examined while having access to such an instrument over the weekend. Paul Bigsby used the six-in-line arrangement of the tuners on his guitars exclusively, but he wasn't the inventor of it. This dates back to Vienna in the early 1800s and one of the finest names in international lutherie: Johann Georg Stauffer, who lived from 1778 until 1853. This was the man a certain Christian Frederick Martin (or C.F. Martin, for short), who lived from 1796 until 1873, learned his art from ... maybe you've heard of him.
If I had a time capsule (or a Mr. Fusion that outputs 1.21 gigawatts for my DeLorean) and the chance to meet three people in history, Leo Fender would be one of them.
C.F. Martin worked with Stauffer from 1811 to 1825 and became the foreman at Stauffer's workshop. In the same year Martin left Stauffer, his former boss came up with the invention that went down in history as the "Stauffer headstock," or, as it's originally called in German, "Stauffer Schnecke." Specifically, that is: a metal plate with an asymmetrical "scroll" headstock, machine heads with worm gears mounted on the plate, arranged in a single line on the upper side of the headstock (six-in-line). It's likely that Stauffer worked on this design for a longer time and that C.F. Martin was involved in this process. The rest is history, as they say. Martin emigrated to the United States in 1833, where he introduced the mechanism developed by Stauffer and founded Martin Guitars.
5. Fender used magnets with beveled edges for the Stratocaster pickups for some time, like those found on Rory Gallagher's famous Strat. These pickups sound much better than the modern flat pickup magnets and Leo Fender did this because of the better tone they provide.
This is my favorite rant 'n' rave topic when it comes to Fender. Yes, these pickups sound different because the beveled edges influence the magnetic field a lot. The physics behind it are very complex, but in layman's terms, these pickups sound fatter with more overtones and a not-so-shrill high end. This had to do with the different "magnetic window" the pickup has (the so-called "aperture"). The early magnets had hand-beveled edges and it was generally assumed this was done to disguise the rough and uneven surface left by the sand casting. However, this can't be the reason, because doing such handwork takes a lot of time and care to do it right and Leo Fender wouldn't spend any time for such unnecessary things in his building process.
Later Fender stopped beveling and the sound of the pickups changed because of this. Seymour Duncan once wrote a very good explanation about this: "The bevel causes the magnetic field to shoot out a little around the bevel area, but it results in a tapering of the field above that point. So, if you could, imagine the magnetic field shaped like the flame of a candle or a teardrop." An excellent metaphor that hits the nail. But why did Fender start with hand beveling and why did they cease with this process later? Was it because of the better tone of the pickups? I don't think so. Leo Fender was driven to make his guitars sound outstanding and he would never stop such a process if it would influence the good tone of his instruments.
I think the answer must be seen in the historical context of the time. Fender started hand beveling the magnets and, sound-wise, this was a stroke of genius by accident. The alnico 5 material used for the magnets was brand new and very expensive at that time ... and it was very porous as well! A lot of the magnets crumbled while using a hammer to drive them into the pickup, which was the usual procedure in the Fender factory. This can be seen on several pics and videos from that time. So, they simply beveled the magnets on one side to minimize the risk of destroying the magnet during the hammering process. Depending on the employee standing on the sanding machine, the edges are more or less beveled from pickup to pickup, which is one of the reasons why the old vintage Strats sound so different from guitar to guitar. Rant over ... for now.
6. Leo Fender carefully calculated the values for the treble-bleed networks that Fender started using in the late 1960s.
We've discussed the treble-bleed subject several times in the past and the physics behind this little detail are very complex in a passive system. It's possible to calculate a good working treble-bleed network, but you need a lot of parameters for this (length and capacitance of the guitar cable, input impedance of the amp, resistance of the volume pot, etc.) and some complicated mathematic formulas like the Fletcher Munson Curve theory. Fender used a single 0.001 uF cap (1000 pF) together with 1 Meg audio pots in their Telecasters. Calculating this with the parameters mentioned above will result in a very different value and, of course, the presence of a resistor in parallel to the cap. So, we can deduce that it wasn't calculated but narrowed down in a trial-and-error process by ear. If you've played such a Telecaster, you know the sound when rolling back the volume is very shrill and even a reggae or surf player will say, "Wow, this is a lot of treble!"
So why would Fender use such strange values for such a brutal portion of high end? I think the answer is that Leo Fender did this by ear in a trial-and-error process and that it sounded good for him. Taking into consideration that Leo Fender sadly lost most of his hearing because of an accident in the factory, wearing hearing aids for the rest of his life, it makes sense. The first frequency you lose is the high end and 1960s hearing-aid technology was far away from what it is today. It seems Leo Fender did his best under the given circumstances and I'm pretty sure it sounded good with the correct portion of high end for him. And Leo was the boss whose word was law.
7. Leo Fender chose nitro lacquer for his instruments because of tonal reasons.
Definitely not. Fender used nitro lacquer right from the start because in the mid 1940s, inexpensive industrial-made acrylic lacquer simply didn't exist. Nitro lacquer was used since the 1920s throughout the automotive industry and, therefore, was readily available everywhere, inexpensive, well proven, and relatively easy to work with. Fender's main goal was inexpensive mass production, so Leo simply used what was locally available for a decent price. It's well known and documented that Fender bought nitro lacquer from a local automotive supplier. Over the years, acrylic lacquer became the standard in the automotive industry, superseding nitro lacquer completely, so Fender switched to acrylic lacquer in the late '50s as well. If Fender had chosen nitro lacquer because of tonal reasons, they wouldn't have switched over to acrylic lacquer for sure. A funny sidenote: Some of the most-famous '50s Fender custom colors like "Olympic White" or "Lake Placid Blue" never existed in a pure nitro finish. They were painted with acrylic lacquer and only sealed with a thin layer of clear nitro lacquer topcoat.
That's it for this round of myths and urban legends. Happy Birthday Fender and all the best for another 75 years. Next month, we'll take a closer look into splitting and tapping pickups and what the difference really is, so stay tuned.
Until then ... keep on modding!
From founding classic-rock titans Heart, to forming her band Roadcase Royale, to scoring films, Wilson has been making music for more than half a century. Now comes her first solo album, You and Me, which includes a fingerstyle tribute to a dear friend, Edward Van Halen.
Nancy Wilson is a bona-fide rock legend. From founding classic-rock giants Heart—alongside her sister, Ann Wilson—to four Grammy nominations, being inducted into the Rock & Roll Hall of Fame in 2013, and scoring films, this 6-stringer has had a legendary career. And now she is releasing her first solo album, You and Me.
Since the 1970s, Heart has been one of the most respected rock bands of all time. With hits like "Barracuda," "Magic Man," and "Crazy on You," the group showed what a pair of rock 'n' roll sisters from Seattle could do, and laid the foundation for a career spanning more than half a century.
Though the band was riding high throughout the '70s, times changed in the '80s. It became all about L.A. glitz, glamour, and hairspray. Unlike many of their contemporaries, Heart embraced the new era, reaching even higher levels of success. But it didn't come without a cost, leaving the sisters longing for home as the decade came to a close.
Nancy Wilson "Daughter" OFFICIAL MUSIC VIDEO
"At the end of the '80s, it was kind of done for us," Wilson says. "It was such a different kind of era that we came from. Because of MTV, because of all the image-making and all of the glam and costumery, the corporateness of it all, we felt out of place. Even though we were bigger than ever!"
Ready for something different, the Wilson sisters headed back to the Pacific Northwest for a fresh start. Little did they know, it turned out to be perfect timing. Bands like Nirvana, Pearl Jam, Soundgarden, and Alice in Chains were moments away from changing the world.
"The minute you heard 'Smells Like Teen Spirit,' it was all over for the '80s. It was cooked," says Wilson. "So, we went back to Seattle. We just threw it all away after the '80s. No manager, no record company. We started another kind of new experimental band called the Lovemongers. We just went out and played clubs on our own.
"The songs are a variety of things I can do. The fingerstyle acoustic and the more personal, confessional poetic thing is one of them. And I love to do the rock thing, too."
"But the guys from the Seattle explosion, all the guys from Pearl Jam, Soundgarden, and Nirvana, were really appreciative and supportive of the history, of how we got there, and the fact that we'd kind of thrown up our hands and were kind of poo-pooing the rest of the '80s corporateness. They were right there for us on that."
Since that time, Wilson has stayed plenty busy. Heart has continued to record and tour, she released albums with the Lovemongers and her side project Roadcase Royale. She also built a celebrated film career, composing music for Vanilla Sky, Almost Famous, and Jerry Maguire. Through it all, her musical community remains a vital part of her career, helping shape You and Me, her first solo studio release.
Wilson has always preferred raw emotion and the power of great songs translated through her guitars. Fans of her previous work will be glad to hear that hasn't changed. You and Me includes raw rockers like "Party at the Angel Ballroom," the dark and heart-wrenching "The Dragon," and even a fingerstyle acoustic tribute to Eddie Van Halen ("4 Edward"). Best of all, each song is filled with gorgeous guitar tones and perfectly executed performances.
But just because the album sounds familiar doesn't mean Wilson is afraid to take chances. For instance, while most rock albums charge out of the gate, You and Me opens with its deeply personal title track, a meditative conversation with her late mother, taking you by surprise and instantly drawing you in. "It's pretty brave to start an album with something that intimate," admits Wilson. "But I thought it would be deceptively simple for the first track. It's really interior. It's a conversation with someone in zero gravity."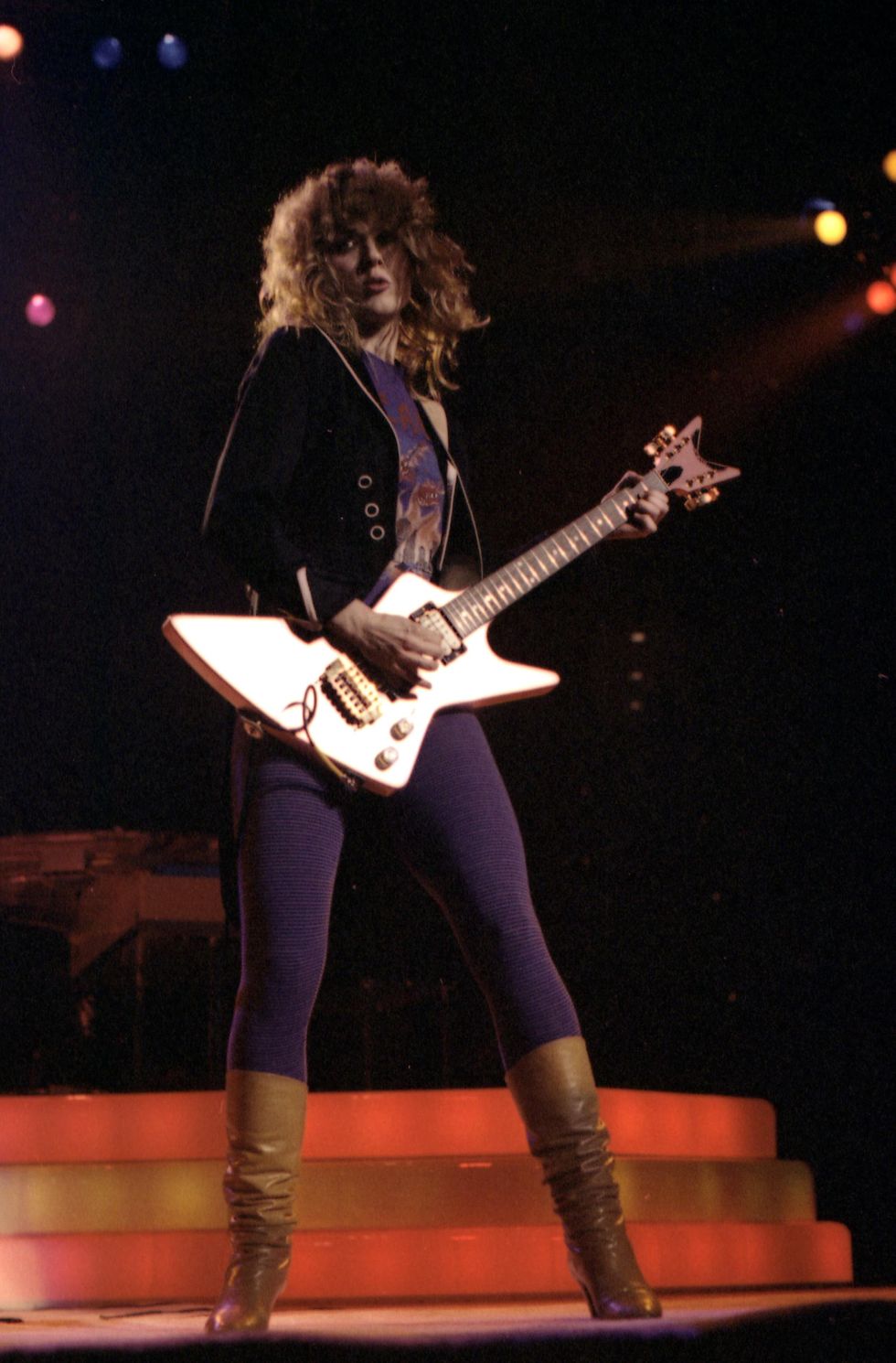 Nancy Wilson rocks a pink Baby Dean Z onstage with Heart in Dallas, Texas, circa 1982.
Photo by Stuart Taylor/Frank White Photo Agency
Wilson's fans have been waiting on a solo album like this for decades. So why now? With COVID lockdowns, travel restrictions, and the movie industry on hold, Wilson was going stir crazy. She had to create. "It was about trying to get back to writing in general," Wilson says. "So the songs are a variety of things I can do. The fingerstyle acoustic and the more personal, confessional poetic thing is one of them. And I love to do the rock thing, too."
With its wide breadth of styles, You and Me is very much a musical scrapbook, filled with new compositions, timely resurrections of older material, and covers of some of her favorite songs. "In a way, the variety on this album is a lot like a Heart album," Wilson offers. "You traverse all these stylistic statements and stories you want to tell. But it still fits together somehow."
Lockdowns and travel restrictions forced Wilson to take a different approach when creating the album. That meant swapping files online as musicians tracked their parts on their own. Wanting things to go as smoothly as possible, Wilson reached out to her extended musical family and enlisted the help of some very familiar faces.
"With acoustic, my sister and I used to do a lot of duet performances. I had to learn how to be the band by myself. I would pound on it, and put bass lines in, and do heavy rhythm stuff. I would even put in the occasional almost lead part through the rhythm part."
"Because of the shutdown, the players were mainly from the last Heart tour, and Ben Smith, who was in Heart forever before that," Wilson says. "They're all in Seattle. So, I started songs on my own and sent them to my guy in Denver [engineer Matt Sabin], who put it in Dropbox for all the Seattle guys. Then they made the rounds with the track."
With such an impersonal approach to recording, it can be tough to capture the energy and spontaneity that rock requires. But thanks to her familiar cast, You and Me is an exception. Old-school rockers like "The Inbetween" and "The Rising" sound like a well-oiled band playing a few feet from each other.
"It's shocking when I hear it now. It's such a tight-knit group of players that we're dying to play together. But we just had to do our best without being in the same room," Wilson says. "But we're so familiar with each other's way of playing that it's second nature."
Wilson and her bandmates didn't go it alone. They had help from some of the A-list friends Wilson made throughout her career. Sammy Hagar lends his voice to a cover of Simon & Garfunkel's "The Boxer," Roadcase Royale bandmate Liv Warfield sings on the Cranberries' "Dreams," and Taylor Hawkins (Foo Fighters) and Duff McKagan (Guns N' Roses) give "Party at the Angel Ballroom" its unmistakable energy.
Nancy Wilson's Gear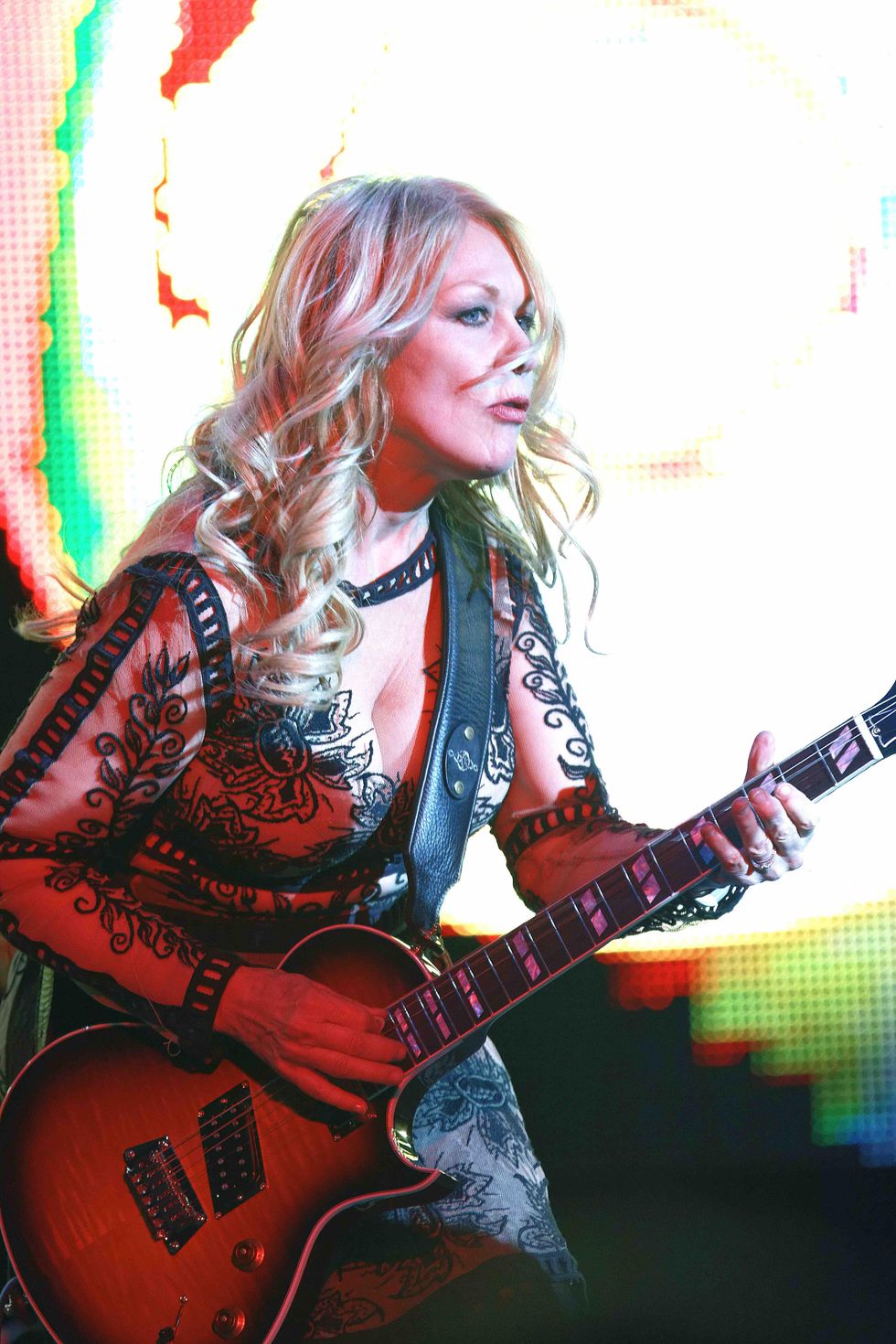 "I usually use my Epiphone more live than on this album, because I have a couple of those classic pieces," says Nancy Wilson, referring to her signature Epiphone Fanatic, shown here, and the '63 Tele and '60s SG Custom Junior she uses in the studio
Photo by Ken Settle
Guitars
1963 Fender Telecaster
1960s Gibson SG Junior
Epiphone Nancy Wilson Signature Fanatic
Martin HD-35 Nancy Wilson Dreadnought
Libra Sunrise acoustic
Strings and Picks

Dunlop Tortex medium/heavy
Ernie Ball Slinky mediums
Amps
1960s Fender Deluxe
Orange Tiny Terror
Effects
Vintage Electro-Harmonix Memory Man
Way Huge Swollen Pickle
"I knew that I wanted to get Sammy to join in on something, because I've played a bunch with him in various situations. He came out for our Christmas show in Seattle, and I did a couple of songs with him. With Taylor, we did a few talk shows and various benefits. And same with Duff.
"Taylor actually asked me first. He was making his solo album recently, called Get the Money. He said, 'Would you come sing on my album?' And I said, 'Of course, I will! I'll drive over.' Then I was like, 'Well, I'm going to make an album now, so what do you have laying around? Do you have a jam or anything?' And he said, 'As a matter of fact, I've got this thing right here that Duff and I jammed on.' I cut it up and put it into a song and sang it. Then I sent it back to Taylor, and he put a whole bunch of, as he would say, 'rad vocals, man.'"
You can hear the joy that Wilson's guests brought to You and Me. But sadly, many of Wilson's Seattle-based friends and collaborators also share in tragedy. Through the years, they have said goodbye to such rock luminaries and friends as Andy Wood, Mike Starr, Kurt Cobain, Layne Staley, and Chris Cornell. Wilson translates that hurt beautifully on the album's most striking song, "The Dragon." Written before Staley's death, it's a brooding plea and tribute to the former Alice in Chains frontman.
"Everyone could see clear as day that he was struggling so hard with his own addiction and that it was going to take him," Wilson recalls. "That's the emotional content behind that song. It was like, 'No, don't go down there!' But we knew it was probably already too late. Then after Layne was gone, Jerry [Cantrell] kind of disappeared on everybody for a little too long. So, we invited Mike Inez to be in Heart until Jerry revived. It's really the truest of the stories about the support group, the brotherhood, and sisterhood. It's about that group of people, the musicians in the Seattle scene. There are good people there."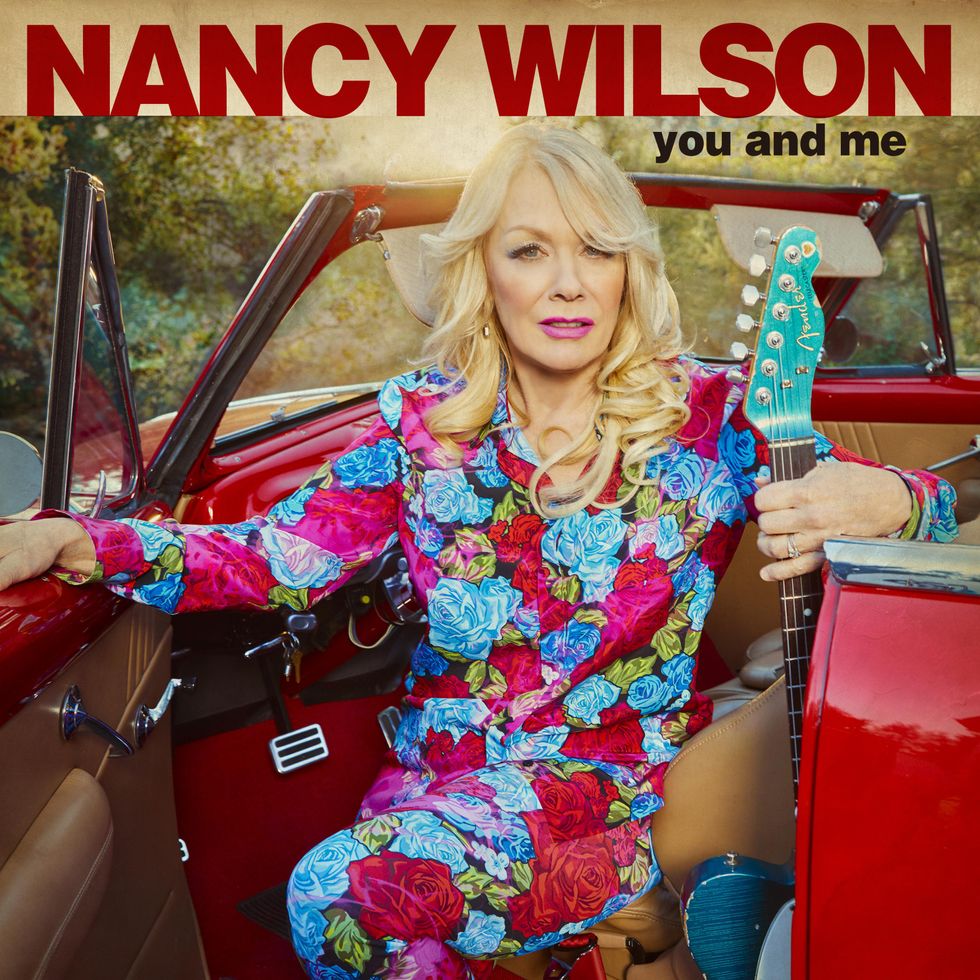 You and Me is Nancy Wilson's first solo studio album. It was made during the pandemic with band members in different locations, and they used Dropbox to transfer files to each other. Sammy Hagar, Duff McKagan, and Taylor Hawkins are among Wilson's collaborators on the release.
Along with its deeply personal themes, "The Dragon" is made all the more captivating by its wide breadth of guitar tones. That's true of the entire record. And though Wilson is famed for her acoustic playing, her trusty electric is responsible for a whole lot of them.
"I mostly played the '63 Tele for rhythm and some clean stuff," Wilson says. "Like on 'You and Me,' there's one other acoustic player [Bob Limbocker] that played the main part that I fell in love with. I knew that I could just add a clean electric at a certain point in the song where the clean electric doubles the acoustic."
Though she's the first to admit that she's not a gear head, Wilson does swear by some favorite electric guitars and amps for capturing her tones. "My '63 Telecaster is the one on the album cover. I've had it forever. I also have the SG that I play, with the wang bar [1960s Gibson SG Junior]. I usually use my Epiphone [Nancy Wilson Signature Epiphone Fanatic] more live than on this album, because I have a couple of those classic pieces. There's no replacing those types of tones and really good microphones as well. Old tube mics, old tube amps, and the '63 Tele, all with the original dirt that you're going to hear in it.
"For amps, I mostly used my Fender Deluxe, an old one. I also used my Orange head and cabinet. It's the Tiny Terror. It's a great amp, and it really works!"
"The minute you heard 'Smells Like Teen Spirit,' it was all over for the '80s. It was cooked."
For her live rig, Wilson relies on a large pedalboard. But, with lessons learned from scoring films, she got the most from only a couple of her favorite pedals throughout the album. "Doing score music really informs my songwriting and my performance. It's an exercise in what to leave out. If you're writing to a picture, and there will be dialogue, you need to be sure you're not stepping on it. You have to know when to shut up, how to hover, and how to create low moments that don't have a lot of movement.
"Like, with some of my electric rhythm playing, there's a super-heavy foot pedal that I got into using. It's called the [Way Huge] Swollen Pickle. It's huge! I learned how to mute into a more open section, then use that pedal to build into a big rock moment. It's on the Cranberries song 'Dreams' and 'I'll Find You.' You don't pull all the stops out all the time. But I only used a couple of pedals. I think it was the Swollen Pickle and an old Memory Man. It creates a delay-echo kind of tonality with almost a phase thing going on. It's very old-school stuff."
Of course, you can't discuss Wilson's playing without talking about her contribution to rock acoustic guitar. In many ways, her powerful rhythms and iconic fingerstyle pieces (the intro to "Crazy on You," anyone?) elevated the instrument to equal status next to its electric sibling.
"With acoustic, my sister and I used to do a lot of duet performances," remembers Wilson. "I had to learn how to be the band by myself. I would pound on it, and put bass lines in, and do heavy rhythm stuff. I would even put in the occasional almost lead part through the rhythm part. But I always approached it almost like a percussion instrument."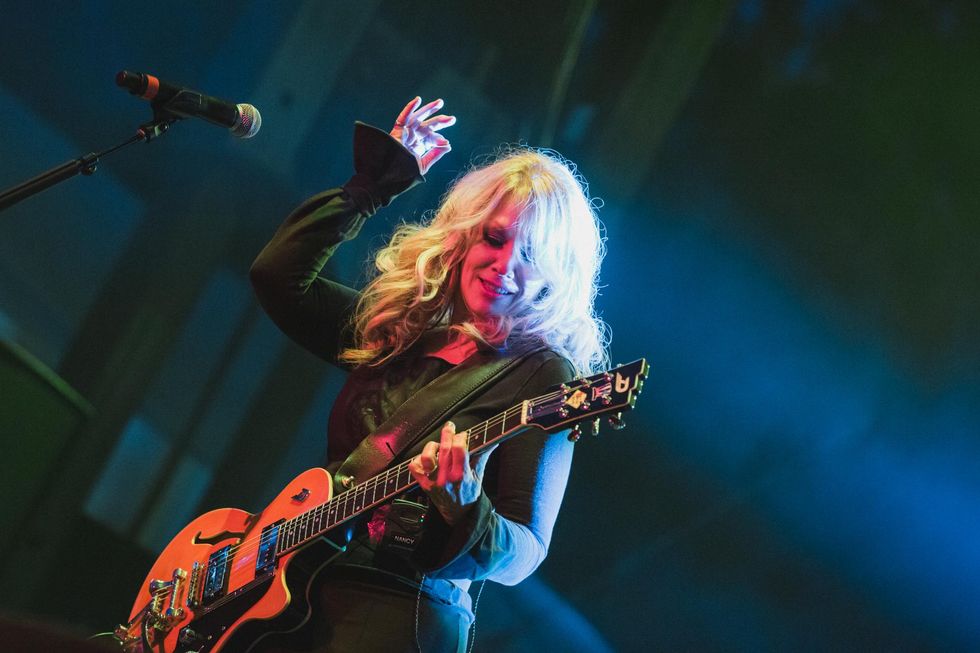 This Duesenberg Starplayer has become a staple for Nancy Wilson during Heart's live shows. It belongs to her guitar tech, Jeff Ousley, and was given to him by Elvis Costello
Photo by Debi Del Grande
Wilson's trademark acoustic playing is undoubtedly the bedrock of You and Me. And it takes the lead on "4 Edward," her solo fingerstyle piece dedicated to one of the greatest guitar players of all time. The song is an emotional journey, and both a tip of the hat to some of EVH's best riffs and the friendship between him and Wilson.
"The times when we got to hang out, we were really fond of each other as friends. He was a novelty unto himself. And he recognized that, as a guitar player, I was pretty much a novelty myself. We were one-of-a-kind in our own way, and unexpected and different from everybody else. The fact he recognized that meant everything to me.
"But Eddie didn't have a real acoustic, at least on the road. So one day, I said, 'Here's one right now. You take this. If you don't have one, here's one.' The next morning, he gifted this beautiful acoustic piece through the phone into my ear. I remember it was very classical, mostly major chord structures, like most of his stuff always was. Joyful, and elated, and inspired. A little rock, of course, and then something heavenly in there. That was the thing I was trying to channel when I tried to make a tribute song for him."
Like her tried-and-true stable of electrics, Wilson tracked these acoustic performances with a surprisingly small number of guitars. "I have a signature Martin that I play on most of the acoustic stuff. Then there's another custom-built guitar that I got in 1976 from a guitar builder in Vancouver B.C. He saw me play and built me a guitar and gave it to me for free. It's called the Libra Sunrise. I said, 'I can't afford this. This is the best guitar I've ever played!' He said, 'Just call it a 100-year loan.' I sent him a good chunk of change to pay him for the guitar decades later."
Nancy Wilson "4 Edward" Storyteller Performance
With her first solo album under her belt, millions of albums sold, a highly respected career in film, and … oh yeah… having played "Stairway to Heaven" in front of Led Zeppelin at the Kennedy Center Honors ceremony, Wilson has achieved the stuff of dreams.
Yet, 2021 finds her as busy as ever. She's preparing a performance of her classic hits with the Seattle Symphony Orchestra. On top of that, there's a Heart biopic in the works directed by fellow Seattle rocker, boundary breaker, and TV star Carrie Brownstein (of Sleater-Kinney and Portlandia). With such a lauded career, you'd think Wilson has earned some time off. But that's just not her style. Whether with new music, film, or hitting the stage, Wilson must keep moving forward, keep rocking, and keep creating.
Why?
"The simple answer is sanity. It's what keeps me sane, I believe. Basically, I'm born to create stuff. The thing that's the most gratifying, the most uplifting, and the most fulfilling in my world is to be creative and make some magic where it was not there before."
These Fat Wreck-label punkers keep it stupid simple with single-humbucker, classic-custom recreations for their ripping Ramones downstrokes and pogo-ready choruses.
Wyoming has a punk-rock scene? Well, if it does, Teenage Bottlerocket are its seminal stars.
Formed in 2000 by twin brothers Ray (bass and vocals) and Brandon Carlisle (drums), and eventually fortified by guitarist Kody Templeman and bassist Miguel Chen, the full-throttle four-pack have continuously proven you can have big fun with little gear. (When Miguel joined TBR in 2008, Ray moved over to guitar, and drummer Darren Chewka has filled in for Brandon since his untimely passing in 2015.)
Over the course of eight LPs and three EPs (mostly on Fat Mike's Fat Wreck Chords), their sound has changed about as much as their cover art. And that's just been slight-hue variations of the TBR logo. But that's okay, because their brand of pop punk is lighthearted, fast, frenetic, and infectious, providing a carefree bash full of big hooks and blitzkrieg-ing power chords.
At Nashville's Exit/In outdoor stage, the guitarists detail their custom Jason Ingrodi offsets, how random phone calls and sweat have influenced their pickup choices, and why their Oranges only need a slight CH-1 swirl for solos.
[Brought to you by D'Addario's XPND Pedalboards: https://ddar.io/xpnd.rr]
Ray Carlisle's Jason Ingrodi Custom Guitar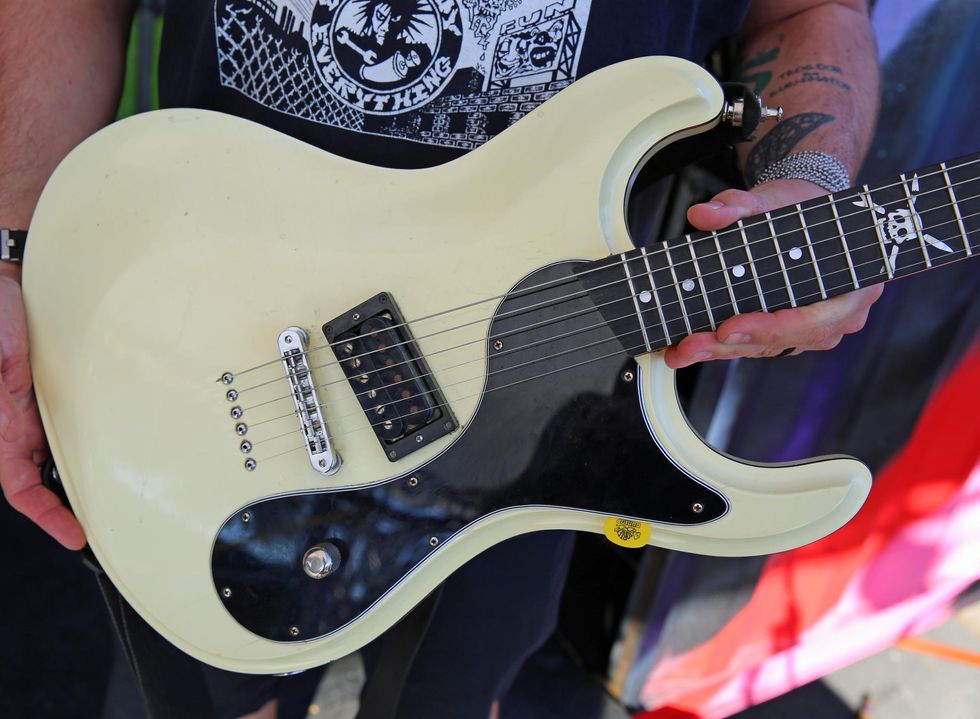 Here is co-founding frontman/guitarist Ray Carlisle's custom Jason Ingrodi, heavily influenced by Johnny Ramone's Mosrites. One departure from Semie Moseley's original Ventures design is the move to a string-thru construction (something Ray stole from his days playing P basses when he started the band with his brother). The lone humbucker is an alnico 5 Wolfetone Marshallhead that aims to be an overwound P.A.F. He relies on D'Addario EXL 110 (.010–.046) strings and has downsized to Dunlop .73 mm picks (and .60 mm on bass) to help his tendonitis.
Teenage Bottlerocket Logo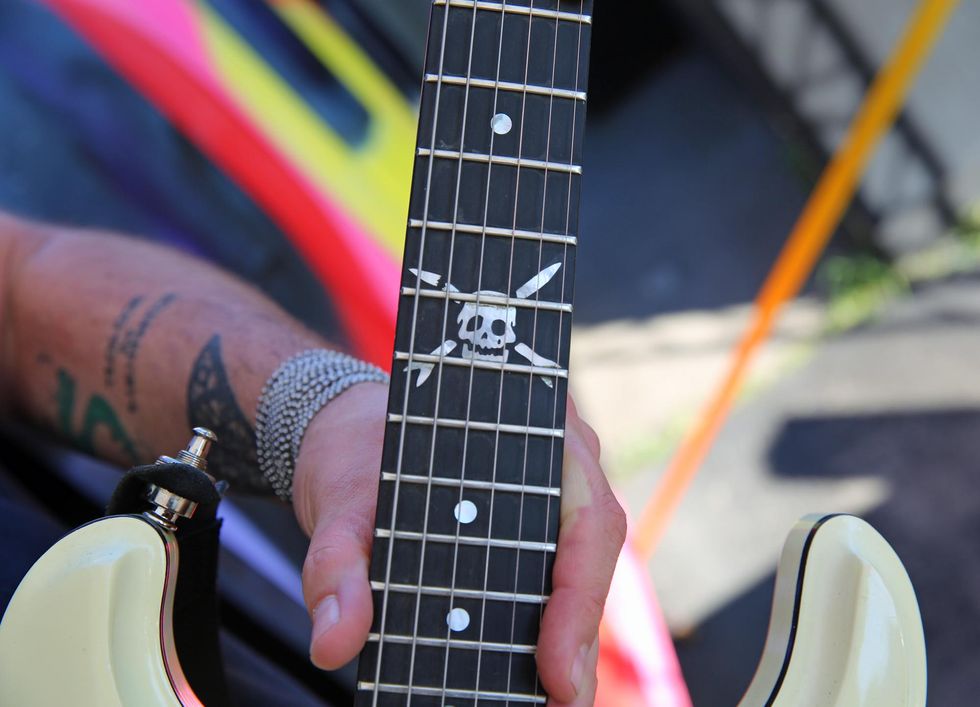 A close-up of the Teenage Bottlerocket logo that sits at the 12th fret.
Jason Ingrodi Headstock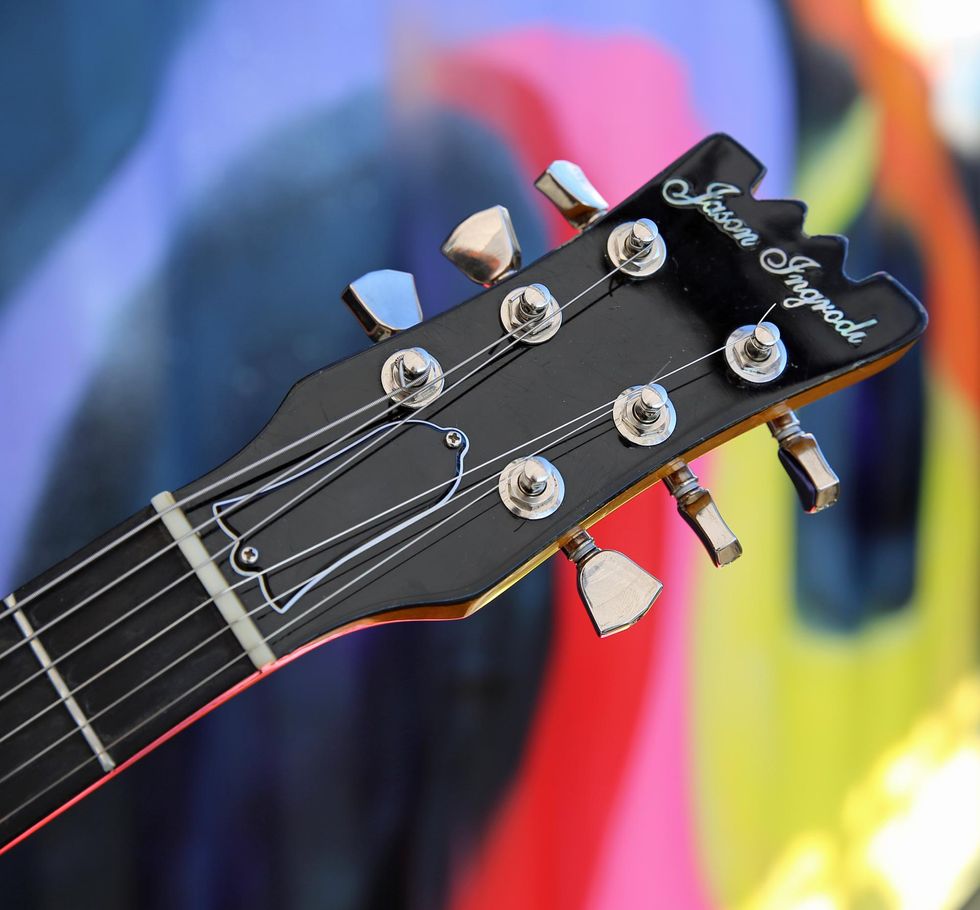 This Ingrodi headstock could fend off any unruly stage divers.
Orange Rockerverb 100 MkII
For the longest time, Ray Carlisle's amp of choice was a 1981 Marshall JCM800 50-watt head. That all changed when he was sideswiped by Queers frontman Joe Queer's tone. Queer was using an Orange Rockerverb 100 MkII, and the rest is history. It hits a matching Orange PPC412HP8 4x12 that has Celestion G12K-100s.
Boss CH-1 Super Chorus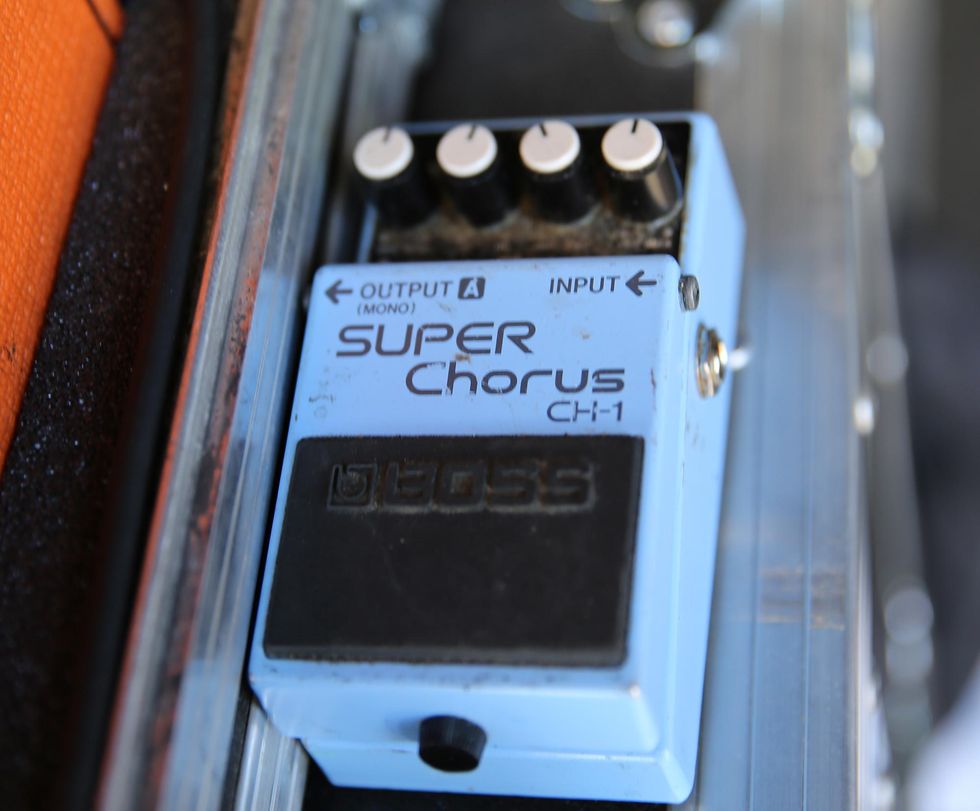 Carlisle's lone pedal is the Boss CH-1 Super Chorus that gets engaged for solos (sometimes).
Kody Templeman's "Jeff" the Jason Ingrodi Custom Guitar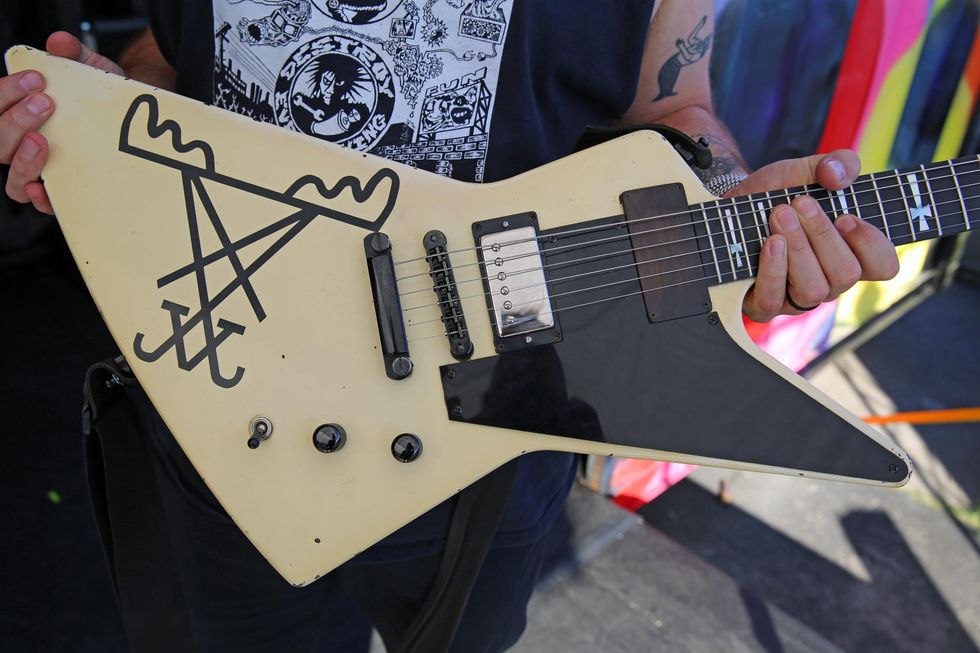 Guitarist Kody Templeman follows Ray's lead and takes the stage with a custom Jason Ingrodi model that's named Jeff. It blends together an Explorer-style body, a T-style headstock, and upside-down cross inlays that were popularized by Tony Iommi and his SGs in Sabbath (starting around Technical Ecstasy and Never Say Die!). This Ingrodi amalgamation originally came with a pair of DiMarzio Super 2s. Templeman would only use the neck pickup when the bridge would short out from sweat. He's since removed the 2s, put in a single Seymour Duncan SH-PG1b Pearly Gates, and covered the vacant neck-pickup slot with a wood cover.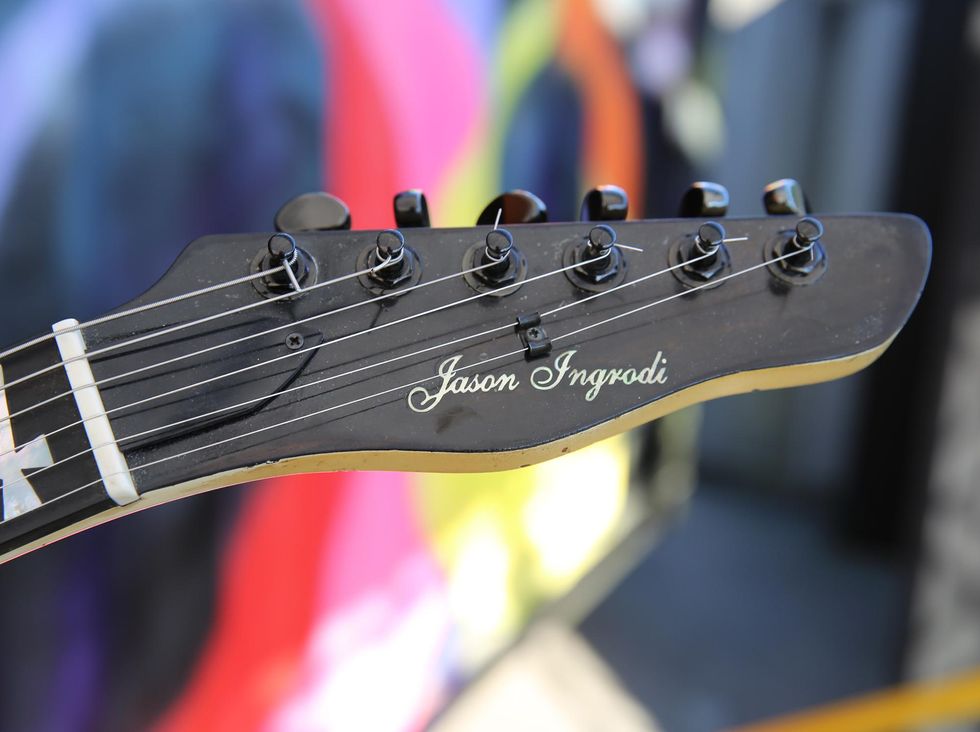 The aforementioned 6-in-line, T-style headstock.
Orange TH100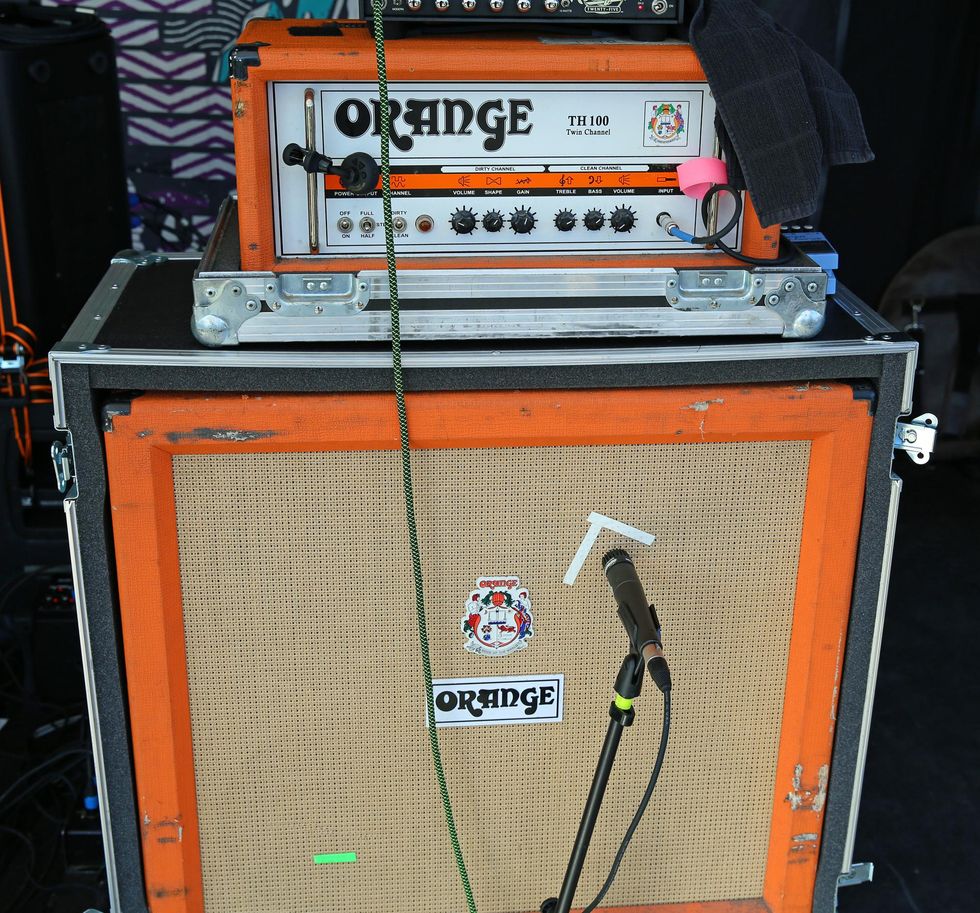 Like his bandmate, Templeman trusts his stage tone to an Orange. His simplistic approach gravitates to the spartan TH100 that has just three knobs for each channel. The 100W head runs into an Orange PPC412HP8 4x12 that also has Celestion G12K-100s. (Not pictured: For lead work, Templeman has a Boss CH-1 Super Chorus and Ibanez Tube Screamer.)
See the Taylor Guitars Builder's Edition K14ce in action.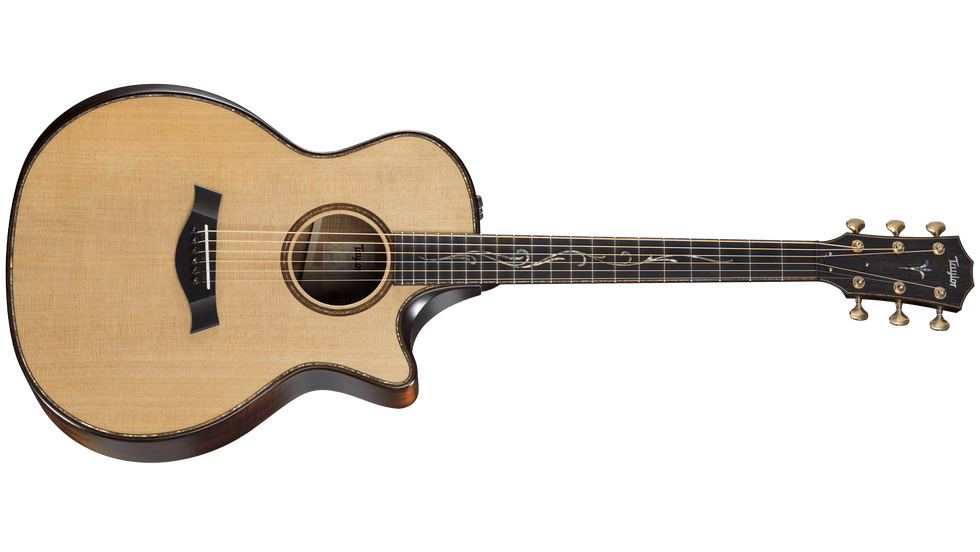 This stunning Grand Auditorium from our new Builder's Edition collection features Hawaiian koa back and sides paired with a torrefied Sitka spruce top. The guitar was inspired by our groundbreaking V-Class™ bracing, which boosts the volume evenly across the tonal spectrum, increases the sustain, and improves the natural intonation of the guitar by creating a more orderly response from the soundboard. The result is a more harmonious relationship between the notes you play, helping chords sing with cohesive beauty. Another design emphasis of Builder's Edition is enhanced playing comfort in the form of ergonomic new body contours. Details include a beveled armrest, beveled body edge treatment, and a reshaped cutaway that flows smoothly into the heel and incorporates a finger bevel where the cutaway meets the soundboard. This creates a more fluid path to the guitar's upper-register notes for your fretting hand. Other refined touches include "silent" satin finish, which helps quiet the incidental noise against the guitar body, and a gorgeous new Kona burst that highlights the natural beauty of the figured koa back and sides. Inset koa/paua top and back trim adds a beautiful sparkle that complements the new Spring Vine fretboard inlay. In every way, this K14ce acoustic guitar embodies the ultimate player's guitar and testifies to the benefits of innovative craftsmanship.
Taylor Guitars
The track will appear on Joe's forthcoming album, which will arrive later this year.
Blues rock artist Joe Bonamassa is back with a brand-new single from his highly anticipated upcoming album, due out later this year. "Notches" exemplifies the unwavering journey Joe has experienced while taking the road less traveled, ultimately leading him to find success.
A bit older in years, but wiser in knowledge earned, his new sound has a raw and vital flavor, combined with a resolute skill that can only be gained through years of perseverance and unyielding dedication. The first single arrives today as a foot-stomping, fist-pounding dose of rock mastermind that pays homage to the artist's resilient history, with an eye on the future as he continues to bend genres, break down walls and defy the odds of the music industry.
Joe Bonamassa - "Notches" - Official Music Video
Joe belts out the Blues-tinged lyrics in "Notches" with a vocal range that gets even better with each release, diving deeper into his rock capabilities as he croons the resounding chorus, "I got miles under my wheels. Notches in my walkin' cane." He takes no prisoners with his hard-hitting anthem and holds nothing back, delivering a fresh unchartered sound that isn't like anything he's done before. The cinematically excellent official music video was directed by Paul van Kan.
For recording "Notches," Bonamassa hit the studio with longtime collaborators Kevin Shirley as producer and manager/business partner Roy Weisman as executive producer. The track was mixed by Bob Clearmountain (Bruce Springsteen, The Rolling Stones, Toto, Bon Jovi) and was co-written with Charlie Starr (Blackberry Smoke). Recorded in New York City at Germano Studios/The Hit Factory the band includes Steve Mackey (bass), Lachy Doley (piano), Bunna Lawrie (didgeridoo), Bobby Summerfield (percussion), and Late Night with David Letterman's Anton Fig (drums and percussion), along with Mahalia Barnes, Juanita Tippins, and Prinnie Stevens on backing vocals. The fantastic artwork on this single was created by famous graphic artist Hugh Syme (Rush, Aerosmith, Whitesnake).
The lyrics allude to Joe's tenured uphill battle with the music industry. Looking back, he reflects, "Twenty years ago, I recorded a record of covers that eventually was called 'Blues Deluxe.' It was recorded at Bobby Nathan's studio in Manhattan. It captured an energy and purpose that always stuck with me as an artist…The music business is tough, very tough. Especially back in those days when major labels pulled all the strings and, in my case, all the punches."
Now, maybe more than ever, Bonamassa holds the power of controlling both his artistry and his business in both hands. With 24 #1 albums, yearly sold-out tours worldwide and custom annual cruises, he's a hard act to beat. Joe knows his worth, and albeit humble, he has no plans to back down now. "Notches" is a testament to his credentials. It's Joe Bonamassa at his finest, ready to rock.
"Notches" is a song that begs to be heard live in an audience, banging loud from the speakers. Luckily for fans, this month Joe heads back out on tour for 42 shows, starting on the West Coast in the US at the end of this month, then traveling around the rest of the country throughout the fall season before taking the stage at sea for his sold out Keeping The Blues Alive At Sea VII cruise, sailing from Miami, FL to Ocho Rios, Jamaica on February 21-25, 2022, by way of the Norwegian Pearl.
For tickets and full tour dates, visit jbonamassa.com/tour-dates.