Subdecay Noise Box and Liquid Sunshine Pedal Reviews
Noise Box Harmonic Frequency Generator There are many types of tone freaks in this world. Some people love the vintage tones from the days of yore. Some folks rely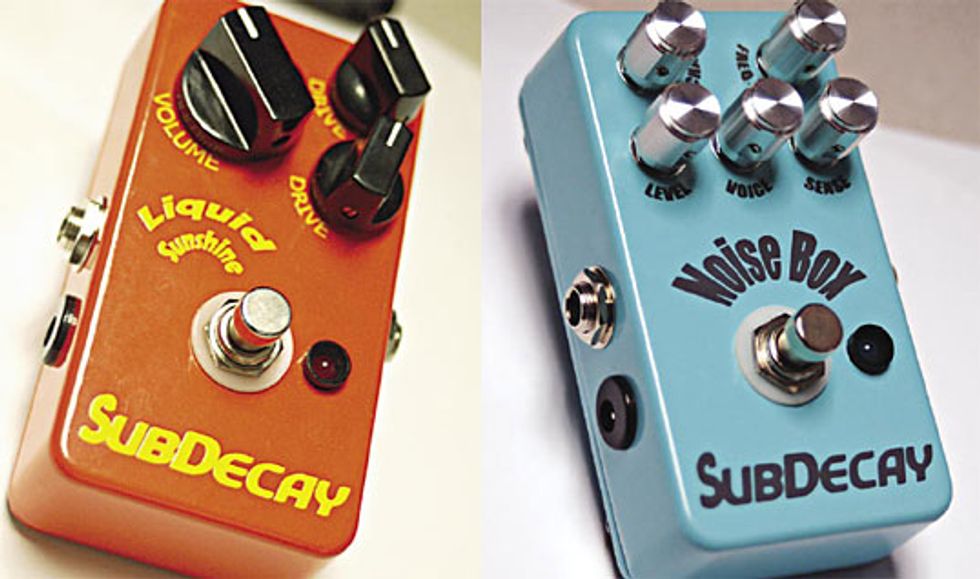 Noise Box Harmonic Frequency Generator
There are many types of tone freaks in this world. Some people love the vintage tones from the days of yore. Some folks rely on the newest or most expensive technology to achieve that perfect tone. And then there are those who want to explore new sonic territories – or just make a bunch of racket. If you fit into the latter category, the SubDecay Noise Box is undoubtedly for you.
The Noise Box is an envelope sensitive harmonic frequency generator. Beneath all the noise, it features a fuzz tone with some nicely subtle octave effects; on top of that is the Frequency Generator, with various controls for your sound mangling enjoyment. The control knobs are Level, Voice, Sense, Chaos, and Frequency. Level controls your overall volume and the Voice control allows you to select between two different "voicings," essentially frequencies/tones with different characters. Dialing between the voicings – set far left or right – rewards you with different levels of frequency filtering. The Sense knob controls how much the input will affect the range of the generator, while the Frequency knob sets the resting pitch the frequency generator will start from. And then there's the Chaos knob, arguably the coolest setting on the pedal. This controls the attack, and the farther you turn it, the less correctly the pedal can track to keep the pitch. The sounds created by the frequency generator will become more random, depending how far you push the Chaos knob.
So what do you get from all these knobs? A ridiculous amount of different sounds, that's what. I was able to dial in a diverse array of tones with the Noise Box. On the tamer side I was able to get a cool octave fuzz with interesting overtones that seemed to bounce off each other with crackling breakup; on the more extreme side I conjured up crazy synth-like, 8-bit video game madness – think Mega Man explosions. The Noise Box is also sensitive to the input signal, and depending on where you have your instrument's controls set, you may be able to create completely different sounds.
There are only a few nitpicky points to make about this build: it's a solid pedal, but oddly the power supply input is located on the side, which may or may not be a problem, depending on your setup. Also, the 9V battery inside the pedal isn't the most secure, and you can feel it moving around when handling the pedal.
This pedal's versatility makes for a wide range of sounds, ranging from octave fuzziness to sounds that'll make dogs attack their owners and cause dolphins to beach themselves. For all you noise heads out there, I strongly recommend adding this pedal to your arsenal. To anyone else just looking for some new inspiration, I suggest checking it out and tweaking away.
Rating...
Tone...
Craftsmanship...
Features...
Value...
Overall...
---
Liquid Sunshine Overdrive
In my effort to introduce the concept of K.I.S.S. – keep it simple, stupid – into my life, I tend to sidestep things that I sometimes shouldn't, product manuals being one of them. I'm all for educating myself, but given a choice between reading some overly optimistic and over-manipulated manufacturer specs or tossing a baseball around with my kid, you can guess which one wins out.
When the Liquid Sunshine arrived for a review, I figured I could easily rock an overdrive with one Volume and two Drive knobs, mistakenly reckoning that it was some sort of stackable overdrive. In this case, the truth is ultimately so much cooler. Volume is what one would assume, handling the Liquid Sunshine's level duties, with the real fun starting whilst fiddling with the two Drive knobs, located above one another to the right of the big Volume control.
The top Drive control affects the guitar's full frequency range, while the bottom boosts the mid and high frequencies. It's a really clever way to eighty-six the need for a dedicated tone control, while still providing more-useful-than-you-could-imagine toneshaping capabilities. From the factory, the controls are voiced for guitarists wanting some dirt for an amp they appreciate as-is. The pedal's voicing can be changed via two internal dip switches – one for bass, one for treble. Flipping up the treble switch on the right gives the Liquid Sunshine the ability to act as a more pronounced treble booster by boosting, or cutting, high frequencies at the pedal's output, while the bass switch – which boosts or cuts bass frequencies to the Liquid Sunshine's input – at least to my ears, imparts a more traditional overdrive tonality by adding just a smidge of mid-range boxiness. It may be just what's needed to cut through certain mixes, but it's by no means anywhere near Tube Screamer territory.
After putzing with all of the dip switch settings, I ended up liking the factory settings the best, and this is where I found it easiest to coax truly inspirational tones. The Liquid Sunshine made my amp sound like my amp, simply cranked up louder than it actually was, all while adding a touch of very useable thickness to the lower mids. Sustain was on par with a dimed tube-amp, with none of that overly-compressed, nasal quality common with traditionally designed ODs.
Another first for me was the Liquid Sunshine's ability to convincingly replicate a cranked amp with the amp set completely clean. I tend to not like the way overdrives sound in this setting, preferring an OD in front of an already-hard-working tube amp, but the pedal performed exceedingly well, making it an excellent choice for lower volume gigs. Of course, running the Liquid Sunshine in front of an amp that was sweating a bit was in a word – glorious.
SubDecay set out to make something that wasn't your father's overdrive, and has succeeded admirably, offering up a pedal truly worthy of any desert-island list, right after the endless supply of beer and Adriana Lima.
Rating...
Tone...
Craftsmanship...
Features...
Value...
Overall...
---
SubDecay Studios
Noise Box MSRP $159
Liquid Sunshine MSRP $149
subdecay.com
Our expert has stated his case, now we want to hear yours. Log on to premierguitar. com, click on "Forum" and share your comments and ratings.