Suhr delivers a trifecta of new lust-inducing gear with a cabinet emulator, an amp series, and a dual-channel overdrive/distortion.
Lake Elsinore, CA (January 19, 2017) -- The A.C.E. (Analog Cabinet Emulator) is an active, analog cabinet emulator designed to offer guitarists a portable and convenient way to capture the complex characteristics of a guitar speaker cabinet for a variety of recording (silent* or in a studio) and live-performance applications without the use of a microphone. Fully equipped with a comprehensive set of interface features, A.C.E. makes it easy to connect with a variety of recording and sound-reinforcement equipment for any situation. Whether you are in the studio or on the road, the A.C.E. is sure to become an invaluable tool for delivering a flexible variety of emulated cabinet simulations consistently, every time.
* A.C.E. is not a load device. Make sure your amplifier is connected to a suitable load (Suhr Reactive Load) or speaker cabinet when using A.C.E. to avoid damage.
The A.C.E. features include:
Active analog cabinet emulator
Multi-stage filtering (MSF) cabinet emulation (bypassable)
Balanced TRS & XLR line out section with phase and ground lift
Internal charge pump circuitry that doubles the headroom of a 9V supply
Compact desktop form factor
Street price $299.
______________________________
The new Badger series offers a re-designed preamp section that includes a high-voltage cascaded MOSFET boost (footswitchable) to offer a broader range of clean and overdrive tones with incredible dynamic range, transparency, and tactile responsiveness. The new Badger series is appointed in a sleeker, more refined look, and has an expanded feature set to bring you the most sophisticated and versatile Badger amplifier to date.
The new Badger series features include:
Modified preamp section
High-voltage cascaded MOSFET boost (foot-switchable)
All-tube series effects loop
4 ohm, 8 ohm, and 16 ohm speaker output impedance selector (Now standard on all models)
Black anodized-aluminum control panels
Pricing:
Badger 18: $1,750
Badger 30: $1,995
Badger 35: $1,995
______________________________
The Suhr Eclipse is a versatile, no compromise, dual-channel overdrive/distortion that delivers a wealth of warm, organic amp-like tones in an easy to use, compact form factor.
Eclipse's incredible versatility stems from its powerful and intuitive 2-channel circuit design. Each channel is completely independent, and features its own gain, level and 3-band passive EQ, similar to a channel-switching amplifier. Both channels can be voiced independently to accommodate all of your playing needs.
The Eclipse pedal features include:
Dual-channel overdrive/distortion
Independent gain, level, and 3-Band passive EQ controls
Global voice control
True bypass
Billet aluminum enclosure
Street price $250
For more information:
Suhr
For these new recreations, Fender focuses on the little things that make original golden-era Fenders objects of obsession.
If there's one thing players love more than new guitars, it's old guitars—the unique feel, the design idiosyncrasies, the quirks in finish that all came from the pre-CNC era of instrument manufacturing. These characteristics become the stuff of legend, passed on through the years via rumors and anecdotes in shops, forums, and community networks.
It's a little difficult to separate fact from fiction given these guitars aren't easy to get your hands on. Fender Telecasters manufactured in the 1950s and 1960s sell for upwards of $20,000. But old is about to become new again. Fender's American Vintage II series features 12 year-specific electric guitar and bass models from over two decades, spanning 1951 to 1977, that replicate most specs on their original counterparts, but are produced with modern technologies that ensure uniform build and feel.
Chronologically, the series begins and ends, fittingly, with the Telecaster—starting with the butterscotch blonde, blackguard 1951 Telecaster (built with an ash body, one-piece U-shaped maple neck, and 7.25" radius fretboard) and ending with the 1977 Telecaster Custom, which features a C-shaped neck, a CuNiFe magnet-based Wide Range humbucker in the neck position, and a single-coil at the bridge. The rest of the series spans the highlights of Fender's repertoire: the 1954 Precision Bass, 1957 Stratocaster in ash or alder, 1960 Precision Bass, 1961 Stratocaster, 1963 Telecaster, 1966 Jazz Bass, 1966 Jazzmaster, 1972 Tele Thinline, 1973 Strat, and 1975 Telecaster Deluxe. The 1951 Telecaster, 1957 Strat, 1961 Strat, and 1966 Jazz Bass will also be offered as left-handed models. Street prices run from $2,099 to $2,399.
Fender '72 American Vintage II Telecaster Thinline Demo | First Look
Spec'd To Please
Every guitar in the series sports the era's 7.25" radius fretboard, a mostly abandoned spec found on Custom Shop instruments—Mexico-made Vintera models, and Fender's Artist Series guitars like the Jimmy Page, Jason Isbell, and Albert Hammond Jr. models. Most modern Fenders feature a 9.5" radius, while radii on Gibsons reach upwards of 12". Videos experimenting with the 7.25" radius' playability pull in tens of thousands of viewers, suggesting both a modern fascination with and a lack of exposure to the radius among some younger and less experienced players.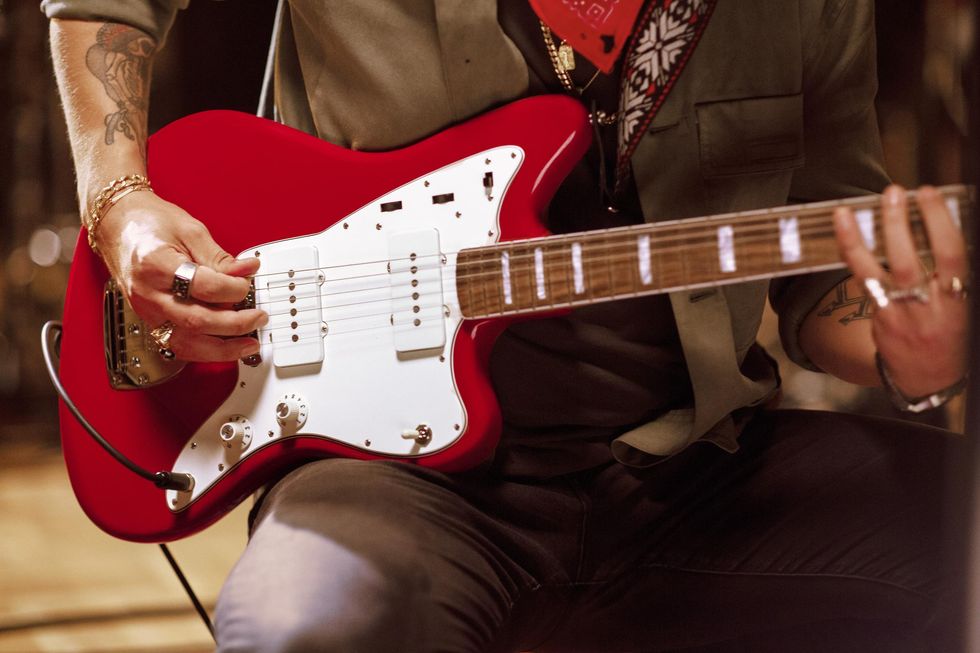 T.J. Osborne of the Brothers Osborne picks an American Vintage II 1966 Jazzmaster in Dakota red.
Bringing back the polarizing 7.25" radius across the entire series is a gamble, and it's been nearly five years since Fender released year-specific models. But Fender executive vice president Justin Norvell says that two years ago when the Fender brain trust was conceptualizing the American Vintage II line, they decided the time was right to "go back to the well."
"We've been doing the same [models], the same years, over and over again for 30 years," says Norvell. "We really wanted to change the line and expand it into some new things that we hadn't done before and pick some different years that we thought were cool."
"It takes a lot of doing to go back in time and sort of uncover the secret-sauce recipes."—Steve Thomas, Fender
To decide on which years to produce, Fender drew from what Norvell calls a "huge cauldron of information" from Custom Shop master builders to collectors with vintage models to former employees from the 1950s and 1960s. The hands-on manufacturing of Fender's golden years meant guitars produced within the same year would have marked differences in design and finish. So, the team had to procure multiple versions of the same year's guitar to decide which models to replicate. Norvell says some purists would advocate for the "cleanest, most down-the-middle kind of variant," while others would push for more esoteric and rare versions. Norvell says that ultimately, the team picked the models that they felt best represented "the throughline of history on our platforms."
Simple and agile, the Fender Precision Bass—here in its new American Vintage II '54 incarnation—earned its reputation in the hands of Bill Black, James Jamerson, Donald "Duck" Dunn, and other foundational players.
Norvell says the American Vintage II series was developed, in part, in response to calls to reproduce vintage guitars. Just like with classic cars, he says, people are passionate about year-specific guitars. Plus, American Vintage II fits perfectly with the pandemic-stoked yearning for bygone times. "For some people, these specific years are representative of experiences they had when they were first playing guitar, or a favorite artist that played guitars from these eras," says Norvell. "These are touchstones for those stories, and that makes them very desirable."
Cracking Codes
Fender's electric guitar research and design team, led by director Steve Thomas, dug through the company's archive of original drawings and designs—dating all the way back to Leo Fender's original shop in Fullerton, California. They found detailed notes, including some documenting body woods that changed mid-year on certain models. Halfway through 1956, for example, Stratocaster bodies switched from ash to alder. That meant the American Vintage II 1957 Stratocaster needed to be alder, too. That, in turn, meant ensuring enough alder was on hand to fulfill production needs.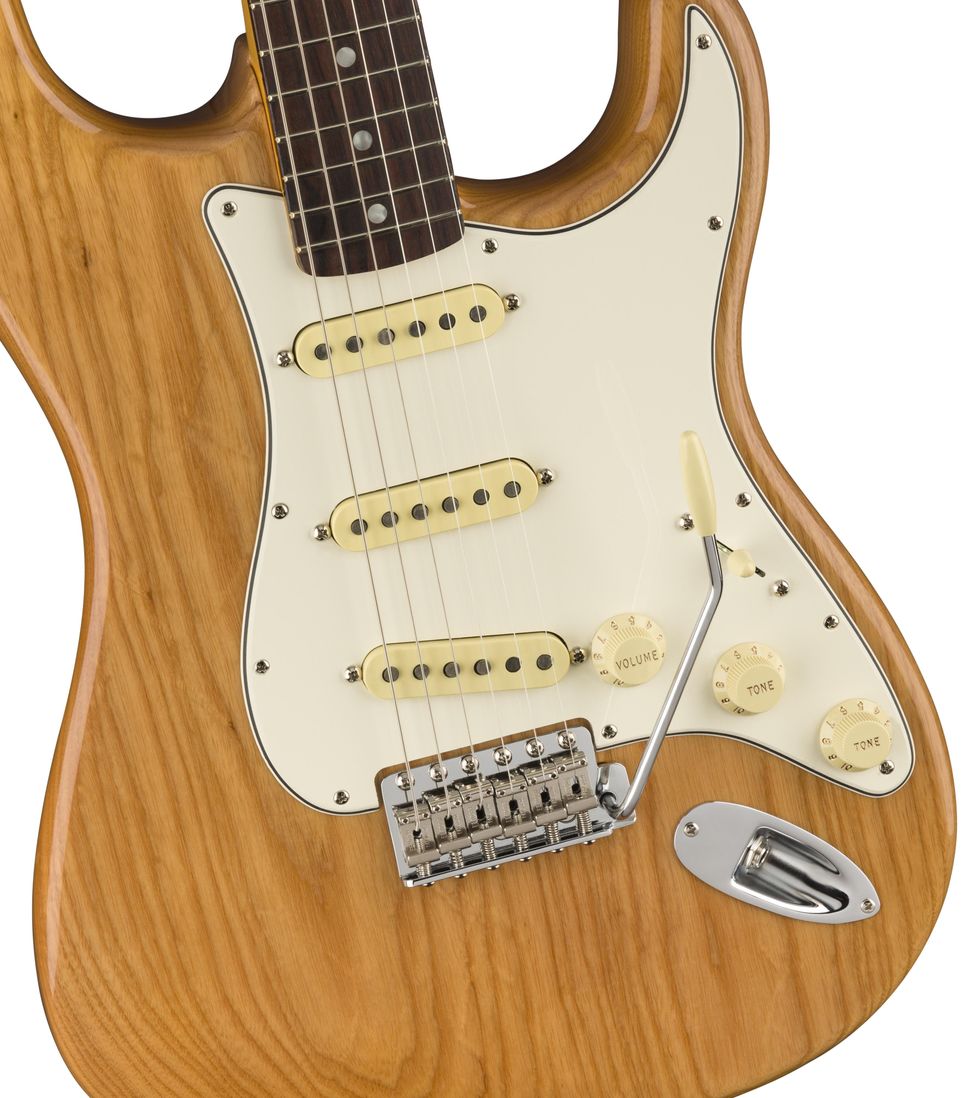 Among the series' Stratocaster recreations is this 1973-style instrument, with an ash body, maple C-profile neck, rosewood fretboard, and the company's Pure Vintage single-coils.
Thomas and his team discovered another piece of the production puzzle when researching how pickups for that same 1957 Strat were made. "We realized that if we incorporated a little bit more pinch control on the winders, we could more effectively mimic the way pickups would have been hand-wound in the '50s," says Thomas. "It takes a lot of doing to go back in time and sort of uncover the secret-sauce recipes."
Thomas proudly calls the guitars "some of the best instruments we've ever made here in the Fender plant," pointing to the level of detail put into design features, including more delicate lacquer finishes which take longer to cure and dry, and vintage-correct tweed cases for some guitars. New pickups were incorporated in the series, like a reworking of Seth Lover's famed CuNiFe Wide Range humbuckers, which were discontinued around 1981. Even more minute details, like the width of 12th fret dots and the material used for them, were labored over. Three different models in the line feature clay dot inlays at unique, year-specific spacings.
Ironically, modern CNC manufacturing now makes these design quirks consistent features in mass-produced instruments. While the hand-crafted guitars from the '50s and '60s varied a lot from instrument to instrument. "Everything needs to be located perfectly, and it wasn't necessarily back in the day," says Norvell. "Now, it can be."
Don't Look Back
With this new series so firmly planted in the rose-tinted past, Fender does run the risk of netting only vintage-obsessed players. But Norvell says the team, despite being sticklers for period-correct detail, sought to strike a balance between vintage specs, practicality, and playability. The 1957 Stratocaster, for example, has a 5-way switch rather than the original's 3-way switch. Norvell also asserts that the "ergonomic" old-school radius feels great when chording. "It might not be [right for] a shred machine, but it feels great and effortless."

The 1966 Jazz Bass is also represented, shown here in a left-handed version.
Norvell also pushes back on the notion that Fender is playing it safe by indulging nostalgia and leaning on their past successes. He says that while the vintage models are some of the most desirable on the market, the team "purposely did not stick to the safe bets," citing unusual year models like the 1954 P Bass and the 1973 Stratocaster.
There's a good reason why anything that hails back to "the good ol' days" hits home with every generation. We're constantly plagued by a belief that what came before is better than what we've got now. But with the American Vintage II series, Fender makes the case that guitars from the '50s, '60s, and '70s can very easily be a relevant part of the 2020s.
The Company founded by Ola Englund has developed a new high gain pre-amp pedal with noise gate.
The Company founded by Heavy Metal expert and influencer, Ola Englund, has been developing electronics under the registered trademark CHUG for the past two years to perfect what is slated to be the de-facto High Gain Pre-amp pedal for the foreseeable future. Solar Guitars Vice President and product developer, Joe Delaney notes, "…totally intense project, a true team effort. Between the actual metal approach to the industrial design and the aggressively expansive feature set including multiple gain shaping options and a Noise Gate, we made something very special for the metal community in that it was created with a single goal…to Chug.". Ola adds, "I always wanted the sound of a raging amplifier in pedal format, and we got it right with the CHUG. It answers the question that has been asked for ages… IT WILL CHUG!"
Features
GAIN: Low Frequency Gain – High Frequency Gain – Gain - Output
5 BAND EQ: Bass – Middle – Treble – Depth – Presence
POWER: 9vDC, 100mA
THE CHUG PEDAL
The CHUG is available for order and is shipping immediately.

CHUG: ~199€ (EU) / $199 (INTL)
For more information, please visit solar-guitars.com.
Evolved from the SL-20 Slicer, the SL-2 provides expanded capabilities while shrinking the size to the pedalboard-friendly Boss compact format.
Boss announces the SL-2 Slicer, the latest addition to the company's legendary compact pedal lineup. This original Boss effect chops sound into unique percussive patterns—including many processed with internal filters and effects—and provides multiple output options that bring grooves to life across the stereo field. Offering 88 onboard patterns, MIDI control support, and additional patterns via the Boss Tone Studio app, the SL-2 is an inspiring tool for all types of creators, from guitarists and keyboardists to loop performers, DJs, beatmakers, and beyond.
The SL-2 has 88 onboard memories preloaded with eight pattern types and 11 variations. Users can connect to Boss Tone Studio over USB to audition and load alternate patterns and organize memory setups for different songs.
With the SL-2's efficient interface, users can dial in sophisticated textures in seconds. Attack and Duty knobs provide waveform control for a wide range of audio effects, from hard, percussive chops to soft, fluttering tones. The tempo can be adjusted with a dedicated knob or hands-free by holding the pedal switch to enable tap tempo mode. A Balance knob and +/-12 dB of output level adjustment provide complete command of the direct/effect mix.
The SL-2 dishes up loads of impressive sounds with a standard mono setup. But things get even better when using the two outputs and seven output modes. Players can surround listeners in animated movement using a variety of stereo and 3D processing options, and it's also possible to send direct and effect sounds to different destinations. And with its stereo input, the SL-2 can be used with other stereo pedals to bring further magic to grooves.
With its generous external control options, the SL-2 flows with any creative setup. Connecting an external footswitch provides instant tap tempo access or the ability to engage the effect with momentary presses. Alternatively, an expression pedal can be used to control knob parameters or the overall level. With the TRS MIDI input, users can sync SL-2 grooves to a drum machine, DAW, or any other device that sends MIDI clock. It's also possible to control expression, tempo, and bypass functions via MIDI CC messages.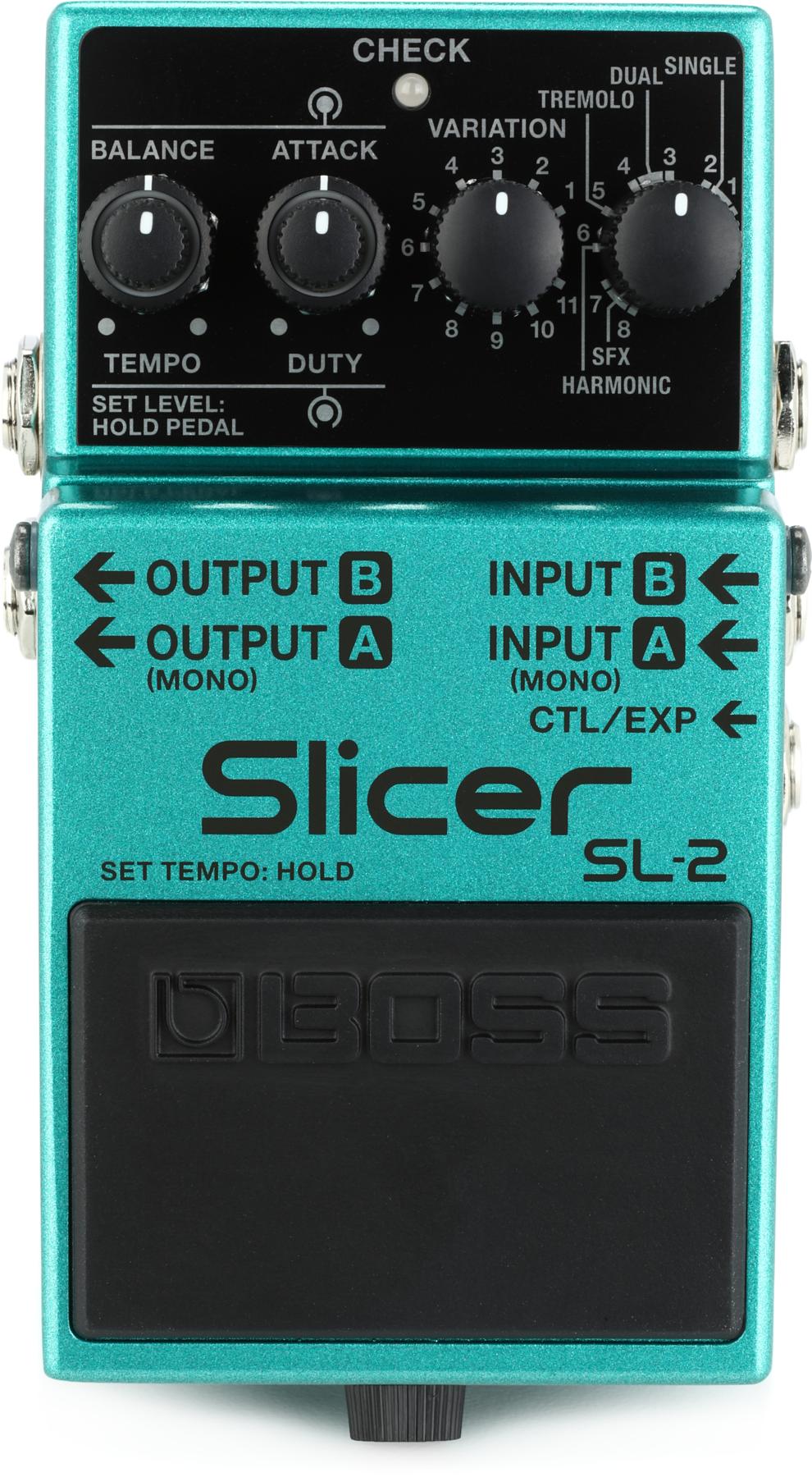 Single and Dual: These modes are relatively self explanatory. Single has one slicer; Dual has two slicers operating at the same time.
Tremolo: The SL-2's tamest setting, this mode is about as close to traditional tremolo as the SL-2 can get!
Harmonic: This mode brings in wild modulation, adding even more complexity to your rhythmic experimentation.
SFX: Perhaps the most peculiar mode, SFX introduces additional effects to your signal depending on which sub-mode you choose.
For more information, boss.info.
Boss
This 35th Anniversary edition honors the Ernie Ball Music Man design used by some of the world's most iconic bassists, including Flea, Tony Levin, John Myung, and Phoenix of Linkin Park.
Unveiled in 1987, the Ernie Ball Music Man StingRay 5 set the standard for the modern 5-string bass with its robust low-end, tight, punchy sound and ideal 34" scale length. This 35th Anniversary edition honors the timeless Ernie Ball Music Man design used by some of the world's most iconic bassists, including Flea, Tony Levin, John Myung, and Phoenix of Linkin Park.
Over its 35-year history, the Music Man SR5 has undergone several significant design changes. Under the leadership of Sterling Ball, the Ernie Ball Music Man R&D team have implemented industry-leading innovations that are now commonplace on most modern 4 and 5-string basses.
"An Anniversary bass celebrates things you do at the beginning, things you do in the middle and things you do at the end. Hopefully you can create an anniversary bass that incorporates all of these eras together… I think we got it right. I'm so proud of how this came together".
Ernie Ball Music Man: The 35th Anniversary StingRay 5 Bass
The 35th Anniversary StingRay 5 is limited to 225 instruments in a single humbucker configuration, and 25 instruments in a double humbucker configuration. For more information, please visit music-man.com.