Combining the classic tone of valve amps and the modern technology of amp modeling, the LB 30 2.N. delivers a one-stop solution for all modern-day bassists.
A familiar sight in the backline of some of the world's biggest bands, Ashdown bass amps have a global reputation for delivering solid, bottom-end tone with just the right features required by the busy, working bass player.
​On stage, the mic'd cabinet emulations can be sent direct to the PA, while the cabinet on stage acts as a monitor. And in the studio, the LB-30 2.N can be used without a cabinet, with the speaker emulation output connected directly to the recording console.
Cabinet emulations are selected by a rotary control on the front panel, and program changes and more sophisticated editing of mic placement, etc. are facilitated by MIDIand USB ports round the back.
Combining the classic tone of valve amps and the modern technology of amp modeling, the LB 30 2.N. delivers a one-stop solution for all modern-day bassists.
From zombie-inspired paint jobs to mind-altering fuzz pedals, the second day of NAMM was full of surprises.
PG Editors pick their top gear from the second day of NAMM. See everything from day 2 in our photo gallery.
EarthQuaker Devices Fuzz Master General
Winter NAMM 2015 found the ever-prolific EarthQuaker Devices showcasing the Fuzz Master General, which while evoking the mighty Univox SuperFuzz, delivers a tighter-than-SuperFuzz basic fuzz tone and a super clear and acidic octave fuzz sound. The extra versatility means a ticket to Live at Leeds...and beyond.
Source Audio Vertigo
Source Audio's new One Series digital pedals are simpler, more streamlined by the standards if the company's Soundblox pedals, but they are no less potent. The Vertigo tremolo features emulations of vintage optical, harmonic, and bias trems, but parameters can also be customized via the iOS interface. Prices should be right around $149 when they hit the street this spring.
Danelectro Baby Sitar
Couldn't be more psyched about the return of the Danelectro Baby Sitar. A simpler, more streamlined cousin to the old Coral Vinnie Bell Electric sitar, the original baby sitar and this new version did away with drone strings to create an easier-to-wrangle six string version. The reissue will street at $499.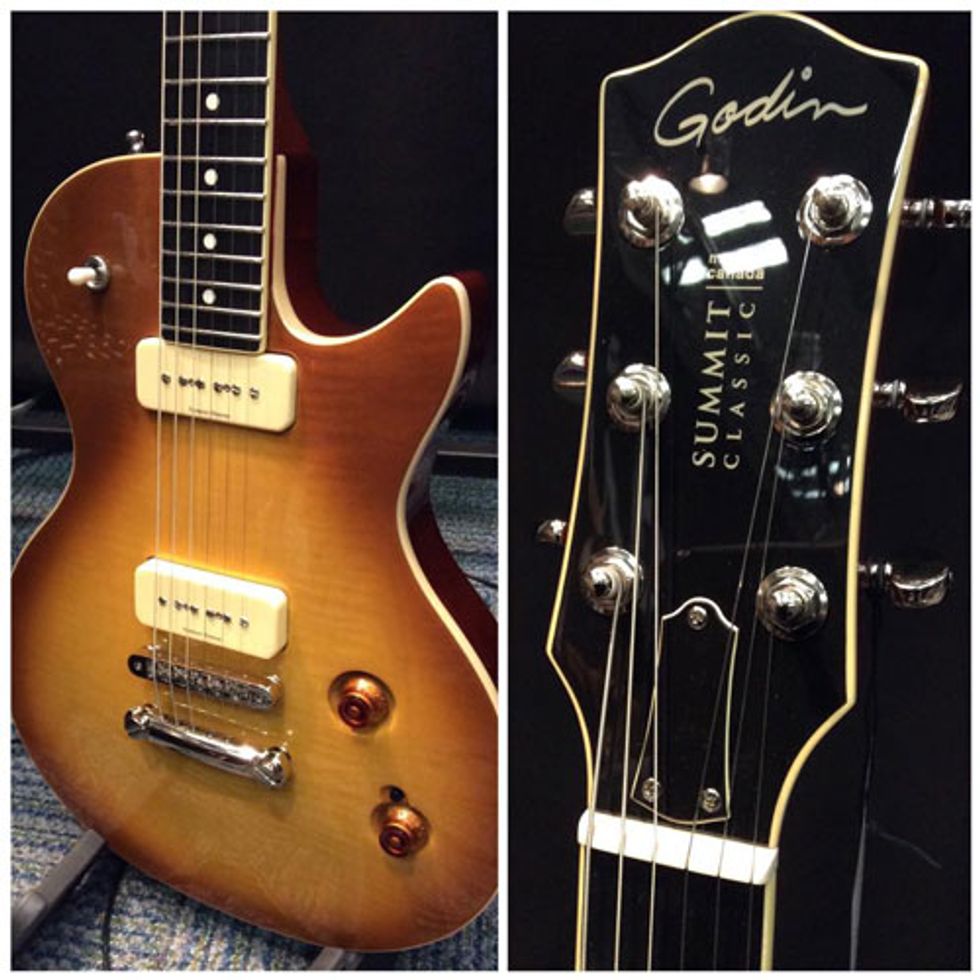 Godin Summit Classic
Godin Guitars brought some real nice-sounding, real classy-looking, real light new single-cuts to NAMM. The Summit Classic series comes in three Seymour Duncan-outfitted configurations with chambered Spanish cedar bodies and maple caps—a P-90 version (shown), a humbucker model, and a P-Rails model. Each also features Godin's unique High-Definition Revoicer circuit (activated by the black button in the recessed route), which has a pronounced and very musical effect on the EQ voicing.
ESP Mystique
Every NAMM we go out of our way to highlight the out-there designs that ESP brings to show off the capabilities of the luthiers at their Japanese custom shop. Inevitably people get snarky about the practicality of an angel guitar with a three-foot wingspan, or a guitar with medieval armor. So this time we thought we'd show this lovely Mystique model with sweeping lines, faux-tortoiseshell binding, and a crushed-seashell top. Kudos, guys!
D'Angelico EX-59
D'Angelico brought an astounding array of guitars to NAMM this year. While the model shown here—the 17", P-90-equipped EX-59 hollowbody—isn't exactly brand new, we just had to put it out there as an example of the swanky new finish work the company is doing these days.
Taylor 600 Series
Huge props to Taylor Guitars for being one of the big guys stepping up to do something about more responsible wood sourcing. The 600 series guitars they brought to NAMM feature new all-maple construction that's part of a greater consciousness of forest depletion. Master builder Andy Powers fine-tuned each body style in the series to optimize bracing and other construction elements so that they complement the tonal characteristics of the new maple parts, rather than just swapping solid mahogany or rosewood backs and sides for maple and calling it good.
Ashdown B-Social
Ashdown Engineering debuted the multi-functional B-Social at NAMM 2015. What started out as plan to create a nice looking and sounding bass amp for the home in a compact enclosure turned into much more. The B-Social features Bluetooth connectivity with an included wireless transmitter for cable-free jamming (and wireless audio streaming), a built-in USB interface, and an App-Tek socket to access the ever-growing range of amp sim and effects available. There's plenty more onboard and more importantly, it sounds really good.
Phil Jones Bass Quantum Series
Phil Jones Bass unveiled the Quantum Series line of combos with the Quantum800 and Quantum400. Boasting 350 and 75 watts, respectively, these wee but powerful combos are packed with PJB Custom 2.5" drivers.
Blueridge BR-65KCE
Blueridge Guitars showed off their new limited edition BR-65KCE single cutaway: the first offering from their Blueridge Custom Collection. Features include a solid Sitka top, solid koa back and sides, and a B-Band T-35 pickup system. The price? $995 suggested retail.
Schecter Dawn of the Dead
Schecter Guitar Research brought a bunch of cool new axes to NAMM. The rad dude on the left pays tribute to George A. Romero's classic zombie flick.
Diamond Pedals Counter Point
Diamond Guitar Pedals introduced the new Counter Point multi-tap delay at NAMM 2015. The Counter Point offers four different delay modes using carefully constructed sets of multiple delay signal taps and variable sample-rate modulation for tones flexible enough for a wide range of genres.
Hughes & Kettner TriAmp MkIII
NAMM 2015 saw the unveiling of Hughes & Kettner's TriAmp Mark 3, truly an amp to be reckoned with. Each of the Mark 3's six independent channels represents an entire era of tone, and each of the six eras can be routed to three independent tube power amps. Though the TriAmp Mark 3 leaves the factory with two pairs of 6L6s and one pair of EL34s, the amp works with other tube types as well, leaving players with options galore.
PG Editors pick their top gear from the third day of NAMM.
PG Editors pick their top gear from the third day of NAMM. See everything from day 3 in our photo gallery.
Electro-Harmonix Satisfaction Fuzz
Electro-Harmonix founder honored the importance of the Rolling Stones and the Maestro FZ-1 to his own career with the new Satisfaction fuzz. The best part?....it'll have a street price around 53 bucks!
Les Paul Melody Maker
One of the real steals at NAMM 2014 has to be the new Gibson Les Paul Melody Maker. The $569 street price gets you a mahogany body with maple cap and Alnico bar P-90s. Punky, spunky, and a little bit classy--a really fun and solid guitar.
Z.Vex Fuzz Factory 7
We're guessing Buddha is laughing because his fuzz is so fat! Z.Vex Effects unleashed the Fuzz Factory 7 hand painted in Anaheim. The newest Fuzz Factory was spawned by discovery of a cache of black glass germanium transistors dating to the '50s. The hand painted version will go for $449.
Lakland Geezer Butler Signature Model
Lakland's new Geezer Butler signature bass has an alder body, quartersawn maple neck, and a rosewood fretboard. Co-designed with the Sabbath bassist, features include Geezer Butler custom inlays, his signature engraving on the back of the headstock, an EMG vintage split-coil, and a striped black/gray aluminum pickguard.
Ashdown PiBass-240
Ashdown Engineering showed off the new PiBass-240 at NAMM 2014. It's an uber-compact and light (7.7 pounds) 240-watt digital amp that was designed to the exacting specs of bassist Wojtek Pilichowski.
RainSong Concert Series
RainSong introduced their new Concert Series CO-WS1005NS to NAMM attendees this week. Like other models in RainSong's Concert Series, this model has an all-graphite body and a unidirectional carbon soundboard. New is the offset soundhole and a 12-fret, short-scale neck. Stage-ready, the CO-WS1005NS is loaded with Fishman Prefix electronics.
Paul Rhoney Oceana DuoTone
Luthier Paul Rhoney made his first NAMM appearance this year and wowed us with his Oceana DuoTone. The 24 5/8"-scale guitar features a Spanish cedar body and neck, Indian rosewood fretboard, Roadhouse pickups built to old Supro specs, and a Mastery bridge and new Jazzmaster-style vibrato. It goes for $3,000.
Collings SoCo LC Deluxe
Collings' new SoCo LC Deluxe has a 15" maple-laminate body, mahogany neck, East Indian rosewood fretboard, Lollar Low-Wind Imperials, and typically immaculate construction for $4,900 street.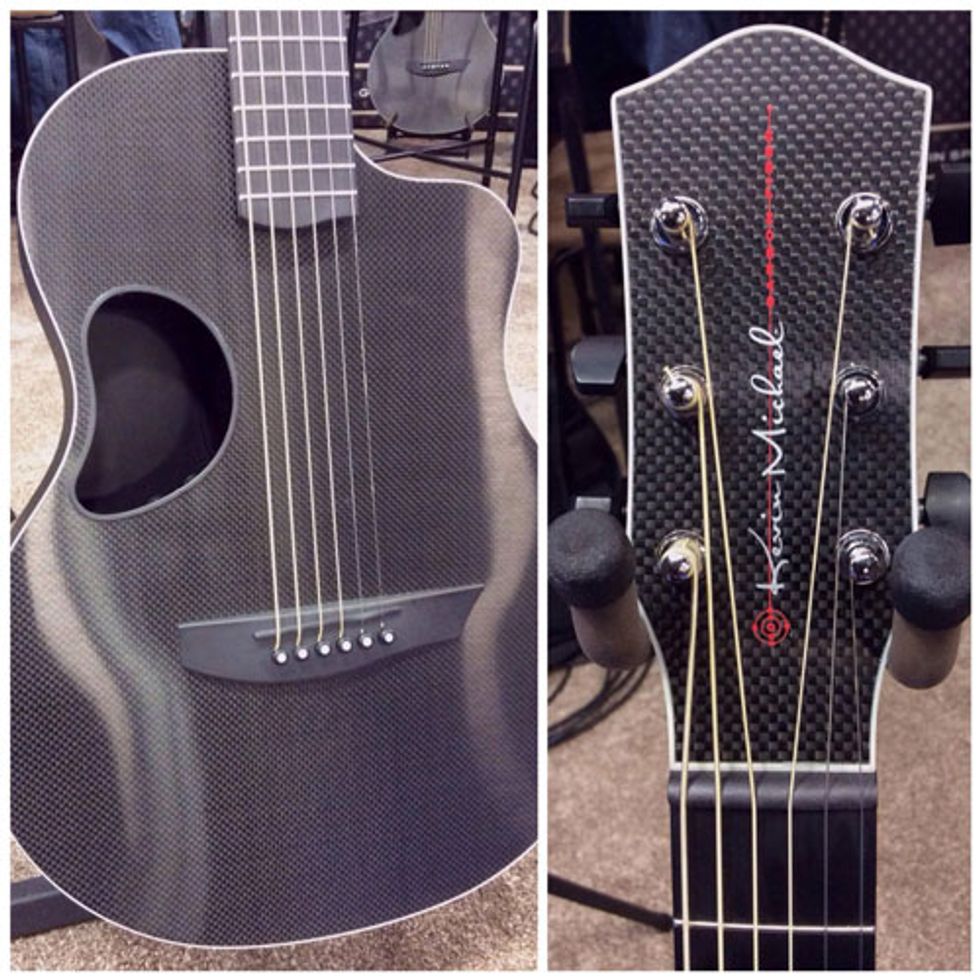 McPherson Kevin Michael Series
McPherson Guitars launched its new Kevin Michael brand under the direction of Composite Acoustics founder Ellis Seal. The first model is a travel guitar with all composite construction that needs no truss rod, has an LR Baggs Element system, and sounds incredibly full-bodied acoustically or plugged in. Street price will be around $2,000.