NAMM 2014: Editors' Picks Day 3
PG Editors pick their top gear from the third day of NAMM.
PG Editors pick their top gear from the third day of NAMM. See everything from day 3 in our photo gallery.
Electro-Harmonix Satisfaction Fuzz
Electro-Harmonix founder honored the importance of the Rolling Stones and the Maestro FZ-1 to his own career with the new Satisfaction fuzz. The best part?....it'll have a street price around 53 bucks!
Les Paul Melody Maker
One of the real steals at NAMM 2014 has to be the new Gibson Les Paul Melody Maker. The $569 street price gets you a mahogany body with maple cap and Alnico bar P-90s. Punky, spunky, and a little bit classy--a really fun and solid guitar.
Z.Vex Fuzz Factory 7
We're guessing Buddha is laughing because his fuzz is so fat! Z.Vex Effects unleashed the Fuzz Factory 7 hand painted in Anaheim. The newest Fuzz Factory was spawned by discovery of a cache of black glass germanium transistors dating to the '50s. The hand painted version will go for $449.
Lakland Geezer Butler Signature Model
Lakland's new Geezer Butler signature bass has an alder body, quartersawn maple neck, and a rosewood fretboard. Co-designed with the Sabbath bassist, features include Geezer Butler custom inlays, his signature engraving on the back of the headstock, an EMG vintage split-coil, and a striped black/gray aluminum pickguard.
Ashdown PiBass-240
Ashdown Engineering showed off the new PiBass-240 at NAMM 2014. It's an uber-compact and light (7.7 pounds) 240-watt digital amp that was designed to the exacting specs of bassist Wojtek Pilichowski.
RainSong Concert Series
RainSong introduced their new Concert Series CO-WS1005NS to NAMM attendees this week. Like other models in RainSong's Concert Series, this model has an all-graphite body and a unidirectional carbon soundboard. New is the offset soundhole and a 12-fret, short-scale neck. Stage-ready, the CO-WS1005NS is loaded with Fishman Prefix electronics.
Paul Rhoney Oceana DuoTone
Luthier Paul Rhoney made his first NAMM appearance this year and wowed us with his Oceana DuoTone. The 24 5/8"-scale guitar features a Spanish cedar body and neck, Indian rosewood fretboard, Roadhouse pickups built to old Supro specs, and a Mastery bridge and new Jazzmaster-style vibrato. It goes for $3,000.
Collings SoCo LC Deluxe
Collings' new SoCo LC Deluxe has a 15" maple-laminate body, mahogany neck, East Indian rosewood fretboard, Lollar Low-Wind Imperials, and typically immaculate construction for $4,900 street.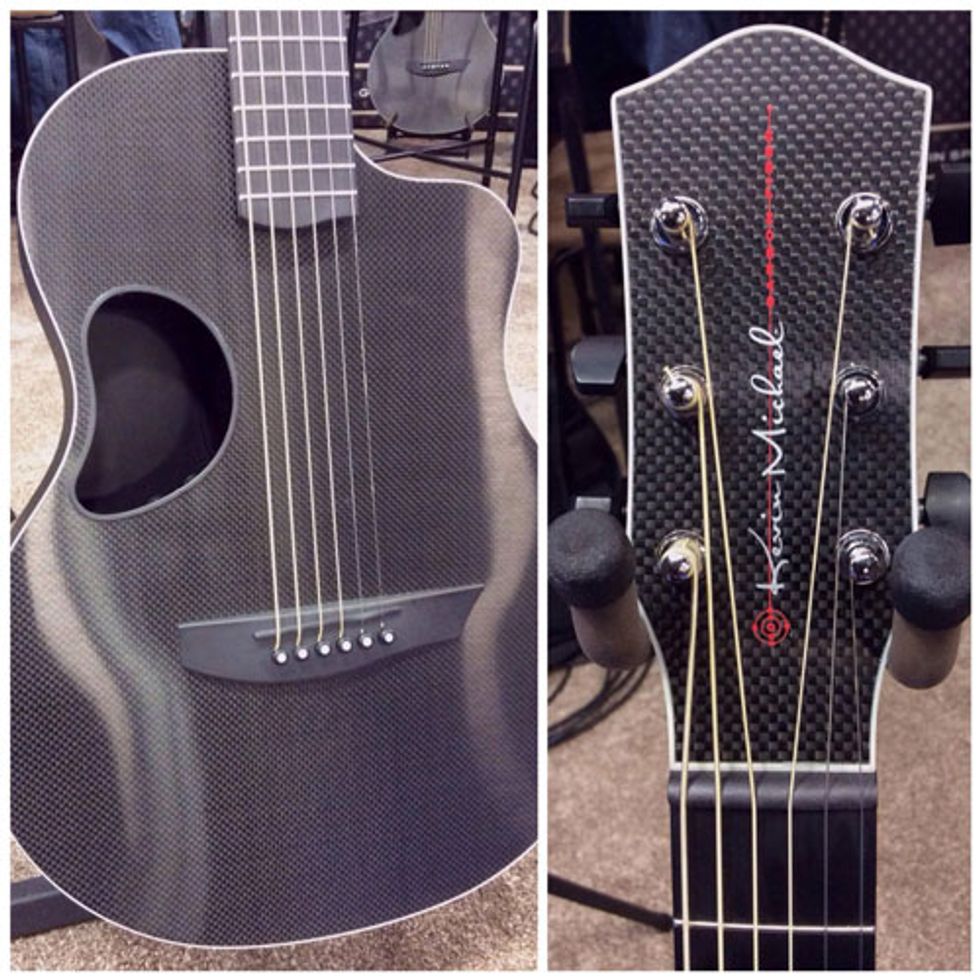 McPherson Kevin Michael Series
McPherson Guitars launched its new Kevin Michael brand under the direction of Composite Acoustics founder Ellis Seal. The first model is a travel guitar with all composite construction that needs no truss rod, has an LR Baggs Element system, and sounds incredibly full-bodied acoustically or plugged in. Street price will be around $2,000.