Smooth blues slide? Check. Mellow, soulful tones with an edge? Check. Epic gear? Check and double-check.
It's hard to stand out as a blues guitarist, but Justin Johnson has built an enormous following of loyal fans because he is too good to ignore. You've all probably seen the wild, long-haired dude tearing it up on a 3-string shovel. The novelty might have earned him over 1-million followers, but what makes people come back for more is his undeniably cool music. Johnson invited John Bohlinger and the PG team to his Nashville home to take us through his rig.
Wild Customs Gyrock
This Wild Customs Gyrock guitar uses rotating pickup modules that can be spun around in place for different tone recipes. The body is chambered Honduran mahogany matched with a carved Canadian maple top, maple neck, and a Brazilian pau ferro fretboard.
Johnson has an ammo box full of different pickups that he can pop into his Gyrock as needed. It stays strung with GHS Strings—a Justin Johnson Signature Guitar Strings Standard set (.10–.50).
Furch Master's Choice 2019SB Dc-SR SPE
This Furch Master's Choice 2019SB Dc-SR SPE acoustic/electric with a cutaway features a Sitka spruce top and Indian rosewood back and sides. The body is protected by Furch's proprietary Full-Pore High-Gloss Finish and it's got the company's CNR System—an adjustable truss rod inside a carbon casing—for improved neck stability. There's an LR Baggs Stagepro Element pickup system onboard, too.
Dobro Duolian
This vintage Dobro Duolian has a Lace low-profile acoustic pickup and is strung with Johnson's Slide signature set: (.11–.50.)
Early '30s Dobro
This mystery resonator—possibly an early '30s Dobro—had the finish stripped off years ago and has been updated with a 12-Bar Blues low-profile resonator humbucker.
Homegrown Strings 4-String Resonator
Here's a look inside Johnson's Homegrown Strings 4-string resonator made from a cigar box and found objects. The pickup is a small piezo hot-glued inside a bottle cap.
Fender 60th Anniversary Telecaster Limited Edition
Johnson's Fender 60th Anniversary Telecaster Limited Edition is strung through its ash body, with Johnson's Standard signature strings.
FireWild by Wild Customs
His FireWild by Wild Customs has a 6-way toggle and it coil-splits. It look a bit like a Firebird mixed with an Iceman, and has a mahogany body and neck, a pao ferro fretboard and a Bigsby. The neck and middle pickups are TV Jones Power'Trons and the bridge has a Power'Tron+.
Signature Whiskey Barrel Guitar Built by Big D Guitars
Johnson's No. 1 is his Signature Whiskey Barrel Guitar built by Big D Guitars. This chambered T-style is made from reclaimed whiskey barrel tops, paired with aged Tennessee barn wood, scatterwound pickups, a Bigsby, an aged maple neck, jumbo frets, and locking tuners. We meant to film this very cool instrument, but got lost in the frenzy of guitars and never got around to it. Dang!
Yes, he's also got a 3-string shovel guitar. It's got a custom-wound low-profile humbucker from 12-Bar Blues Pickups. The trippy artwork was painted by Grecian tattoo artist Santa Tinta and the matching strap was made by LeROCKSKIN. Strings are the A, D, and G from a Justin Johnson Signature Slide set.
Justin Johnson's Pedalboards
Johnson has several 'boards, so let's go with the signal flow. This Morton pedalboard has a modular mounting system that enables him to adjust the size and shape of the board as his layout changes. After hitting his XVive Audio U2 wireless, his signal enters a Mad Professor Loud 'N Proud fuzz, a J. Rockett Audio Archer Ikon, an Ibanez TS808, an ADV Systems #overdrive, a Danelectro Back Talk Reverse Delay, a Gamechanger Audio Plasma Pedal, an Ibanez DE7 Echo/Delay, a T-Rex Image Looper, a Gamechanger Audio Plus piano-style sustain pedal, an API Audio TranZformer …
… a Universal Audio UAFX Astra Modulation Machine Pedal, Starlight Echo Station, and Golden Reverberator …
… into a Live Wire Solutions ABY Box to send juice to his Fishman Aura Spectrum DI Imaging Pedal or a Hughes & Kettner amp—or both.
And that T-Rex Replicator shares real estate with a Gator GTR-PWR-12 power supply and a Big Joe Power Box Li2 lithium pedalboard battery.
Hughes & Kettner Triamp MKIII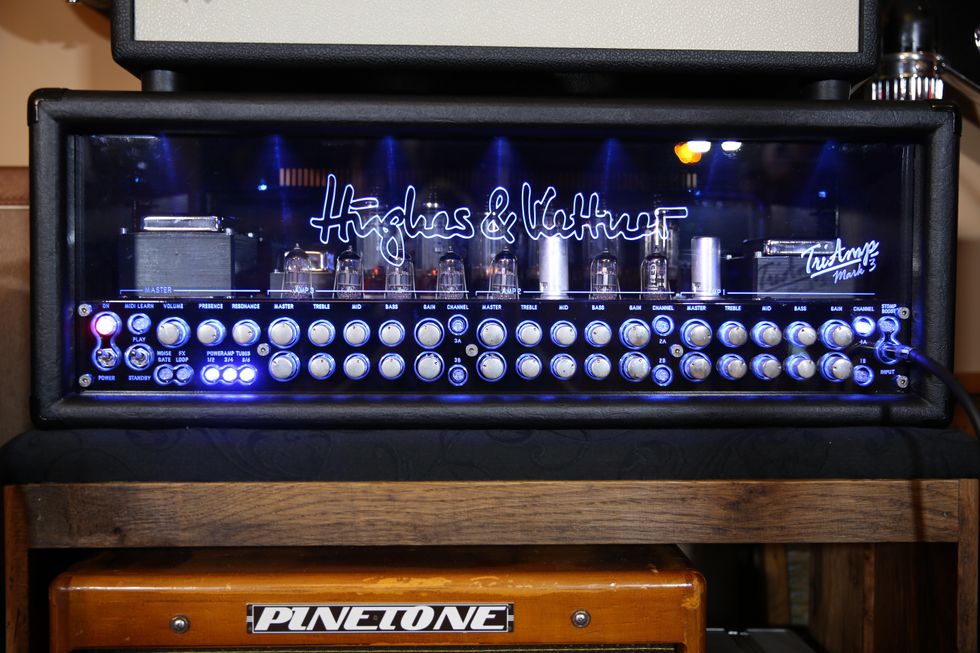 As you'd expect, there's no shortage of amps in Johnson's arsenal. Here's his Hughes & Kettner Triamp MKIII 150-watt 3-channel programmable tube head.
Hughes & Kettner GrandMeister Deluxe 40
And here's his Hughes & Kettner GrandMeister Deluxe 40, which is switchable between 40, 20, 5, and 1 watts. He's got a 120-watt-rated 2x12 cab, also by H&K, to deliver his tones.
Fishman Loudbox Artist BT
This Fishman Loudbox Artist BT 120-watt 1x8" acoustic combo also has a tweeter and Bluetooth.
Fishman Loudbox Mini
Its compadre is a Fishman Loudbox Mini, which has a 6 1/2" speaker and a battery-power option. He also has a Mad Professor 51 RT Old School 51-watt tube head.