Bottom Feeder: My Steampunk Guitar
Okay, relic treatments are pretty common these days. So if you're looking for something a little more unusual, check out this 3-string electric guitar from a past that never was.

When it comes to sheer vibe, it's hard to top this 3-string steampunk guitar.
I have to admit I'd never heard the term "steampunk" until last year, when I started noticing some steampunk guitars on eBay. Near as I can figure, steampunk is a term for adding lots of older, steam-engine-era doo-dads to a modern object to make it appear 19th century-ish. For what it's worth, here's how Wikipedia defines it: "Steampunk is a sub-genre of science fiction that typically features steam-powered machinery, especially in a setting inspired by industrialized Western civilization during the 19th century." Applied to guitars, it's like Mad Max meets Leo Fender.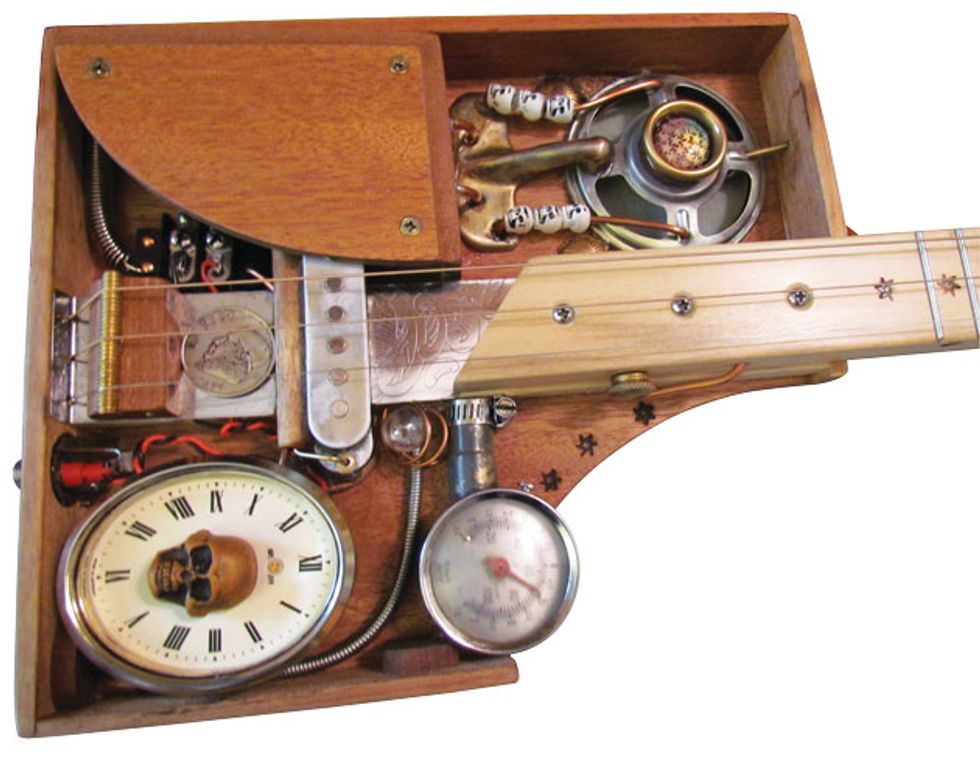 In addition to the wild and wacky hardware, the guitar sports a Strat pickup that sounds quite good.
The steampunk guitars I saw were interesting but seemed to be listed for ungodly high prices. Yet one day I noticed this 3-string steampunk box guitar for a more reasonable opening price and bookmarked it. I ended up getting it for $149, plus $15 shipping, which is pretty good ... I think. It's hard to know what these things are actually worth because they're one-of-a-kind instruments that few people have a hankering for.
It's hard to know what these things are actually worth because they're one-of-a-kind instruments that few people have a hankering for.
When I received the guitar a week later, I was surprised by how lightweight it was: 2 pounds, 7 ounces. It looks like a cross between a Salvador Dali painting and a cigar box guitar. It plays surprisingly well, and the single Strat pickup sounds pretty good. The skull mounted in the oval clock is a working volume control, adding to the cleverness of the design.
The skull is actually a functioning volume control—nice!
A 1977 peso adds to the guitar's engraved metal parts.
Also mounted on the guitar are a small speaker frame, some voodoo beads, a pressure gauge, an actual Mexican peso coin, a brass coat hook, and various springs, marbles, and skulls. It's like a piece of art that can also produce music.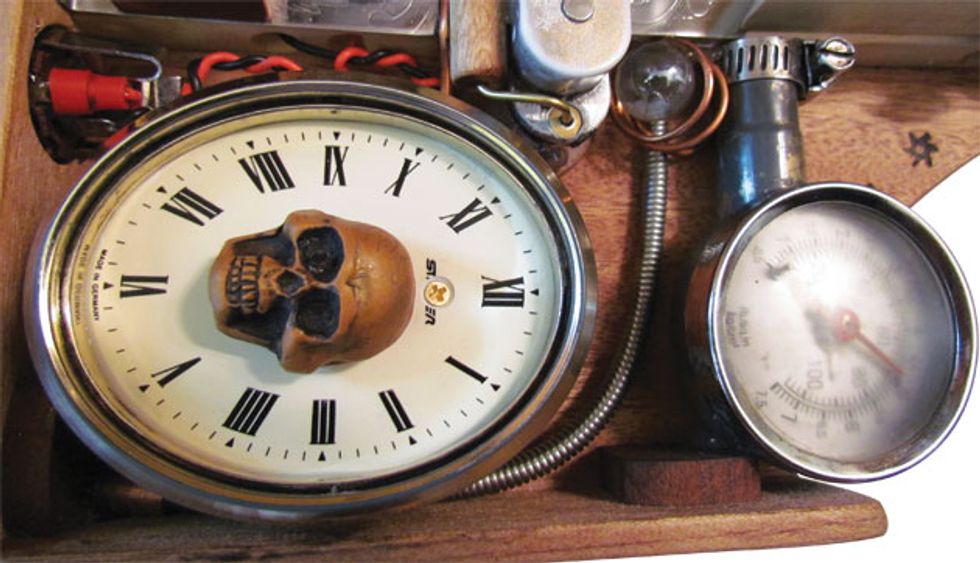 This recycled speaker frame visually suggests a mutant resonator guitar that's powered by, yes, steam.
See the copper plumbing?
I like it as a curio piece (as if none of my other guitars already fit that description). I have it tuned to E–B–E, or root–5–octave, but that's subject to change at any time. So is it a keeper? Yeah, I think it is. It would be equally at home in an art gallery as on somebody's lap, so I might display it in my living room. Besides, who's crazy enough for me to sell it to?