Get your chance to win below! Giveaway ends August 14, 2023.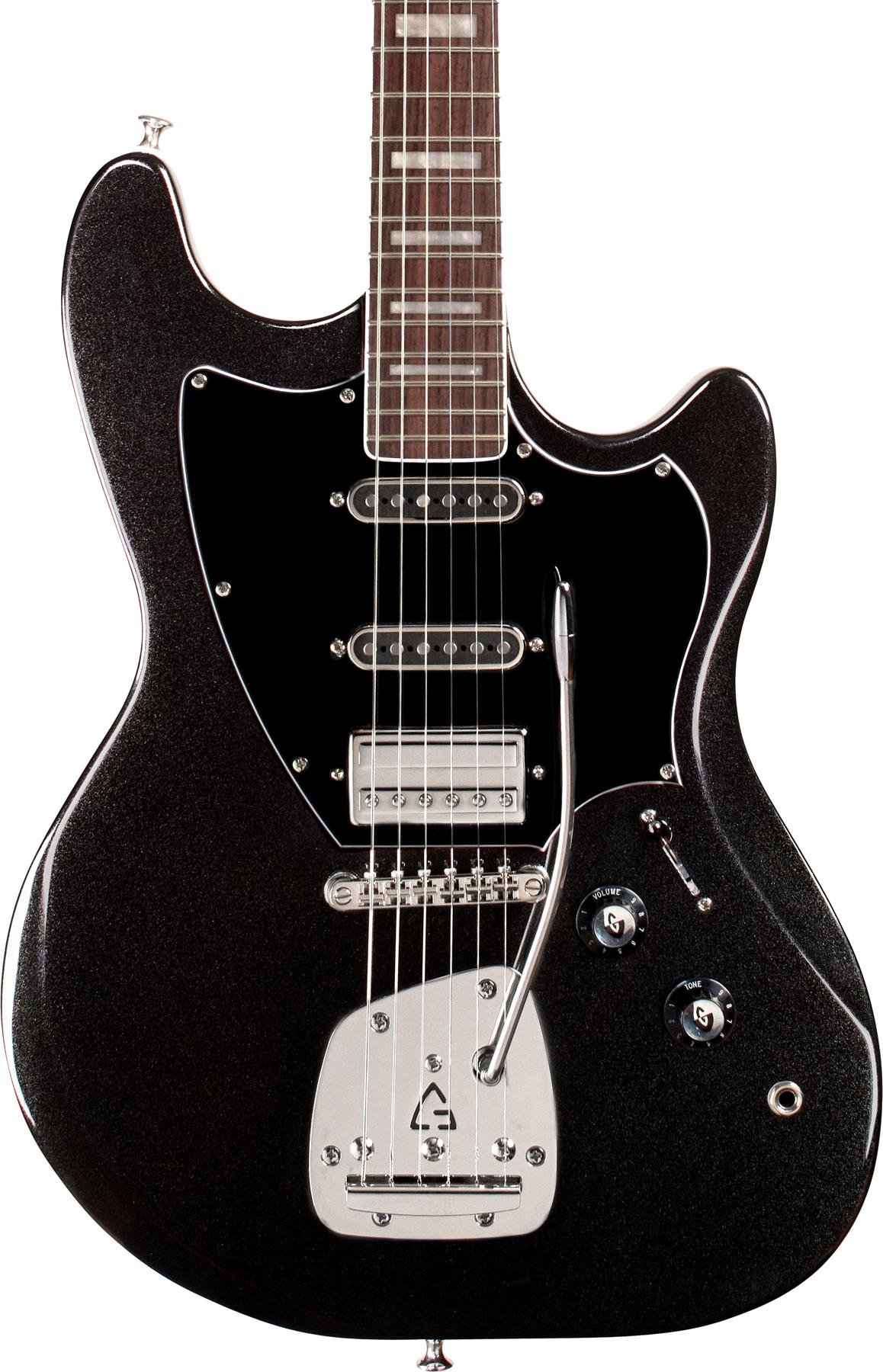 Roasted maple neck with bound rosewood fingerboard and block inlays
The Surfliner Deluxe elevates the Surfliner platform with all new appointments. Introducing Guild's first-ever roasted maple neck, for a dark aged appearance with added stiffness and stability. A bound rosewood fingerboard with block inlays compliments the satin finished C-shaped 25.5" scale neck providing a smooth playing experience.
New guild floating vibrato tailpiece (gfvt)
Developed for the Surfliner Deluxe – the new Guild Floating Vibrato Tailpiece (GFVT) opens the Surfliner platform to new playing styles, capable of a broad range of vibrato effects, from subtle flutters to deep swells. The GFVT is equipped with a nylon insert and easily accessible tension screw for ultimate control of bar tension. Featuring an embossed "G" for classic Guild DNA.
HSS pickup configuration featuring dearmond aerosonic single coil and guild hb-2 humbucker pickups
Outfitted with a bridge HB-2 Humbucker with Alnico II magnets, the HB-2 was developed to recreate the rich, warm tone of vintage Guild humbuckers in a standard size format. The HB-2 is paired perfectly with the chiming single-coil tones of the two DeArmond Aerosonic middle and neck pickups.
The Surfliner Deluxe debuts a classic 5-way blade switch. This instantly recognizable pickup switching offers quick access from rhythm to solo tones at the flick of a switch.
Solid poplar body with vintage-inspired offset appeal
Built with a lightweight Poplar solid body, the new Surfliner Deluxe features a gloss finish and matching headstock, available in Evergreen Metallic, Rose Quartz Metallic and Black Metallic.
Guild
New bracing and pickups make this mid-priced take on a Gretsch classic a lively and engaging inspiration machine.
Smooth playability on par with much more expensive instruments. Airy, open pickup sounds with lots of clean-to-mean latitude.
Blue finish is pretty but thick in spots. Vintage sticklers might miss some old-school Filter'Tron bite.
4.5
4
5
4
Though big hollowbodies like the Gretsch G6120 are beautiful and an essential ingredient in countless classic records, they can be a tricky playing experience for the uninitiated. Navigable fretboard space is limited by solidbody standards. Big bodies can feel bulky. They're sometimes feedback prone in high-volume situations, too. Consequently, I've watched many solidbody-oriented chums who rarely play hollowbodies handle a big Gretsch with the baffled look of a spacefarer deciphering an alien tongue.
This latest affordable, mid-line evolution of Gretsch's classic 6120, the re-designed Electromatic G5420T, smooths navigation of those intrinsic challenges. A new approach to trestle block bracing and FT-5E Filter'Tron pickups give the guitar a zingy, lively, and surprisingly feedback-resistant resonance. And the ultra-smooth playability makes it relatable for the average solidbody player. Together, the improvements make the G5420 a welcoming and intuitive-feeling vehicle for the less-orthodox modes of guitar expression that big Gretsch's enable.
New Shoes in Blue
Trestle bracing, as a name and design concept, graced Gretschs beginning in the '50s. That system utilized a bridge-like pair of laterally oriented braces. Trestle block bracing is different. It situates a slim, light center bock that is shaped like a bridge arch at a 90-degree angle between two straight, lateral braces. In one sense, the construction is akin to a center-block semihollow body. But the Gretsch trestle block has much less mass and a smaller footprint than the center block in, say, a Gibson 335, making the design a great compromise between rigidity, stability, and resonance. The effects, at least to my ears, are audible. And one thing every staffer that touched this guitar agreed upon was that this was the liveliest affordable Gretsch that any of us remembered playing.
The G5420T also feels like a dream underneath the fingers. The 12" radius makes string bends extra easy. Hammer-ons, pull-offs, and, yes, fleet-fingered Chet Atkins picking feel effortless. And in general the playability is so nice you often forget that notes much past the 17th or 18th fret are a pretty uncomfortable reach. The control layout is a familiar take on Gretsch convention. The master volume control on the treble-side horn is always a blast to use for volume swells. And while the bridge volume is situated pretty far aft on the body, it's easy enough to reach for fine tuning adjustments and corrections to the neck/bridge blend. The Bigsby, meanwhile, is both fluid, smooth, and, in relative terms, pretty tuning-stable if you're not too aggressive.
You don't achieve playability and intonation like that on our review model without sweating the details, and the 5420's neck, nut, fretboard, and frets all feel very much of a piece.
Construction quality is typically very good in Gretsch's more affordable Streamliner and Electromatic series, and the G5420T does its part to hold up the family reputation. You don't achieve playability and intonation like that on our review model without sweating the details, and the 5420's neck, nut, fretboard, and frets all feel very much of a piece. Little details like the binding around the f-holes are also flawlessly executed. One of the only overt signs of the G5420T's mid-priced status is the polyester-azure-blue finish, which, while dazzling, looks a bit ripply and thick in spots. Even so, in sunlight, it reveals traces of pearlescent turquoise and lake placid blue, depending on the angle from which you view it.
Balance and Brawn
As Gretsch tells it, the new Filter'Trons are designed for stronger bass output and more articulate high end. I don't know if I would call the low-end exceptionally robust. But 6th-string notes exhibit a concise, classy punchiness that resonates with just-right complexity and gracefully adds balance and ballast to chords. Some players expect low notes on a Gretsch hollowbody to explode with the heft of a grand piano. But the chiming low notes of a Fender Rhodes electric piano are a more apt analogy for the 5420's present, overtone-rich-but-understated bottom-string output. This same knack for balance translates to awesome, articulate overdrive and fuzz tones (though, needless to say, it is important to mind the feedback when messing with the latter).
High-end output, meanwhile, is beautiful. First- and 2nd-string notes ring presently and in graceful balance with the rest of the strings, lending a kinetic but not-too-hot edge to leads and chords. And anyone with an affinity for vintage rockabilly or late-'60s West Coast psychedelia will love the way these high notes hop, quaver, and sing with a waggle of the Bigsby. For this author, anyway, it's a visceral, addictive thrill—particularly with a big Fender amp and a heap of spring reverb and slapback echo.
The Verdict
Any player well versed and at ease with the idiosyncrasies of a Gretsch hollowbody will love the way the 5420 sounds and feels. And on the latter count, certainly, the 5420T is the equal of many much more pricey guitars. It's very easy to imagine an upmarket or vintage Gretsch owner who sweats gigging with an expensive axe taking this guitar out instead and feeling right at home. The pickups are very well balanced, present, and detailed. And the Bigsby is smooth and invites all manner of twitchy or surfy vibrato moves. Most important is how these factors conspire to offer an uncommon playing experience with an upmarket feel. "Riff machine" may be a term that you could apply to many guitars, but the combination of the 5420T's playabililty and open, detailed, and balanced pickups add up to a deep well of habit-smashing inspiration—all at a very nice price, to boot.
Gretsch G5420T Electromatic Hollowbody Demo | First Look
Michael Kelly Guitars announces four new electric guitar models for 2022.
Hybrid 55T (MAP $999.99)
The Hybrid 55T is a unique instrument that does it all with the flip of a switch. On the electric side are two custom voiced Rockfield SWC humbucker pickups with coil splitting for a wealth of classic and modern sounds. Additionally, a Fishman Powerbridge pickup system captures rich acoustic tones and is paired with its own volume control. Using the three-way pickup selector switch, players can quickly switch from electric to acoustic tones or a blend of both. The electric and acoustic signals are combined when using a standard guitar cable, or separated via a Y-cable to deliver isolated signals to electric or acoustic amplifiers for maximum sonic impact. The Hybrid 55T makes a bold statement. It features a mahogany body with a black satin finish, black binding, black pick guard, and an ebony fretboard for a distinctive look. The Hybrid 55T is fitted with a rock maple neck with modern "C" shape delivering balance, comfort, and sustain.
Hyrbrid 60 Port (MAP $499.99)
The Hybrid 60 Port is a truly versatile guitar that sounds as good as it looks. Delivering big electric sounds and authentic acoustic tones or a combination of the two, this guitar is perfect for any musical style. The semi-hollow mahogany body and spalted maple top make a striking visual impact. The Hybrid 60 Port feels natural and easy-to-play thanks to the double- cutaway design and modern "C" shaped roasted flame maple neck. Two single-coil pickups allow for dynamic leads or tight rhythm playing, while an under-saddle piezo pickup produces a clear acoustic tone. A 5- position switch allows players to select electric or acoustic sounds or a blend of both the acoustic pickup and bridge pickup, accommodating a variety of playing styles with traditional and innovative tones. Models are available in transparent blue and transparent red finishes.
59 Port Thinline (MAP $379.99)
The 1959 Port Thinline combines modern styling with classic lines. These eye-catching instruments boast highly-figured spalted maple tops, striking finishes and cream binding around the body and sound holes. The semi-hollow mahogany body provides a warm, round tone while still offering the rich sustain of a solid body guitar. The signature offset sound hole and side port enhances the resonance and acoustic properties of the instrument. From chunky rhythm chords to blistering leads, the 59 Port Thinline can dial up a wealth of sought-after sounds. Two Rockfield P90 pickups offer warm tones with a bite that screams when pushed into overdrive. Both the fingerboard and neck are constructed of roasted flame maple. The neck's modern "C" profile allows for both comfortable chording and lightning-fast licks. Models are available in transparent blue and transparent red finishes.
1962 (MAP $449.99) and 1962 Flame (MAP $449.99)
<p>The 1962 and 1962 Flame combine classic lines with modern features to create guitars that are equally at home chugging as they are playing blistering lead lines. Both models feature an iconic double-cutaway silhouette that makes it easy to access the upper frets while the contoured basswood body makes it comfortable to play for hours on end. A roasted flame maple neck features a modern "C" profile, 22 frets and a matching headstock. A pair of Rockfield PAF humbuckers produce a big thick sound with an aggressive punch. These instruments feature a coil-split mini-toggle switch that allows players to access single coil tones in an instant. Other components include die cast tuning machines and a two-point floating tremolo system. The 1962 comes in a gloss black finish and the 1962 Flame is available in transparent blue and transparent red finishes. </p>