This year's highlights include an obsession with Lehle switchers, a literal charcuterie board repurposed into a stomp station, a pedalboard project to celebrate years of sobriety, and a guitarist who plays his wah like he's riding a skateboard. Enjoy!
When it comes to the pedalboard puzzle of assembling your guitar toys into an order that works for you and your sound, putting it all together is an adventure. Each year, we love to play voyeur to approaches wide and far … and learn about obscure stomps we've never tried before. Enjoy!
Aaron Juracek: Jackson Audio Enthusiast
I love Jackson Audio pedals. They sound amazing and are the only usable MIDI-controlled gain pedals I can find. There are other MIDI-controlled drives, but I find that whenever you play in a different room, the drive settings need to change, which, for a lot of them, means modifying presets every time you play in a different location. These have all of the gain and EQ settings as knobs, so I can just change them on the fly, and still have MIDI control whether it's on or off—the clipping type and the gain staging. I also love the combination of the Strymon BigSky and Neunaber Expanse reverb. The Cloud reverb from the BigSky into the wet reverb setting on the Expanse is one of the most beautiful sounds I have ever heard.
From my guitar I go to an Old Blood Noise Minim, FoxRox Octron 2, and a Keeley Dark Side before going into the loop of a GFI Synesthesia. In the loop sits a trio of Jackson Audio pedals: Golden Boy, Broken Arrow, and Abasi along with my amp's preamp section (via the effects loop) and a Jackson Audio Bloom. Out of the GFI's post-section sits a Walrus Audio ACS1, Keeley Halo, Strymon TimeLine, Strymon BigSky, and a Neunaber Audio Expanse. From there I can choose whether I need to go mono or stereo and if I need to use an amp or go direct.
Andrew Yankowsky: Simple, Not Elegant
I play, write, and record music for a local ska/reggae/punk/Afrobeat band called Zeme Libre out of Portland, Maine. I put this board together to take a bit of a beating at live shows with wonderful pedals that give me the tone and sound I'm looking for. Although my board changes every so often, I keep similar pedals in the mix to keep certain sounds I use on recordings. Simple, not elegant. Thanks for checking it out!
First, I go into the Boss TU-2, DOD FX59 Thrash Master, Ibanez TS9 Tube Screamer, EarthQuaker Devices Hizumitas Fuzz Sustainar, MXR Handwired Script Phase 90, Way Huge Supa-Puss Analog Delay, Boss DD-6 Digital Delay, Boss RE-2 Space Echo (connected with Boss FS-5U Foot Switch for tap tempo), DOD FX65B Stereo Chorus, and out to an Electro-Harmonix Holy Grail Nano.


Chris Voigt: My Modest Bass Rig
My board is still and ever evolving. At the moment, it has just about everything I need or want. People often ask me why I don't use a preamp. The answer is, simply, that I really like the tone of my Orange Bass Crush 100 and the gain it delivers. My favorite pedal is the All-Pedal Electronics Macrodose Envelope Filter. It's a very fun pedal with many face-melting psychedelic tones and shapes, and it pairs nicely with the Walrus Audio Slötvå.
This is my modest bass rig. Pedalboard is run through an Orange Bass Crush 100 FX loop: Electro-Harmonix EHX-2020 Tuner > Walrus Audio Kangra Filter Fuzz > Walrus Audio Mira Optical Compressor > Walrus Audio Julia Chorus/Vibrato > All-Pedal Electronics Macrodose Envelope Filter > Electro-Harmonix Canyon Delay & Looper > Walrus Audio Slötvå Multi-Texture Reverb.
Guido Stoecker: Love for Lehle and Weehbo
After two decades of using a Bogner Ecstasy, I was introduced to Eich Amplification, and I'm endorsing them now by using the GT3500 non-master volume head. It took me more than a year to come up with the concept of the board, testing tons of overdrive pedals, 'til I found Weehbo guitar pedals. On the spot, they gave me the sound I wanted. I took the board out on the road on a tour with the Sweet and it worked fantastic with no failure in any way. Easy to handle—it is big, it looks big—but it is, at least, very simple.
The board is controlled by Lehle switchers. My guitar runs into the Lehle 3at1 green switcher. From there, the signal runs into a Real McCoy Wah, into the first yellow Lehle D. Loop, from there to the next yellow looper, and finally into the red Lehle Dual switcher. Then we go stereo into the TC Electronic Quintessence, from there one channel to amp 1, the other channel into the BBE Sonic Stomp, then into amp 2. The yellow loopers allow me to only connect the pedal I need for each sound into the chain; all others are off then. I use a Weehbo JMP Drive and an MXR Delay for my slightly distorted clean tone, and a second Weehbo JMP Drive for AC/DC-like crunch. This can be boosted by the second looper. The blue Weehbo JVM Drive is my main distorted rhythm sound. The black Weehbo JVM Drive in connection with the T-Rex Duck Tail Delay is my lead sound (the Duck Tail has a tap function). I can connect up to three guitars to the board. For tuning, I press the button on the green Lehle switcher, and the signal is led then to the Fender PT-100 Tuner, so I can tune without any sound. The board is powered by two CIOKS power supplies.
Mako G: The Surfybear Board
This is my surf guitar rig. The Surfy Industries Surfybear Reverb provides the essential, classic spring reverb "drip"; the Boss OC-5 Octave instantly turns me into two thirds of a power trio; the Boss BF-2 Flanger is used as an organ simulator; the Ibanez TS9 Tube Screamer is used as a dirty boost. I originally got the Electro-Harmonix Oceans 11 to do what the Surfybear does, but kept it on the board even after getting the Surfybear, because it's so versatile. I mainly use it for tremolo. The Quilter SuperBlock is basically three classic Fender amps that fit on a pedalboard and can even be powered by a power brick at lower volumes. With the Joyo JP-05, the full rig can be powered without being plugged into a wall (I also use an adapter to turn a cell phone powerbank into a 12-volt source for the Surfybear).
Boss TU-2 Chromatic Tuner
Boss BF-2 Flanger
Surfy Industries Surfybear Classic Reverb
Powered by Joyo JP-05 (rechargeable power supply)
Marc Weakland: Like a Skateboard
When I was younger, I lost both my legs from the knees down. I have to play sitting down due to my balance. I can't flex my artificial foot, so I have my Wah horizontal on my board and play it with two feet like a skateboard!
Here's the breakdown of my pedals: DigiTech Drop, Boss TU-3W, Dunlop Kirk Hammett Wah, Electro-Harmonix Tone Corset, Does It Doom Sabbathi Fuzz, TC Electronic Spark Mini Booster, TC Electronic Eyemaster Metal Distortion, Wampler Dracarys, Wampler Ratsbane, Catalinbread Sabbra Cadabra, Boss NS-2 Noise Suppressor, TC Electronic Dreamscape, MXR Phase 90, Ernie Ball Tap Tempo, Electro-Harmonix Canyon Delay & Looper.

Matei Haskins: Divine Purpose
I'm permanently disabled with a neurological movement disorder, so I'm usually broke, but I got a year of rent assistance last year and was able to build up a recording studio again (I lost my original studio and instruments to homelessness). I got all of these in 2022, but this is it. Back to paying rent—I can barely afford to keep fresh strings on the guitar and bass. But I have what I need to stay creatively productive. These are bass and guitar pedals in one chain; I just switch the amps. The board is a coffee table cut short to 8" and spray-painted black. Music is the only effective treatment for my neurological condition and my divine purpose on Earth is to create music and dance. You can hear the music I make with this pedalboard at DECEMBERmusic.org.
My signal chain:
Guitar > TC Electronic Wiretap Riff Recorder > DigiTech FreqOut > Keeley Compressor Pro > Friedman Buxom Boost > Horizon Devices Precision Drive > Wampler Belle > Fender Pugilist > Amptweaker Tight Metal Pro II > Revv G4 > F-Pedals Lorion > Marshall DSL20CR, FX send > Behringer PEQ-2200 rack (not pictured) > Electro-Harmonix Tri-Parallel Mixer [Loop 1: Arion SFL-1 Stereo Flanger, Loop 2: Seymour Duncan Polaron, Loop 3: MXR Analog Chorus > TC Electronic Thunderstorm Flanger > DOD FX72 Bass Stereo Flanger] > DOD FX62 Bass Stereo Chorus (stereo out) > Source Audio Nemesis Delay > Source Audio Ventris Dual Reverb > Source Audio Vertigo Tremolo > Boss SL-2 Slicer > two BBE Sonic Stomps (not pictured) > FX returns (Marshall DSL20CR left, Marshall Valvestate 40V 8040 right)
Randy Johnson: Crunchy, Crunchier, Uber-Crunchy
I like the Boss BCB-60 Pedal Board because the foam padding can be shaped to hold your pedals firmly in place without having to use Velcro tape or zip ties, and provides for a very clean presentation. My board has evolved over the years, having gone through many different iterations before arriving at my current setup. The more I used my board in a live setting, the more I realized that certain tones could be improved more to my liking, or others were just not used that much. I'm very happy with how my personal quest for tone has evolved!
I've finally settled in (for now) on the thought that I like the sound of overdrive ... A LOT, so my board goes from clean to crunchy, crunchier, and uber-crunchy with a few extra tools to modify the sound.
It all starts from the guitar, as follows:
Wampler dB+: I've got enough pedals connected that it helps to give the chain a boost at the front end, so this one is left on.
Fender The Bends Compressor: I spent a lot of time going through compression pedals to enhance my sustain without making the signal sound squishy. This one does a great job of that, and I pretty much leave it on all the time.
EarthQuaker Devices Special Cranker Overdrive: I love this pedal in that, unlike other overdrive pedals, you can go from zero gain to a moderate amount.
Wampler Tweed '57 Overdrive: This pedal does a great job of sounding like an overdriven Deluxe Reverb amp, and holds the middle position in my dirty to dirtiest chain. I don't think that Wampler produces these anymore, so I'm really glad I was able to score one!
Fulltone OCD: What can I say.... This is a great pedal for super-overdriven feedbacky sounds! Another pedal you need to get while you can.
Boss TR-2 Tremolo: This comes in handy for shaping sounds on certain tunes. I don't know if there's anything better out there, as this one has always made me happy.
MXR Carbon Copy Analog Delay: This is a great delay pedal, and I tend to use it mostly for solos. A good way to jump out in the mix. From here, it's out to the amp.
I can't stress enough how important patch and power cables are to the overall tone. I upgraded my to EBS Premium Gold Flat patch cables and was amazed at the audible difference in my tone. Finally, I switched to a Truetone 1SPOT combo pack for my 9V AC converter. It turns out a good power supply greatly cleans up the buzzing and humming.
Scott Agner: Charcuterie Board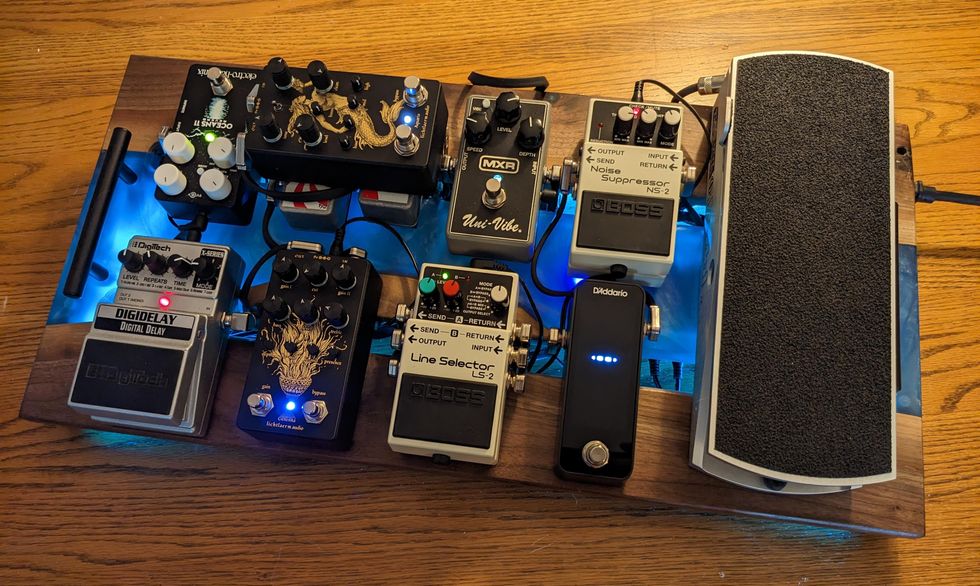 I started building my first pedalboard in August 2022 to meet some very specific needs, namely sending magnetic pickups and a piezo pickup to two different amps and using a Boss LS-2 Line Selector to switch between a high-gain tone and a psychedelic blues tone, which both include a common overdrive pedal (the Lichtlaerm Audio Aquaria).
I repurposed a black walnut/epoxy resin charcuterie board with homemade MDF base and added an LED backlight. I'm very proud of how it turned out and hope to make more wood and epoxy resin pedalboards in the future.
Signal chain as follows:
Boss NS-2 to D'Addario PW-CT-23 to Boss LS-2 (Loop 1: MXR Uni-Vibe to Saturnworks Passive Combiner to Lichtlaerm Audio Aquaria to Saturnworks Passive Splitter back to LS-2; Loop 2: Saturnworks Passive Combiner to Lichtlaerm Audio Aquaria to Saturnworks Passive Splitter to Lichtlaerm Audio Gehenna back to LS-2) to amp input, amp effects send to Ernie Ball Stereo Volume/Pan (fades between magnetic pickups to electric amp and piezo pickup to acoustic amp) to DigiTech DigiDelay to Electro-Harmonix Oceans 11 to amp effects return.


Scott McCue: Drilled My Own
It started with a medium Mono Pedalboard, but I didn't care for the huge holes. So, I mounted a piece of polyboard onto it and drilled the holes where I needed them. All of my power and patch cables are custom made to length. Of course, it's foolish to think I'm done. Lol.
Signal chain: Line 6 Relay G50 wireless system (underneath with power supply), Korg Pitchblack Poly tuner, A/B switcher. Path A of my chain starts with the mini wah, into the Friedman BE-OD Deluxe, Electro-Harmonix B9 Organ Machine, and Tech 21 Roto Choir to a Friedman Smallbox amp. Path B of my chain is a Boss PS-6 Harmonist, MXR Talk Box, Keeley Halo Andy Timmons Dual Echo, to the Boss RV-6 Reverb in the effects loop.
Stephan Stacey: Are you a Holdsworth?
Two Yamaha Magicstomp IIs (their modulations and multi-tap delays still can't be beaten) bookend Eventide H9 Harmonizer units for days! So much sonic flexibility in a relatively small footprint (by today's mega-board standards).
The two Magicstomps have been staples since they were released in 2001. (No, I'm not particularly an Allan Holdsworth, which is always the first question.) Many, many other pedals have come and gone until I realized that the Eventide H9 could cover so much ground. Then one became two, and two became four.
Stephen Cyford: The Illuminator
I could've gone crazy with the number of pedals but my goal with this board was to limit myself to the size of the Pedaltrain 2. I feel it's worthwhile to invest in a good soldering iron and make your own cables. On my Pedaltrain 2 board, I utilized a plexiglass top to increase surface area and to have an illuminated edge on all sides of the board.
It's a good idea to leave at least one auxiliary position on your board, two if you utilize an FX loop (one in front of the amp and one in the loop). In my setup, the DigiTech FreqOut (in front) and the MXR Smart Gate (in amps effects loop) can easily and quickly be swapped for another pedal.

Signal chain:
Guitar > TC Electronic PolyTune 3 > Dunlop Cry Baby Mini 535Q Auto-Return Wah > DigiTech FreqOut > Musicomlabs EFX MKII switcher input A > Xotic SP Compressor (loop 1) > Wampler Tumnus (loop 2) > (loop 3 and 4 empty) > Musicomlabs EFX MKII output A to input of the amp (Bogner Shiva 20th Anniversary or EVH 5150III) > FX loop send > Ernie Ball VPJR Super Bee > Musicomlabs EFX MKII input B > 1982 Boss CE-2 Chorus (loop 5) > MXR Smart Gate (loop 6) > Strymon TimeLine (loop 7) > Strymon Flint (loop 8) > Musicomlabs EFX MKII output B > Amp FX return.

Additional fun facts about how I use this board:
MXR Tap Tempo simultaneously sets tempo of the Strymon TimeLine and the Flint's tremolo.
Musicomlabs EFX MKII sends MIDI commands to the amps for channel switching.
Voodoo Lab Pedal Power 2 Plus powers everything. The Strymon TimeLine utilizes the Pedal Power's courtesy AC output for power.
All Mogami 2319 cables with a mix of HiCon, SP400, and Switchcraft plugs.
LED tape strip under board is also powered by the Voodoo Lab Pedal Power 2 Plus.
Altoids tin stores picks.
Board has been gigged routinely since 2016.
Steve Tumolo Jr: Two Tiers of Tone
My best friend and mad scientist Don Kern built this board for me. We went with a two-tier design for ease of getting to the back row of pedals. From the start, the plan was to run the A/B setup. The fatness of the Fender blends well with the Marshall. I keep the tuner all the way to the left because I use my right foot to hit all the pedals, and it made more sense to keep it out of the way and not waste the space by putting it in front of the other pedals.
This is what I've got going on: Morley Bad Horsie 2 Contour Wah, Dunlop Rotovibe, DOD Boneshaker Distortion, Ibanez TS9 Tube Screamer, Electro-Harmonix Big Muff Pi, DigiTech Nautila, Ibanez PT9 Phaser, Electro-Harmonix Canyon Delay & Looper, TC Electronic PolyTune, Electro-Harmonix Switch Blade Plus A/B box running to a Fender Hot Rod Deluxe and Marshall Valvestate VS65R.
Taylor Frost: Taking My Life Back
After my first year of sobriety after quitting drinking during the pandemic, I treated myself to my first effects pedal after playing for around 10 years. During my alcoholism, everything music-related seemed to drift away from me, whether it was my bandmates or my prized equipment.
As I begin my third year of sobriety, I look at my pedalboard as a reflection of the life I took back after nearly losing everything. Some pedals are the ones I lusted after in high school; others, like the FET preamp, have a special story. I repainted it purple and placed a pit bull decal on it to commemorate the dogs I've fostered over the years in my volunteer work for an L.A.-based pit bull rescue. Every time I fire up my board, it feels like a treat I give to myself for staying sober another day.
Effects loop: Ibanez FL9 Flanger > Pigtronix Moon Pool Tremvelope, TC Electronic 3rd Dimension Chorus > TC Electronic The Prophet Digital Delay > Electro-Harmonix Cathedral Reverb

In front: Dunlop Cry Baby 535Q Multi-Wah > Pigtronix Philosopher's Tone Compressor > homemade FET preamp clone > Boss MT-2 Metal Zone > Ibanez Tube Screamer Mini > Donner Noise Killer

Thomas de la Perrelle: Do It All Board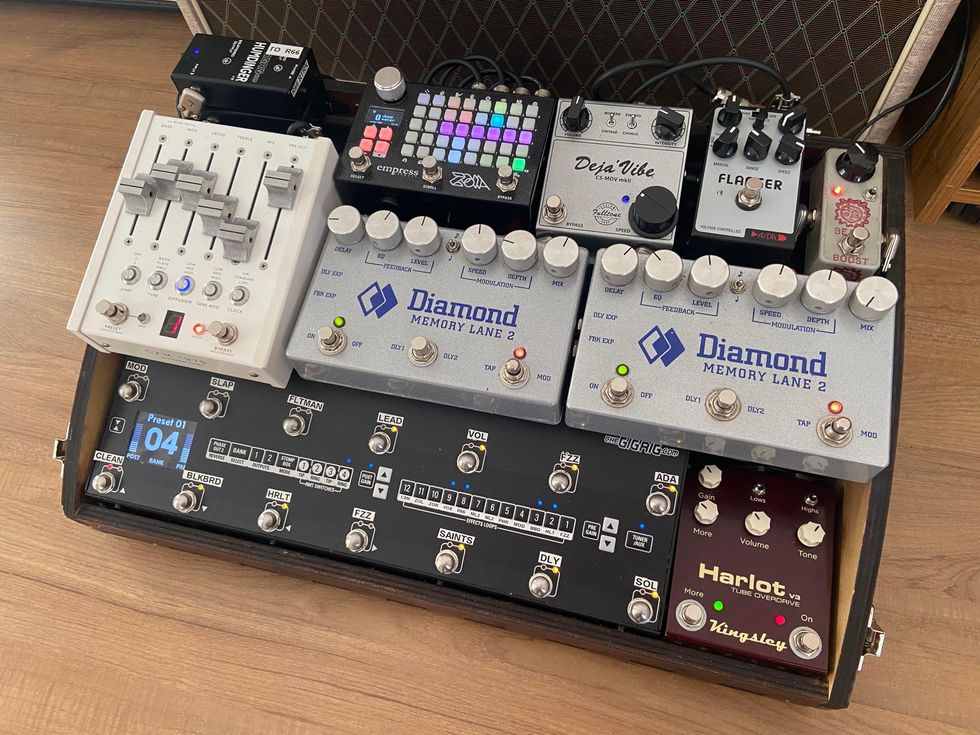 My pedalboard is my dream recording "do-it-all board," controlled via the GigRig G3 switcher. The signal chain:
Analog Man Beano Boost
Williams Supa Fuzz
Effectrode Blackbird Vacuum Tube Preamp
Kingsley Harlot
Universal Audio A/DA Flanger
Fulltone DejáVibe MkII
Moogerfooger MF-103 12-Stage Phaser
Diamond Memory Lane 2 Analog Delay
Diamond Memory Lane 2 Analog Delay
Empress Effects ZOIA
Chase Bliss Audio CXM 1978
The pedals are powered by a combination of an Eventide PowerMax and a variety of GigRig power adapters.
I mainly play pop, indie, and rock music, so the board was built with the intention of having a variety of gain stages and a powerful modulation/delay section. I run the pedals in stereo or wet-dry with a Vox AC30 and a Dr. Z Route 66. The pedalboard is perfect for everything from punchy drives to atmospheric soundscapes and juicy fuzz tones.
Photo by Holly Whitaker
Brit post-punk guitarists Anton Pearson and Louis Borlase take minimalism to the max on their band's debut album.
"There's a certain magic, or trance-like quality, that you get from pushing repetition to the extremes," says Anton Pearson, one of two guitarists in Squid, a U.K.-based post-punk quintet that draws its power from a minimalist aesthetic. "It is definitely a big part of how we write things. We'll keep going with ideas and lose ourselves in them." So, hypnotic, repetitive guitar figures—often edging towards dissonance and played with a warm, fuzzy tone—are, naturally, a prominent feature on Bright Green Field, Squid's debut full-length release.
"When you hear repetitive music, it strikes this inner chord on a purely biological level," co-guitarist Louis Borlase adds. "For example, if you have a thought, and you hear it over and over again, you start to make sense of how you are thinking. That same thing happens with minimalism and repetition. If you can let an idea ride for long enough, you realize that it has enoughscope [to reflect] a kind of microscopic adjustment over time. That is central to the way we enjoy listening to music, but also the way we enjoy writing music."
Squid - Narrator (Official Video) ft. Martha Skye Murphy
Pearson adds, "There's the psychology of the repetitive firing of neurons, where we're constantly breathing and our heart is beating—it's a whole world to think about, which is quite fun. But, for us, I think there are loads of things we find interesting about repetition that we don't really talk about. A lot of how we write is unspoken. If something feels good, it feels good, and we don't always have a shared goal of where we want things to go. We just let them happen."
"When you hear repetitive music, it strikes this inner chord on a purely biological level."—Louis Borlase
Letting things happen—even while committed to a demanding, well-defined set of principles—has been the band's working M.O. from the outset. Squid started while the band members (who also include lead singer and drummer Ollie Judge, keyboardist Arthur Leadbetter, and bassist Laurie Nankivell) were still students in Brighton, a hip, artsy city on England's southern coast, and their first gig was a semi-regular residency at the Verdict, a local jazz club they chanced upon.
Squid are, from left to right, vocalist/drummer Ollie Judge, bassist Laurie Nankivell, keyboardist Arthur Leadbetter, and guitarists Anton Pearson and Louis Borlase.
"I was out looking for somewhere to have a drink with some friends," Pearson says. "We saw this jazz venue that we hadn't noticed before, and went in. The guy was super nice and let us watch for free. At the end, I asked if it would be possible for us to put on a show there, and he said yes. We didn't realize at the time that it was one of the most renowned jazz venues in Europe—it was in The Guardian's top five list of jazz venues in Europe—and here we were putting on a night there. We formed the band because we agreed to curate a night of music, but we didn't have any music to play, so we just wrote a set for that."
Despite getting their start in a jazz club, Squid isn't a jam band. They improvise, although they approach improvisation more like a stimulant. It's how they get the ball rolling, and a big part of how they interact as an ensemble. But extended solos aren't their thing.
TIDBIT: Squid's debut full-length was recorded in a small London studio during a heatwave, and the air conditioning was turned off for tracking. "It was so sweaty," says Louis Borlase. "If we'd done any extra takes, we would have all probably lost about two liters of water."
"Improvisation is a compositional tool," Borlase explains. "But it's also—maybe on a more implicit, subconscious level—something that is very key to how we capture music in the studio, and maybe on a live level as well. None of us has this precious attachment to our parts to say, for example, 'I want to make sure that this certain guitar line or keyboard riff is captured at exactly the two-minute mark.' Jamming is the way in which we find an inception of musical ideas. People bring in ideas—nobody ever brings a song to a Squid writing session—and we listen to what that person has brought, as opposed to thinking about what we could do over the top of it. We very much leave that up to chance, and I think that's very important."
"Anything longer than four seconds is a bit like, 'What's this guy doing?'" says Pearson. "We have an understanding that you should never be attached to ideas, because what's the point? If you bring something small in, let that be an impetus for a process rather than a means to an end. Part of how we get to finished tracks is that someone brings in something small, it changes completely, and we realize that the thing that was brought in originally doesn't work, so we take it out. What's left are the beginnings of something new."
Anton Pearson's Gear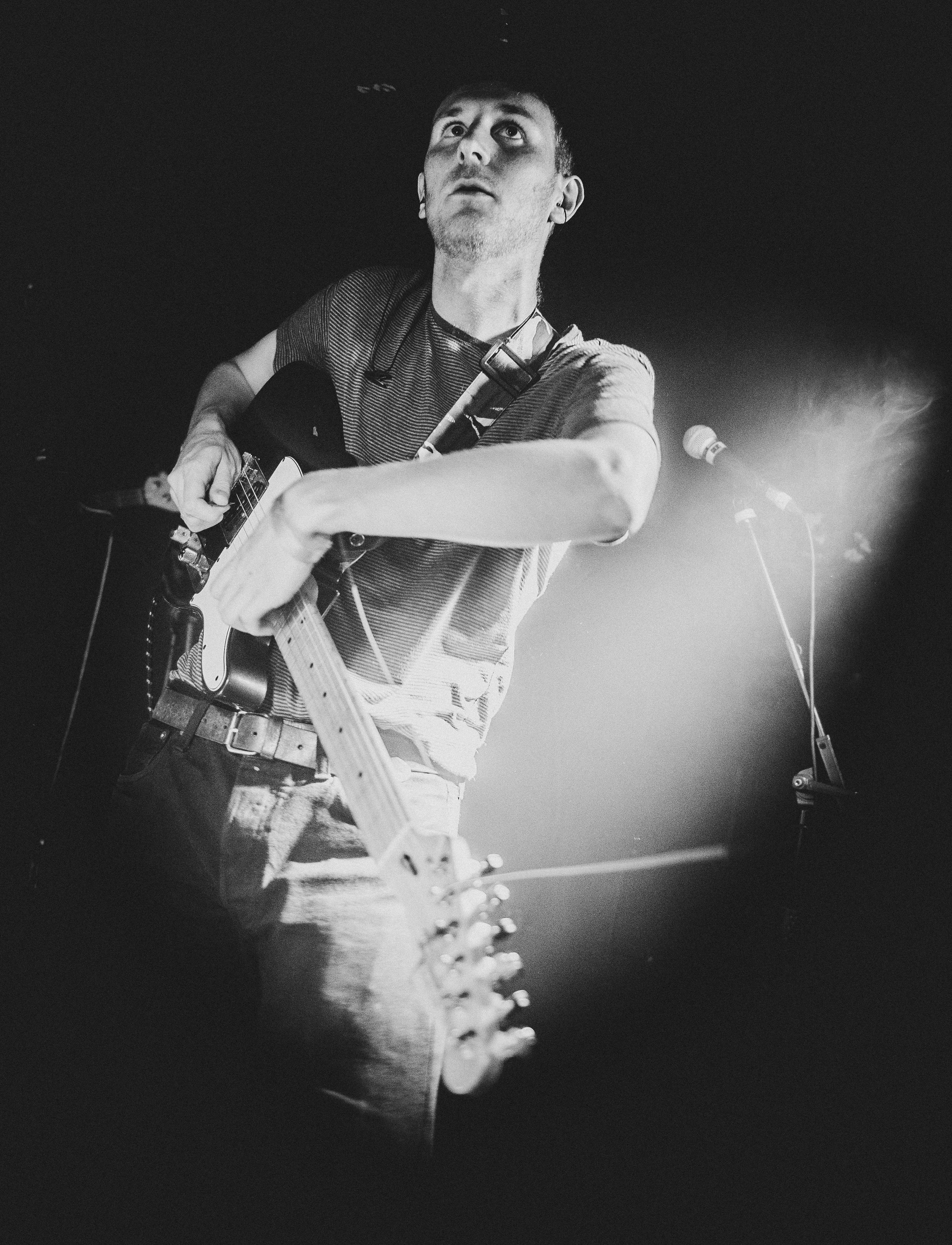 Anton Pearson explains that Squid's compositions evolve from musical micro-ideas brought in by various bandmembers. "Anything longer than four seconds is a bit like, 'What's this guy doing?'" he says.
Photo by Piran Aston
Guitars
Fender Duo Sonic
Mexico-made Fender Telecaster
Amps
Fender Vibrolux
1967 Selmer Treble-N-Bass (on loan from a friend)
Strings and Picks
D'Addario XT (.010–.046)
D'Addario Duralin .85 mm
Effects
Boss DD-3 Digital Delay
Electro-Harmonix Canyon
TC Electronic Hall of Fame Reverb
EarthQuaker Devices Avalanche Run
Muzizy Fuzz
DigiTech Whammy
Dunlop Cry Baby
Electro-Harmonix Superego Synth Engine
Dwarfcraft Devices Wizard of Pitch
JHS Tidewater Tremolo
Boss TU-3 Chromatic Tuner
The band members were friends first—the band came later—and that energy is an important part of the group's dynamic and compositional process, too. "Our music is a total reflection of the way we interact on a purely hanging-out level," Borlase says. "When you hang out with your friends that you respect, and you're having a conversation or debate, you listen to each other and let that thought play out before you put your thought into the conversation. That transfer from conversation to music is key."
Not that informal, friendly, musical conversations were possible once the pandemic and subsequent lockdowns canceled a year's worth of gigs. That also impacted the types of songs Squid wrote. "We were ready to hit the road, but then, suddenly, we were left with these embryonic pieces of music that were just starting to take form," Borlase says. "Usually when we write music, we tune in to how the audience responds.
"I don't think any other instrument can keep me on my feet as much as a guitar, for better or for worse." —Louis Borlase
Seeing people dancing at certain sections, or looking focused at other sections—that naturally feeds back to us for how we choose to make certain musical moments within a track stand out. We didn't have that, so we sent ideas to each other via the internet. There are certain examples where you can feel there's an idea that snowballed and gets out of control. Take a song like 'Narrator.' [The intense, emotionally grinding, rhythm-shifting first single from Bright Green Field.] In a parallel universe, we'd run the risk of it being less of a mind fuck than it actually is. It starts with an idea and it ends up a million miles away. It is a microcosm of that idea of starting with a thought and allowing that thought to take over your mind, and you end up somewhere else in a completely different state of being. But that piece of music would have been so different if we hadn't been faced with this pandemic. We played it very rarely because there was rarely a gig where we could play it in front of people."
Louis Borlase's Gear
"Improvisation is a compositional tool," explains Louis Borlase. "But it's also—maybe on a more implicit, subconscious level—something that is very key to how we capture music in the studio, and maybe on a live level as well."
Photo by Piran Aston
Guitars
Burns Marquee
Fender Jazzmaster
Amp
Strings and Picks
D'Addario XT (.011–.056)
D'Addario Duralin .85 mm
Effects
MXR Carbon Copy

Line 6 DL4 Delay Modeler
Boss Blues Driver
Alexander Pedals Syntax Error
TC Electronic Sub 'N' Up Mini
Bright Green Field was made with award-winning producer Dan Carey at his one-room studio in South London, where his console and outboard gear share the same space as the bands he records. His production style—immersive and focused on live takes—was key to capturing Squid's loose, improvisatory energy.
"It was the middle of the summer, and it was boiling hot," Borlase says about cutting "Narrator." "The track that you've heard is the second take. There was never any need for a third or fourth take, because so much of it is based around improvisation. We never play it the same way twice. I guess the reason that second take of 'Narrator' felt so good is that, early on, you capture that nervous energy. It was so sweaty. If we'd done any extra takes, we would have all probably lost about two liters of water."
Live, Squid play with the same intensity and precision as exhibited by minimalist punk progenitors Wire—another two-guitar band noted for their carefully knit interplay.
Photo by Piran Aston
As a guitar band, Squid's approach to the instrument doesn't have much to do with the glory days of tight pants and arenas—or even '90s-era flannel and grunge. "There is a whole history you're engaging with when you touch the guitar," Pearson says. "And we're still interested in that history. We're interested in finding ways of making new stories. They say the electric guitar is so successful because it is that perfect marriage of technology and a gestural nature you get from acoustic instruments. You can go as far as you want in terms of electronic technology with it—right up to plugging it into a computer—but at the same time, you still have the gestural nature, that kind of visceral nature that you get when you see someone play it live. I studied West African music at university, and for a lot of communities, like in Mali and Niger, it is still such an important symbol—not just for music, but also resistance. It is still an interesting tool and it still has relevance, but it is important to keep thinking of ways to innovate and change people's perceptions of it, and I think we're trying to do that a bit."
Innovation, at least according to Borlase, may also just be the nature of the beast. "The guitar is as much a cultural object as it is a musical object, and that still hasn't faded away," he says. "Guitar is something that you feel you're saying something with, regardless of what notes you're playing. The guitar is a confusing thing, unless you're super high-tech and everything makes sense in your head. It's this thing that allows you to have a voice and be able to always aspire to those people who came before you. For us, there are a lot of bands before us that have not only played guitar, they have also challenged their own ways of thinking. If you continually confuse yourself, not to mention if you knock into something mid-song and realize, 'Why does this sound so bizarre?' I do that all the time—plus juggling three or four tunings and then using a capo. I don't think any other instrument can keep me on my feet as much as a guitar, for better or for worse."
Squid - The Dial | Stolen Sessions
Bludgeoning, beautiful, jarring, and serene are just a few of the cinematic moods conjured by this doomy, fuzz-loving husband-and-wife duo of Sarah and Mario Quintero.
When the Loch Ness Monster gets its summer blockbuster return, Spotlights should score that silver-screen comeback. Just like the mythical creature, the power trio summons up emotions that teeter from impending doom and chaotic destruction to a delicate beauty and alluring mysticism.
The band got its start just over five years ago via husband-and-wife duo Mario (guitars/synths/drums/vocals) and Sarah Quintero (bass/guitars/vocals). Often Sarah crushes like a mallet while Mario pierces like a katana—proving the couple that plays together, slays together.
Their earliest work features the pair handling all instrumentation. Mario previously was the drummer for Machines Learning, so they were able to assemble their self-released debut EP, 2014's Demonstration, then 2016's long-player Tidals, followed by 2017's Seismic (their first on Mike Patton's Ipecac Recordings). When it came time to hit the road, they would often tap drummer Josh Cooper until scheduling conflicts (in)conveniently intervened, putting Chris Enriquez on their radar. He filled in on a tour when Spotlights opened for If These Trees Could Talk and became a permanent member, lending his boom to both 2019's Love & Decay and 2020's EP We Are All Atomic. The fortified lineup have honed their punishing dynamics, making the pastoral more tranquil and the destructive more devastating.
While working on new material that will most certainly cast murky shadows and crescendo-ing crushers, Mario and Sarah virtually welcomed PG's Chris Kies into their Pittsburgh-based jam space. Inside this episode, we find out why they avoid cork-sniffing in favor of any gear that works. Mario showcases a digital-meets-analog setup that could power a SpaceX rocket, while Sarah describes and demos the elements for her bass thunderstorm. Plus, she divulges how gear swaps—especially pedals—not only keep the marriage fresh but continues enriching the band's blossoming sound.
[Brought to you by D'Addario Backline Gear Transport Pack: https://ddar.io/GigBackpack-RR]
Fender Player Stratocaster HSH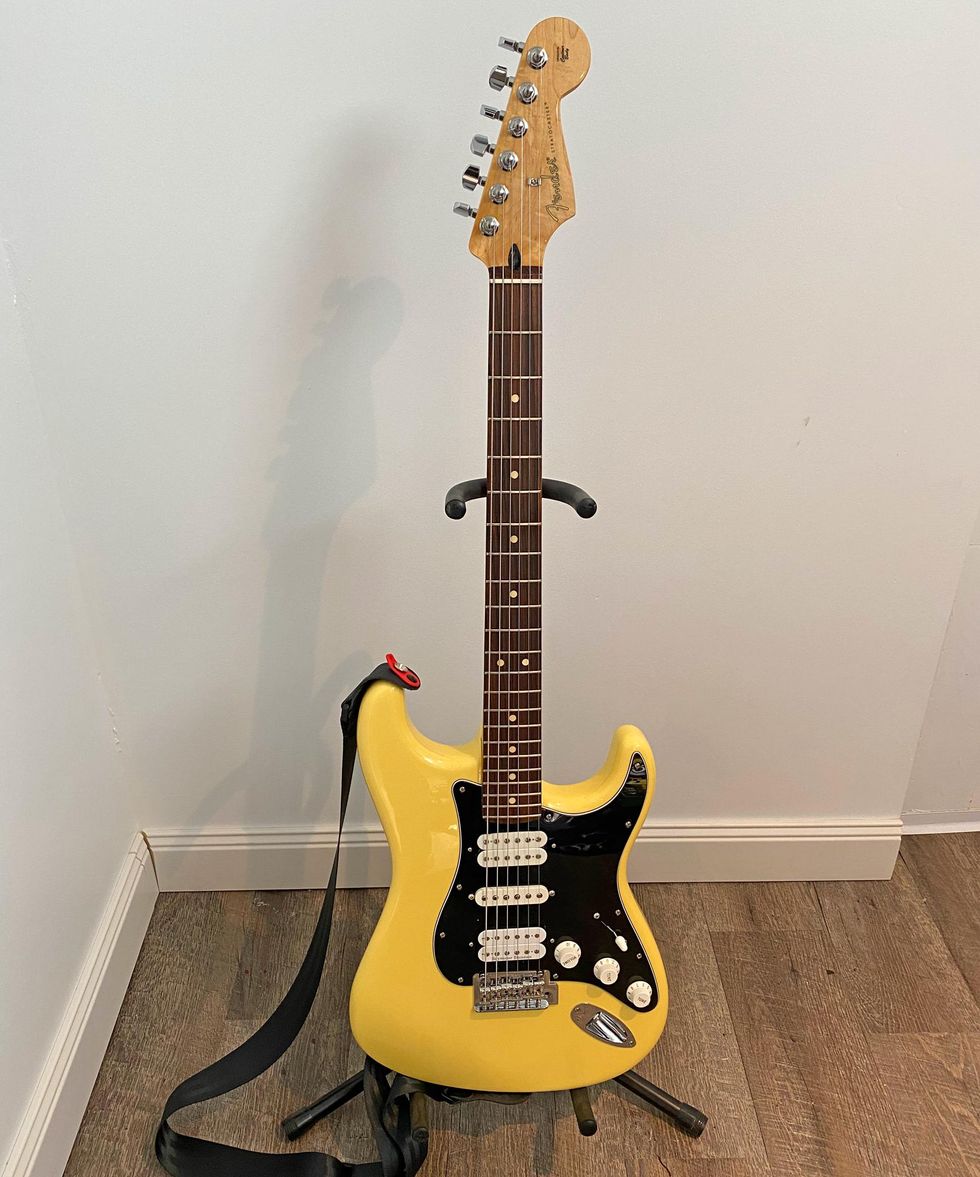 Over the last five years, Spotlights guitarist Mario Quintero has been in exploration mode. He's been testing out all sorts of gear without searching for any particular tone or goal in mind, to see what works and what doesn't. This Fender Player Stratocaster HSH has been part of that process. So far, he's enjoyed playing the Strat because of its comfortable neck and a shape that contours to his body.
The night before filming with PG, Quintero replaced the stock bridge 'bucker with a hotter Seymour Duncan SH-14 Custom 5. Quintero typically tunes to drop B and sometimes even drops the low-E string to F#. Currently, the Strat takes Ernie Ball Beefy Slinkys (.011 –.054).
Dunable Cyclops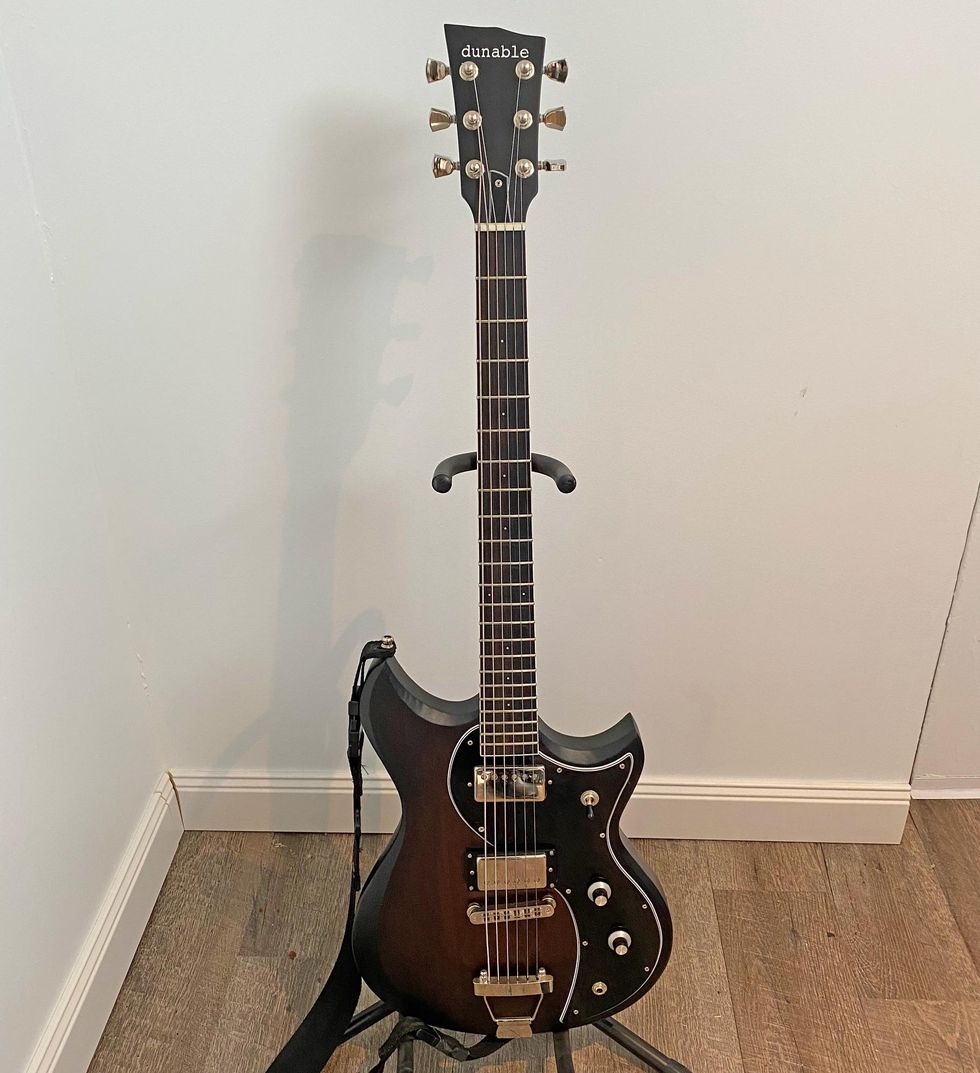 "I'm an impulse buyer when it comes to gear," admits Mario. And one of the results of that urge was this Dunable Cyclops. It was a heavy hitter for 2019's Love and Decay.
PureSalem La Flaca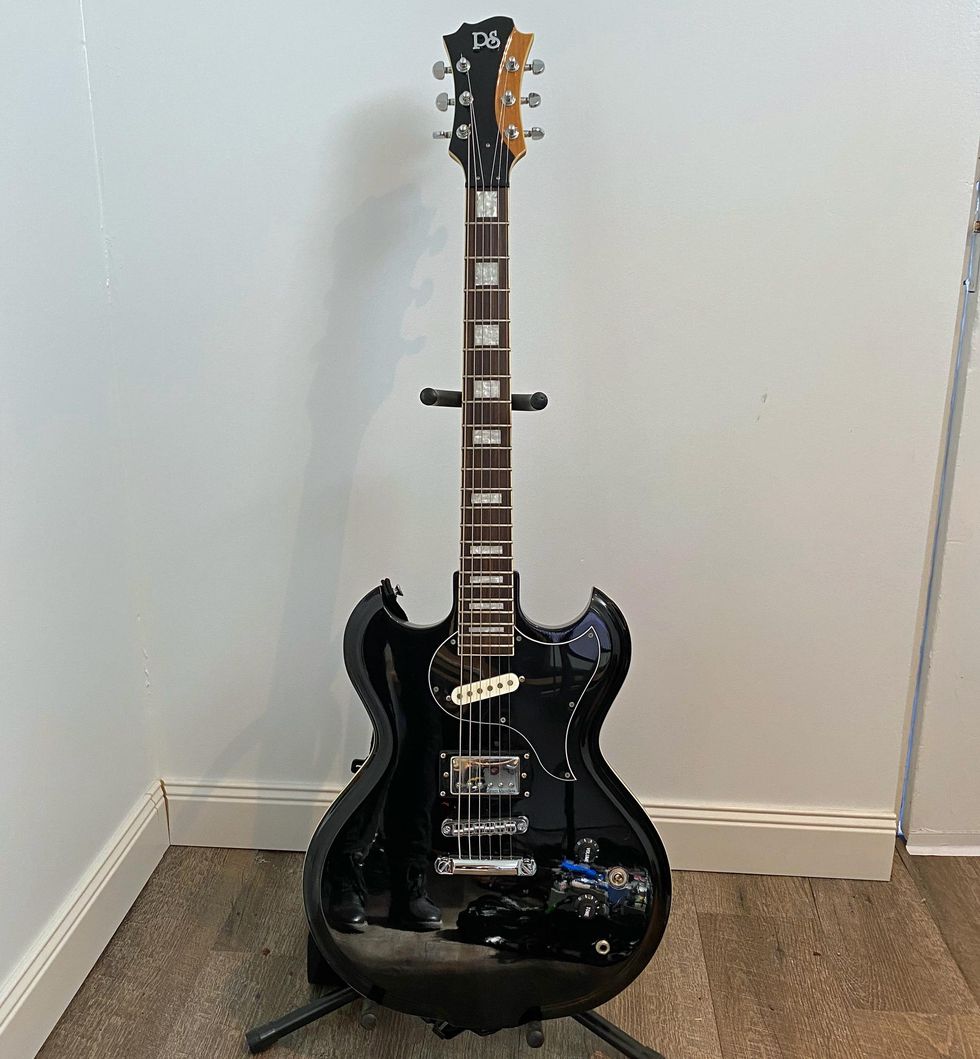 "I've never used a neck pickup on any guitar except this PureSalem La Flaca" explains Mario. "I think the way the neck pickup is slanted works well with my darker, mid-focused tone, instead of the more standard scooped-neck sound." Both the PureSalem and Dunable are laced up with D'Addario XL148 Nickel-Wound Drop C Strings (.012–.060).
1984 Marshall JCM800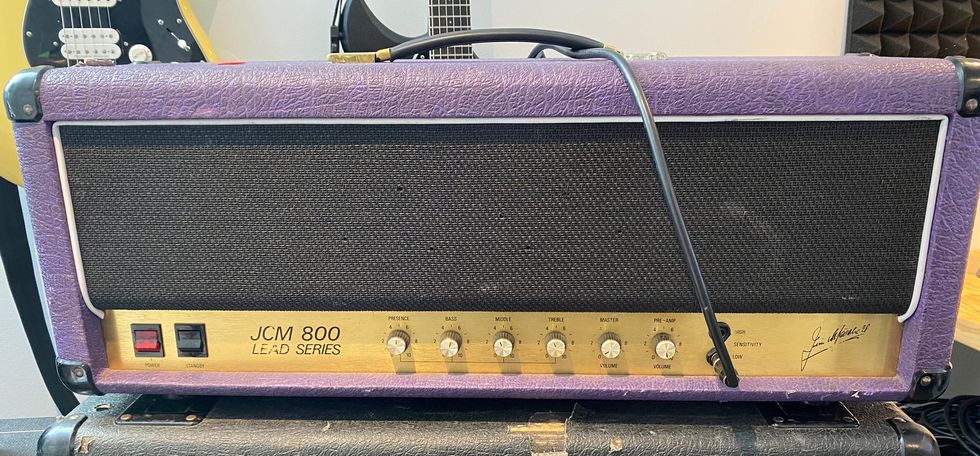 Mario is pretty openminded and pragmatic in his tone quest, but this 1984 Marshall JCM800 might be his closest thing to a sacred cow. He plugs into the 50-watter's low input, cranks the pre-amp control, and barely pushes the master above one.
Marshall 1960A 4x12 Cabinet
The JCM800 hits this worn-and-torn Marshall 1960A 4x12 that's stocked with a quad of Celestion 75-watt G12T-75 speakers.
Orange Crush Pro 120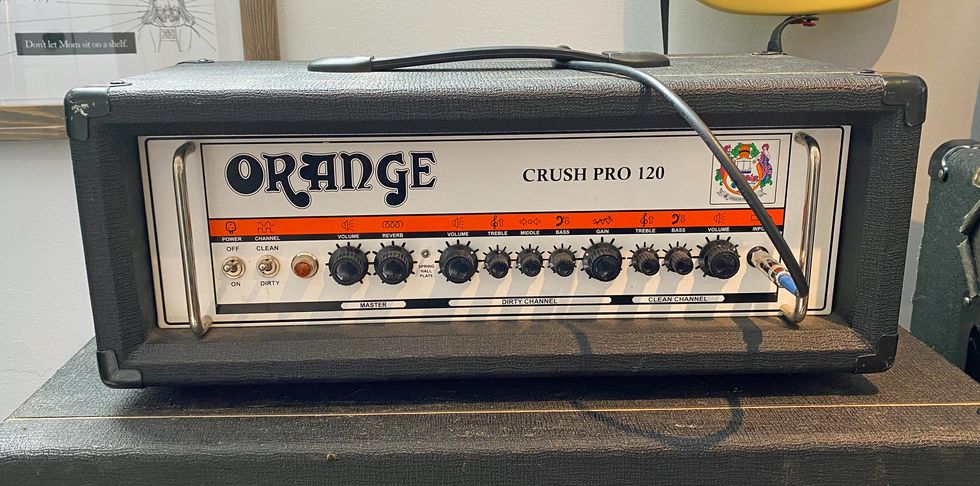 To double the dense destruction, Mario also roars through a solid-state Orange Crush Pro 120 that excels at being really loud and really clean.
Orange Crush Pro 240-watt 4x12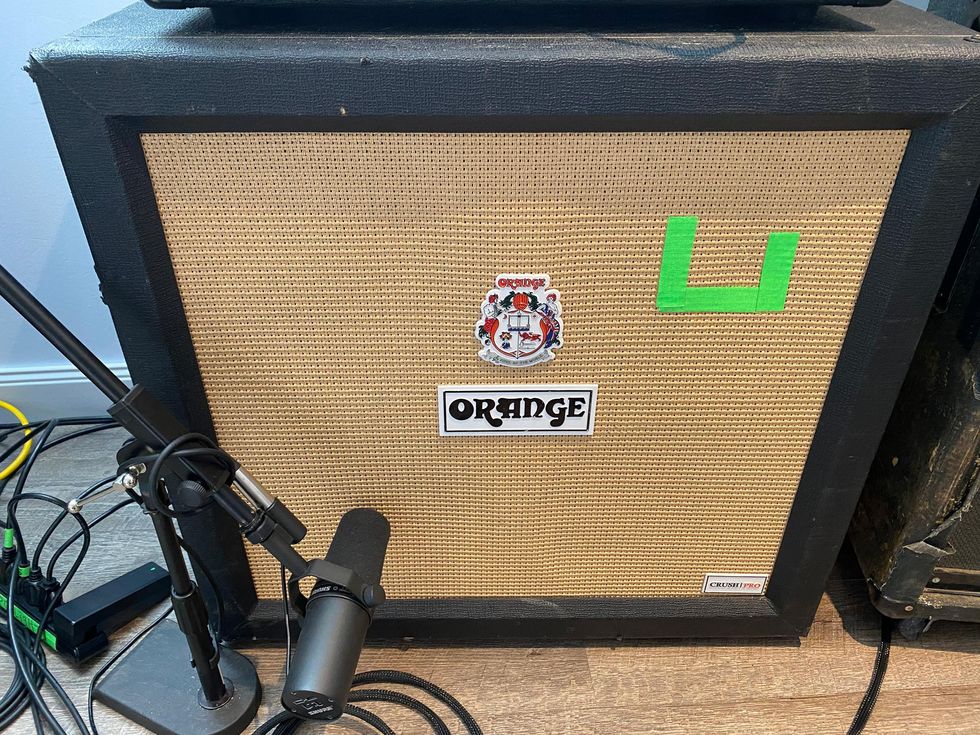 The Crush Pro 120 hits this trim Orange Crush Pro 240-watt 4x12 (closed back) that's packed with their proprietary Orange Voice of the World 12"s.
Mario Quintero's Pedalboard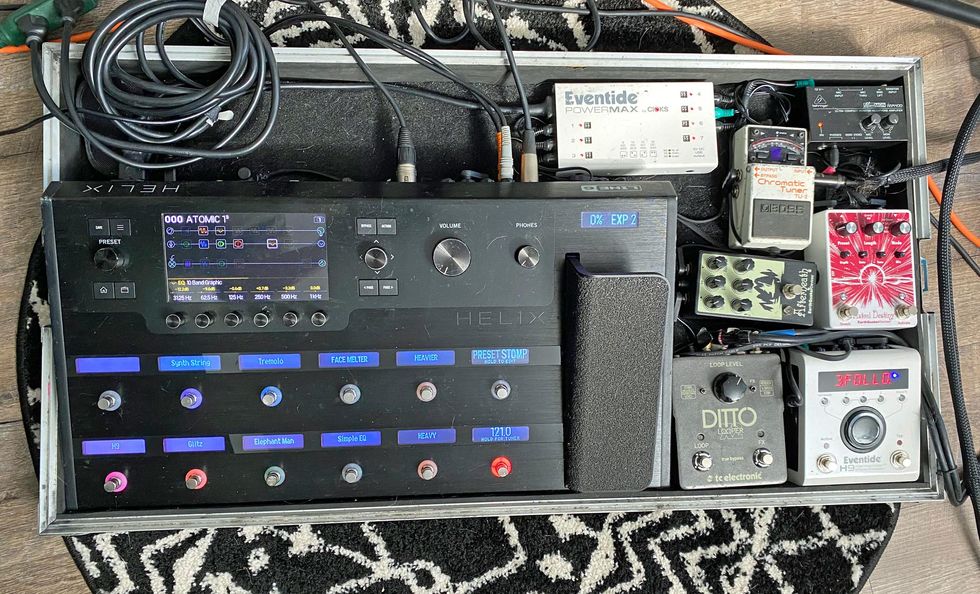 Guitarists can be hesitant when a company rep promises simplification without sacrificing performance or tone. (Spoiler alert: We're a finnicky bunch.) But when Line 6's Eric Klein (the developer of the Helix) took in a Spotlights show and witnessed all Mario's tap dancing with MIDI triggers and laptop-queued pads and samples, he offered a streamlined, floor-based solution that could reduce Mario's multi-tasking.
So, now the brain of Mario's operation is a Line 6 Helix that not only smears his guitar with distortion, fuzz, modulation, and gobs of gain, but also interfaces with the laptop triggering pads and samples that route out to front of house. Mario's has three main objectives for his Eventide H9 (controlled by the Helix): a modulated slap delay, a huge stereo reverb, and a spooky, ring-mod 'verb. Auxiliary pedals that mind the gap are EarthQuaker Devices' Afterneath and Astral Destiny. The TC Electronic Ditto X2 handles live loops, while the Boss TU-2 Chromatic Tuner keeps his guitars in check. An Eventide PowerMax juices all his wares.
Squier Classic Vibe '70s Precision Bass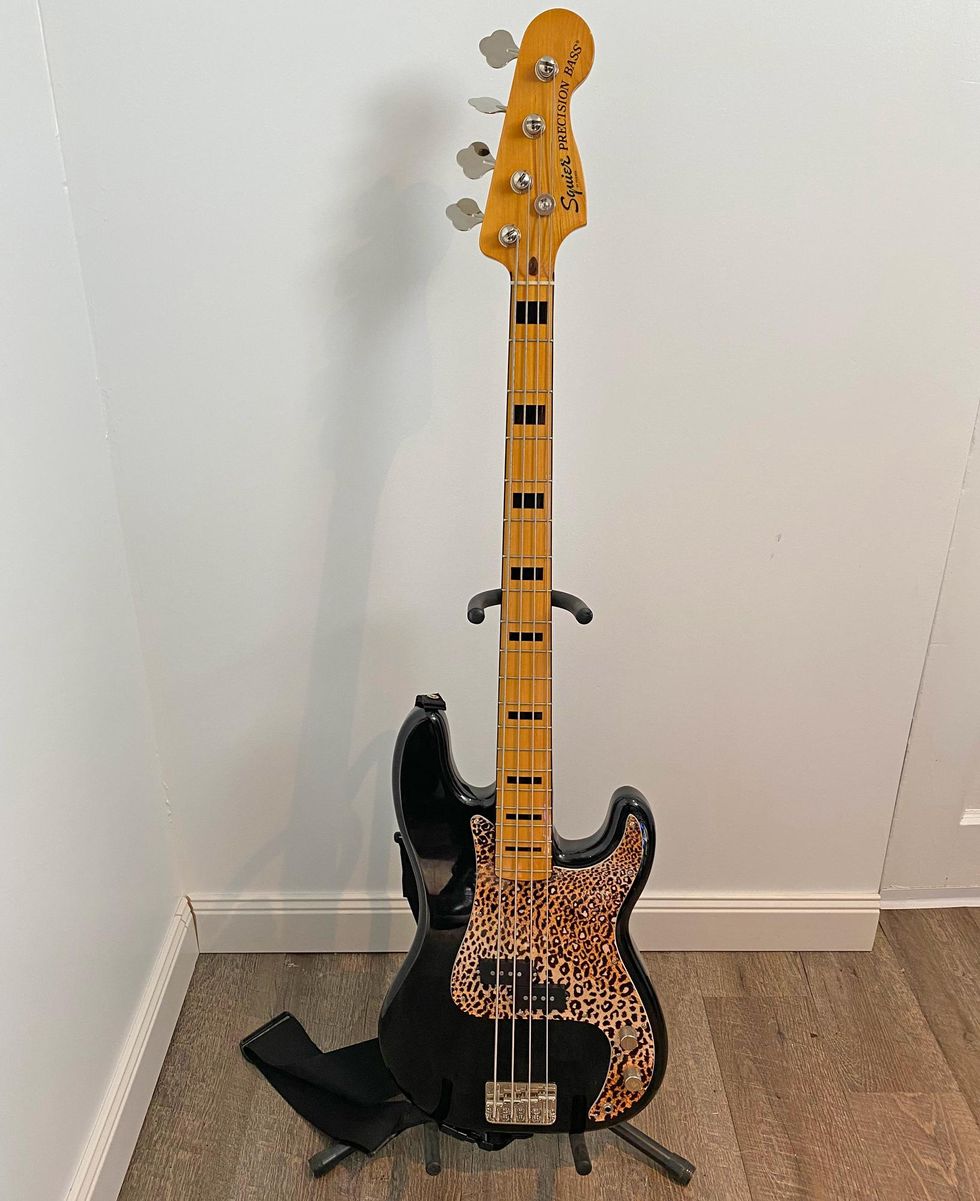 Like Mario, Sarah has no shame in her rumble game and will use anything to rattle onlookers' fillings. During quarantine, her practical, get-the-job-done mentality eyed this Squier Classic Vibe '70s Precision Bass online. She ordered it and fell in love with the black beauty. The Squier is all stock aside from the leopard-print pickguard. Sarah goes with Ernie Ball Power Slinkys (.055 –.110). During the Rundown, she admits to hating the sound and feel of new strings, so she'll often go years without replacing them.
Orange O Bass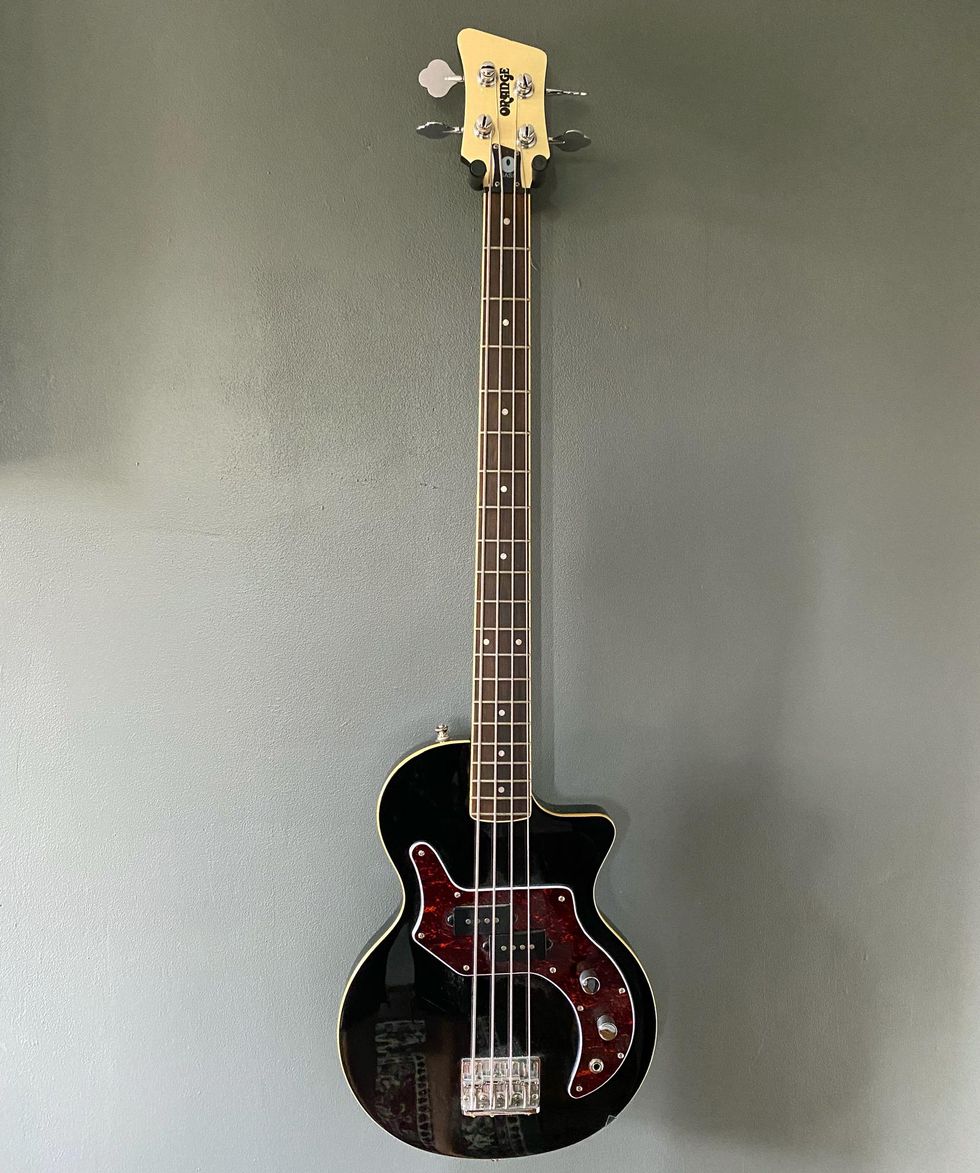 Her main ride for the previous four years was this Orange O Bass that has a tone that outshined the clunky, neck-diving ergonomics that would plunge the neck toward the floor when not being held up.
Because she loved its hefty, Herculean sound, Sarah taped weights on her O Bass' body to counterbalance its lopsided lean.
Orange OB1-500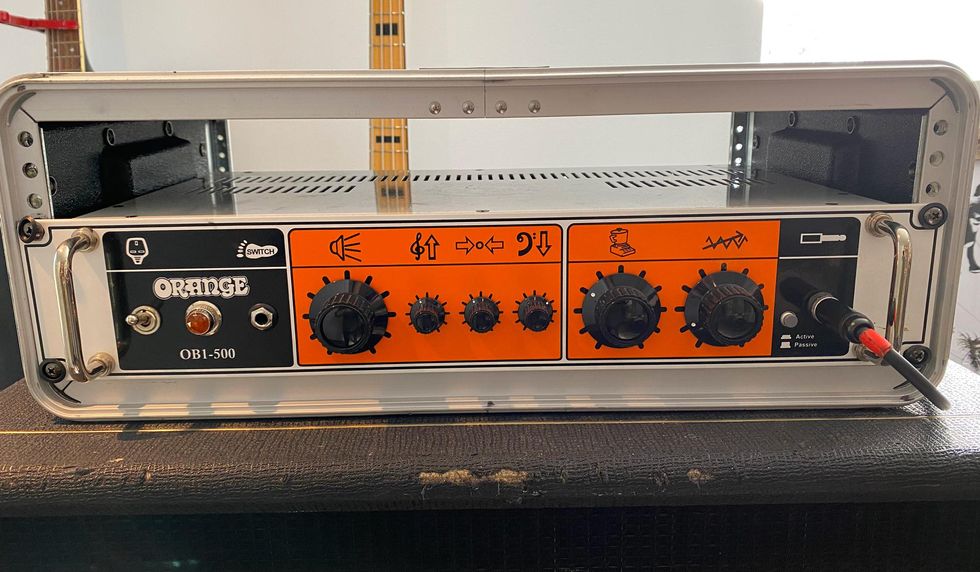 Sarah used to prefer solid-state bass amps. Her longtime love was the Gallien-Krueger 400RB, but that all changed when her and Mario were opening for the Melvins. Each night they would join the sultans of sludge onstage for the closer, "Lysol." For the collective jam, Sarah plugged into Buzz's Orange OB1-500, and shortly after the tour concluded she ordered her own.
Orange OBC810 8x10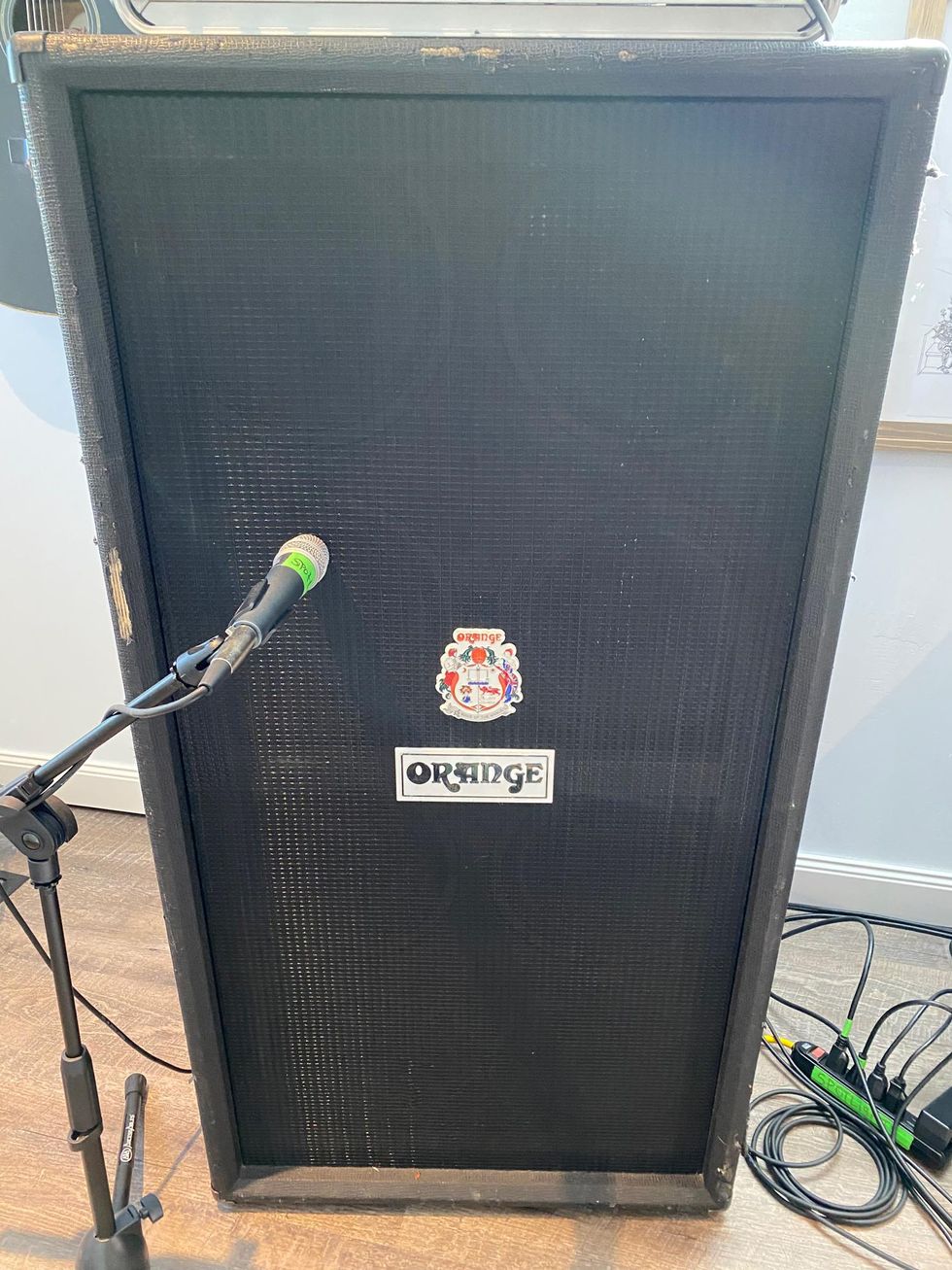 The OB1 runs into a fridge-sized Orange OBC810 8x10 that's equipped with Eminence Legend 32 speakers.
Sarah Quintero's Pedalboard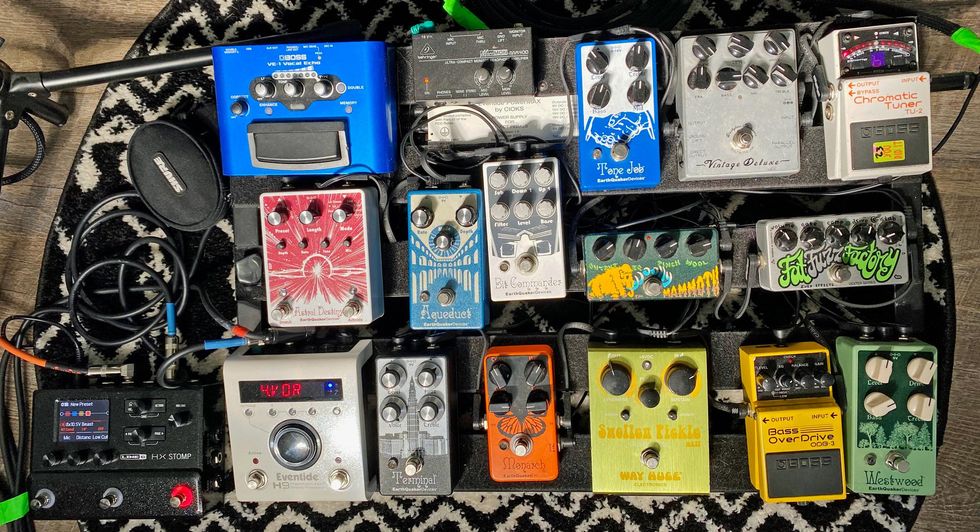 Sarah's stomp station is the main culprit for summoning Ole Nessie. She swims in the depths of distortion, fuzz, and stormy modulation. Sarah used to play with two amps (including the aforementioned 400RB), but now enlists the Line 6 HX Stomp (8x10 SV Beast setting) as her second boom box. The first pedal she ever bought is the Boss ODB-3 Bass Overdrive, and that gets used heavily in conjunction with the EarthQuaker Devices Westwood.
After checking Future of the Left, she had to approach bassist Andy "Falco" Falkous about his tone—and his secret sauce was the Way Huge Swollen Pickle. In the Rundown, Sarah mentions she changes this pedal's settings the most throughout a set, because the controls are so versatile and wide ranging.
Tbe EQD Monarch provides a darker, huskier sound than the Westwood. Next is the EQD Terminal, which provides "knotty and crunchy" sonics and shines on "Under the Earth." Then we have a pair of ZVEX fuzzes: the Woolly Mammoth and Fuzz Factory.
She likes to pair her EQD Bit Commander with the EQD Astral Destiny or H9 (reverb settings) to draw out and embellish its octave effect. Beyond that, the Astral Destiny provides atmospheric pads and the H9 unleashes drawn-out hall verbs, volume swells, envelope sweeps, and other moody tone morphings. Another modulation pedal is the EarthQuaker Aqueduct, which gets kicked on for subtle vibrato moments.
The last bit of her board provides some EQ tweaking, with the Darkglass Electronics Vintage Deluxe and EQD Tone Job. For her voice, she'll run a Boss VE-1 Vocal Echo—and a Boss TU-2 keeps all 4 strings in check. Like Mario, all her pedals come to life with the Eventide PowerMax.