Photo by Blake Armstrong
The sonic sorceress grabs her baritone Fender and leaps into the maelstrom with sludgemasters Thou for a pair of heavy, effects-laden collaborations: May Our Chambers Be Full and The Helm of Sorrow.
It's virtually impossible to interview anyone nowadays and not have the pandemic come up. The only difference in the conversations is the degree to which it has affected the subject's life. Last March, Emma Ruth Rundle was touring solo—as in, sans backing band—in support of her 2018 release On Dark Horses, when the severity of the pandemic hit. Her last live show was on March 10, at the Fonda Theater in Los Angeles.
"That was a very strange show, because of what was happening," she recalls. "I was on tour with Cult of Luna and Intronaut. We started in February and were in 'tour-land,' so you're kind of in a bubble, where the outside world doesn't really exist and the escalation of the virus—that news wasn't impacting us. We weren't seeing it, but by the time we got to Los Angeles ...," she drifts off, the disbelief still palpable. "I'm from L.A. I was born and raised there, and driving into Hollywood, the streets were fucking empty."
"Showing up with an electric guitar and no effects is my version of the nightmare people have where they go to school with no clothes on."
Riding into an upscale ghost town sounds like an apocalyptic scenario—especially when your livelihood depends on audiences. But the adaptability of Rundle, who recorded during the lockdown and recently released an album and an EP, has been a hallmark of her career. The 37-year-old rose to prominence in the early 2000s with the Nocturnes, a folkgaze ensemble blending chamber-pop, goth, and post-rock elements into the genre. Albums like A Year of Spring (2009) and Aokigahara(2011) spotlighted her as one of the millennium's most inspired rock singer-songwriters. While in the Nocturnes, she branched out to work with post-rockers Red Sparowes, and in 2012 forged a more-straight-ahead rock collaboration under the Marriages moniker with Sparowes bassist Greg Burns. In between her musical partnerships, the prolific Rundle has also released four dazzling solo albums.
A common thread through all of her recordings is her passion for the craft of guitar playing. And her thirst for the new is reflected in that, too. With On Dark Horses, she first delved into baritone guitars—their shadowed tones magnifying Rundle's already somewhat foreboding, light-versus-dark aesthetic. From succinct to bombastic, weighty to crushing, and nuanced to vulnerable, her playing—particularly her baritone-derived soundscapes—toes the line between lilting and bludgeoning.
Emma Ruth Rundle & Thou - The Valley (Official Audio)
Rundle's pair of recent recordings, late 2020's May Our Chambers Be Full and the new The Helm of Sorrow EP, mark yet another collaboration—this time with Louisiana sludge-metal lords Thou. Although Thou already had three guitar players, these releases are a perfect refuge for Rundle's low-tuned 6-strings. On Chambers'"Killing Floor," "Out of Existence," and "Magickal Cost," her playing weaves into Thou's majestic guitar tapestry as if it has always been there Meanwhile, her haunting, hypnotic vocals transcend the musical maelstrom with melodies that pierce Thou's musical armor, adding a welcome dimension to their muscular riffing. Check out Helm of Sorrow's cunning cover of the Cranberries' "Hollywood" for a slice of that sublime magic.
The Rundle/Thou union began with what she calls a long internet flirtation. "I've been such a massive fan," she admits. "I was listening to them a lot and tagging them on social media." Rundle, also a painter, would often listen to Thou while she worked. They finally met in 2018, backstage at the Northwest Terror Fest in Seattle. "It was so uncomfortable," she remembers. "There's a lot of them and they each have a very different flavor. Everyone's got a very different personality."
When it comes to conventional electrics, Rundle favors this Guild T-Bird or her Gibson SG Special. "I just don't think you can beat an SG," she says.
Photo by Debi Del Grande
Their musical partnership with Rundle kicked off when, in April 2019, Thou was invited to be the artists-in-residence at the Roadburn Festival in the Netherlands. Artists-in-residence perform a collaborative set with an artist of their choosing, so Thou asked Rundle. "That was so much fun," she explains. "I was like, 'Fuck yeah, I'm not going to miss this opportunity.' It was just such a dream come true to be asked to work with my favorite band. We had to come up with original material for a 40-minute set. That's how it started."
In preparation for Roadburn, they began meeting in New Orleans in February 2019. By then, Rundle and Thou guitarist Andy Gibbs had already been emailing ideas back and forth. "It started like a riff here, a riff there," she recalls. "KC [Stafford, guitar/vocals] came into the project with 'Monolith,' which they had written pretty much all the way through. We just fleshed it out." Rundle says the songwriting process was very involved and thinks maybe her Thou cohorts were a bit surprised by her level of commitment. "I think some of their other collaborations were just … expedient," she surmises, carefully choosing her words. "Whereas we were really crafting full songs from absolutely nothing."
"Because I play in a different tuning than everyone else, sometimes I couldn't play the same riffs as them—the voicing would be really strange."
Before heading off to Roadburn, Thou and Rundle embarked on a short tour to warm up for the festival. Rundle performed solo as an opener, and Thou would play their own set, and every few nights they would inject their collaborative performance. "It was like, if the final album is a sculpture that's realized, where you can see features and details, what we had by the time we got to Roadburn was just a lump of clay," she admits. "I recently heard the set from Roadburn, and I can tell I was totally making things up that just sounded like words. [laughs]. It evolved a lot more after we played that set."
A lot of Thou's mighty sound relies on the number of guitars playing the same down-tuned riff. In addition to Gibbs and Stafford, the band includes Matthew Thudium on guitar and Mitch Wells on bass, so fitting into that heavy alignment provided some challenges for Rundle. She says they made it work with the help of producer/engineer James Whitten, who she refers to as Thou's secret weapon. He recorded both May Our Chambers Be Full and The Helm of Sorrow at High Tower Music in New Orleans."
Emma Ruth Rundle's Gear
With 2018's On Dark Horses, Emma Ruth Rundle adopted the Fender Jaguar Special Baritone HH as her main instrument. "They don't make it anymore," she relates, "but it has humbuckers, which is the reason why I really love it."
Photo by Tim Bugbee/Tinnitus Photography
Guitars
Two Fender Jaguar Special Baritone HHs
Gibson SG Special
Guild S-200 T-Bird
Dunable Yeti
Cordoba Luthier Series GK Pro
Blueridge BR-143 Historic Series
Strings
D'Addario EJ21 sets (standard-scale guitars)
D'Addario EXL158 sets (baritones)
D'Addario EJ46 sets (nylon strings)
D'Addario EJ17 sets (steel-string acoustics)
Amps
Roland JC-120

Verellen 2x12 combo based on the Loucks head
Effects

Korg Pitchblack tuner
Electro-Harmonix Pitch Fork
EarthQuaker Devices Arrows
EarthQuaker Devices Palisades
Keeley Loomer
Electro-Harmonix Stereo Memory Man with Hazarai
Line 6 M9
Two Boss DD-6 Digital Delays
Boss RV-5 Digital Reverb
Red Panda Context
James is a genius with guitar tone and with finding a place for all of the guitars," Rundle says. "There is some mystery and mystique to his method. There's no way to have four guitars happening all the time and have it sound that good. I think he's doing some magic and picking and choosing. It was a surprise to hear what moments came out."
It's worth noting that Rundle plays in a different tuning than the rest of Thou, which further complicated how the guitars intermingled. The tuning on Rundle's baritone is G#–C#– G#–A#–C#–G#—an open tuning that lets her barre chords with a single index finger. Thou's tuning, according to Gibbs, is G# standard, just like standard tuning, except the lowest string is G#. "The process went like this," Rundle says. "There would be basic riffs. We would all learn them together, and that would form the basis of the song. But because I play in a different tuning than everyone else, sometimes I couldn't play the same riffs as them—the voicing would be really strange." In some cases, Rundle says it also just didn't make sense to have four guitars and a bass player playing the same drop-tuned riff together. So sometimes she would play other parts. "It made sense to have a little lead melody happening or a different chord voicing," she says. "That's how we made it work. There are times where I'm playing the same 'sort-of' riffs, but there are a lot of moments where it's either a finger-picked thing or a little lead line."
Emma Ruth Rundle Rig Rundown
Exclusively a fingerstylist, Rundle uses acrylic nails to pluck her primary guitar, a Fender Jaguar Special Baritone HH. "They don't make it anymore," she relates, "but it has humbuckers, which is the reason why I really love it. That specific model was what got me into playing baritone guitars."
Because the baritone is "pretty wonky" intonation-wise, Rundle also wields a Gibson SG Special, a Guild S-200 T-Bird (both in C# tuning), and a new Dunable Yeti that was custom built for her by Intronaut's Sacha Dunable. "With the Fender, you can't get the intonation right," she says. "It's just the nature of the scale length—and then I'm doing drop-tuning on a drop-tuned instrument! It's flawed in so many ways." [Editor's note: The Jaguar Special bari has a 27" scale, whereas "true" baritones are typically 28" or more in order to intonate more accurately across the fretboard.] Ultimately, she concludes, "I just don't think you can beat an SG." She says that instrument's fretboard reminds her of the classical guitars she learned to fingerpick on—and that she still uses to write and practice on. "To me, the SG is the perfect guitar."
In addition to the baritone, effects are crucial to Rundle's sound and style. "I consider my pedalboard an instrument that I wouldn't want to do any of this stuff without. It's like a palette of tones and effects that you know will work in any given situation. After a certain amount of time, you just know when something has to have a super-hot fuzz with an octave on it for it to cut through at the right moment and make sense. And if I have an EBow, I know it's always going to go with either a slide or a really slow delay."
For acoustic guitars, Rundle uses either a Cordoba GK Pro nylon-string or this Blueridge BR-143 Historic Series steel string.
Photo by Geert Breakers
Rundle says her fascination with effects and electric guitar playing happened in parallel. "I got a multi-effects pedal with my first guitar. I think showing up with an electric guitar and no effects is my version of the nightmare people have where they go to school with no clothes on," she laughs. "It's not a place I want to be, you know?"
Speaking of school, it was while working a 13-year stint at McCabe's Guitar Shop, a folk music center in Santa Monica, California, that she received her informal musical education. "We sold instruments, we had concerts, and we had lessons. A lot of the things that I've learned that have made their way into my playing just came from the people there—the teachers that would come down. Pete Steinberg is an amazing, award-winning finger picker, and he'd just be like, 'Come over here. I'm going to show you something.'" And on the rock side, she credits the inspiration of Jimi Hendrix, Billy Corgan, Kurt Cobain, Courtney Love, P.J. Harvey, and, especially, Nancy Wilson.
"I had this revelation when I learned about Heart. It blew my mind—just seeing a woman shred like that. I felt, when I was super young, that I didn't see myself reflected in guitar magazines or in rock music, necessarily. I'm stoked that we don't have the 'bikini-fashion-show-guitar-thing' anymore, you know what I mean?"
Go inside Mat Kerekes' home studio to see the stock Fenders, magical JCM800, and key "junker" pedals that colored Life In Your Glass World.
"Citizen is expertly trained in disappointing our fans," cheekily admits guitarist Nick Hamm. "So, every time people like something we're heading in a different direction."
The self-deprecation aside, Citizen has thrived at throwing musical curveballs. 2013's debut Youth seemingly shotput them into a trajectory as angsty emo kids with a love of '90s grunge-rock dynamics. However, 2015's Everyone Is Going to Heaven expands on their early complexities. They stretch out the symbiotic flow from heavy to quiet. The crushers ("Cement") hit harder while the dreamers ("Heaviside" or "Yellow Love") float longer in a spacy nighttime silhouette. 2017's As You Please further combines atmosphere with aggression. The result is a dark-pop album with cutting, jagged moments of emotion. Synth layers smooth out the edges and enable the hooks and melodies to sink deeper. And the brand-new Life In Your Glass Worldis almost a more dense, groovy dance record than pure, riff-heavy rock album. (Which makes sense after learning in the Rundown all the songs were written around the rhythm section, not guitar or vocals.)
Just before putting out their latest album, core Citizen members Mat Kerekes (singer), Nick Hamm (guitarist), and brother Eric Hamm (bassist), virtually welcomed PG's Perry Bean into Kerekes' home studio that facilitated the new album.
In this episode, the Hamm brothers and singer/producer Mat Kerekes detail the impact their altered songwriting and recording processes impacted the outcome of
Life In Your Glass World
. In addition, Nick Hamm contextualizes two pivotal EHX pedals, while Eric Hamm explains how losing a Fender Bassman 800 improved his tone.
[
Brought to you by:
D'Addario Auto Lock Strap
]
Nick Hamm's Fender American Performer Jazzmaster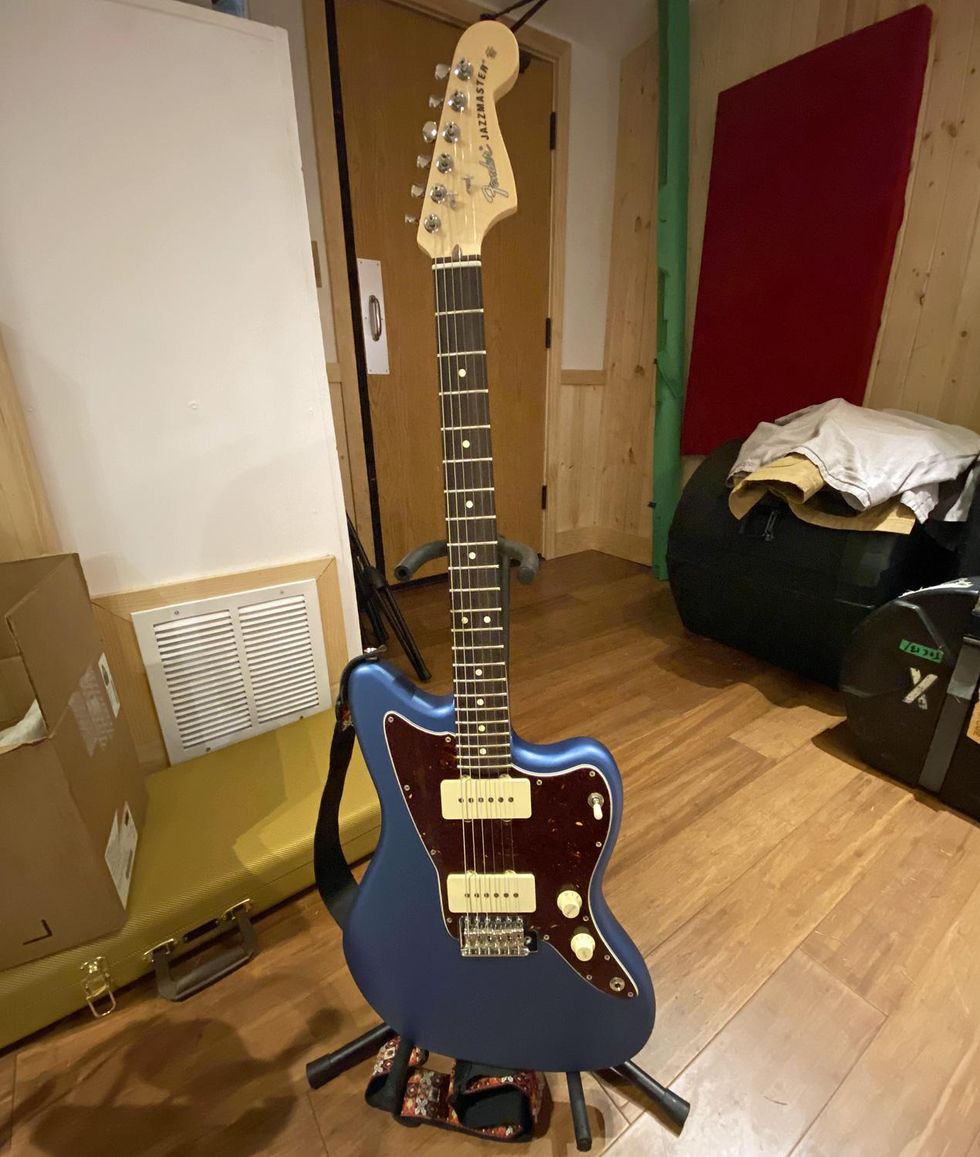 The biggest departure for Nick Hamm's setup is upgrading from a Fender Classic Player Jazzmaster (seen in the last Rundown and used extensively on As You Please) to a Fender American Performer Jazzmaster for Life In Your Glass World.
Nick Hamm's Marshall JCM800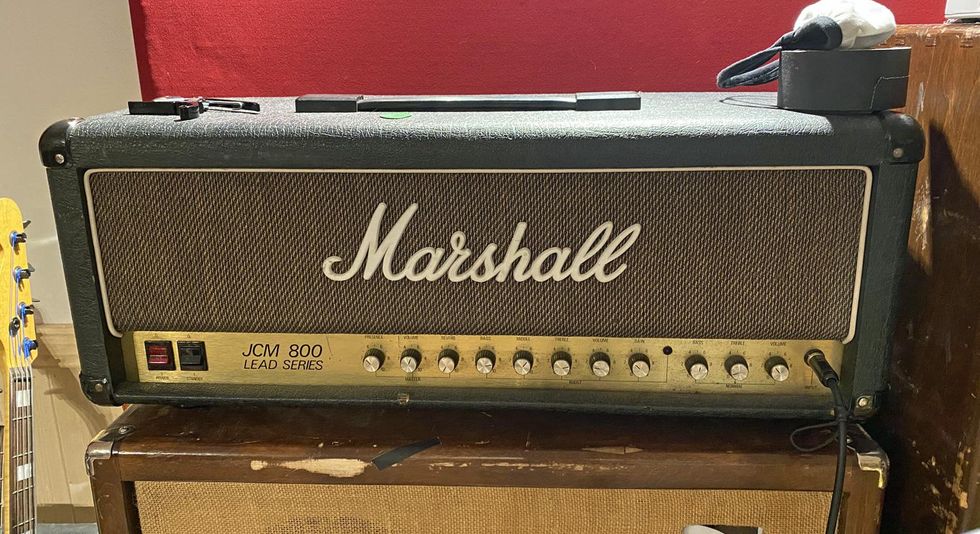 "This JCM800 is flat-out not going anywhere," states Citizen guitarist Nick Hamm. And to his credit, it's been in his setup (and in the studio) ever since our 2017 Rundown. (In that episode, Hamm stated that producer loved this Marshall JCM800 so much that he told Nick to never sell this amp.
Nick & Eric Hamm's Cabinets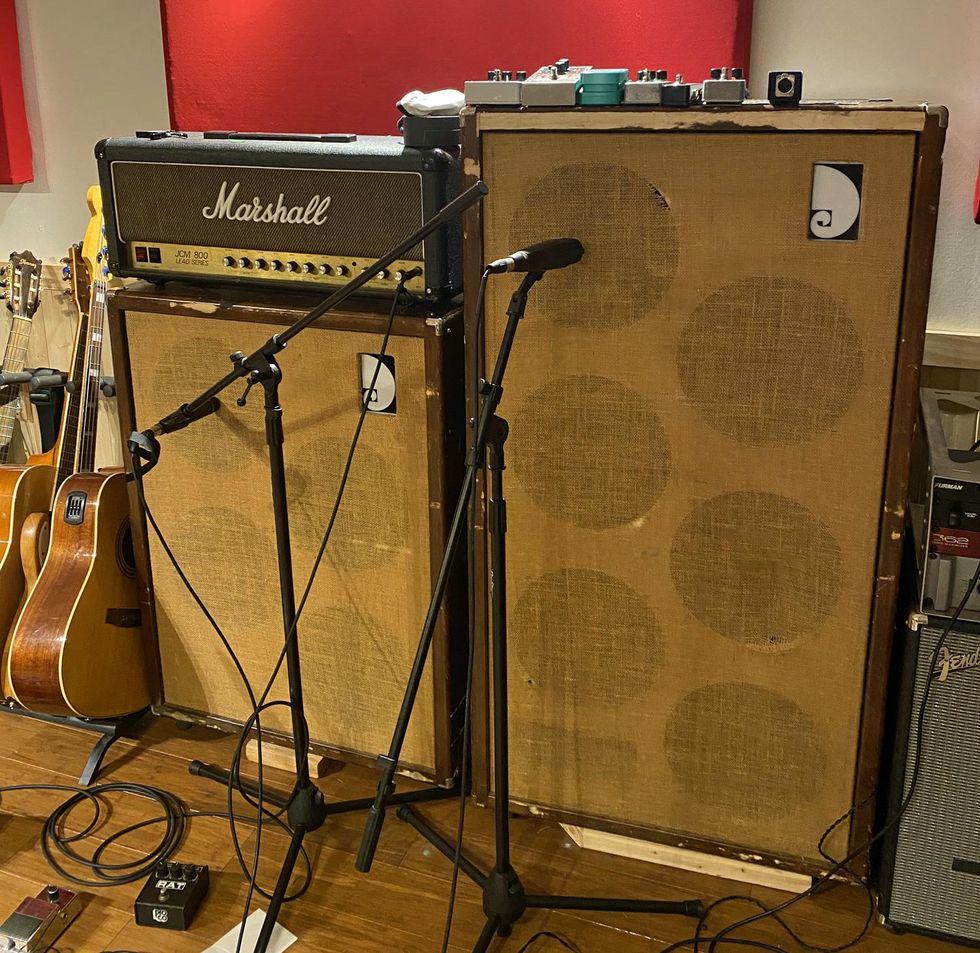 The 800 powers a staggered 4x12 cab from Janice and it's loaded with Vintage Celestion 30s. Next to the 4x12 rests bassist Eric Hamm's staggered Janice 6x12.
Nick Hamm's Pedalboard
Nick Hamm's "junker" pedalboard has slightly changed since 2017—the Electro-Harmonix Freeze was removed to make way for EHX's Synth9 ("featured on prominent parts of the new record like 'Blue Sunday'"). The rest are repeat offenders: Ernie Ball VP Jr, Electro-Harmonix Nano Big Muff, Electro-Harmonix Micro POG, Ibanez TS9 Tube Screamer, Electro-Harmonix Holy Grail, Boss DD-3 Digital Delay, Boss CH-1 Super Chorus, and a Boss TU-3 Chromatic Tuner.
Eric Hamm's 2014 Fender American Standard Jaguar bass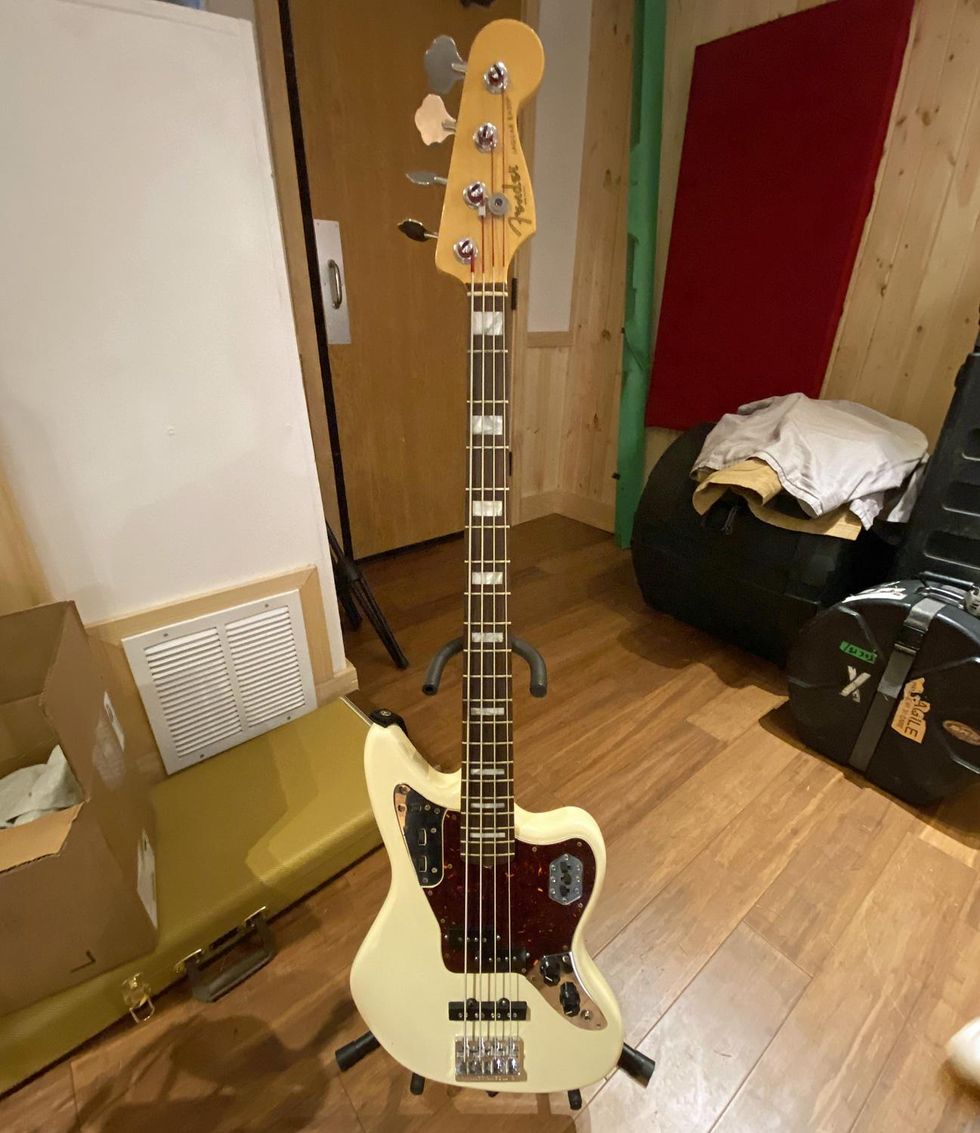 Eric Hamm's main ride is still this 2014 Fender American Standard Jaguar bass because he continues to enjoy its different sound and tonal flexibility when compared to his P basses. The bass works in either passive or active mode, but he prefers its sound in the passive setting.
Eric Hamm's Tech 21 SansAmp RBI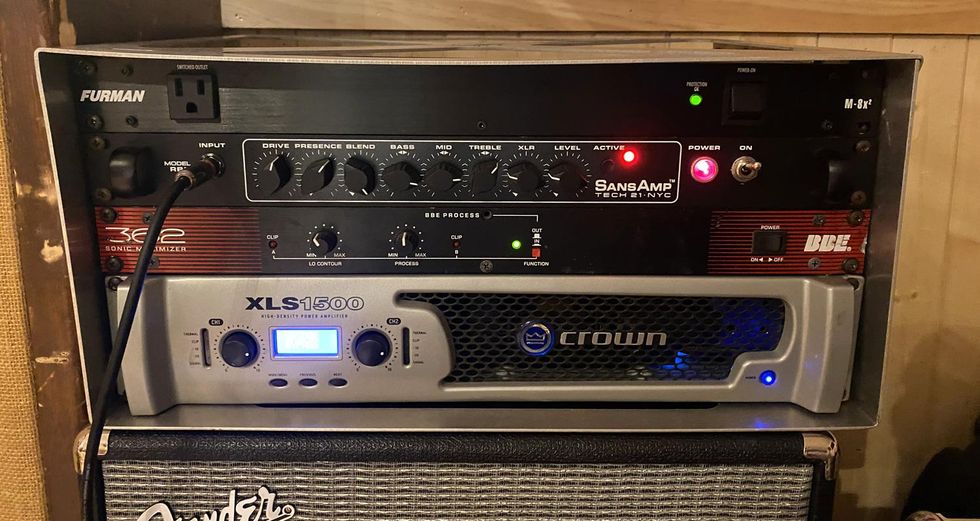 Last time we spoke with Citizen, Eric Hamm was using a Fender Bassman 800. He's since recalibrated his setup with a Tech 21 SansAmp RBI that's powered by a Crown Audio XLS 1500 and runs in conjunction with a BBE 362 Sonic Maximizer.
Eric Hamm's Pedalboard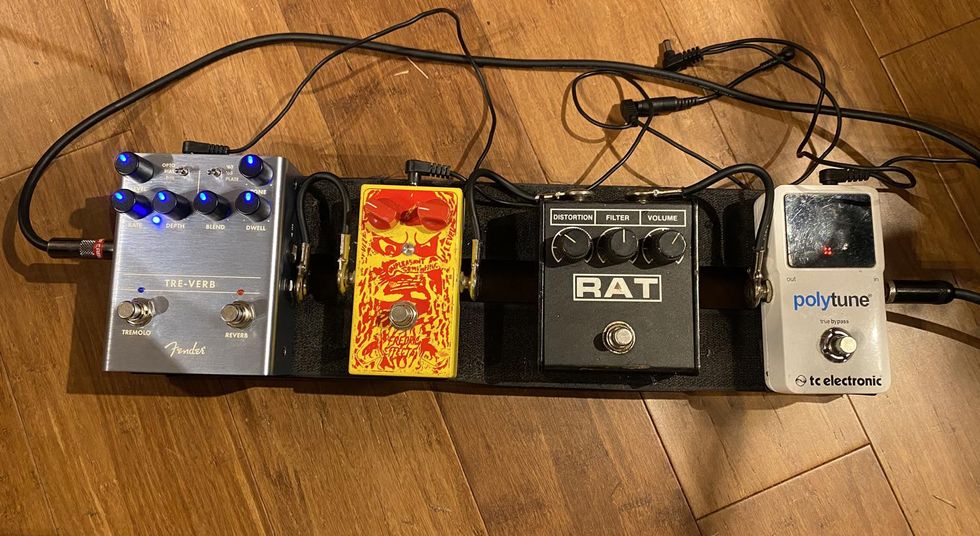 While still man of few pedals, Eric Hamm has expanded to three stomps and a tuner. The Pro Co Rat and TC Electronic PolyTune 2 are carryovers, but the pair of newbies is a Fender Tre-Verb and Fredric Effects Unpleasant Companion MkII.