Squier Contemporary Jaguar HH-ST Review
Classy custom-rod looks and an overflowing buffet of tones set this straight-ahead Jag' apart.
Copious tone options. Substantial, comfortable neck. High quality for the price.
No vibrato. Clarity and headroom comes at the expense of some generic tones.
4
4
5
5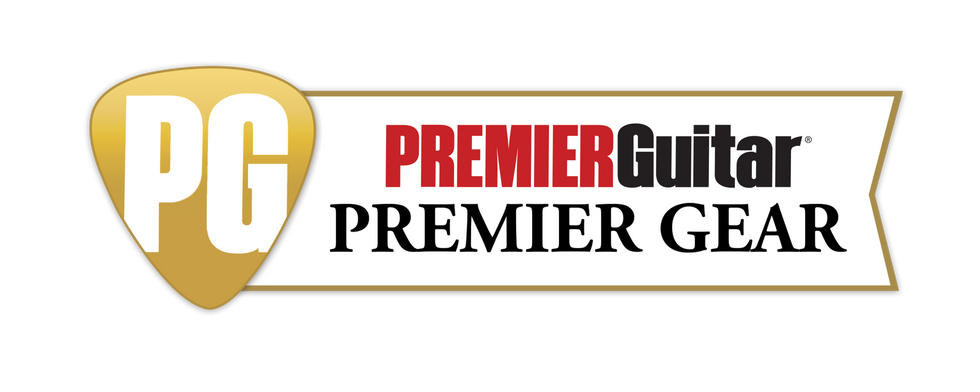 It's funny to think the Jaguar was once derided by alleged guitar experts and collectors. For all its quirks, a good Jag' is a beautiful playing guitar in just about any incarnation—thanks largely to its short scale and curvaceous shape. In a way, the Squier Contemporary Jaguar HH-ST distills that recipe to its essence.
---
There are no synchronized floating tremolos here, nor any bass-cut switches or a second set of volume and tone controls. And while the Squier Contemporary Jaguar HH-ST has scads of tone-shaping options in the form of coil-split and series/parallel switches, this Jag' feels built to deliver the most uncluttered and elemental playing experience possible: a nice neck, a comfortable body, and accessible, intuitive controls that deliver tone colors by the bucketload.
Bridge single/split coil setting followed by bridge humbucker setting, followed by neck single/split coil setting and then neck humbucker setting.
Subsequent bridge/middle combined settings are in series and then parallel.
Stripped Down, Sped Up, and Tripped Out
If the previous paragraph suggests that I crave a less complicated Jaguar, you'd be mistaken. The Jaguar/Jazzmaster vibrato is among my biggest guitar-playing crutches, and picking up a Jag' without one leaves me feeling a bit exposed. What offsets that fear, if you'll pardon the pun, is how otherwise familiar and cozy this guitar will feel to any Jaguar fan. Those comfortable proportions are intact and, in fact, enhanced by some very thoughtful design decisions.
The satin roasted maple neck, for instance, feels uncannily like a nice broken-in vintage example. It also has a chunkier profile. Fender generically calls the neck a "C" profile. But it's much fatter than the Squier C necks I've encountered in recent memory—many of which felt pretty slim. This C-shape variant is a handful in just the right way—evoking fatter late-'50s and early-'60s Fender necks—but it still feels super-fast (one of the real joys of short scale Fenders). If you like Fender's curvier 9.5" and vintage-style 7.25" fretboard radii, it has a way of making you notice the flatter 12" feels a lot less flat. The carved heel facilitates unimpeded access to the 22nd fret and the rest of the highest notes. And the fretboard edges, while not super-rounded, are contoured enough to be discernably more comfortable than most affordable electrics.
The fretboard is cut from Indian laurel. It's grayer in hue than rosewood—an effect that's offset a bit by the slick, glossy black pickguard with silver overlay—though I suspect a few years of continuous playing will darken the laurel in a lovely way. The jumbo frets are great for bends, obviously. But they can also pull notes out of pitch if you have a heavy touch, use irregular pressure from finger to finger, or tend to really squeeze chords—a phenomenon that sometimes seems exacerbated on short-scale instruments. On the whole, however, the neck is a lovely thing: the kind I would happily swap out to another guitar if I didn't like the rest of the whole package so much.
The "C" shape variant is a handful in just the right way—evoking fatter late-'50s and early-'60s Fender necks.
Pickup Options Open the Field
Two Squier alnico SQR humbuckers are the engines that generate the Jaguar HH-ST's many tones. But this deviation from Jaguar tradition is not as transgressive as it seems on the surface, thanks to coil-split wiring that turns the humbuckers into single-coils. The single-coil sounds are zingy in the bridge unit and smooth and bell-like in the neck position. Both are a bit cleaner with less bite than a vintage Jaguar's. To my ear, the HH-ST's single-coil tones evoke a Stratocaster's clear, concise snappiness as much as anything. But coaxing garage, jangly, and surfy sounds was pretty easy to accomplish with a touch of amp or pedal gain and reverb. And in general, these pickups seemed voiced for pedal enthusiasts, with lots of headroom and a relatively even harmonic profile that lets effects bloom with more clarity.
In humbucking mode, the SQR pickups sound distinctly fatter but retain the sweetness and agreeable evenness of the single-coil settings. The bridge pickup, which registers a surprisingly hot resistance of 15.3k ohms, still communicates some of a Stratocaster's spanky cleanliness in humbucker mode, while the neck humbucker, at a more modest 10k ohms, is sweet, relatively touch-sensitive, and capable of clean to mildly crunchy dynamics—producing some of my favorite tones from the guitar. Middle position humbucking tones are sweet, too, though I typically found the series setting a bit muddy and preferred the parallel mode. On the whole, the humbuckers are less growly than, say, a vintage PAF. But in achieving a nice balance between warm, clear, and not-too-wooly or dirty, they end up inhabiting a pretty unique tone zone that leaves lots of room for coloration from playing dynamics and pedals.
The Verdict
Short scale guitars may not be your bag. But the comfort of the Squier Contemporary Jaguar HH-ST's proportions, and the effectiveness with which it works as a platform for humbuckers, validates the integrity of Leo Fender's basic design. The substantial neck is a treat and feels like it was borrowed from a more expensive instrument. And while vintage Fenderphiles may fault the SQR humbuckers for sounding relatively generic, they're capable of an uncluttered sweetness that make a great platform for exploring effects—particularly when you factor in the versatility of coil splitting. At less than $450 bucks, the Squier Contemporary Jaguar HH-ST qualifies as a steal. Heck, the combination of price, quality, and versatility is almost enough to make me forget there's no vibrato.