A master of Big Muff-style circuits builds a Ram's Head clone that'll be tough to beat at any price.
Ratings

Pros:

Wide-open, airy, super-smooth, and ripping classic Ram's Head tones. Awesome for chords and rhythm playing. Crazy sustain. High quality.

Cons:

Big if you're space conscious. Expensive.

Street:

$324

Wren and Cuff Caprid Blue-Violet Special wrenandcuff.com

Tones: Ease of Use: Build/Design: Value:
Most Big Muff freaks agree that the Ram's Head pedals—a series of Muffs built by Electro-Harmonix in the early-to-mid-'70s—embody most of the breed's very best attributes. Not all Ram's Heads are amazing. Component inconsistencies mean some sound better than others. But devout Muff-heads insist that the very best of the best come from a run that coincided with Electro-Harmonix's use of blue and violet paint. This collision of sound and color birthed the legend of the Violet Ram's Head.
Wren and Cuff's Matt Holl knows much about these nuances. He chases authentic Big Muff sounds with fervor. And though Holl has built great Ram's Head clones before, his efforts have really reached an apex in the Caprid Blue-Violet Special.
All in for Authentic
The Blue-Violet Special is a feast for a vintage fiend's senses. It features the same dimensions, on/off switch, "backwards" tone control, and Arnold Böcklin typeface that distinguished the original. Even the hand-populated circuit board is a fastidious near-clone of the original "3003" EHX Big Muff board—right down to the shape of the solder traces.
But the real treats are the sounds. And the Caprid Blue-Violet Special underscores the fact that the magic behind the Ram's Head's wall of sound resides in the spaces in between. The source of this space is a perceptible mid-scoop that highlights the white-hot-but-smooth top end and gut-walloping bass. This is the classic formula behind any good Ram's Head. But the Blue-Violet Special adds perceptible extra airspace, even when the gain and tone controls are cranked to their feistiest levels. The result is more room for dynamics in both touch and composition. And it compelled me to play a lot of austere, melodic phrases where I could bask in the sweet cello- and violin-like overtones.
This signing quality can lead you down predictable alleys. It can be hard to avoid punctuating every lead phrase with an eternally sustaining David Gilmour or Ernie Isley bend. But there are many other benefits to the open, scooped, and super-detailed voice. Chunky punk/metal riffs sound huge, with a just-right compression on transients that excites fast staccato riffs. And if you stack drives and fuzzes, or like to leave room for modulation and delay echoes to bloom, the extra air gives these effects plenty of room.
The Caprid Blue-Violet Special is an extraordinary, head-of-the-class Muff.
Room to Range Outward
The impressive range in the Blue Violet's controls is a source of bountiful and colorful voices. The Caprid's ample headroom means you can use cool, buzzing lower-gain settings without sacrificing output. The volume control is a powerful tone shaper, too, inducing smooth but pronounced compression at extreme volume settings and more open, detailed tones at lower levels (which are still monstrously loud).
The tone and sustain controls also yield abundant and varied rhythm and lead tones—enabling super-precise coloration when overdubbing or arranging for multiple guitar parts. There are many incredible, dusky, no-highs fuzz sounds on tap here. But if you max the treble, keep the volume low, and the sustain right around the 2/3 mark, you have the recipe for spot-on Bosstone and Maestro-style "Satisfaction" buzz.
The Verdict
Picking at micro-nuances in basically similar fuzz pedals can get ridiculous. After all, a ripping, soulful solo will probably sound ripping and soulful regardless of the gain-stage transistor. But as a sum of many thoughtfully assembled parts, the Caprid Blue-Violet Special is an extraordinary, head-of-the-class Muff. It's audibly smoother and more effectively scooped in the midrange than less authentic Ram's Head clones. And its knack for sweet, unbroken sustain is extra-impressive—even by Big Muff standards—opening up possibilities for lyrical, spacious solos and extra-expressive finger vibrato.
If you're an entrenched Big Muff cultist, the Blue-Violet Caprid is a must-hear experience. But even if you can't tell a Ram's Head from a rooster, it's impossible not to be wooed by the smooth, sinister sounds from this ultra-authentic take on a legend.
Watch our First Look demo of the Wren and Cuff Caprid Blue-Violet Special

Converge's 6-string steamroller—who also happens to be a famously heavy and in-demand producer (and gear designer)—takes PG inside his GodCity Studio to talk mics, tracking, instrument building, and more.
If you've thought to yourself, "this is the most vicious-sounding record I've heard," chances are Kurt Ballou's fingerprints are on it. Since officially starting in 1995 inside his parents' garage and eventually opening GodCity Studio's doors in 2003 (in "Witch City" Salem, MA, no less), Ballou has chiseled out granite tones for bands like Every Time I Die, High on Fire, Torche, Cave In, Old Man Gloom, American Nightmare, and Kvelertak. ("He brings a lot to the table, and he's been pretty important in terms of how our sound got formed," Kverlertak's Vidar Landa in a PG interview on working with Ballou.) Oh, and we can forget his genre-shaping band Converge, that he's played guitar in since 1990, co-produced since 2001's hardcore pillar Jane Doe and been the console captain since 2006's No Heroes.
As you'll soon find out in this hour-plus episode, the dude is fascinated with every component of guitar tone. In between recording projects and creating new instruments and pedals, Ballou virtually welcome PG's Chris Kies into GodCity Studio. In this Rig Rundown, Ballou details his own GodCity Instruments Craftsman Series 1 (something he calls a "simple rock 'n' roll machine"), provides a crash course on mics (types and techniques), and shows off additional GCI pedal wares—and a few foreign specimens—that contort, mangle, and destroy any (in the prettiest way possible) guitar's native tongue.
D'Addario Auto Lock Strap: https://ddar.io/AutoLockStrap
[Facing a mandatory shelter-in-place ordinance to limit the spread of COVID-19, PG enacted a hybrid approach to filming and producing Rig Rundowns. This is the 38th video in that format.]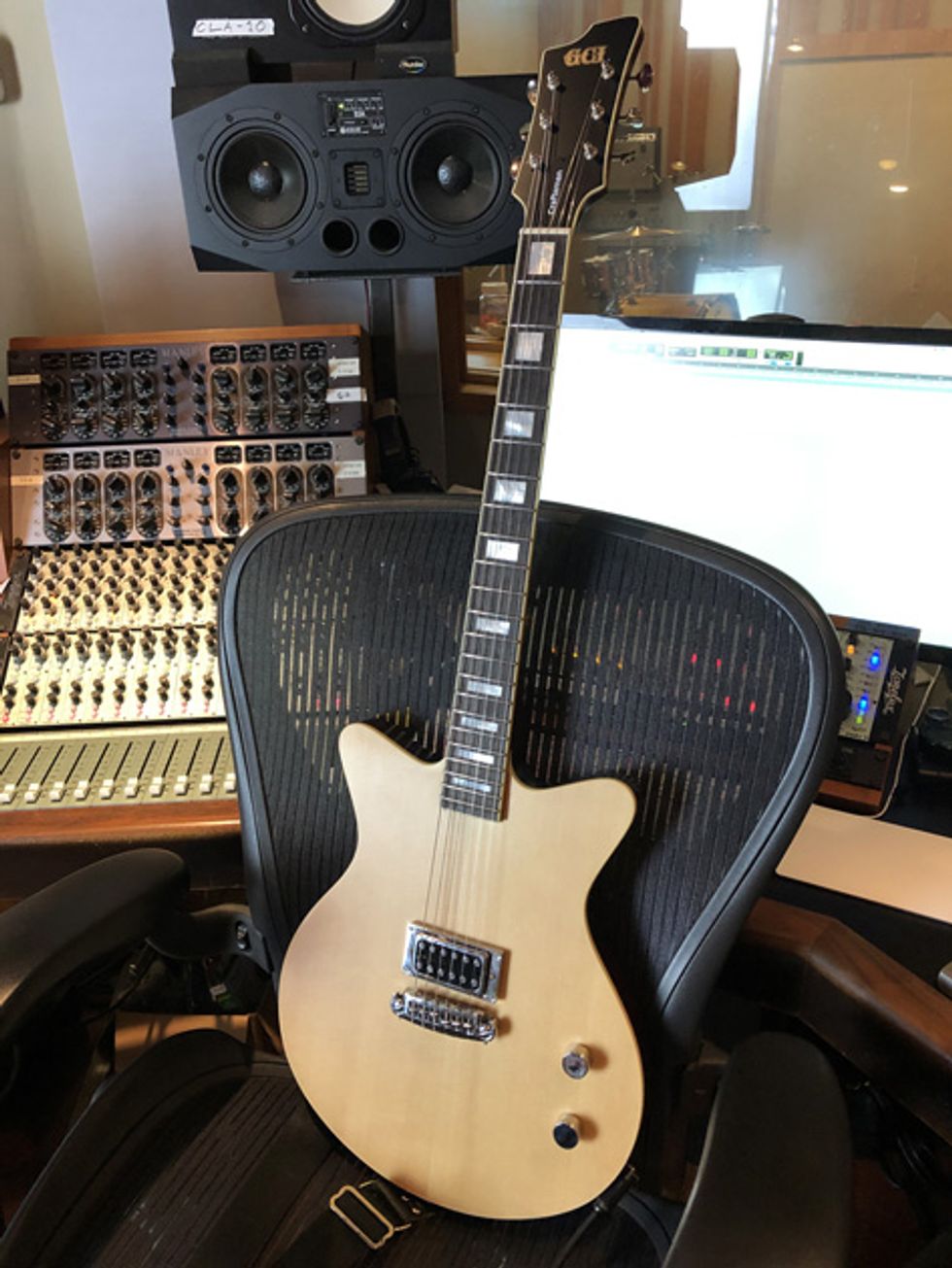 As you'll quickly find out, if Kurt can't find exactly what he's after, he'll design something that will get the job done. Above is his first guitar—built under the God City Instruments brand—called the Craftsman Series 1. This one features a chambered mahogany body with a spruce top ("it's incredibly resonant, snappy, and lively"), set-neck construction (maple neck/wenge fretboard), 25.5" scale, Graph Tech nut and bridge, and a custom-wound, hot Slugjammer humbucker (13k output, 44 AWG). He prefers D'Addario NYXL strings (.011–.052), hammers away with Planet Waves Duralin picks .70 mm (yellow), and Ballou uses a bunch of tunings for Converge, but two of his favorites are "a little out of tune" D standard and one he calls "open Slayer" (C–F#–C–F#–C–F#).
(This isn't the first time we've seen a God City Instruments' Craftsman Series 1 on a Rig Rundown. For those that missed it, Djunah's Donna Diane rocked out a wenge-top Craftsman Series 1 in her Rundown in late 2020.)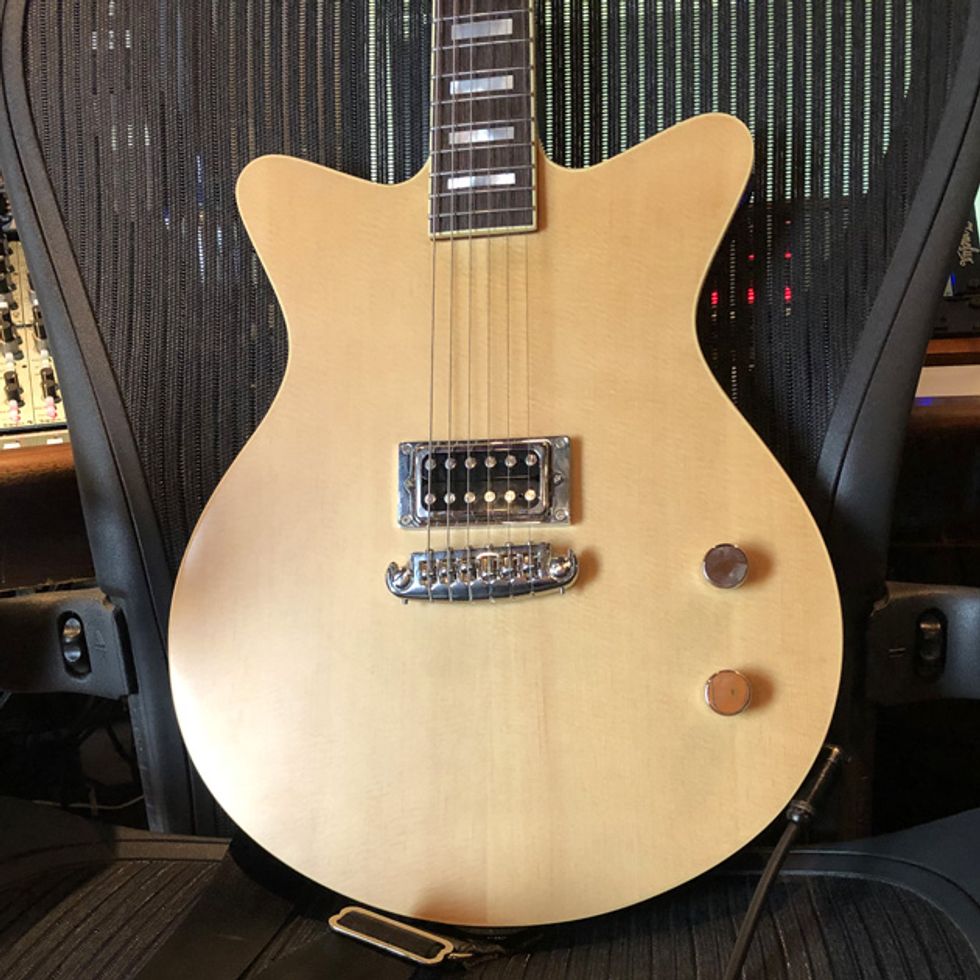 A close-up of his Malcolm Young-inspired Craftsman Series 1 body.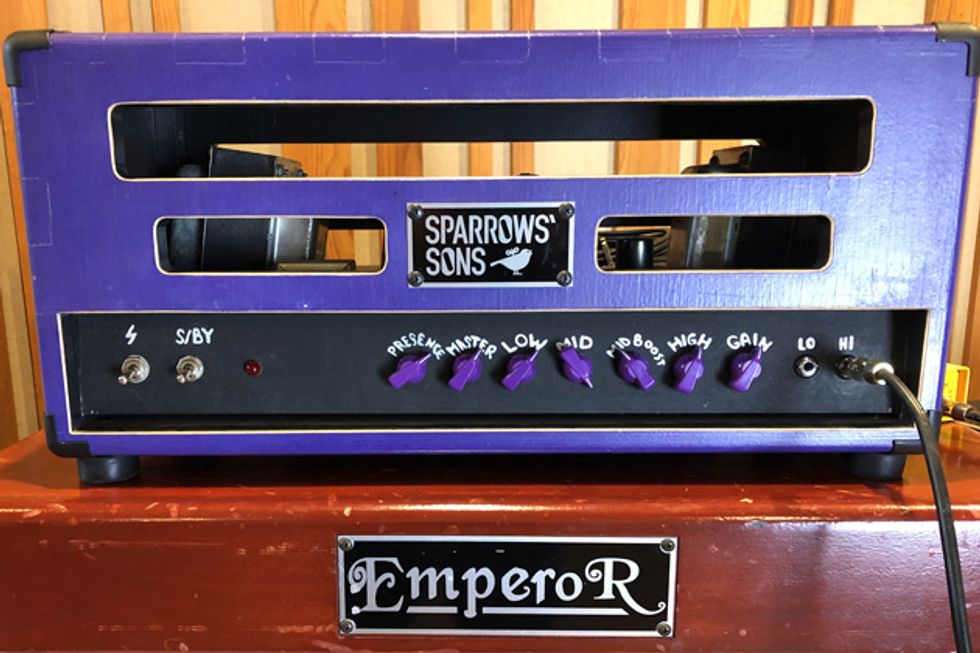 Need proof that Converge have diehard fans all over the world? Look no further than this Sparrows' Sons head that was built for (and sent over to) Kurt from their Belarus guitar shop. He doesn't know much about the circuit, but he notes in the Rundown that early in the signal path sits an active inductor-based midrange boost that sort of acts like a Neve preamp. Another think he mentions is that its gain knob is a dual pot that controls two tube stages at the same time giving the amp a wide range of crunch. (Ballou admits that he doesn't use it for clean and rather make it a blast furnace of rock.)
The handmade beast (even has handwound inductors) floored Ballou enough that he ordered a second head for his European setup (but has since brought it home). He believes he owns are two of four or five in existence.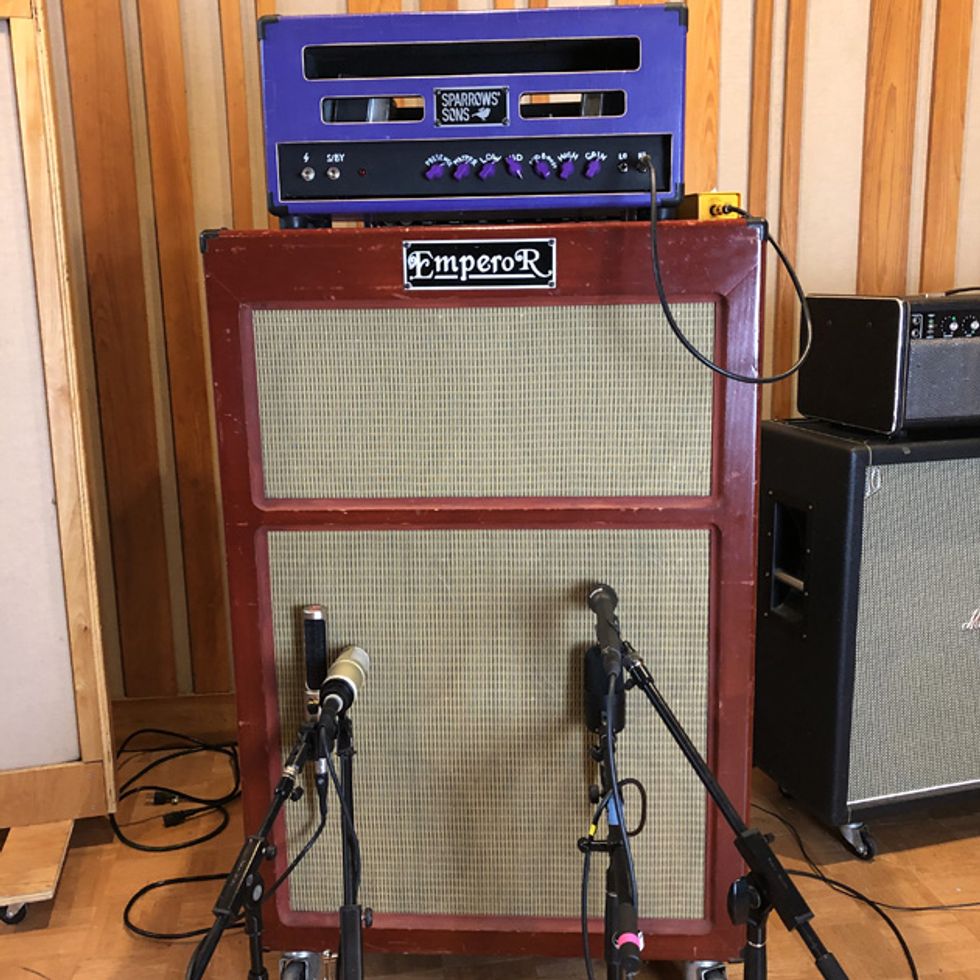 The Sparrows' Sons custom jobber runs into a massive Emperor 6x12 that is loaded with various speakers, but what was mic'd and recorded for the Rundown were a pair of Eminence Texas Heats.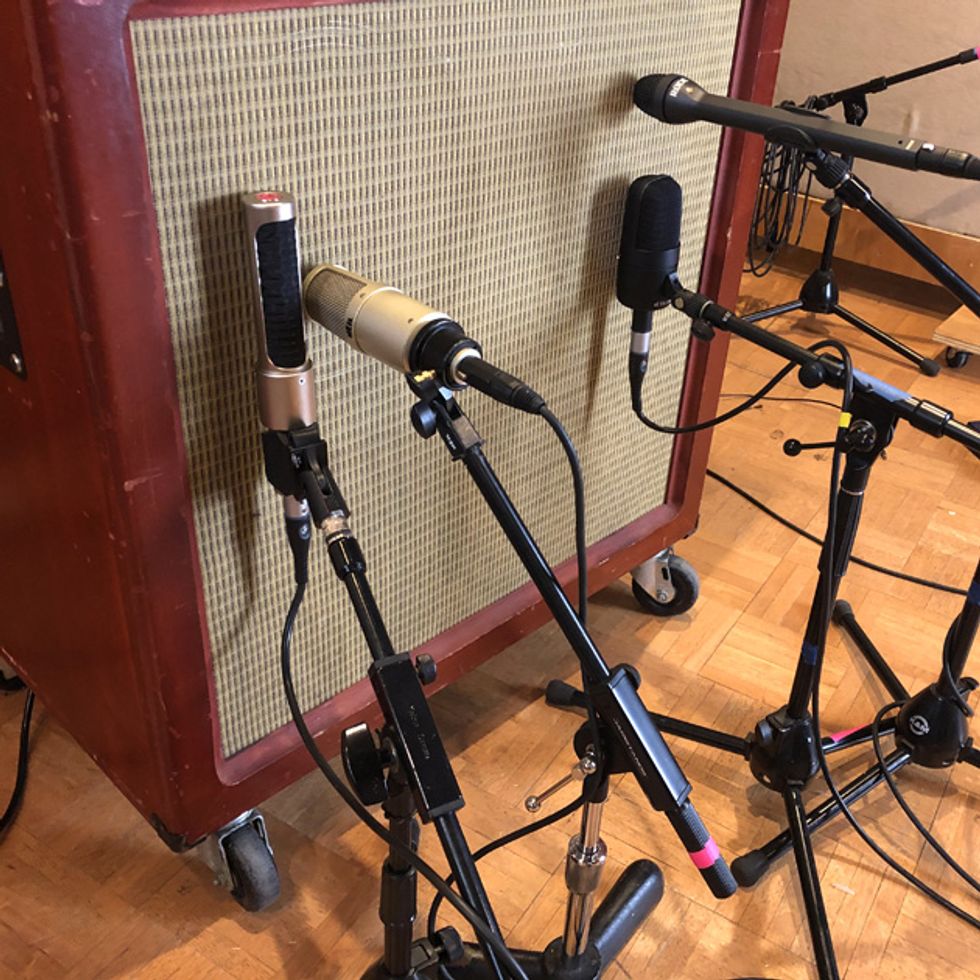 Because he's Kurt and he's awesome, not only did he treat this like a recording session, but he used four mics, in four different positions, to show how each works independently and how they work in unison to create a monolithic sledgehammer. The lineup starts (left to right) with an AEA N22 active ribbon mic, Heil Sound PR 30 large diaphragm dynamic supercardioid mic, a Rode (top) Reporter omnidirectional dynamic mic, and an sE Electronics X1 D large diaphragm unidirectional condenser mic.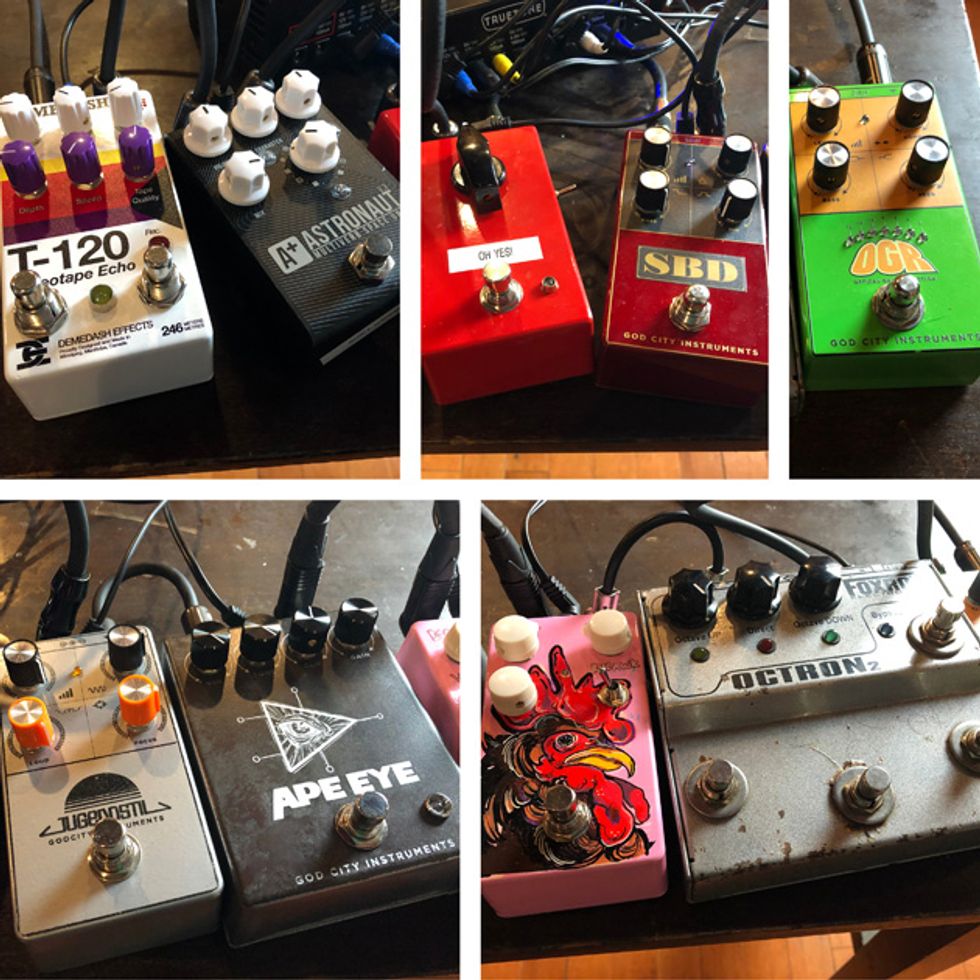 "One of the nicest things about owning a studio and designing pedals is that I can figure out what do I have a need for," admits Ballou. And as you'll soon find out, his biggest (and constant) need is angry, violent, metallic distortion. Starting at the top left (and then going clockwise), we have the Demedash Effects T-120 Videotape Echo. "This is one of the coolest analog delay pedals," giddily asserts Ballou. He loves the overall functionality of the pedal and its feature set, but the icing on the cake is that when bypassed you can hold down the left footswitch and it will act as a momentary freeze/shimmer/oscillator. Next you have the Shift Line A+ Astronaut III Multiverb Space Unit. Kurt got hip to this pedal when Converge was touring Russia and ventured into a guitar store in St. Petersburg. For this pedal, Kurt's go-to setting is the reverse shimmer.
The single-knob red GCI design (Oh Yes!) is Kurt's latest creation (mentions tentatively it may be called Onslaught) that is a "mid-forward, ultimate thrashy, djenty, clanky, articulate, heavy guitar pedal." The red pedal on the right is Kurt's first original codesign—the SBD or Super Beatle Distortion—that was inspired by a circuit from Fu Manchu bassist Brad Davis' Creepy Little Fingers. Taking it up a notch, Ballou added in an active mid boost in front of the fuzz circuit. Additionally, he boosts the bass level after the fuzz circuit so it sounds huge.
Next up in green is the God City Instruments OGR (a collaboration with Electronic Audio Experiments' John Snyder). The Optical Gain Reduction is a compressor that Ballou uses on every bass-recorded track in God City Studio.
Then there is the Foxrox Electronics Octron2 (inspired by the guitar feedback lassoed by Mahogany Rush guitarist Frank Marino) that Ballou uses for thorny solos that bristle with weird overtones and elastic ghost notes. Following that is a newer GCI Crimson Cock (original codesigned with Rob Davis) that is a treble booster loosely based on the Rangemaster circuit with an added range control (a cap blend on the input) and the switch toggles in a Muff stage at the end of the circuit.
The penultimate stomp is the God City Instruments Ape Eye (collaborated with Soursound) that is dirt box centered around the API 2520 discrete op amp. Lastly, we have Kurt's Jugendstil silicon fuzz that is aptly described on their site: "If there were a Venn Diagram showing the overlap between '90s British shoegaze and '90s Swedish death metal, Jugendstil would feel right at home in the middle." And everything was powered by a Truetone 1 Spot PRO CS7.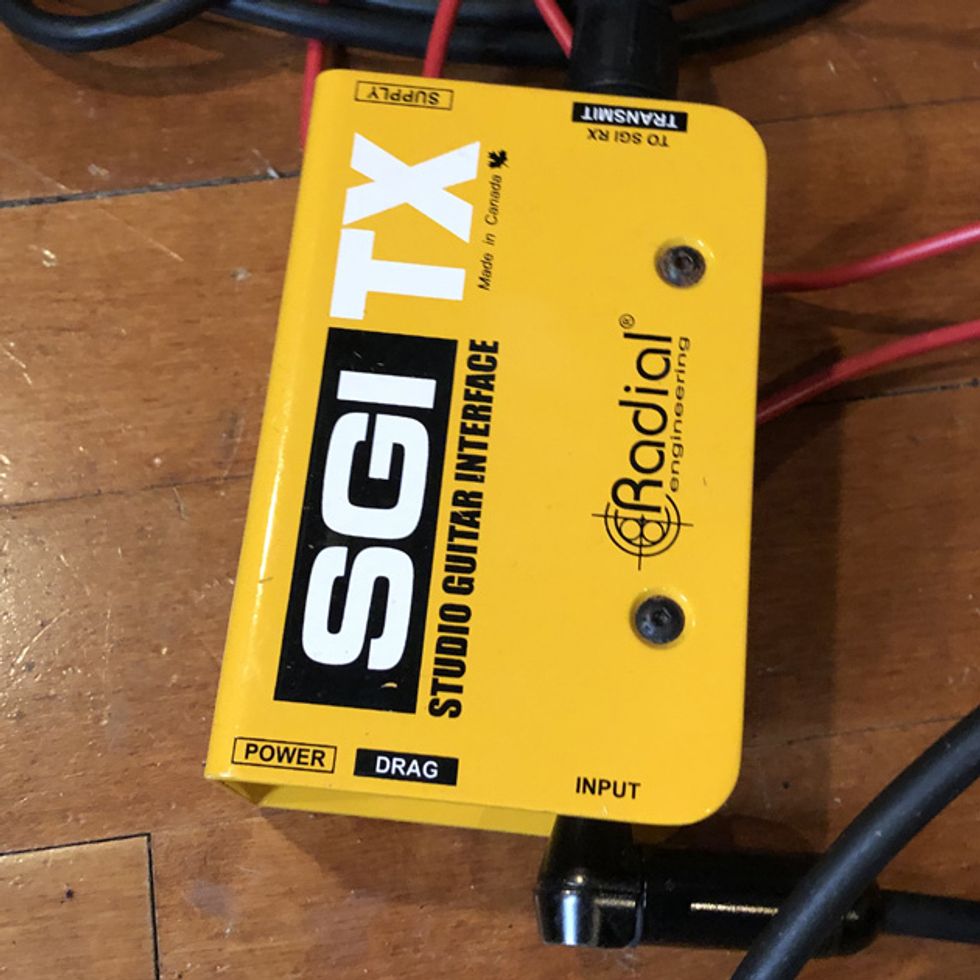 An unheralded but appreciated tool used by Ballou is this Radial Engineering SGI TX that is line driver system that takes an unbalanced instrument signal and allows you to drive it as far as 300' feet without noise.