While our columnist started out averse to the classic distortion pedal, they soon dove deep into its circuits to invent their own take.
It's undeniable—the Fuzz Face is the most popular fuzz pedal in music history. Although it wasn't the first fuzz ever created, nearly every stompbox manufacturer has attempted to replicate its circuitry. Furthermore, almost every guitarist has, at some point, incorporated it on their pedalboard. The question arises: Why? Is it due to its distinctive enclosure shape? Or, the eternal cliché question: Is it simply because Jimi Hendrix used it?
Well, I admit—I'm not even a Hendrix fan! My dad used to play his songs when I was a kid, but that's precisely why I rebelled against it, countering Hendrix with Circle Jerks and Rancid! As a guitarist, I avoided the Fuzz Face for almost two decades. However, everything changed when I met Keket, my partner at Sehat Effectors. I found that he listened to Hendrix and music I'd never heard of before. Strangely enough, we still had something in common: Neither of us liked the Fuzz Face! For the first time, I'd met a guitarist who found inspiration in Hendrix's songs, but didn't like that pedal. And yet, there's an expectation of me, as an effects-pedal builder, to offer my customers a version of the hallowed stomp. So, here, I'll share my spiritual journey as a pedal builder lost in the endless labyrinth of the Fuzz Face.
In the process of creating our pedal that we came to call the Blown Face, I experimented with all sorts of variants of transistors and technology—from the highly sought-after germanium NKT275 version, to different types of germanium and silicon transistors from various series; then delving into the SMD/SMT versions that many dislike. I even took on digital emulations. In this journey, my main issue with the Fuzz Face was that its volume, at least with my simple setup, is too low for my liking (remember, I'm a fan of Circle Jerks!). This issue is even more pronounced when considering my band's context, which also leans towards that same musical style. My ears have become accustomed to heavy and loud distortion, especially as a musician who frequently plays small gigs.
When I finally did develop the Blown Face into something loud and explosive, that still wasn't enough. I wanted to replicate the original Fuzz Face enclosure, which, of course, I wanted to make my own using the sand-casting method. I also brought in features like the bias knob and a toggle switch that lets me turn it into a Tone Bender MkII, since, fundamentally, the Fuzz Face is descended from the Tone Bender Mk1.5. By adding a transistor to the input stage, it instantly becomes a MkII.
"Why is Stevie Ray Vaughan great? Because he's heavily influenced by Jimi Hendrix, but still manages to find his own style."
So, what is the point? Well, I'm not a purist! I'm not trying to sound wise here. As a builder, I simply believe that being yourself isn't a bad thing. Even though, we're quite sure there are pedal builders out there who better understand and are far more inspired by the Fuzz Face than Sehat Effectors—legends like Analog Man with their iconic Sun Face, and other big names like Dunlop, MXR, Fulltone, Wren and Cuff, JAM Pedals…. They're all great almost by definition at this point. Why is Jimi Hendrix great? Because he's Jimi Hendrix! But, at the same time, why is Stevie Ray Vaughan great? Because he's heavily influenced by Jimi Hendrix, and still manages to find his own style. This kind of analogy will always go on.
In diving into my Fuzz Face journey, my objective was simple: to see where the labyrinth would lead. Fuzz Face is a temporal anomaly. In an era where guitar-effects technology is advancing rapidly and has even reached sophisticated digital emulation, the pedal has managed to carve out its own unique, lasting existence. In my opinion, it should have been included in the Voyager Golden Record, sailing through a universe that is believed to have no end and is continuously expanding. Eventually, it might reach another Jimi Hendrix, who's billions of light years away from our beloved Third Stone From the Sun. Or, perhaps it could land in the hands of an extraterrestrial being in a galaxy we haven't yet named. Though, that extraterrestrial being might pick it up and say, "Why is this thing coming to me?"
A '65 Gibson Firebird, Raw Power, and J.J. Cale factor into the Fuzz frontman's answers to our fistful of questions.
See the transformation from digital efficiency to a sprawling setup for Ghost Tapes #10 that now includes Gretsches, Jazzmasters, traditional tube heads, and more stomps than a store.
Facing a mandatory shelter-in-place ordinance to limit the spread of COVID-19, PG enacted a hybrid approach to filming and producing Rig Rundowns. This is the 40th video in that format.
For over 20 years and two handfuls of records, God Is an Astronaut have been exploring emotive, shape-shifting atmospheric instrumental anthems. Most instrumental post-rock bands follow a build-and-crash formula, whereas GIAA eschews those conventions in search of movement, melody, musical suspense.
Now PG has done some rig reprisals (Joe Bonamassa, Mastodon, Russian Circles, Jason Isbell & The 400 Unit, The Black Keys, Baroness, Gary Clark Jr, Primus, 311, Mr. Big, and others), but none of those compare to the overhaul God Is an Astronaut underwent during the COVID-19 quarantine. Every instrument, amp, and pedal (aside from a few preamps/DIs) are completely different than our previous 2016 Rundown. We can't say any other setup has been rethought, restructured, and reformed to the degree that Torsten Kinsella (guitars), Jamie Dean (guitars/keyboards), and Niels Kinsella (bass) executed in the search for superior soundscapes.
Just before releasing their 10th album, Ghost Tapes #10—a 7-song collection that seamlessly navigates from spacy and delicate to surly and destructive—the stirring post-rock powerhouse piled all their gear into Windmill Lane Recording Studios to showcase what was used on the new record and possibly heard on future tours.
Inside this episode, we find out why Torsten and Jamie swapped out humbucker-loaded semi-hollows for single-coil offsets and Gretsch solidbodies, while Niels explains the move from a P to a snappy short-scale Mustang. And they pour over all the 50+ pedals (including 10 Muff or Muff-inspired clones).
[This recording was supported through funding from the Department of Tourism, Culture, Arts, Gaeltacht, Sports and Media of Ireland as administered via the Music Industry Stimulus Package 2020 and Bad Apple Music. Video by Jaro Waldeck. Visit@DeptCultureIrl (website) and @fmc_ireland (website).]

Ghost Tapes #10 (new album) — https://smarturl.it/GhostTapes10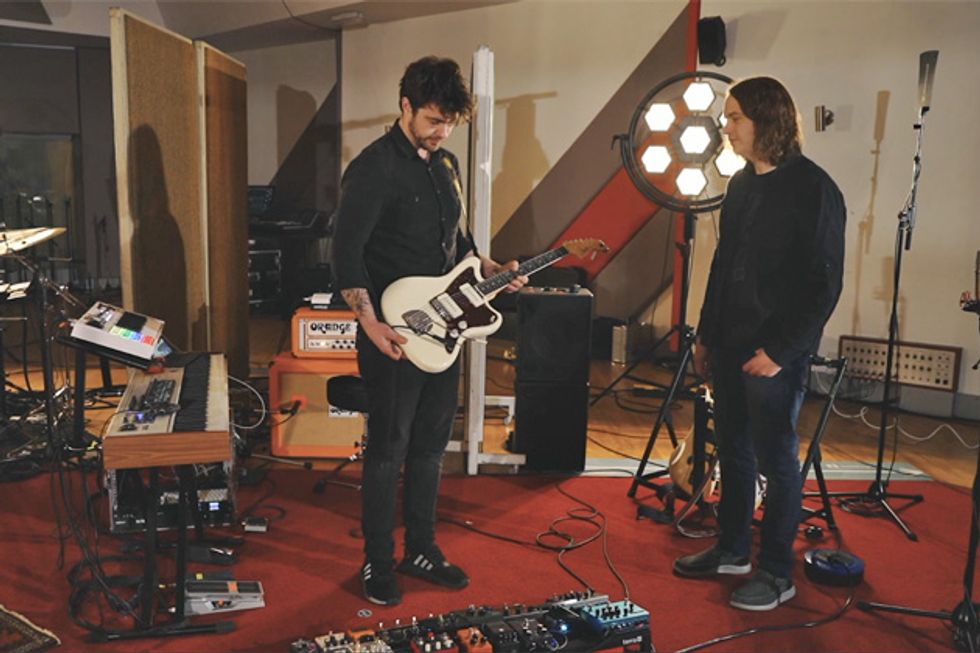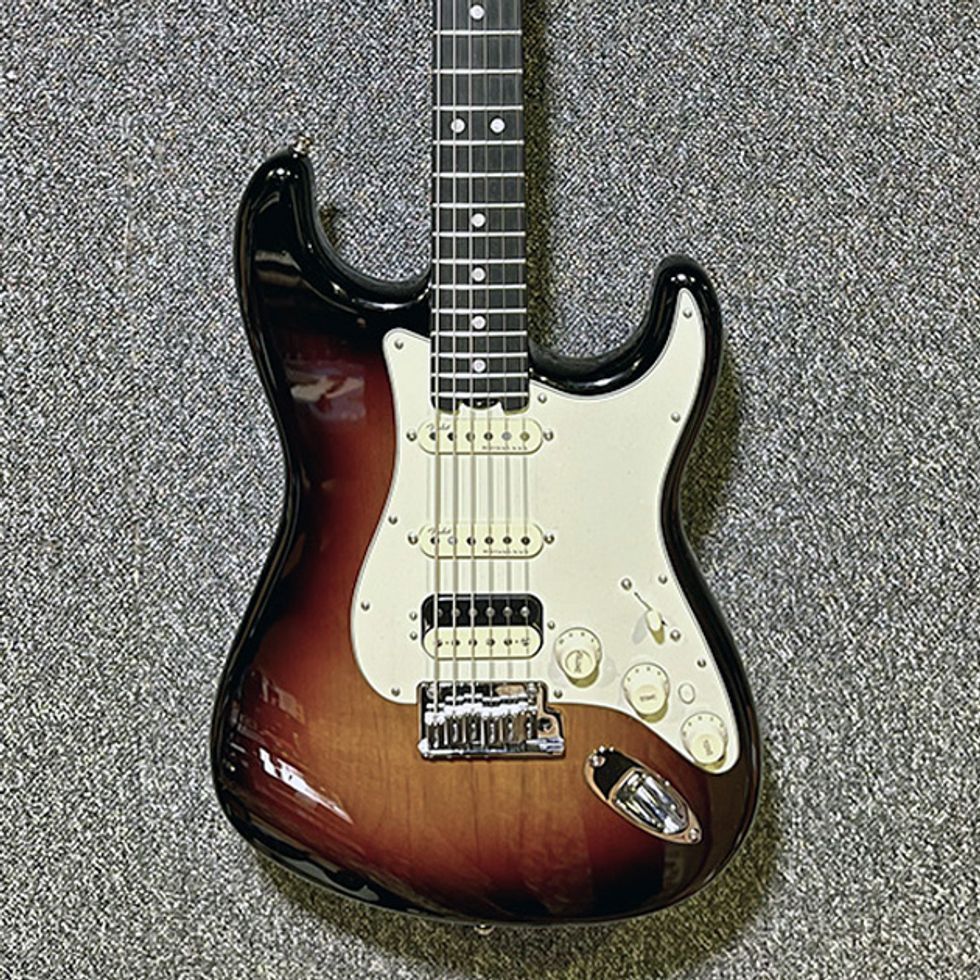 "A lot of the earlier material—TheEnd of the Beginning through All Is Violent, All Is Bright—definitely suits this guitar," suggests God Is an Astronaut founder Torsten Kinsella when introducing his Fender Deluxe Strat HSS. It has the stock Twin Head Vintage humbucker still complimenting the pair of Vintage Noiseless Strat pickups. The bridge is blocked to help intonation since the band uses several tunings.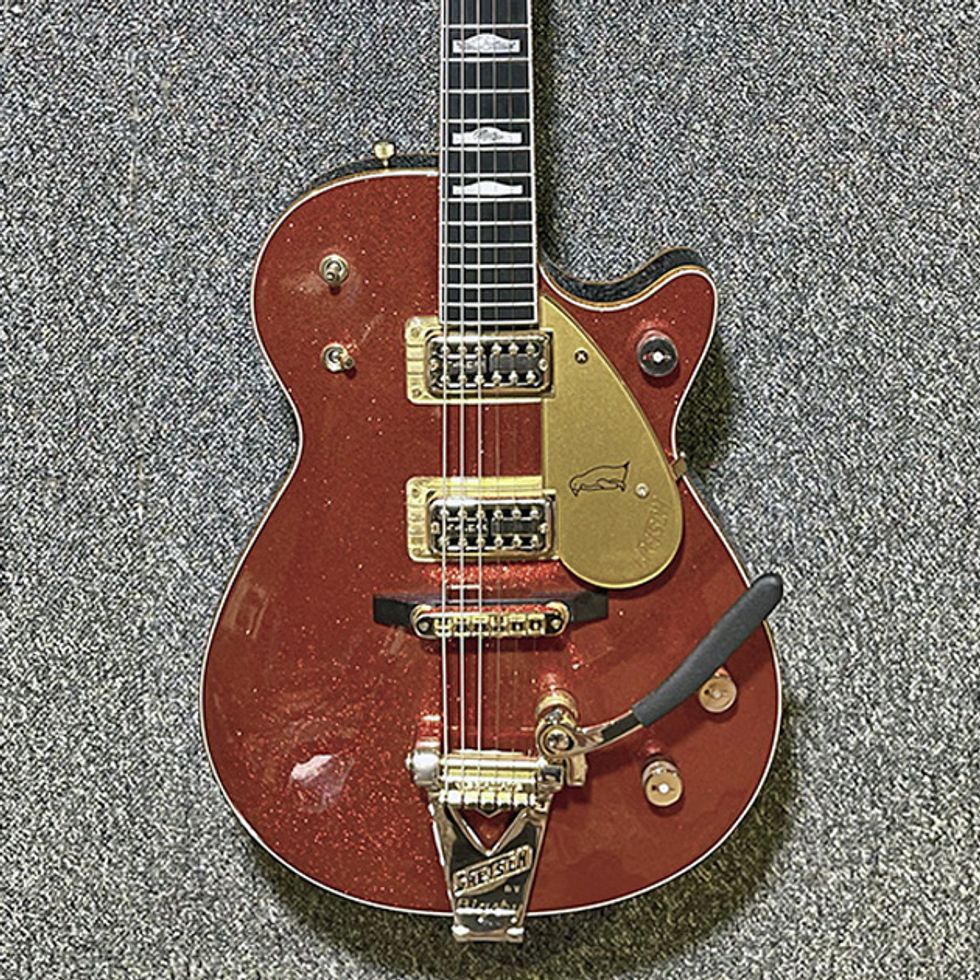 If you recall our 2016 Rundown, Torsten Kinsella was exclusively using a 1968 Gibson ES-345. This Stephen Stern-built, red-sparkle Gretsch Custom Shop Penguin has replaced the 345 and typically lives in drop-A tuning. It features TV Jones Filter'Tron pickups and to keep tension up, he employs a custom set of Optima 24K Gold Strings (.060-.044.-.032-.020-.014-.011). For lighter-tuned guitars, he will swap out the .060 for a slimmer .056 or .058.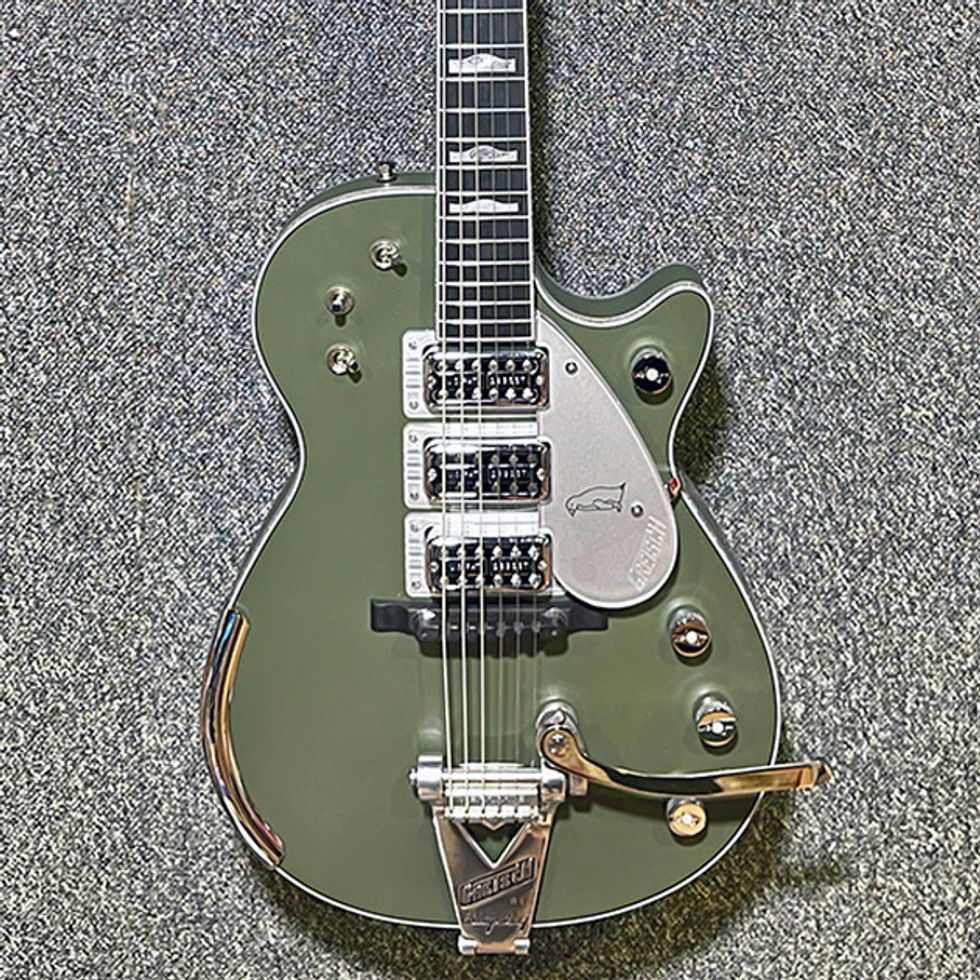 Here's Torsten Kinsella's second custom-built Gretsch Penguin that has a set of TV Jones Classics (bridge and neck) and a TV Jones Magna'Tron in the middle. The only thing he's changed on this green machine is putting in the wooden bridge that's more harmonious to his ears.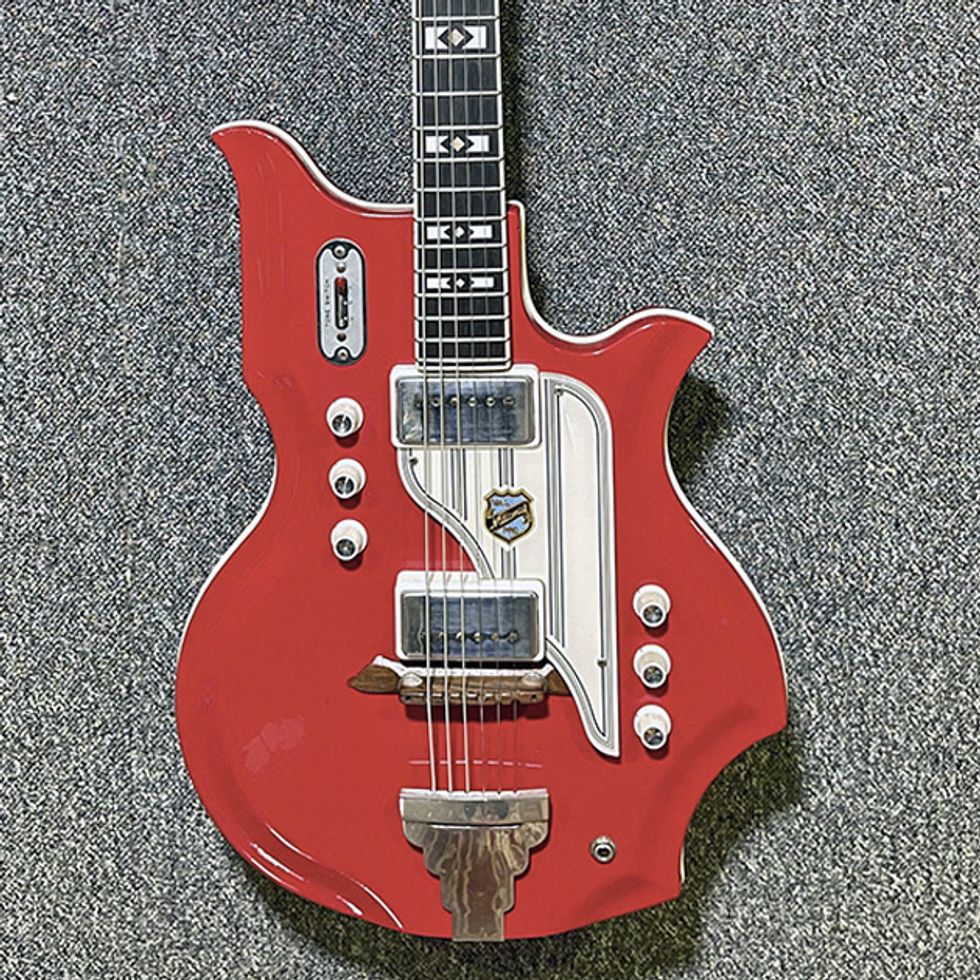 Torsten Kinsella's 1961 National Glenwood is a studio tool that never sees the road because it's a vintage piece and was once owned by The Who's John Entwistle. Kinsella had his tech put in a truss rod to make the guitar more playable and Curtis Novak re-wound the bridge pickup.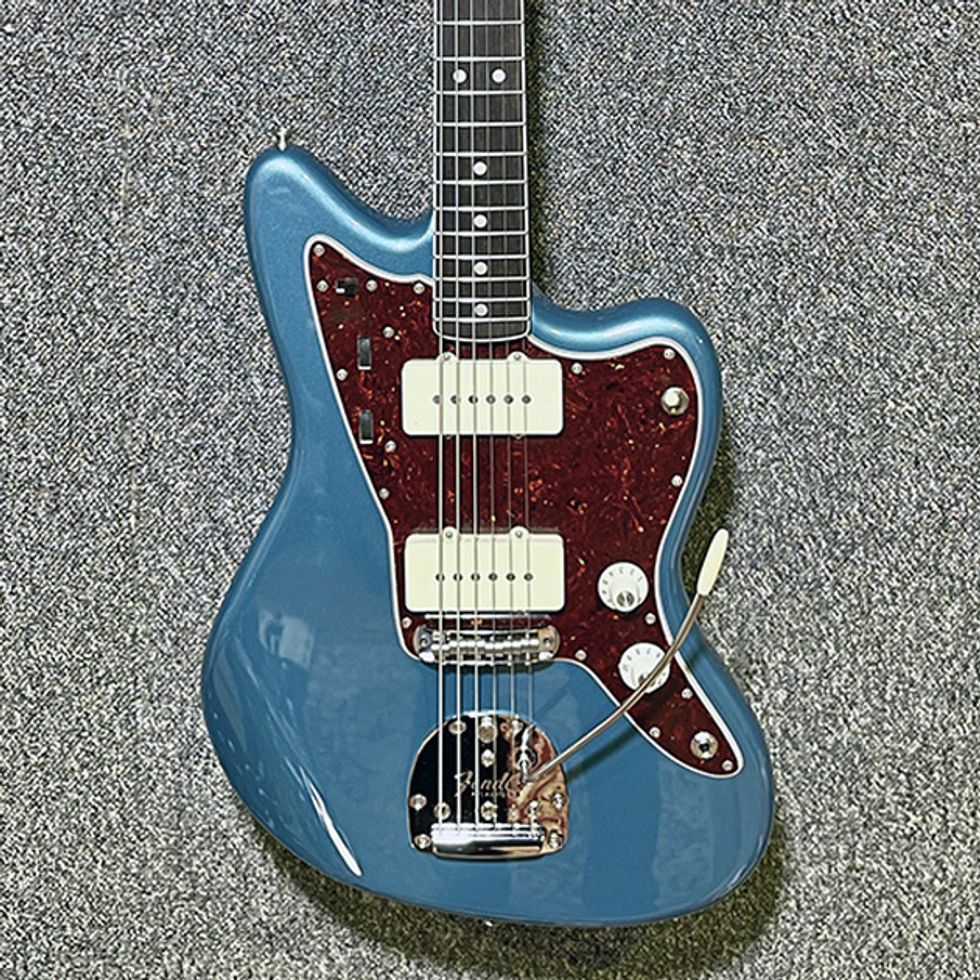 Here is Torsten Kinsella's Fender American Original '60s Jazzmaster that's been upgraded with a Staytrem tremolo (constricting the arm movement so its intentional) and Staytrem bridge with Mustang-style saddles.

Torsten Kinsella's stomp stations deserve their own zip code. As he states in the Rundown, the Axe-Fx II was crucial when flying around the globe and wanting a consistent sound, but with COVID-19 shutting down touring for over a year now, the band rekindled their love for amps and pedals. And coming out on the other side of the transformation, Kinsella asserts that the traditional gear setup better captures their full sound and dynamic range.
Starting with the left-side Pedaltrain Classic PRO pedalboard you have a couple Strymons (Mobius and BigSky), a custom Moose Electronics HM23 distortion (based on the classic HM-2 circuit), Chase Bliss Mood, Secret Audio Red Secret DI, Red Panda Particle, ChiralityAudio Splinter Drive, a pair of Boss pedals (MT-2 Metal Zone and DD-500 Digital Delay), two large-box black-Russian Electro-Harmonix Big Muffs, Friedman BE-OD Deluxe Overdrive Limited (clockworks design was exclusive to Thomann), Recovery Effects Bad Comrade, Meris Hedra ("special weapon for Ghost Tapes #10"), Boss DS-1 Distortion (with Keeley mod), Dr. Scientist The Elements, and a Chase Bliss Brothers. Bottom center rests a Meris Preset Switch that allows Torsten to quickly access up to four different sounds on the Hedra. And off both boards in the middle sits a Moose Electronics Nomad (inspired by the Foxx Tone Machine).
The right-side Pedaltrain Classic board starts with two utilitarian (but vital) Empress boxes—Buffer+ and Compressor—followed by a DigiTech Whammy (set to chords), and two more EHX Big Muffs. And keeping everything in check is a TC Electronic PolyTune3 and harnessing dynamics is the Ernie Ball VPJR Tuner.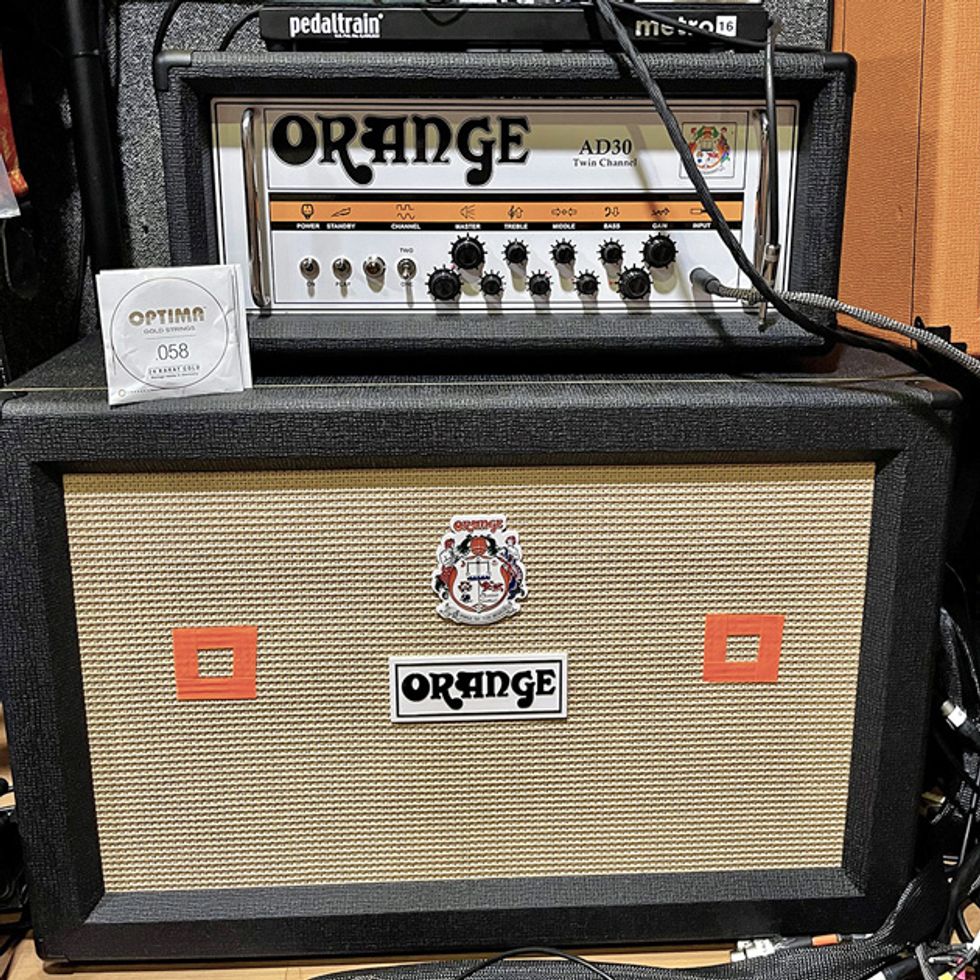 Torsten Kinsella now uses an Orange AD30 and matching 2x12 cab.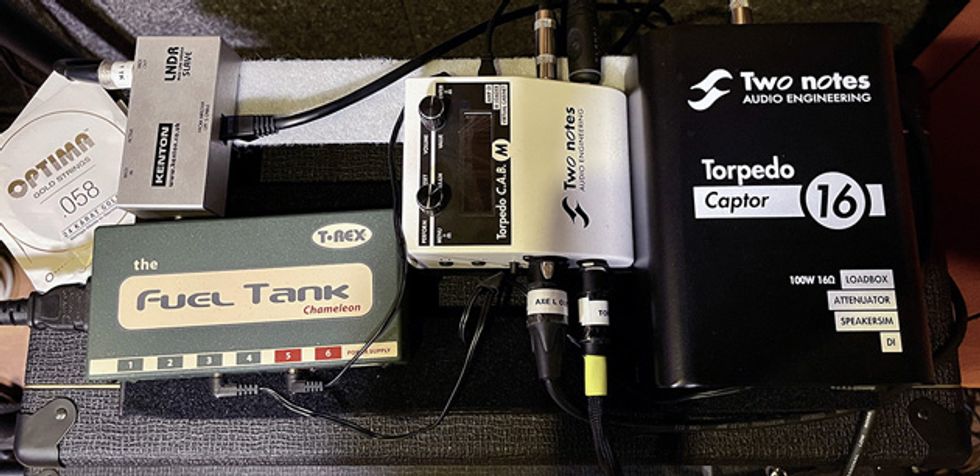 And on top of the AD30 sits a pair of Two Notes tools—a Torpedo C.A.B. M Speaker Simulator/DI and a Torpedo Captor Loadbox/Attenuator/DI. Also there is a LNDR Line Driver MIDI Range Extender and a T-Rex Fuel Tank Chameleon.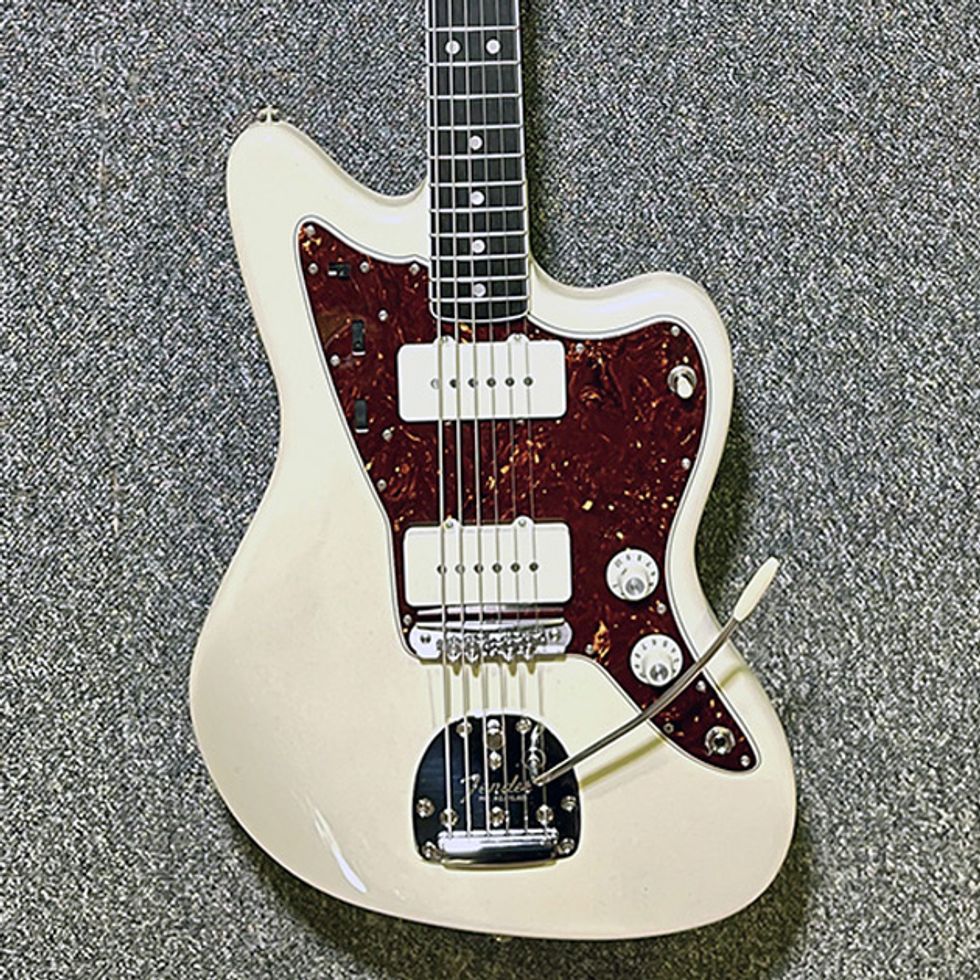 Like Torsten, Jamie Dean rocked a single guitar (1985 Yamaha SA800) into an Axe-Fx II in our last Rundown. Above you see he's gone offset with a Fender American Vintage '65 Jazzmaster reissue. He's subbed in a Mastery bridge and a Staytrem tremolo, while the rest of the guitar is original.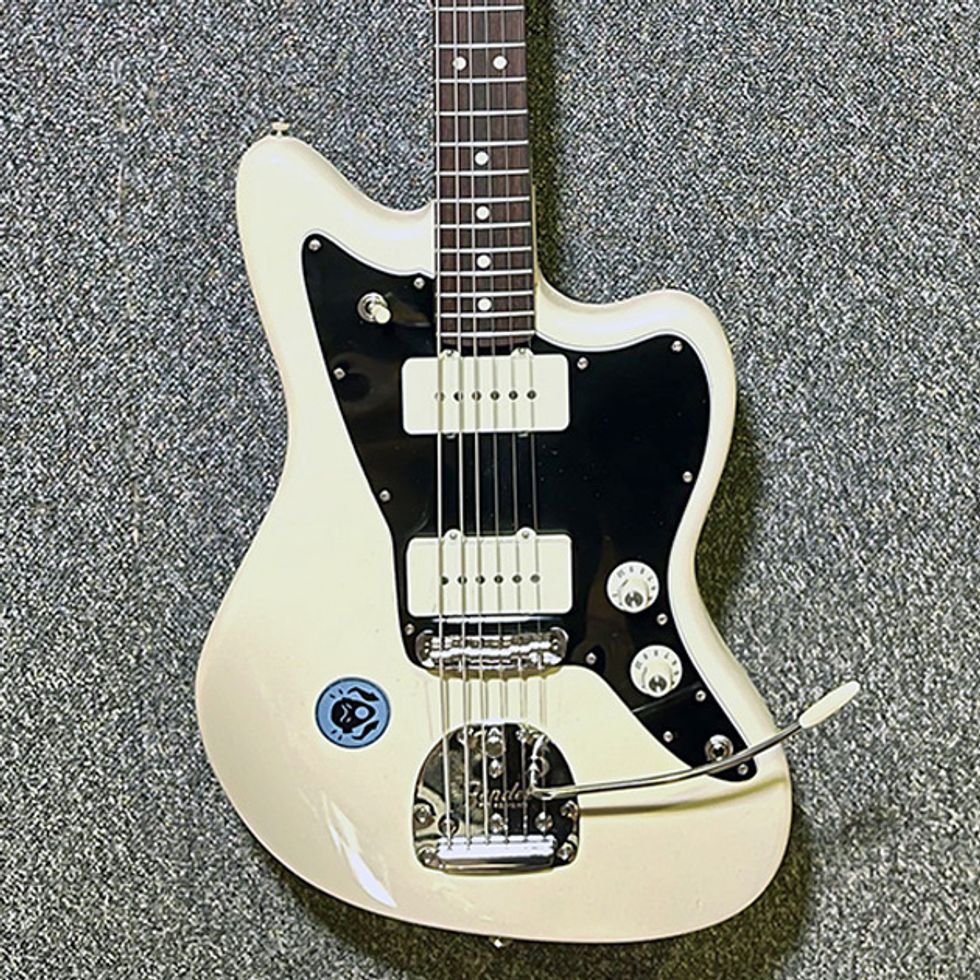 Seen here is a Fender American Professional I Jazzmaster that has been modded with Curtis Novak JM-Fat (bridge) & JM-V pickups and locking tuners.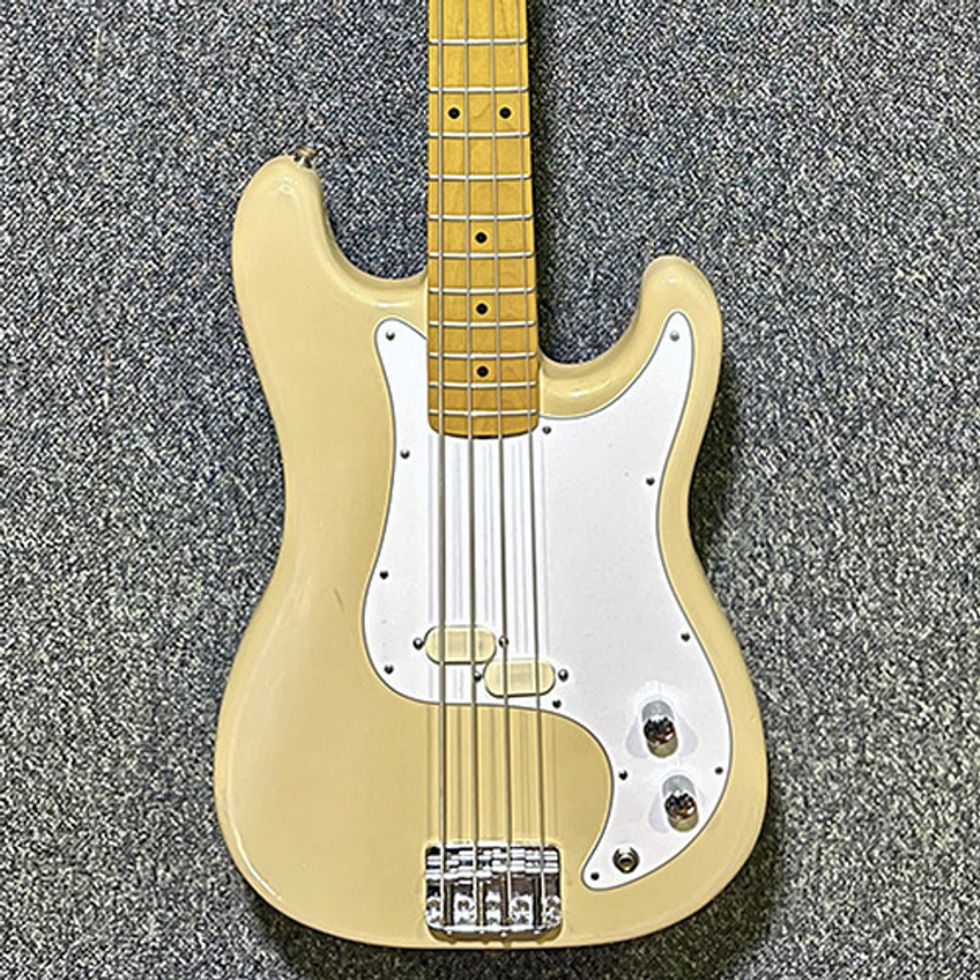 Jamie Dean spends most time on six strings, but above is a 1980s Fender Bullet Bass (with a capo on the 13th fret) for "All Is Violent, All Is Bright" and "Fireflies and Empty Skies."

An impressive Pedaltrain Terra 42 board in his own right, Jamie Dean has plenty of colors to paint with thanks to a lineup of pedals that includes a Strymon BigSky, Moose Electronics Elk Head (based on a '70s Violet Ram's Head Big Muff with additional mids control), Boss MT-2 Metal Zone (instantaneous feedback), Stomp Under Foot Pumpkin Pi, Recovery Effects Bad Comrade, Empress Buffer+, Strymon TimeLine, Ernie Ball VPJR Tuner, three EHX Big Muffs, Friedman BE-OD Deluxe, Meris Hedra, Empress Compressor, Boss DS-1 Distortion (with Keeley mod), Red Panda Particle, and a ChiralityAudio Splinter Drive. He also has a Meris Preset Switch (for the Hedra) and a TC Electronic PolyTune3.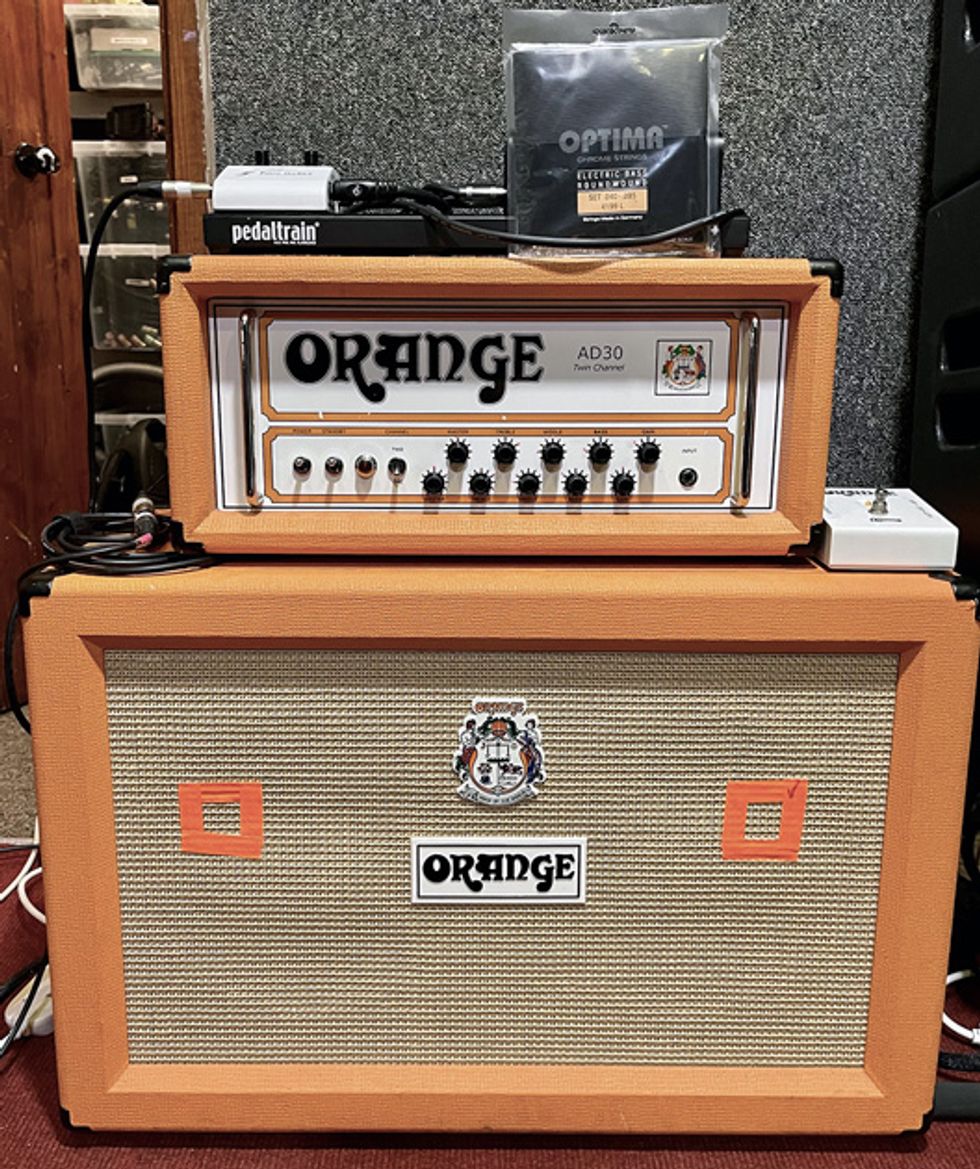 Throughout the Rundown, we were hearing Jamie use a 2000s Orange AD30 into a 2x12 cab that was mic'd with a SM57.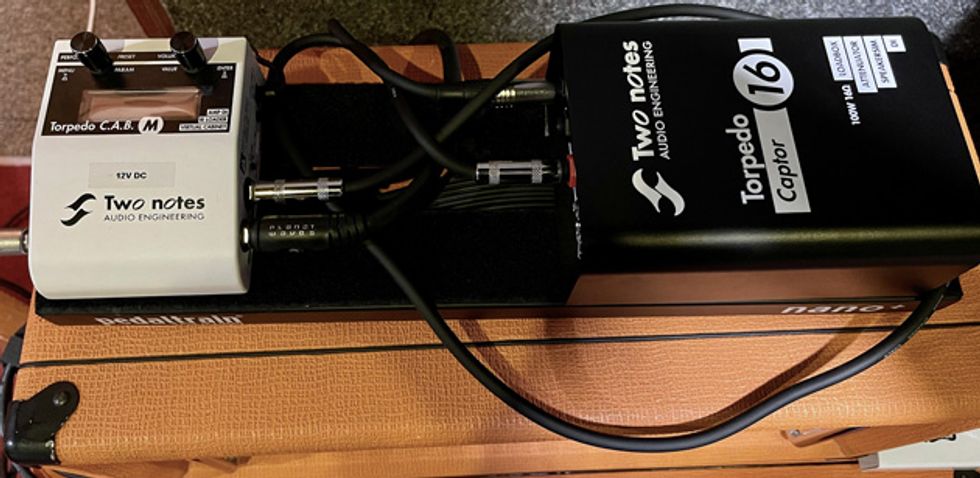 Mainly for monitoring purposes, Jamie Dean also uses pair of Two Notes tone tools—a Torpedo C.A.B. M Speaker Simulator/DI and a Torpedo Captor Loadbox/Attenuator/DI.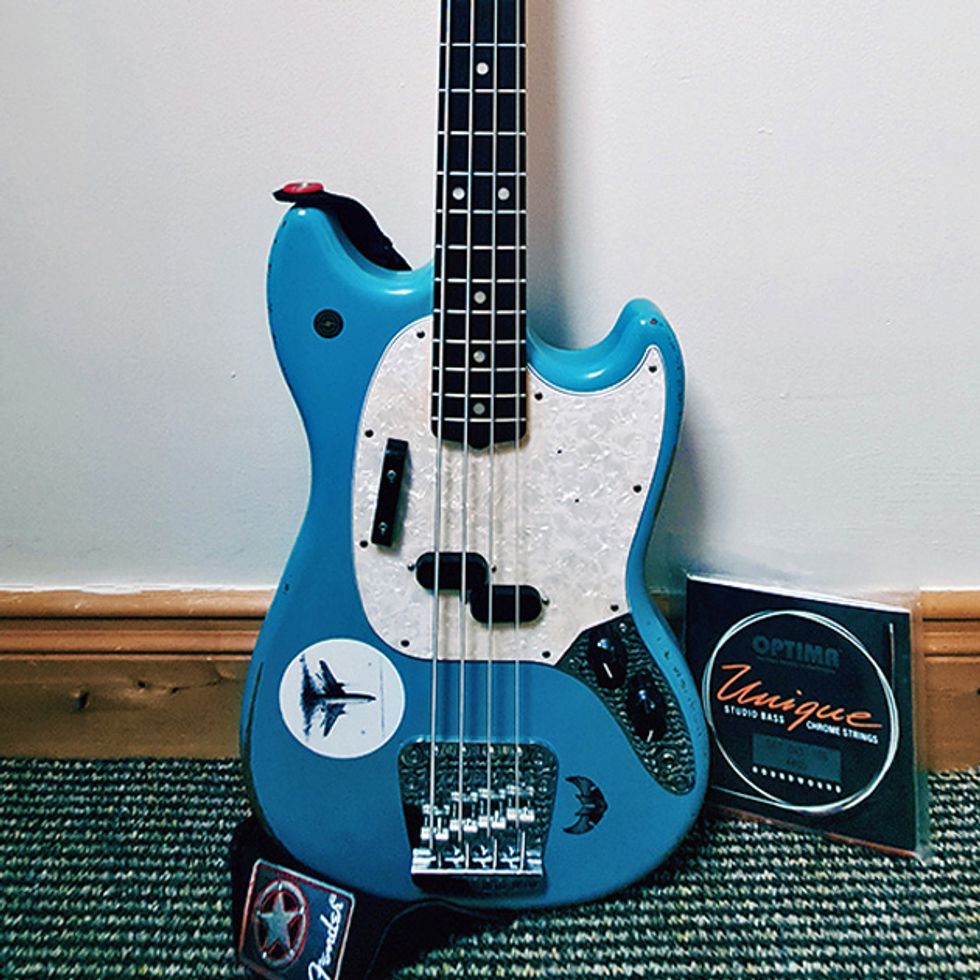 Back in 2016, Niels Kinsella visited Nashville with a Fender American Vintage '63 P Bass, but now he's aiming for an upper-range low-end tone, so he landed on a short-scale Fender Justin Meldal-Johnsen Mustang Bass that is completely stock. He goes with custom set of Optima Unique Chrome Strings (.115–.080–.060–.045) and is typically tuned D-A-D-G.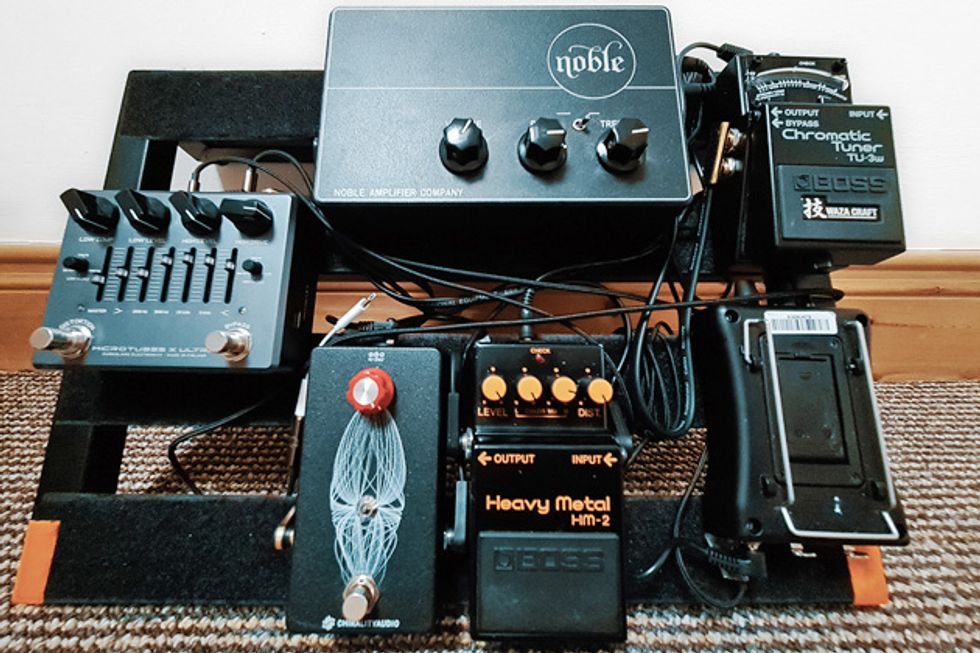 Niels Kinsella's signal flow out of the bass hits the Boss TU-3W Waza Craft Chromatic Tuner, then hitting the Noble Preamp, Boss HM-2 Heavy Metal, ChiralityAudio Black Swan Bass Distortion/Fuzz, and the Darkglass Electronics Microtubes X Ultra preamp. Everything calls a Pedaltrain Classic JR home.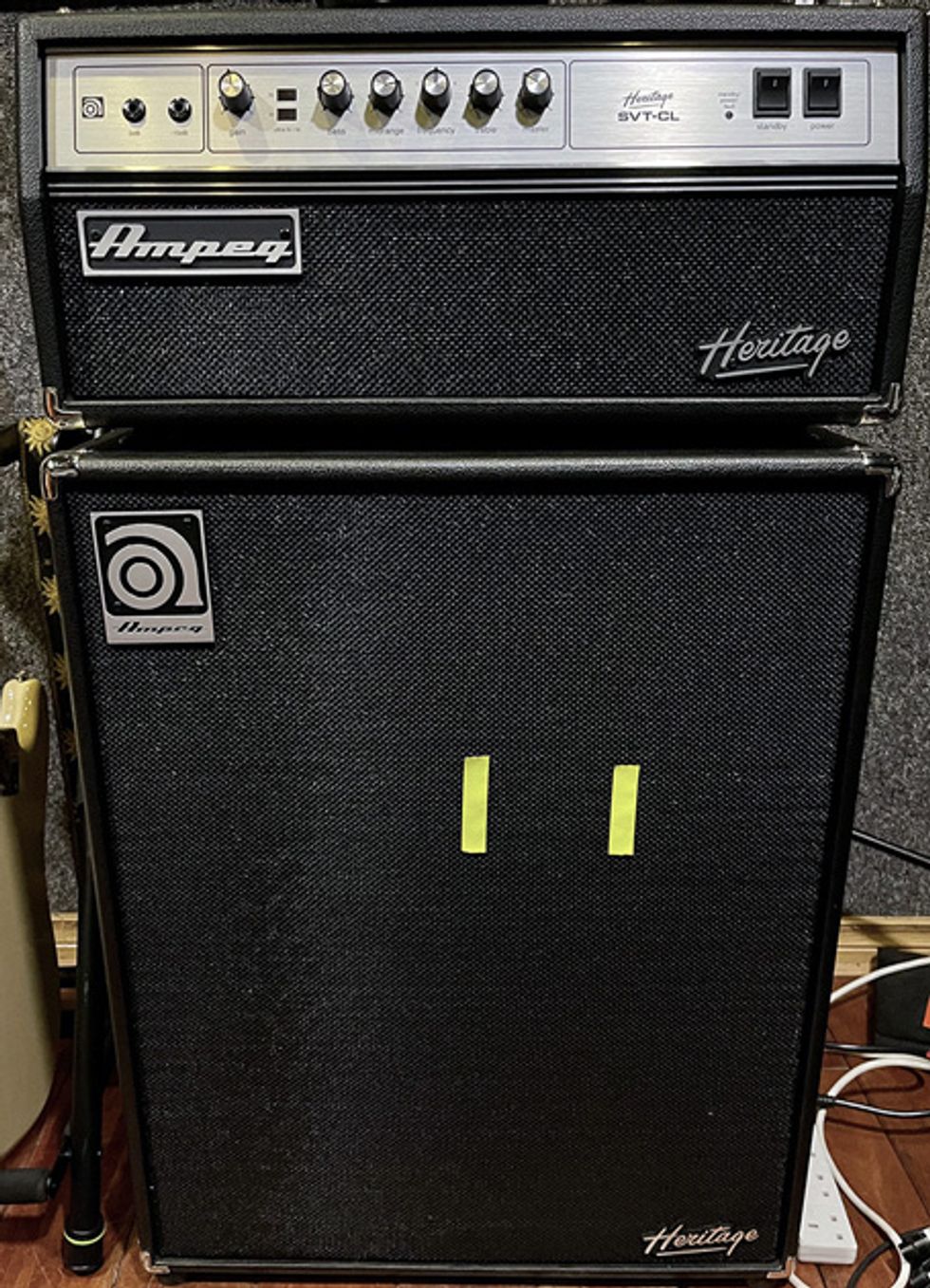 Five years ago, he used the Noble Preamp as a DI that went out to FOH, but now Niels Kinsella is going big and bad with the Ampeg Heritage Series SVT-CL 300-watt tube head pumping into a matching Ampeg Heritage Series SVT-410HLF.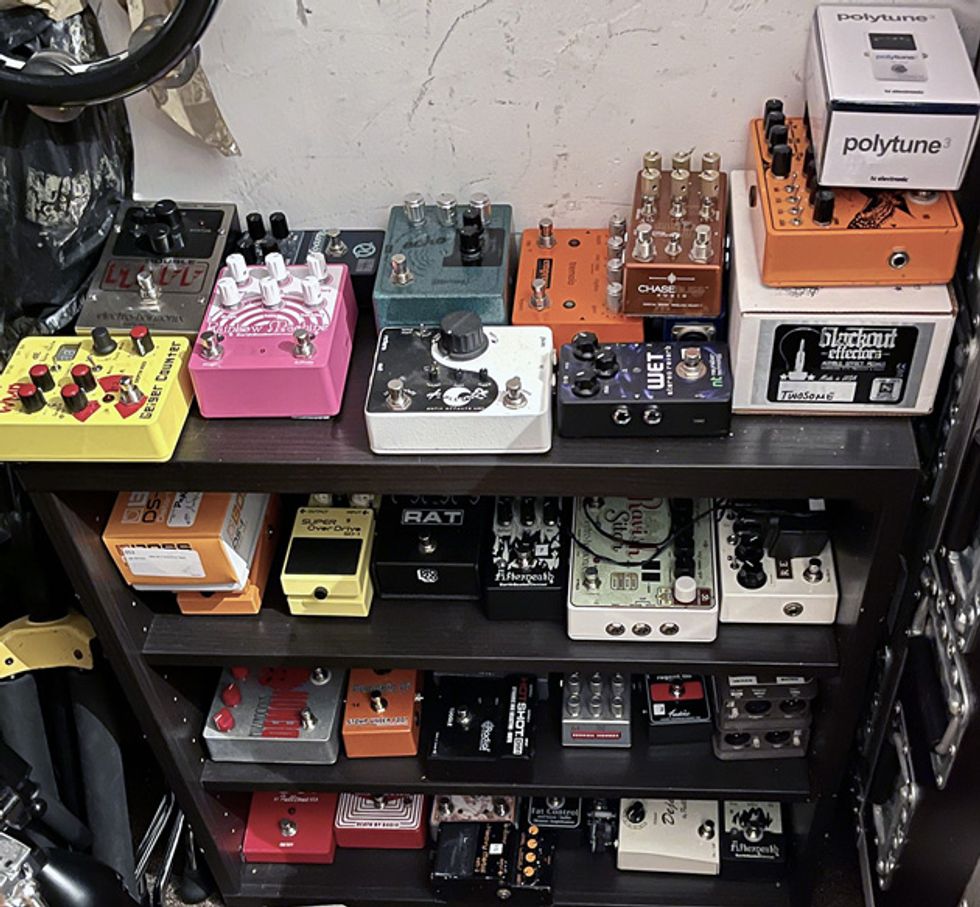 Even. More. Pedals.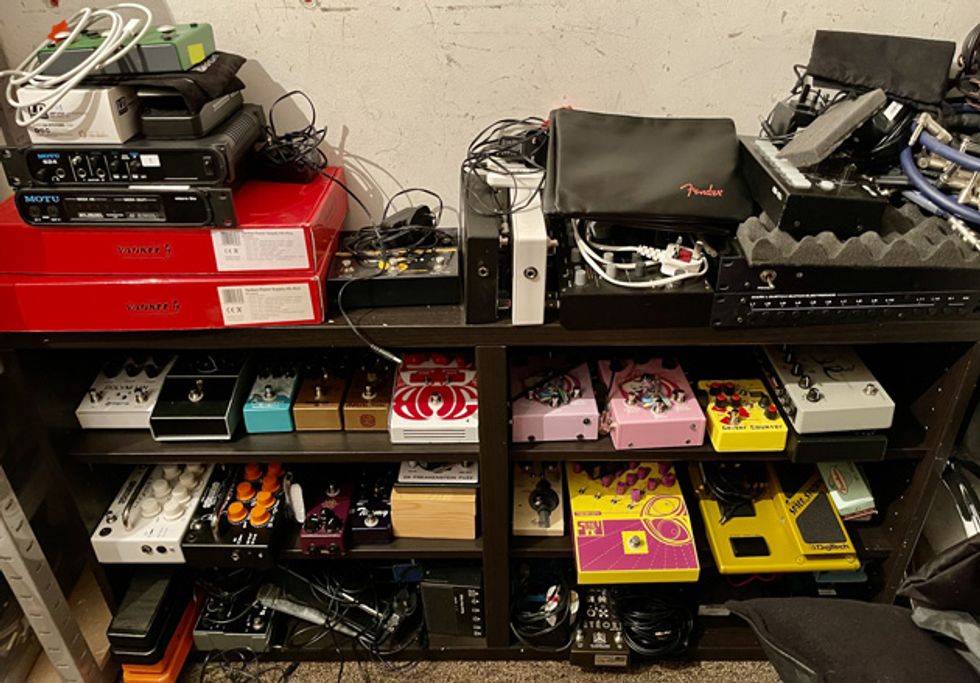 Are you serious??