You could win YOUR CHOICE of neck and bridge humbuckers from StewMac! Enter Below: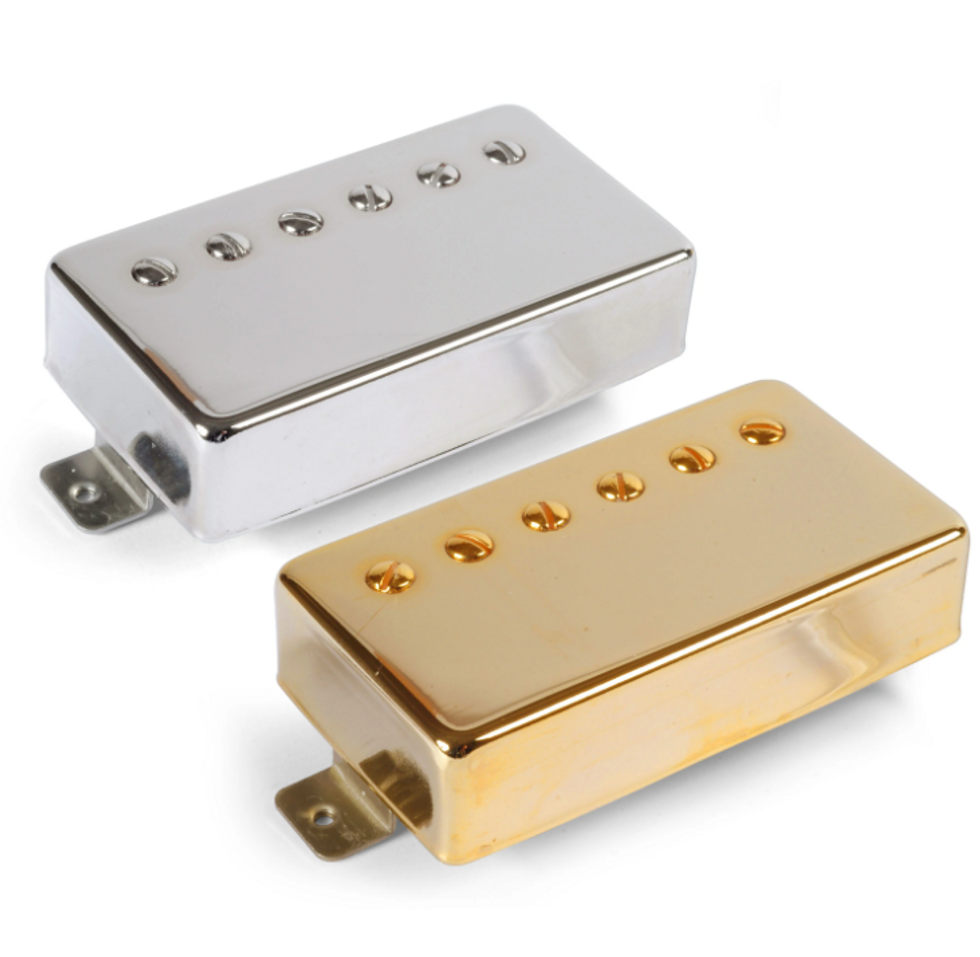 Straight-up raw vintage tone! Closely modeled after outstanding original P.A.F.s, these humbuckers capture the tone that changed music forever.
Crafted by tone experts
Our own Erick Coleman tracked down priceless original P.A.F. humbucker sets and meticulously studied the materials and construction that gives these pickups their truly timeless tone. Once he cracked the code, that tone was undeniable!
We christened these exceptional humbuckers in tribute to the famous Kalamazoo address where the holy grail of pickups, the legendary P.A.F. (Patent Applied For), was born.
We build them like they used to!
Just like the originals, the slug coil has more windings than the polepiece coil, and both coils are unpotted. Old P.A.F.s weren't made in separate neck and bridge-position models, and their DC resistance varied from 7-9K ohms. We give you a choice: Parsons Street neck position pickups are wound to mid 7K range, and bridge position models to low 8K range.
StewMac
A gigging guitarist in Boston needed a lighter guitar with humbucking support, so he called on a local luthier to build it.
Name:

Conrad WarreLocation:

Boston, Massachusetts

Guitar:

The Beecaster

As the guitarist for the Boston-based, acid-blues band Bees Deluxe,there were two different guitar problems I needed to address. We sometimes play shows that can last more than three hours, and we occasionally play venues that have prehistoric electric wiring in the building, especially if they're running older kitchens for their dinner crowds. The extremely long shows could be helped by my playing a much lighter-weight guitar than I typically play.

We sometimes play shows that can last more than three hours, and we occasionally play venues that have prehistoric electric wiring.

The older (more venerable) venues who haven't shielded or upgraded their electrical wiring properly result in my single-coil guitars picking up local television news stations and re-transmitting their signals or merely humming along with them tunelessly, and require some level of humbucking support. So I commissioned a local expert luthier, Michael McCarten of Athol, Massachusetts, to build me a single, noiseless-pickup guitar made of the lightest appropriate wood.
McCarten specializes in building archtop guitars, mandolins, resonator guitars, ukuleles, and pocket violins, and proved very amenable to collaborating with me on the design. We chose basswood for the single-cut body, a maple set neck with ebony fretboard, and a Seymour Duncan Noiseless Stack Neck P-90. I wanted him to install a P-90 because they aren't as far removed from single-coil pickups in timbre as full-blown humbucking pickups. I need a certain amount of bite in the guitar sound to cut through the similar keyboard frequencies in the band.
In order to enable the guitar to have as wide a range of "voice" as possible, we threw in two push/pull pots. The single volume and single tone pots each push-pull. The volume is positioned as close to my right hand as possible to enable "violining" and switches the pickup output from series to parallel, and, at McCarten's suggestion, the single tone pot changes the capacitor in use, bringing a sharper, spankier, brighter, more Telecaster flavor to the P-90 when needed. The Beecaster weighs less than 6 pounds, so now as soon as the venues in the Northeast reopen, and we get back on the road headed north and south, I'll be ready to play the guitar tirelessly from dusk to dawn, like a musical vampire.
Send your guitar story to submissions@premierguitar.com.
Power to the pinky—the variety of sounds in this homage to the 1960s Colorsound Fuzz is damn near astounding. The PG Vick Audio Lucky 13 review.
Recorded with a Royer R-121 and a Shure SM57 going into an Audient iD44 then into GarageBand with no EQ-ing, compression, or effects.
Clip 1: Eastwood Sidejack Baritone DLX with Curtis Novak Widerange Jazzmaster pickups into a Goodsell Valpreaux 21. Neck pickup, first with pedal bypassed, then engaged with Lucky 13 level at max and neck pickup selected, then middle position, then bridge, then back and forth between positions, adjusting guitar volume to various levels throughout.
Clip 2: Curtis Novak Tele-V Telecaster bridge pickup into the Lucky 13 (bypassed first, then engaged with level at 3 o'clock and guitar volume at max) then into the boost side of a SoundBrut DrVa MkII and a Ground Control Tsukuyomi mid boost, then into a 1976 Vibrolux Reverb with a Celestion G10 and a WGS G10C/S.
 

Ratings

Pros:

Myriad fuzz tones—from thick and gnarly to reedy and sqwonky—via guitar-volume tweaks. Cleans up really well with humbuckers. Pretty decent price.

Cons:

Somewhat unpredictable sounds, guitar to guitar/rig to rig. Can be quite noisy with single-coils.

Street:

$119

Vick Audio Lucky 13vickaudio.com

Tones:Ease of Use:Build/Design:Value:
Inspired by the 1960s Colorsound Fuzz designed by Dick Denney (also of Vox AC30 fame), Vick Audio's new Lucky 13 is one of those stomps whose full potential can only be accessed via guitar-volume tweaks.
Silicon fuzzes sometimes have the reputation of being jagged, harsh, or trashy, but at full guitar volume, the Lucky 13 has a warm, thick, germanium-like sound. Its single level control (which governs a simple, two-transistor circuit) goes from nada to woolly-bear beef at its extremes, but for my money there's no reason to set it below 3 o'clock. The higher you set it, the more tonal variety, dynamics, and clean headroom you can conjure with your instrument's volume knob—though different rigs can have surprisingly different results.
'Buckers yielded a plethora of in-between tones that didn't just vary in cleanness, but also in EQ profile.
For instance, with my Tele's single-coils, lowered-volume sounds were more lo-fi, less varied, and considerably noisier. Meanwhile, driven by a baritone with Curtis Novak Widerange Jazzmaster humbuckers, the 13 churned out a deliciously smooth chocolate-destruction milkshake with the neck pickup at max, a chunky, slightly sweeter explosion with both pickups at max, and a velvet-fisted bruising with the bridge dimed. But these doom-friendly sounds were just occasional stopping points, as the 'buckers yielded a plethora of in-between tones that didn't just vary in cleanness but also in EQ profile. With baritone volume near minimum, the tones were surprisingly clean, though also scooped and thin—but not quite Mosrite Fuzzrite-thin—yet more mids crept in as I increased guitar dBs. At mid volume, the 'buckers brought out wonderfully sensitive, even, and amp-like overdrive/crunch, and as I nudged volume further, the tones bloomed beautifully … until bursting into a filthy mushroom cloud at full throttle.
Test Gear: Eastwood Sidejack Baritone DLX and Squier Tele Custom with Curtis Novak pickups, silver-panel Fender Vibrolux Reverb and Vibro Champ, Goodsell Valpreaux 21, Jaguar HC50