Photo by Ross Halfin
Impressions from the road with the world's heaviest band—during their ascent, from the Monsters of Rock tour to …And Justice for All and Load.
We are all in Hell. At least that's how it seems in Akron, Ohio's Rubber Bowl stadium, a nearly half-century-old, crumbling concrete relic built to amass the sun's rays until hot enough to remove the flesh from the bones of the members of the University of Akron's football team. It's June 1988, and the first day of a two-show stand for the original Monsters of Rock tour, with Van Halen, Dokken, Kingdom Come, the Scorpions, and, in the middle of the bill, Metallica. One of these things is not like the others. Most play by the old-school rules of metal, and they hit their marks—hard. But not as hard as Metallica, whose set detonates with an almost incomprehensible mix of rage and soul. In the songs they play that day, which include "For Whom the Bell Tolls," "Welcome Home (Sanitarium)," "Harvester of Sorrow," "Fade to Black," "Seek & Destroy," "Master of Puppets," and "Am I Evil," there is a world of pain and celebration, of self-doubt and exorcism—all hinged on James Hetfield's downstroked guitar tones, a tsunami of high-gain amplification, and a drummer who is seemingly trying to beat the Devil back into his pit.
Which brings us back to Hell. It's 97 degrees in the Rubber Bowl and there is little refuge within its grim walls, and inadequate food and beverage service. Everyone is hot, thirsty, and covered with sweat and dust. At one point in his band's set, Rudolf Schenker, songwriter and rhythm guitarist for Scorpions, tries one of his colorful stage moves—twirling a Flying V over his head while holding it by the headstock—and the guitar leaps from his sweat-covered paw, flies across the proscenium, and cracks in half.
I'm there because I've been sent on assignment by Musician magazine, where I'm associate editor at the time, and perhaps the only writer there besides the Rev. Charles M. Young who takes metal seriously. A few months before I came on, the publication did its first metal cover, depicting Rob Halford and other hard-rocking heroes as Marvel comics characters.
There is nothing cartoonish about Metallica's performances on both days in this unforgiving fortress of rock. At this point in their career, they specialize in lurching, locomotive rhythms, head-snapping time changes, and a relentless wall of sound that, while brutal in its own delicious way, takes away the pain of the heat. It's a sound that cannot be denied. And the crowds show their love by exploding at the end of every song, and bouncing fans onto the stage like human volleyballs, tossed back by security in return. It's fun to watch, and transporting to hear.
Metallica and Load brought a new sound and look for the band—Lars Ulrich, Jason Newsted, James Hetfield, and Kirk Hammett.
Photo by Anton Corbijn
In fact, when I first heard Metallica, I didn't comprehend that they were a metal band. I picked up Kill 'Em All on a whim in 1983, intrigued by the hammer with bloodstains on its cover. To my ears, and the reference points of my outlier listening habits, they were mixing hardcore with the avant-garde—creating a sound more akin to Sonic Youth or sped-up Swans than Sabbath, Zeppelin, or Priest, all bands I also loved. But when I caught them on tour, I got it. At that point, I knew nothing of the New Wave of British Heavy Metal, since its sound never reached the rust belt of central Connecticut, where I grew up. What arrested me was more than Metallica's garb, long hair, and the crowd's headbanging. They pummeled … and artfully soared—a rare balance. James Hetfield drove the songs with his bristling, emotionally fraught howl, and used his profoundly insistent guitar style to command demon groove to do his bidding, with drummer Lars Ulrich and bassist Cliff Burton also keeping their hands on its chains. And Kirk Hammett was entirely unfettered, tossing off ferocious melodies that were so fast and compact they were sometimes hard to absorb intellectually, but nonetheless landed breath-stealing emotional punches. Hell of a rhythm player, too. This was heavy rock wrought extra heavy, then made even heavier by the band's intersection of energy, virtuosity, power, imagination, and heart. It was evolutionary metal that would lead the genre in multiple directions: powerfully introspective songwriting, a new form of rhythmic expression, explosive nihilism, and edgier, more furious guitar virtuosity. If there was another band as literally impactful at the time, I was unaware of it.
"When I first heard Metallica, I didn't comprehend that they were a metal band."
My task at the Rubber Bowl is to interview all the lead guitarists, from Kingdom Come's Danny Stag to Edward Van Halen. [See this month's Tuning Up.] When I catch up with Hammett, it is in an especially noxious space in the corridor of the decaying arena, with the smell of truck fuel, forklifts beeping, and the other sensations of gear and worker bees in motion. Not the perfect place for an interview, but somehow the aural barrage that accompanies our conversation seems like a noisy metaphor for Metallica's own restless, tentacular reach of sounds and emotions.
Kirk Hammett roars with one of his ESP LTD KH-602 signature models.
Photo by Tim Bugbee/Tinnitus Photography
We talk about Hammett's approach, his lessons with Joe Satriani, the band's core sonic strategy. "What we try to do is form one solid voice," he offers. "One solid machine locking into a groove and pushing it into everyone's faces. I mean, I can do the sweep arpeggios and hammer-ons and stuff until I'm blue in the face, but that doesn't fit what we're about. I prefer to use certain guitar techniques as effects, rather than an important facet of my playing. When I'm going for a wah pedal, for example, I use a little hammering for the transition."
Metallica are about to make a transition themselves. Hammett tells me that early in the tour Hetfield and Ulrich had been flying back to L.A.'s One on One Recording between Monsters shows, putting the final touches on a new album. When that recording, …And Justice for All, debuts in August, it will live on Billboard's albums chart for 83 weeks—sharing that space with releases by Tracy Chapman, Bruce Springsteen, and Michael Jackson—and peak at No. 6, transforming the band from outlier to mainstream force, and transforming the musical mainstream in the process. Without Metallica, modern metal titans like Korn, Testament, Avenged Sevenfold, and others would likely not exist, and if they did, they would not have been as successful. Metallica was, and still is, the game-changer.
The Monsters of Rock tour was the first of three times I was on the road with Metallica during a pivotal decade in their career, spanning their albums …And Justice for All, Metallica, and Load—a period that saw them explode in popularity, go through a musical metamorphosis, and begin to reckon with their emotional and psychological haunts as individuals and as a band, and do it in public. The 2004 documentary of their near-dissolution and ultimate rebirth, Some Kind of Monster, was messy and honest and perfectly in keeping with Metallica's awareness that they have created a true—and gigantic—community for themselves and their fans, built around their music. Among friends, there are no secrets. To anyone who's attended a stop on their current, two-year-long tour behind 72 Seasons, rumbling through stadiums around the world like an earthquake, it's obvious that community cuts across all kinds of demographics to create a rare oneness in a divided world.
James Hetfield in 1988, with one of his Gibson Explorers. More beer, anyone?
Photo by Dean Messina/Frank White Photo Agency
When I next catch up with Metallica, it's in Amsterdam, where they have a day off before playing the final show of the first leg of the …And Justice tour. Somehow—perhaps through persistence and excellence—their album about war, intolerance, suppression, alienation, and mortality (hey, that's life!) has hit the top 10. My first day is devoted to interviews with Ulrich, Newsted, and Hammett—and a little weed smoking—and on the next morning, I ride with Hetfield to the gig, at the Leiden Groenoordhallen.
It's a cattle market by day, and before the night's show the accumulated cow shit is bulldozed out of the 11,000 SRO facility to make way for the fans. On the ride, we talk mostly about his songwriting and how it often draws on his own experiences, and especially his complicated relationship with his Christian Scientist family, whose rules and restrictions made him feel like an outsider. But it's not like Hetfield watches the world go by while he limns his navel. He talks about plucking song ideas from headlines, like "Eye of the Beholder," which was triggered by an interview with Dead Kennedys frontman Jello Biafra, talking about the obscenity trial that ensued after the DKs included an H.R. Giger artwork known as "Penis Landscape" in their 1985 album Frankenchrist. And how "To Live Is to Die" was inspired by a eulogy at the funeral of Cliff Burton, who'd been replaced by Jason Newsted on bass by the Monsters of Rock tour.
"The rhythm background is a flatted fifth with a minor pentatonic, so I had to alter every other note in the solo so it would fit."—Kirk Hammett
With …And Justice for All, the band's musical ambitions have risen, which demands a lot from its members. Hammett, for example, explains that "'The Frayed Ends of Sanity' has some off-tempo key changes that are really difficult. Usually a key change comes in a safe part of a song, like after every eight bars. But here it's in the middle of the fifth bar. And then, to add more difficulty, the rhythm background is a b5 with a minor pentatonic, so I had to alter every other note in the solo so it would fit. I had worked out a lot of different things to do in the studio, because it's so tough. But in the end, only about 20 percent of what I'd planned was good enough to use. For one thing, when I got in the studio to record my parts, the tracks were a lot faster than any of the demo tapes I had."
So he just went for it, which Metallica does that night in Leiden. Despite the crushing sounds and desperate lyrics blasting from the stage—or maybe because of them—the atmosphere is ragingly celebratory. The floor is slicked with beer, and robust men keep queueing up at the concessions to order a half-dozen brews at a time—often for themselves. Backstage, before the show, Metallica are no slouches, either. The green room has its own Jägermeister chiller, and everyone partakes copiously. After all, this is in the days when they are still tagged with the nickname "Alcoholica"—although Ulrich assures me they have all slowed down compared to the "three or four years when we did have every excess known to man."
At one point during the show—which is absolutely ripping and inspired—a bit of foreshadowing occurs. Hammett stands a little too close to a flash pot when it explodes, and he is visibly shaken. He stops playing for a moment, and looks stunned, but then digs back into his guitar. During a Montreal show four years later, Hetfield would suffer second-degree burns in a similar-but-worse pyro-gone-amuck accident. For the record, during the …And Justice tour, Hammett is playing Fernandes Vs and Strat-styles, while Hetfield is big on Gibson Explorers. They're also both plugging into the Mesa/Boogie amps that have become, and still are, part of their sonic firmament, and Hetfield also uses a Roland JC-120. Newsted is playing a custom 5-string Wal, with Crown power amps, a Trace-Elliot preamp, and Ampeg cabs.
After the show, Metallica throws an end-of-tour party, renting out a restaurant in a nearby town and putting literally every bottle behind the bar out for self-service. Plus, we're in the Netherlands, which means joints the size of hoagies are making the rounds. Just before I leave, to catch an hour's shuteye before grabbing a plane back to the States, I witness something truly touching. At the end of the night, a dark-haired young stranger throws her arms around Ulrich and begins to sob, crying over how much she'll miss experiencing Metallica live. He freezes and his eyes widen in surprise, then soften, and he spends the next 15 minutes quietly talking her out of her tears.
Later, I'm nearly driven to tears on the flight home. After a day of interviews, a devastatingly superb rock show, and a lot of drinking and smoking, a family with a crying baby takes the seats in front of my row on the plane, and the child howls all the way from Amsterdam to New York. As I shuffle into customs in my leather jacket, black jeans, engineer's boots, and Metallica t-shirt … my eyes red, my face unshaven, my head louder than Lars' kick drum … the agent stops me.
Kirk Hammett on the Monsters of Rock Tour at Giants Stadium, two months before the release of Metallica's game-changing album, …And Justice for All.
Photo by Dean Messina/Frank White Photo Agency
"Where have you been, sir?"
"Amsterdam."
"Business or pleasure?"
"Business."
"What kind of business."
"I'm a journalist."
"And what were you doing?"
"Interviewing Metallica."
"Okay, go through."
That is not how I thought that conversation would end.
The next time I connect with the band, their world has changed. The pivot was 1991's Metallica, also known as The Black Album. Some of their fans consider it a sacrilegious betrayal of the raw and heavy. I think it's a logical step. After conquering, hell, redefining what metal is, why not reach back and claim the original grail as well? Why not prove a mastery of classic-rock songwriting, of melodies with air and grace, of hooks that take you to the heights of the charts and insure permanence on radio, of the style that inspired the style—that New Wave of British Heavy Metal—that inspired you? I don't hear that album as betrayal; I hear it as beautiful.
But it's six more years, in 1997, before I have the opportunity to check in with Metallica in person again, and this time it's in Italy, for concerts in Milan and Turin. They're staying at the Hotel Principe di Savoia near Milan's Central Station. In Akron, they stayed at a Holiday Inn. Built in 1876, the Principe di Savoia bills itself as the favorite choice of royalty and celebrities. Metallica are now both, and a crowd of fans is stationed outside the hotel 24/7 in hopes of a glimpse or encounter. The lobby glows with stained glass, and in my room I find a fluffy bathrobe draped over a heated chrome pipe in a bathroom that's the size of my first Boston apartment. In the morning, I can't decide whether to take a dip in the lovely art-deco-style pool or ride a rooftop stationary bike, overlooking the city. I opt for the bike and the view, as well as a croissant and freshly squeezed orange juice brought by a server. Such are the days of the record-label-paid junket.
Besides better digs, Metallica now have their own jet and a squad of protectors. In addition to a head of security and his assistant, each band member has his own bodyguard. I mention that the last time I was with the band, it was merely a two-man security detail. Now, the head of the force explains each musician is worth such a vast sum of money—not only in his own right, but to their record label and other business interests, that there's no choice. Plus, there are routinely threats made against them, and security sends photos of people who are known stalkers to upcoming-show venues about a month in advance of the band's appearances—common practice for superstar artists.
Despite their security cadre, it's fashion week in Milan, and somehow groups of young models are able to slip by the elite team to get backstage post-show at the Mediolanum Forum, where I'm conducting interviews with the guys after having been elevated by a performance that mixes classics with gritty new Load songs like "Cure." That's about trying to let go of the held-in pain from life's trials—nearly an avocation for Hetfield at the time. Load's sound is closer to Metallica than Kill 'Em All, for sure, but the band is still clearly holding nothing back. There's a stunt built into this tour's show, where a roadie in a flame-resistant suit pretends to catch fire in a stage accident. The first time I see the flaming man running across the stage, I fall for it, as does the record company publicist who's with me. But the crowd's in on the joke and cheers, providing me relief. Still, it seems questionable, or at least ironic, after the band's history with pyro.
"Every town I'm in, I have to get local dirt on my boots for good luck."—James Hetfield
Good fortune and superstardom aside, most band members seem essentially the same people as a decade before. Lars is still gregarious and opinionated, Kirk is thoughtful and friendly, Jason is reserved and a bit standoffish—maybe because he still seems like a cousin in a band of brothers. Musically, despite the new, post-Metallica flavor of the songs, they're mostly working the same modus operandi, too—although Hammett and Newsted have been granted more creative freedom in the studio than on earlier Metallica albums, which were essentially the James and Lars show. "The big change for me actually started on the …And Justice for All tour, where the changes with all these different time signatures became an exercise in trying not to fuck up," Lars offers. "When I listen to tapes from the Black Album tour, even though we were playing in a new, simplified style, the tempos still sound pretty rampant to me in some places.
But things seem different with James. Despite his obvious introspection, he seems less reserved, more open, far more cheerful than one would assume from listening to his lyrics or from, later, watching Some Kind of Monster. Our conversation veers from songwriting to developing character in song lyrics to blues to cars, and even to Tom Waits, whose work he admires and whose aesthetic he's a little jealous of. "Sometimes, it sounds like he just pushed a button and goes 'good enough,'" he says, smiling. Trying to break character and be spontaneous himself, Hetfield had completed the lyrics for nearly 30 songs for the Load sessions, and he is feeling good about it. And everyone in Metallica has cut back on alcohol. And they are clearly—with the possible exception of Newsted, due to his station in the band and a neck injury from too much head-banging—having fun.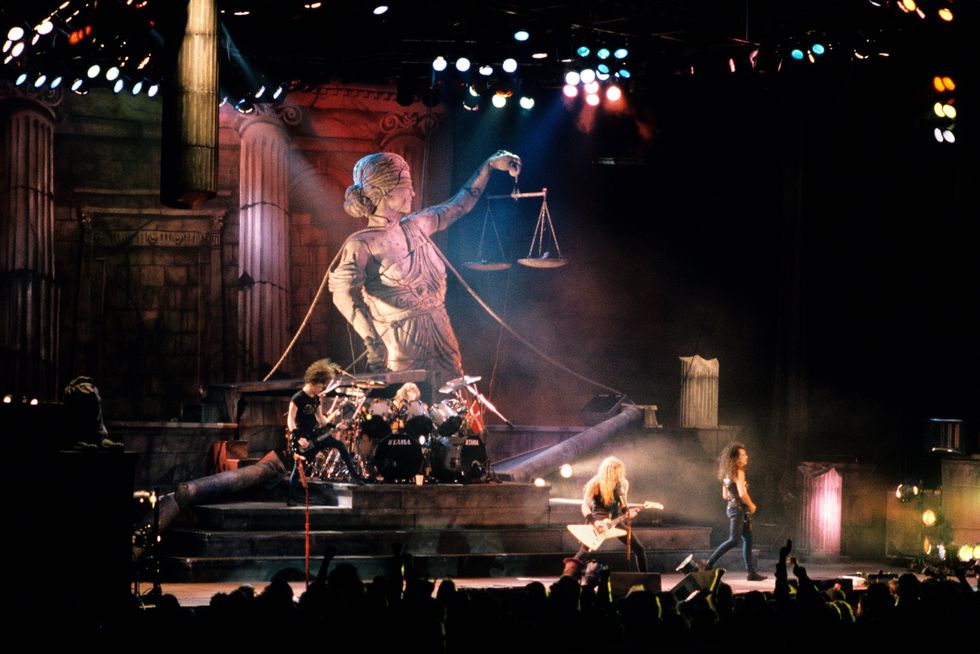 Lady Justice was a fixture on Metallica's …And Justice for All tour, where the band's penchant for complex time signature changes really came to the fore.
Photo by Ebet Roberts
The next night, I'm hanging out in the offices of the PalaStampa arena in Turin, Italy, talking with Hetfield again, and running tape, when I notice what looks like a cat box filled with dirt inside the makeshift dressing room. I'd seen it the night before in Milan, too.
"James, did someone bring their cat on tour?"
"I'm the cat, man."
"What?"
"I'm the cat. On Lollapalooza, I got into this thing: My stage boots were too clean when I first got them. 'Fuck,' I figured, 'I better dirty them up.' So every night before I went onstage I kind of kicked them around in the dirt. It became kind of a ritual. Every town I'm in, I have to get local dirt on my boots for good luck. That was fine at Lollapalooza, 'cause you're outdoors everywhere. But here, I have to have somebody bring me some dirt."
I haven't connected with Metallica personally in the decades since, partly because I dropped out of full-time journalism and did very few in-person interviews during the 18 years when I was touring with my own bands. But I still deeply connect with their music, and I will always respect any artist who relishes getting in the dirt.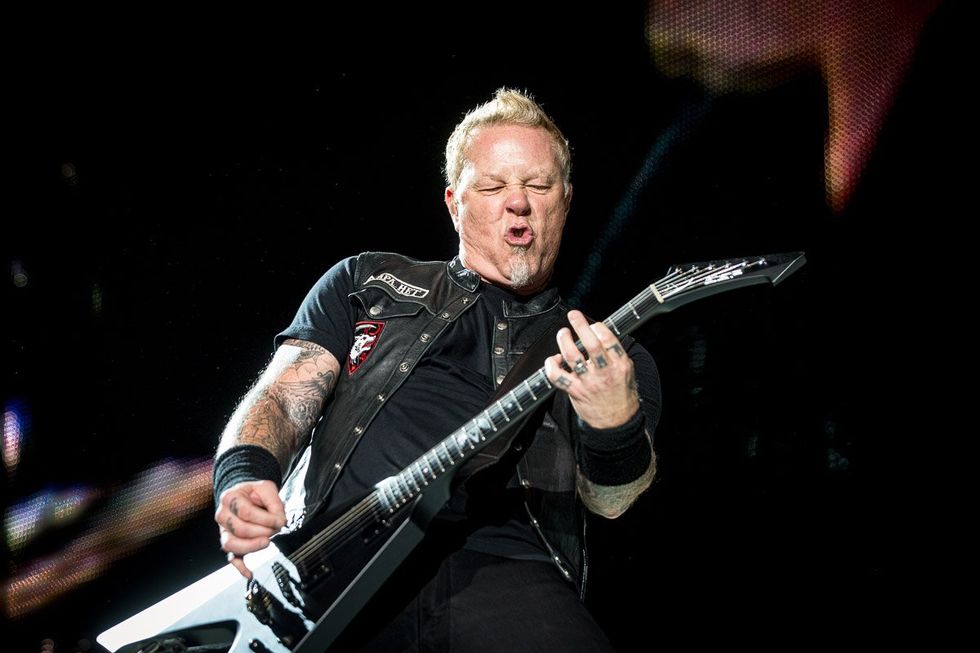 James Hetfield today, on the 72 Seasons tour at Gillette Stadium in Foxboro, Massachusetts.
Photo by Tim Bugbee/Tinnitus Photography
PG's Jordan Wagner walks us through his latest review of ESP Guitars James Hetfield Snakebyte Guitar that is featured in the December 2011 issue of Premier Guitar, which also can be read online here - .


PG's Jordan Wagner walks us through his latest review of ESP Guitars James Hetfield Snakebyte Guitar that is featured in the December 2011 issue of Premier Guitar, which also can be read online here - .
PG's Brett Petrusek is On Location at the 2011 NAMM Show where he visits the EMG Pickups booth. In this segment, we get to see and hear about their newest set of pickups--the James Hetfield Signature set.


PG's Brett Petrusek is On Location at the 2011 NAMM Show where he visits the EMG Pickups booth. In this segment, we get to see and hear about their newest set of pickups--the James Hetfield Signature set.