The Rainmaker and Dreamcatcher aim to capture the shredder's vision with an increased sensitivity to pick attack and more dynamic range.
Staten Island, NY (June 28, 2019) -- DiMarzio, Inc. announces the release of Rainmaker Neck (DP281), Rainmaker 7 Neck (DP723), Dreamcatcher Bridge (DP282F), and Dreamcatcher 7 Bridge (DP724) pickups for 6- and 7-string electric guitars. The Rainmaker Neck and Dreamcatcher Bridge were developed for John Petrucci of Dream Theater.
John says the new Rainmaker and Dreamcatcher neck and bridge pickups are "the quintessential tone-monsters we've been working on together since our very first collaboration, and the end result is absolutely mind-blowing.
"From the moment I plugged in the guitar and played the first note, I knew that we achieved Holy Grail-level results. With these pickups, the Majesty's inherent tonal complexities and beauty are brought out in a way that gives the guitar an expressive, intense, fearless, creamy, gorgeous, pure, unobstructed, and addictively powerful voice. It literally feels like the guitar is alive and ready to jump out of my hands!"
Although designed specifically for John's neck-through signature Ernie Ball Music Man Majesty guitar, the basic performance shows the overall direction John said he wants to follow in pursuit of his personal sound. These pickups have an increased sensitivity to pick attack and more dynamic range overall.
The Rainmaker Neck and Rainmaker 7 Neck have an interesting blend of both warmer highs and more open mids to blend classic and modern approaches to the neck pickup. The Rainmaker Neck (for 6-string guitars) is available in standard spacing only.
The Dreamcatcher Bridge and Dreamcatcher 7 Bridge focus more power on the low mids to allow the bridge position to cut through the mix without brittle highs or muddy lows. The Dreamcatcher Bridge (for 6-sting guitars) is available in F-spacing only.
John claims, "These pickups are truly inspirational, and I look forward to hearing them roar on stage and in the studio night after night!"
DiMarzio's Rainmaker Neck, Rainmaker 7 Neck, Dreamcatcher Bridge, and Dreamcatcher 7 Bridge are made in the U.S.A. and may now be ordered for immediate delivery. Suggested List Price for the Rainmaker Neck and Dreamcatcher Bridge is $129.99 (MAP $89.99). Suggested List Price for the Rainmaker 7 Neck and Dreamcatcher 7 Bridge is $139.99 (MAP $99.99).
For more information:
DiMarzio
The progressive metal band's sultans of shred talk about the gear on The Distance Over Time tour, including John Petrucci's brand-new Music Man Majesty Series signature models and Myung's potential 2020 signature bass.
Dream Theater's The Distance Over Time Tour is nirvana for the band's fans, who are devout. It's a three-hour sonic journey through the new The Distance Over Time album, a selection of fan favorites, and the entire Metropolis Pt. 2 Scenes from a Memory, which is being played in full to mark the 20th anniversary of its release.
We met with Petrucci, Myung, and chief axe tech Maddi Schieferstein onstage at Nashville's Tennessee Performing Arts Center before a soundcheck for the band's sold-out April 17 concert. The video covers everything—and the still photos provide a closer look at Petrucci's new-for-2019 signature models, Myung's bass, effects, amps and more.
And yes, I know I said "speakers" instead of "pickups" and "alder" rather than "ash" early in the video. Send coffee and hate mail in care of the magazine. Or just troll me in the video's comments section, for your convenience. But more important, dig into this supercool Rig Rundown.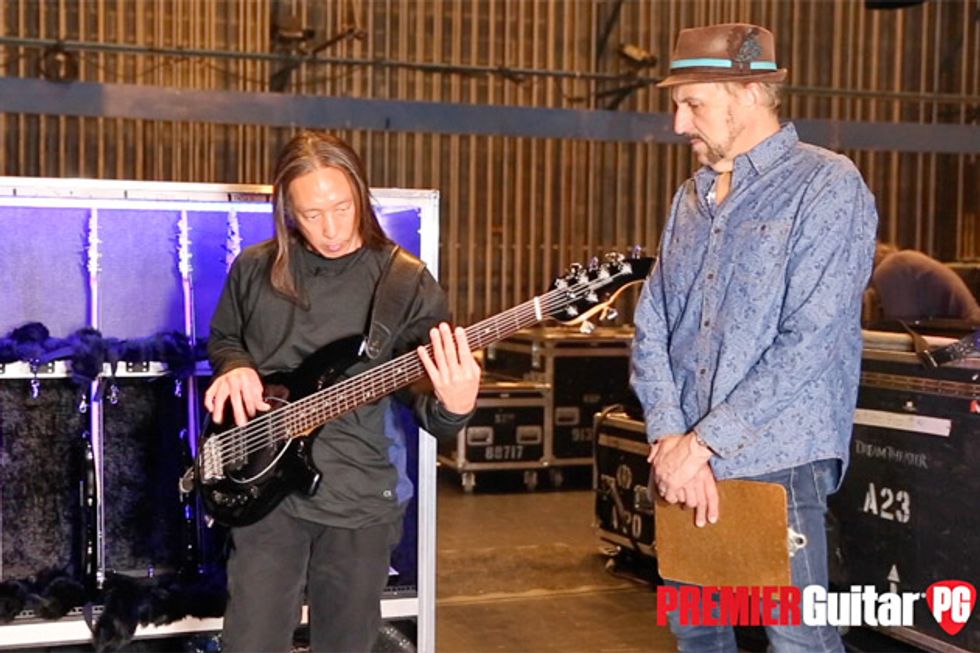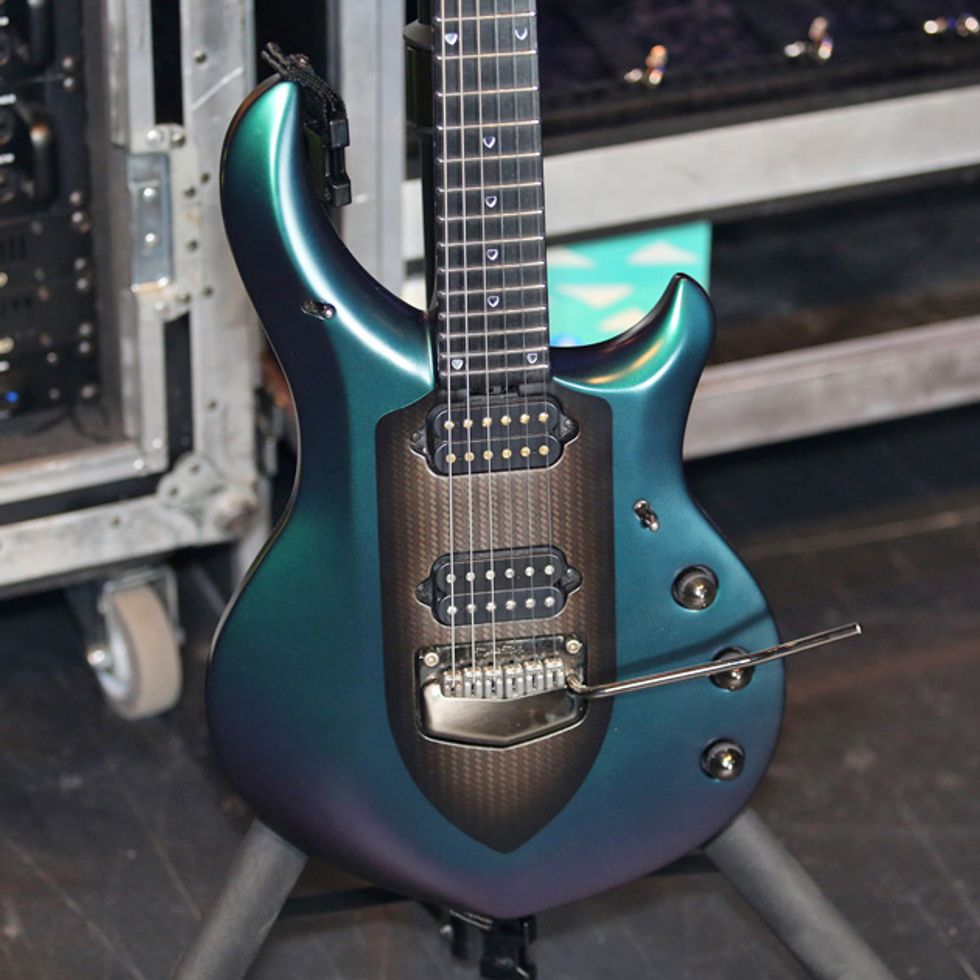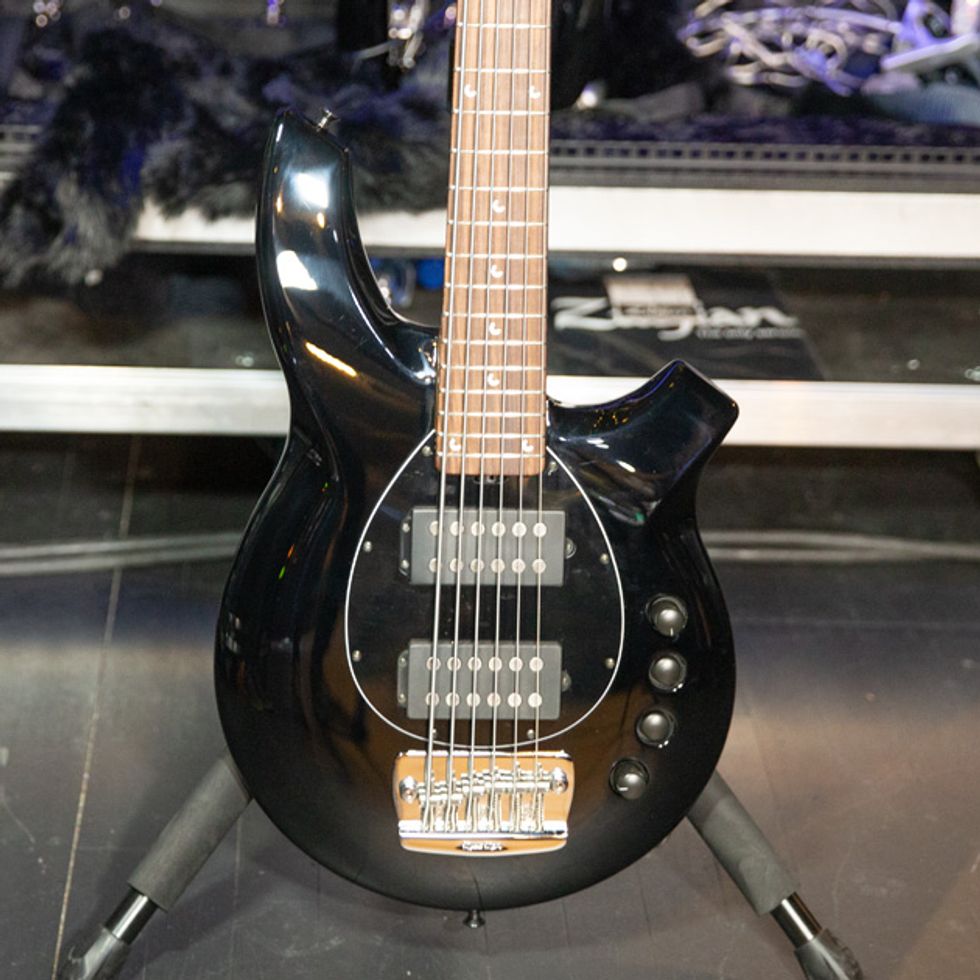 Click to subscribe to our weekly Rig Rundown podcast:

D'Addario Auto Lock Guitar Strap:http://ddar.io/AutoLockStrap