The progressive metal band's sultans of shred talk about the gear on The Distance Over Time tour, including John Petrucci's brand-new Music Man Majesty Series signature models and Myung's potential 2020 signature bass.
Dream Theater's The Distance Over Time Tour is nirvana for the band's fans, who are devout. It's a three-hour sonic journey through the new The Distance Over Time album, a selection of fan favorites, and the entire Metropolis Pt. 2 Scenes from a Memory, which is being played in full to mark the 20th anniversary of its release.
We met with Petrucci, Myung, and chief axe tech Maddi Schieferstein onstage at Nashville's Tennessee Performing Arts Center before a soundcheck for the band's sold-out April 17 concert. The video covers everything—and the still photos provide a closer look at Petrucci's new-for-2019 signature models, Myung's bass, effects, amps and more.
And yes, I know I said "speakers" instead of "pickups" and "alder" rather than "ash" early in the video. Send coffee and hate mail in care of the magazine. Or just troll me in the video's comments section, for your convenience. But more important, dig into this supercool Rig Rundown.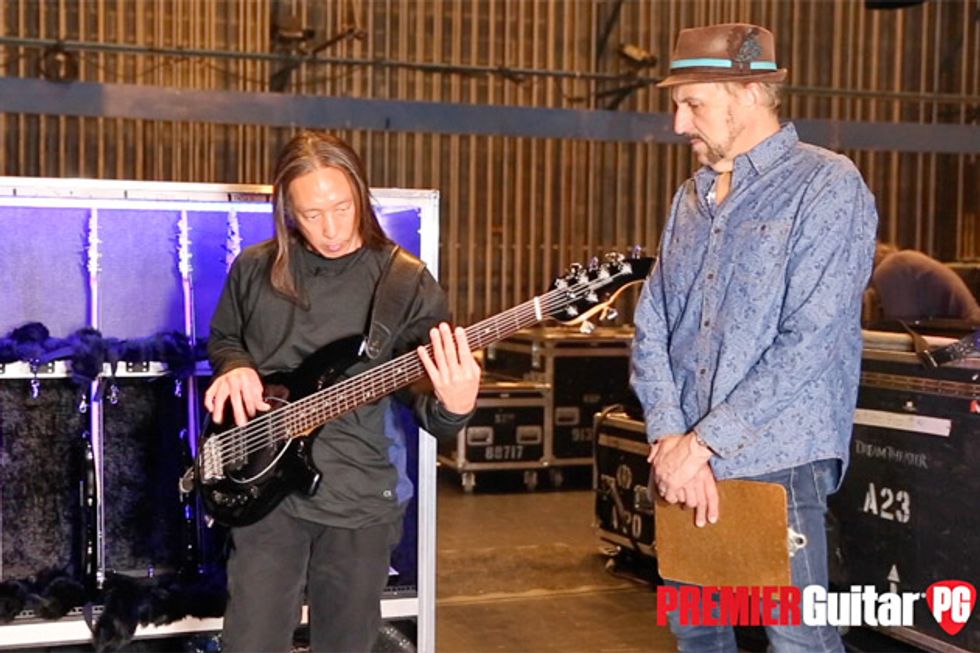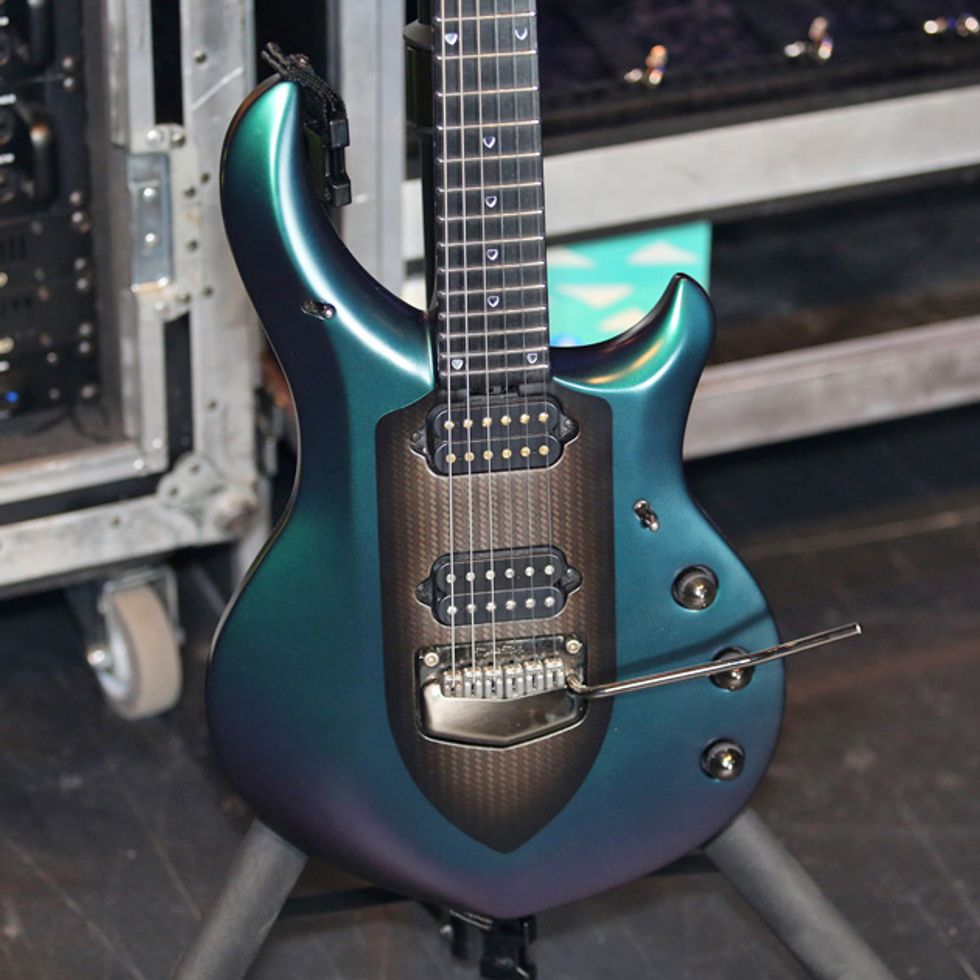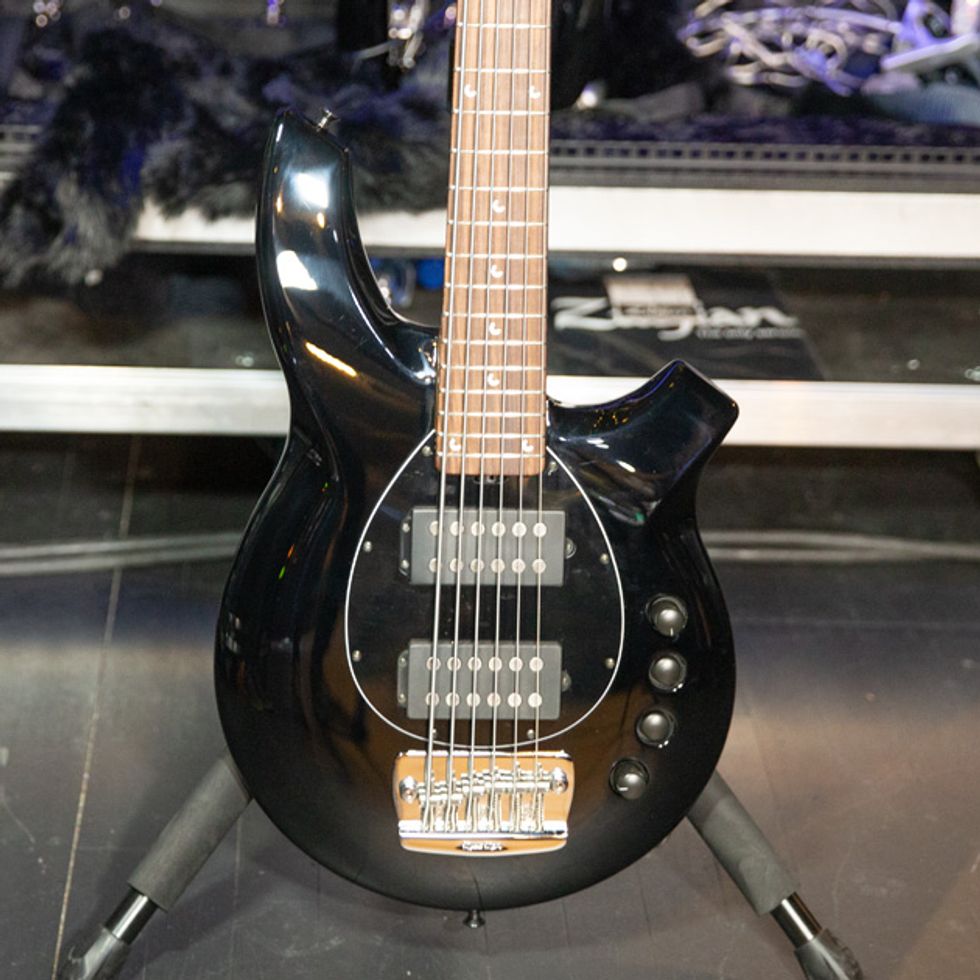 Click to subscribe to our weekly Rig Rundown podcast:

D'Addario Auto Lock Guitar Strap:http://ddar.io/AutoLockStrap
Photo by Mark Maryanovich
John Petrucci and John Myung embrace raw tones and spontaneous ideas on the band's latest album, Distance Over Time.
The Astonishing, Dream Theater's 2016 concept album, was a massive undertaking, even by their standards. Crafting the rock opera was a challenge: The band had to create the concept, write the story, compose and record the music, and track full orchestras and choirs. Then they had to find a way to present the spectacle on tour with full story line and video accompaniment. But masterfully helmed from the start by guitarist John Petrucci and keyboardist Jordan Rudess, the album and world tour were a magnificent success.
As if that weren't enough, the band hit the road again to commemorate the anniversary of their 1992 breakthrough album, Images and Words. So how did Dream Theater finally come down from the creative whirlwind of the last few years? "My two eldest graduated from college and we took a much-needed family vacation," says Petrucci. "But I also did two legs with G3 in the U.S. and Europe."
When Dream Theater reconvened to record their latest album, Distance Over Time, each member knew it was time for a back-to-basics approach. Intent on relaxing and discovering what a stripped-back Dream Theater sounded like more than three decades after its inception, the band—which also consists of vocalist James LaBrie, bassist John Myung, and drummer Mike Mangini—found a beautiful but undisclosed location in upstate New York. The original plan was to enjoy communal time writing and connecting as the long-time friends they are. But fate had other plans.
As Myung recalls, "It was like, 'Man, we don't want to leave this place and go into Manhattan just to have the whole vibe change. Let's just stay here.' So that's what we did. We recorded the whole album there."
While you might assume a scenic getaway with great friends and a more laid-back approach might tame the band's sound, one spin through the resulting offering reveals quite the opposite. By stripping away the layers of orchestrations, overdubs, and studio techniques that defined the last album, Distance Over Time emerges as what may be the most immediate and sonically direct album of Dream Theater's lauded career.
Or as Petrucci succinctly puts it, "This is what Dream Theater sounds like."
From the moment the opening track, "Untethered Angel," confronts your eardrums, it's clear what he means. While songs like "Room 137," "Barstool Warrior," and "Paralyzed" display the band's trademark moves, it's the album's rawness, the clarity and character of Myung's bass, and the power of Petrucci's straightforward tones that truly elevate this effort.
Gearing up to embark on yet another relentless tour, Myung and Petrucci were happy to give Premier Guitar a peek behind the curtain that surrounds Distance Over Time. The conversation, like the synergistic nature of their playing, reveals a confident and inspired Dream Theater that's more powerful and unified than ever.
Distance Over Time diverges quite a bit from The Astonishing, both sonically and artistically. What was different about the process this time?
John Petrucci: It was a completely different approach. The Astonishing was conceptual, story-driven. We had a ton of orchestration with an orchestra and choir. Jordan and I wrote it and everybody recorded it. So it was not as inclusive of an experience for the band. This time, it was quite the opposite. It was all of us together as a band writing, hanging out, coming up with all the ideas—everybody contributing equally and really being a part of it. It was a lot more organic.
"It's not a million overdubs, it's not additional strings, or anything. This is the closest to hearing what Dream Theater sounds like when it's just five guys playing and singing." —John Petrucci
What inspired that approach?
John Myung: I think we were just looking forward to spending time in an environment like in the early days. It was important to not be in a full-on studio environment, which can be a bit clinical. So, it was nice connecting without any of that pressure. We just connected on a different plane.
John [Petrucci], you've produced several of the last few albums, yet each has a distinct sonic quality. What's the trick to getting such a fresh sound after playing and writing together for so long?
Petrucci: First of all, I don't want to give too much importance to that. It's just a title. We just make sure we stay on track and do what we talked about doing. With Distance Over Time, we said, "Let's make an organic-sounding record. Let's keep it heavy. Let's have fun. Let's keep it sounding like we're playing live and capture the energy that we have as a band." Inevitably, somebody needs to figure out what the best way is to do that. So, that's my job. But there's so much talent in the band that it happens very naturally.
Myung: It definitely needs a leader when you have five people.
How did you go about accomplishing that on the album?
Petrucci: We recorded live demos as we wrote. This is what the band sounds like when we play together. We wanted to capture that in a bottle. It's not a million overdubs, it's not additional strings, or anything. This is the closest to hearing what Dream Theater sounds like when it's just five guys playing and singing.
Myung: The important part is making decisions as a band. It's the chemistry. It's five people and how they connect the ideas. That's what yields really interesting songs, when we're on that plane.
Guitarist John Petrucci produced the band's 14th studio album, Distance Over Time. "It was all of us together as a band writing, hanging out, coming up with all the ideas—everybody contributing equally and really being a part of it," he says.
Petrucci: John's right. If the ideas are strong, and if the chemistry is working, and everybody is on the same page, then it's undeniable.
Each musician in Dream Theater is such a monumental talent. When you write, do you write to the specific players or is the song the only focus? Are you conscious of what your fans are expecting?
Myung: All of the above. You don't want to write something that alienates people who expect a certain thing from us. But you're also not really concerned with all of that, because then you'll never get anything done. It's just basically, if it feels right. If it isn't happening, then we'll break it back open and start to work on it again.
Petrucci: Exactly. There's definitely something to be said for being a band and knowing each other for as long as we have. Like in the case of "Untethered Angel," John came in with a bass riff, and I said to him, "I'd love to hear that in a different tuning, maybe in a lower register. Let me just try that." And it morphs into something different. There's a lot of trust that goes back and forth.
Dream Theater has always put a large focus on composition and "the song." How are you able to balance that with the pyrotechnics that fans demand?
Petrucci: The song is the most important thing, at the end of the day. If the song isn't there—the meaning, the message, the melody, the drive, and the passion—if that's weak, there's no hiding it. It doesn't matter how technically good you are. Maybe it's this prog-metal technical presentation, but within that are all of the elements of songwriting we really pay close attention to. Without that, you really don't have anything. Just a bunch of notes.