Solid wood construction and Bozeman-built appeal in more affordable and streamlined designs.
Intimate-feeling playing experience. Nice neck. Easy to play. Body shape well suited to austere appointments.
Fundamental build quality good, but detail-level work could be much improved.
4
3
5
3
Gibson's history is rich with acoustic instruments built to be accessibly priced. The company's beloved and underrated B series guitars from the '60s, for instance, used laminate mahogany sides to make them more attainable. Even the legendary J-45 began as a relatively affordable model—cleverly using that beautiful sunburst finish to conceal less-than-perfect spruce pieces that were in short supply around World War II.
For most of recent history, Gibson's acoustics occupied more rarified upmarket territory—largely leaving the mid-price business to their Asia-built Epiphone Masterbilt instruments, Taylor and Martin's Mexico-built entry-level flattops, and a revolving cast of overseas manufacturers.
It's easy to understand Gibson's reticence to enter the mid-price acoustic game with a Gibson-branded guitar. It's a brutally competitive market: Asia-built instruments leverage lower manufacturing overhead to ape more expensive American inspirations, while legacy American brands offer less luxuriously ornamented guitars built with alternative and laminate woods—often in facilities in Mexico. With the Generation Collection of acoustics, Gibson chose a middle path to the mid-price market. Rather than move production to Mexico or overseas, or use laminates or wood composite materials, the Generation guitars are built with solid woods in the same Bozeman, Montana, facility that makes the company's top-shelf flattops. That means the guitars are pretty austere and more expensive than a lot of the mid-price competition. In fact, you could argue that the highest-priced members of the Generation series, the $1,599 G-Writer and $1,999 G-200, are not mid-priced at all. Yet the G-00 and G-200 offer a compelling playing experience, and each model is built with a side port (which Gibson calls the Player Port) that enables a subtly more intimate means of relating to each guitar's dynamic potential. For this review we looked at the two models that bookend the Generation Collection: the G-00 and G-200.

G-00: A Baby with Big Personality
Gibson G-00
For many players, this author included, the Gibson L-00 is a magical little instrument. Not only does it conjure images of Bob Dylan shattering folk convention circa '65 with his very similar Nick Lucas model, but it's one of those flattops that, when built right, occupies a sweet spot between power and sensitivity. They are fantastic fingerstyle instruments, and the Generation Collection incarnation of the L-00, the G-00, is particularly well suited for that task.
At $999, the G-00 is the least expensive of the Generation Collection, and it might be the instrument that wears the series' no-frills dressing most gracefully. The slim, compact lines are flattered by the lack of binding, giving the guitar an earthy, elemental essence that suits its folky associations. The solid walnut back and sides are beautiful pieces of lumber with abundant swirl and figuring that lend the otherwise plain-Jane styling a lot of personality. The solid spruce top, meanwhile, is straight-grained, high-quality wood. The neck is carved from a single piece of mahogany-like utile, and the headstock (which is fashioned from two additional "wing" sections of utile) is capped with walnut. The striped ebony, with its orange-red streak that runs from the soundhole to the 5th fret, lends a subtle sense of flash to the guitar's otherwise spartan visage, and the fretwork is largely flawless.
Though the G-00 has a lovely natural glow, the nitrocellulose satin finish seems exceedingly thin. That's no bad thing if you like your tone as wooden and unadulterated as possible, but if you're the kind of fastidious player that likes to keep your instrument in perfect shape you may long for a more robust finish. The G-00 also shows some signs of economizing on the guitar's interior, which is more visible for the presence of the player port. A sizable errant glue smear was plain to see just inside the player port and several sections of bracing could have benefitted from another pass with sandpaper. These aren't imperfections that affect sound or playability in any way. But they are details you'd like to see looked after more carefully when you're shelling out a grand for an instrument.
"The G-00 sounds especially lovely in detuned settings, exhibiting bass richness that's rare in a guitar this size."
Wrapped Up in It
One of the really lovely things about playing a guitar with the compact dimensions of the G-00 is the way it feels like an extension of yourself. Big guitars can sound beastly, but the G-00 lends a natural, effortless feel to the playing experience. The neck, which feels like a cross between a D and C profile, walks the line between slim and substantial gracefully. I might have preferred a touch more girth, but there's no arguing with the ease of playability.
The sense of being at one with the guitar is enhanced slightly by the player port. This design feature was, according to Gibson, a primary impetus behind building this line (the company uncovered blueprints from 1964 proposing a J-45 with a relocated sound port). Sound ports have been features on boutique instruments for decades. Just as on many of those guitars, the effect of the sound port is subtle on the G-00. But if you tune the guitar to an open chord and play the guitar while covering and uncovering the port, you'll hear a real difference—primarily in the way the low end blooms and the treble tones ring. And by the way, the G-00 sounds especially lovely in detuned settings, exhibiting bass richness that's uncommon in a guitar this size in this price range.
The G-00 does not come with a pickup, but as we found when testing the pickup-equipped G-200, the port works effectively as a supplementary monitoring solution in quiet performance situations. How it fits into the aesthetic whole is subjective. And how it affects performance will vary from player to player, but, at least in my experience, it lent an extra sense of detail in fingerpicking situations.
G-200: Mama Bear Makes a Racket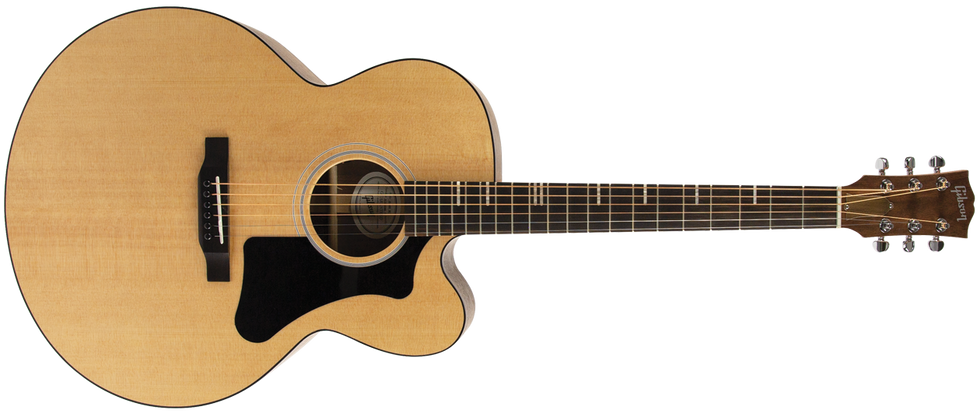 Gibson G-200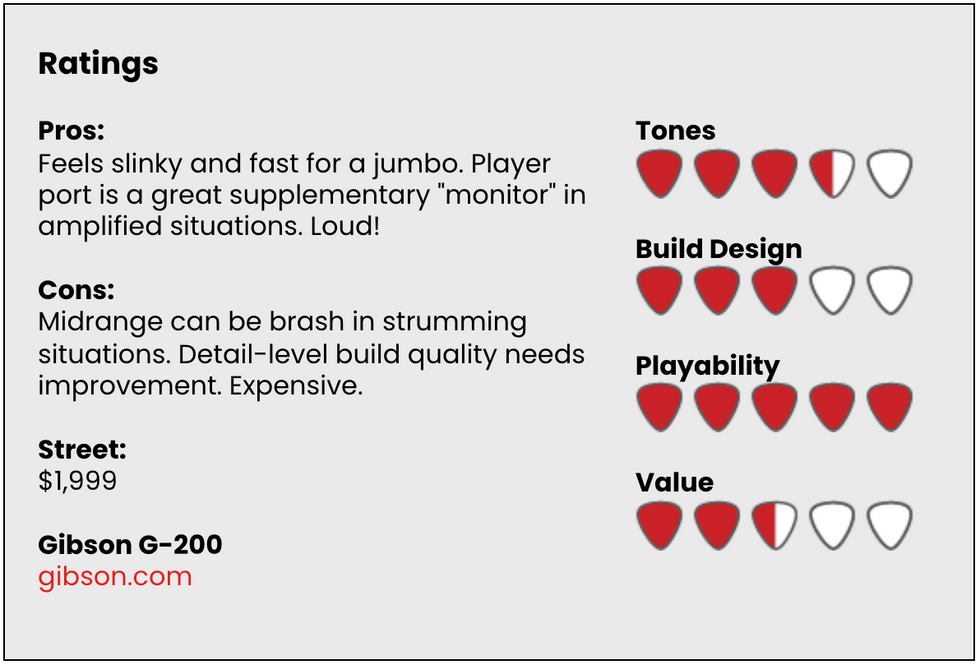 Gibson's list of iconic designs is lengthy to say the least. But while it may not be as famous as some of its other acoustic and electric kin, the J-200 is one of the most beautiful and impressive Gibsons of all. The Generation Collection version, the G-200, does many things that a good jumbo should. It compels a player to dig deep into chugging, choogling rhythm moves and it's loud. Man, is it ever loud. In the case of the G-200, though, that loud can sound just a touch one-dimensional at times. How you relate to strong midrange may determine how much you love or just like the G-200 in a strumming context. But it can sometimes read as brash—particularly when you use the heavy rhythm approach that makes a J-200 the acoustic of choice for power strummers like Pete Townshend.
The bass tones are quite pleasing—a quality revealed, again, by the presence of the player port. And if you use a lighter, more dynamic flatpicking approach, you can coax a much more even tone profile that lets the resonant low end and ringing highs shine. Jangly Johnny Marr and Peter Buck arpeggios sound lovely for this reason—especially when you use a capo. In fingerstyle situations, the guitar feels a little less dynamic and balanced, largely because coaxing an even response from a body this big takes a fair bit of muscle. But when you do get a feel for how to make the G-200 sing with a lighter touch, the walnut and spruce tonewood recipe dishes some very pretty tones, indeed.
Gibson G-200 Review by premierguitar
Stream Gibson G-200 Review by premierguitar on desktop and mobile. Play over 265 million tracks for free on SoundCloud.

Like the G-00, the G-200 is an absolutely lovely player. While the action feels slinky and low-ish, there isn't a buzzing string to be found anywhere—and that's a beautiful thing given how much the guitar begs to be played hard and that the cutaway makes lead runs all the way up to the 20th fret a workable proposition.

But while the playability is hard to top—and reflects a great deal of care for how this guitar was built and set up—there is still evidence of some economizing to keep the price in that high-mid category. As on the G-00, there are clearly rough cuts on the bracing that could have been remedied with a light pass with the sanding block. And while none of that undoes the satisfaction of playing a guitar that feels this smooth, it does potentially undo some of the enthusiasm you might feel after parting with nearly $2K for the instrument. What's more, the soundhole revealed a less than flattering view of the wire connecting the otherwise excellent L.R. Baggs Element Bronze preamp to the soundhole-mounted volume control. You don't want to use hardware to affix a length of wire to bracing or the top that are so critical to tone, but there must be some way to fix a wire so you don't see it flopping through the player port.
"The guitar begs to be played hard and the cutaway makes lead runs all the way up to the 20th fret a workable proposition."
The Verdict
Gibson is taking a noble shot at threading a needle with the Generation Collection. The company's commitment to building a more affordable flattop in the U.S. is a welcome development—not to mention a good way to help guarantee a little more resale value on the back end for players that see a lot of churn in their collections.
There is a lot that is special about the G-00. In tone terms, it compares favorably with more expensive Bozeman-built flattops in the high-mid-price grand concert category. The playability is superb, and the player port adds a subtle but unmistakable extra dose of detail in fingerstyle situations. The G-200 is less flattered by the Generation Collection recipe—at least in its new-from-the-factory state. The midrange could use some of the mellowing that often comes with the passing of a few seasons and sessions. And it's hard to avoid longing for a little more responsiveness to a light touch. That said, it sounds—and feels—massive in detuned situations and its copious capacity for volume makes the possibilities of the G-200 as a rhythm guitar super tantalizing. Whether or not you'll ultimately want to spend a few hundred more for a Gibson with more upscale appointments (a solid rosewood-backed J-45 Studio, for instance, costs just $250 more) will be down to how you bond with the guitar in person. But both guitars exhibit tons of potential for the right player.
An expertly crafted, comfortable, great-sounding small-bodied acoustic from Iowa
Iowa doesn't get enough respect. Some of the coolest things ever have come from Iowa, like late James Gang and Deep Purple guitarist Tommy Bolin, Templeton Rye whiskey, and, of course,
Premier Guitar
. You can add David Munn to that list, too. Munn joins a long list of outstanding Iowa luthiers who have been featured in these pages, including Kevin Pederson of Pederson Custom Guitars (formerly Abyss), classical builder John Dick, and David Flammang of Flammang Guitars. Munn started building guitars in 1978 and studied with American School of Lutherie founder Charles Fox, but supporting a family and working in a frustratingly small workshop space dictated that he take a break. In 2001, he was in a position to retool and expand his workshop, and that's when he got serious about building guitars again.
Show Me the Munny
Our review guitar is hot off the workbench— brand-spanking new. It features a 25.4"-scale Manzer Wedge body, which is really exciting. The Wedge came about when Linda Manzer made a multinecked guitar for Pat Metheny and decided it would have to be narrower on the bass side (3 1/2" versus 4 1/2" on the treble side) so he could get an arm around it. Next thing you know, a lot of luthiers, including notables like Grit Laskin and Kevin Ryan, adopted the Wedge. It's so much more comfortable to play, and it has no negative impact on tone or volume whatsoever.
The Small Jumbo's body is padauk, a rather gorgeous striped red wood that's a cousin to rosewood. The back is a three-piece with a curly maple center strip and some sweet marquetry diamonds in ebony. The top is nice Sitka spruce, with plenty of silking—it's very shimmery and 3-D looking, and the glossy finish really makes it pop. The five-piece, mahogany- and-maple neck is comfortably chunky, with a round profile. It's 1 3/4" at the nut, nice and wide, with no inlay on the fretboard except at the twelfth fret. The fretboard and bridge are Macassar ebony, and the peg head overlays (front and back) are made of luscious, chocolate-and-caramel-colored Madagascar rosewood. I love the gold Gotoh 510 tuners, which are sleek and very modern looking—and quite comfortable to use. They add another classic touch to this already beautiful guitar. The rosette and purfling are unique and elegant, and perfectly suited to the natural look and pleasing curves. Fit and finish seem to be as top notch as they can get, and everything is smooth and even and clean.
All That and More

I'm running out of ways to describe the sound of incredible guitars. I've used brilliant, rich, vibrant, lively, shimmering, and warm until I'm sick of those words. The problem is, you could combine any of those words in just about any order and you'd have the Munn. It's brilliantly velvety. Shimmeringly warm. This guitar takes my breath away every time I pick it up. It has fantastic low end. There's bass to burn, but it's so clean—there's not a bit of mud to be found. Even with a capo at the fifth and seventh frets, it rings gorgeously and the lows just keep rolling out. The mids are also clean, but there's no brittleness, nothing boxy or off in the mids at all. You hear every note like it's bathed in golden light. The highs, to quote David Letterman, "put me in the mind of faeries." It's very well balanced, and the lows, mids and highs work together even better as you dig in. Munn scallops his braces for less weight and freer movement of the top and back, and it seems to be working very well for him. When I sit on the couch with this guitar, the sound seems to wrap around me. And remember, this guitar is still wet behind the ears. I can only imagine how well it will sing a year from now.
A Pleasure to Play and Record The playing experience is equally satisfying. It's perfectly comfortable, and the Wedge makes a real difference in the stress on the right shoulder. I have struggled for years with a rotator cuff injury that won't ever quite heal, and the Wedge allows my shoulder to relax a little bit, letting me play longer and with less pain. My left hand loves the roundness of the neck, and the wide fretboard feels natural to me. From open strings to as far up the fretboard as you can get, the intonation is right on, and there are no funky frets that don't sound the same as the ones around it. The action is easy out of the box, but I could see the action going lower yet, if necessary.
Recording the Munn was a delight. With one of my favorite mics, an sE Electronics sE3 small condenser, I captured a fantastically clean and warm sound. Complex and rich with overtones, the attack comes through punchy but pure, and you can feel the lows in your spine. It reminds me of the smooth, balanced, sparkling tone that the late M'cheál Ó Domhnaill got playing behind fiddler Kevin Burke, which caused me to fall in love with D–A–D–G–A–D. No wonder the Munn stole my heart.
The Final Mojo
The Munn Small Jumbo has the kind of tone that great guitar affairs are made of. The kind of tone that solo fingerstyle guitarists and singer-songwriters lust after in the studio and onstage. That's what makes David Munn keep doing what he does. "I think the most rewarding part of the process is when I get to sit down and listen to one of my guitars being played by a good guitarist, who can really make the guitar sing." And I'm sure that there are plenty of players out there who will be more than happy to oblige Mr. Munn, given the chance.
Buy if...
you're looking for a six-string soul mate to help your heart sing onstage, in the studio, or on the couch.
Skip if...
you prefer to wait until demand is so high that Munn has to double his prices.
Rating...


Valuing a ''90s Guild 12-string and a look at the company''s history
Hello, Zach.

I have a great Guild 12-string jumbo here, and this thing sounds huge! Everything is original except for the electronics. The serial number is AJ520145. I researched the guitar a little bit, and I think it is from the 1990s, but I'd like to know what year it was built and what it is worth today. I'm also wondering what happened to Guild?

Tom
Syracuse, New York

Hi, Tom.

There is no question that Guild's jumbo acoustics are some of the loudest guitars out there! Your guitar appears to be a model JF-55 12-string, which is no doubt a loud guitar. Unfortunately, Guild guitars aren't what they once were, and most of this is due to several ownership changes and manufacturing relocation over the years. Let's discuss Guild's glory years first.

Jewish emigrant Avram "Alfred" Dronge founded Guild in 1952 in New York City. In the early 1950s, the union labor force was very prevalent in New York, and it forced many guitar builders out of the city. Epiphone finally had enough of the union and relocated to Philadelphia in the early 1950s. Many Epiphone employees didn't want to move, so Dronge recruited several of them to work for the new Guild guitar company. The first Guild guitars appeared in 1953, and in 1956 manufacturing moved to Hoboken, New Jersey. By the late 1950s, production was rolling and Guild was offering a full line of acoustic and electric guitars.

In 1966, electric parts producer and supplier Avnet Inc. purchased Guild, but Dronge remained president. In 1967, Guild relocated to what would become its home for the next 35 years in Westerly, Rhode Island. Becoming a corporate entity didn't seem to affect Guild negatively like it had Fender and Gibson, and in the late 1960s and early 1970s, Guild was blossoming. But tragedy struck in 1972, when Dronge was killed in a plane crash. Guild's vice president, Leon Tell, then became president until 1983.

In 1986, Avnet sold Guild to an investment group, but that was just the first of what would be many sales of the company in the next 10 years. In 1989, the Fass Corporation (later renamed U.S. Musical Corporation) became the new owners. Electric production was suspended for much of the early 1990s as the company focused on acoustic production. In 1995, Fender Musical Instruments Corporation purchased Guild, and it continues to own them today. Guild was FMIC's first big purchase in the music industry, and during the late 1990s the company prospered with the reintroduction of its electric line. In 1997, a Guild custom shop opened in Nashville, Tennessee, and in 1999 luthier Robert Benedetto signed an agreement to build a few high-end Guilds.

As FMIC grew, it acquired more brands and seemed to focus on bottom-line profits. It closed the Westerly factory in 2001 and moved all production to an existing manufacturing facility in Corona, California. Many Guild enthusiasts consider this to be the unofficial end of Guild. Guild production moved again to Tacoma, Washington, in 2004 after FMIC purchased Tacoma Guitars. And in 2008 it was moved once again to New Hartford, Connecticut, when FMIC bought Kaman Music Corporation. Guild has strictly produced acoustic guitars since 2005, and many of their models are now produced overseas. However, the Westerly factory is still in use by a new guitar company called Campbell American Guitars, which employs several former Guild workers.

According to the serial number on your guitar, it was produced in 1995—a time when ownership was being transitioned from U.S. Musical Corporation to FMIC. But the guitar was indeed built in Westerly. Your JF-55 features Guild's revered jumbo body style in 12-string configuration, a solid spruce top, solid rosewood back and sides, scalloped bracing, abalone rosette, ebony fretboard with pearl block/abalone wedge inlays, gold tuners, and an ebony bridge. The electronics are more than likely aftermarket, and as long as the guitar hasn't been altered, it won't affect the value negatively. It appears to be in excellent condition, so today your guitar would be valued between $1500 and $1800. The JF-55 12-string was introduced in 1991, and the regular six-string was introduced two years earlier. Both models were discontinued when the Westerly factory closed in 2001.

Today, Guild is considered FMIC's high-end acoustic line. A few Guilds are still produced in the US, but they aren't nearly the same as what came out of the Westerly factory. This is disappointing for many Guild enthusiasts, and it has driven the value of Westerly-produced instruments higher, because no more Guilds will come from that location. Most collectors wouldn't even consider this guitar vintage, but it already has vintage-style value based on its history, and I would certainly consider that a treasure!

For more information on Guild guitars, read The Guild Guitar Book: The Company and the Instruments, 1952–1977 by Hans Moust.


Zachary R. Fjestad
Zachary is the author of the Blue Book of Acoustic Guitars, Blue Book of Electric Guitars, and the Blue Book of Guitar Amplifiers. Questions can be submitted to:
Blue Book Publications
Attn: Guitar Trash or Treasure
8009 34th Ave. S. Ste #175
Minneapolis, MN 55425
bluebookinc.com
guitars@bluebookinc.com